I have a soft spot for all things British, and I think there's no better way to spend the weekend than partaking in a spot of afternoon tea. Unfortunately, while there may be cafes galore in Singapore, 2 or 3 hundred I heard, there are precious few places to enjoy a good English afternoon tea. Most of the 5-star hotels in Singapore offer afternoon tea, usually ala-carte on weekdays and buffet-style or all-you-can-eat ala-carte style on weekends, and these are usually costly affairs limited to special occasions.
I've been wanting to create my own afternoon tea at home. Been having this idea for several years actually! But since my return from New Zealand where I had a really good scone plus iced chocolate sitting in the gardens and facing some hills, the idea of throwing my own afternoon tea party has been rolling at the back of my mind. It'll double up as my house-warming party too. Instead of the usual catered buffet of beehoon, fish-balls and stuff, what do you think of the idea of a afternoon tea housewarming party?
I was googling what I could serve for this tea party, and the options were plentiful! It took a little bit of effort to remind myself that a few dainty dishes would go a long way and it's not about creating a Guinness world record in afternoon tea party dishes. I reckon 3 savouries, 2 scones, and 3 sweet treats would do the trick, just like what you would get in a 3-tiered tea service at the hotels.
Here's my top picks on what to serve for the quintessential British afternoon tea party.
1. Plain scones with lashings of jam and clotted cream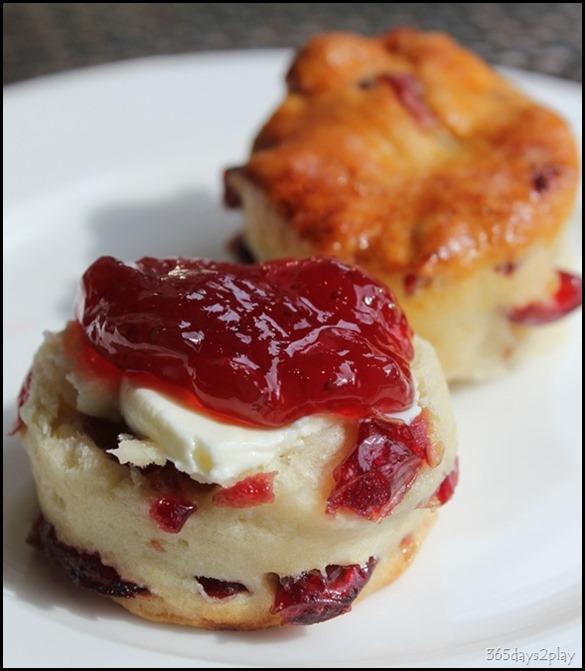 Scones are from my visit to The Knolls at Capella Sentosa
Every afternoon tea has got to have scones in the menu, otherwise, it just won't be English afternoon tea! Here's a recipe for plain scones from Mary Berry.