The lovely people from my favourite neighbourhood cafe Percolate kindly shared with me about the opening of a new cafe at Changi Village. I was quite shocked to find that despite them being around for about a month, I had yet to hear about it or see anyone post about it on Instagram.
I didn't mean to check out Peloton so quickly two days ago, but we decided to go on a whim. I didn't even Google anything and I didn't even know if it was located right in the heart of Changi Village or in the vicinity of Changi Village. So it was basically just a try our luck thing! Of course, me being a person who is always equipped with a backup plan, I knew we could still visit Chock Full of Beans if we couldn't find Peloton. It's been nearly two years since we've been there!
Turns out, Peloton is located at the opposite end of Chock Full of Beans. If you know where Chock Full of Beans is, you just walk straight to the end, continue walking on to the next block and Peloton is right at the end. We had almost given up but thank god we found it!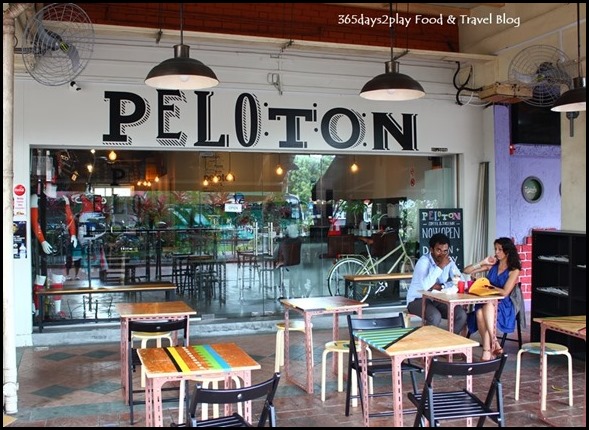 Great that we managed to find Peloton! It's a half cafe, and half retail shop selling all sorts of sporting attire and goods.
Frankly, when we first stepped into Peloton, we were a bit unsure whether we would be getting good food and coffee because the staff seemed a bit unsure with what they were supposed to do. They also looked like it was the 1st time someone had ordered some food from the menu. Thankfully, we were proven very wrong!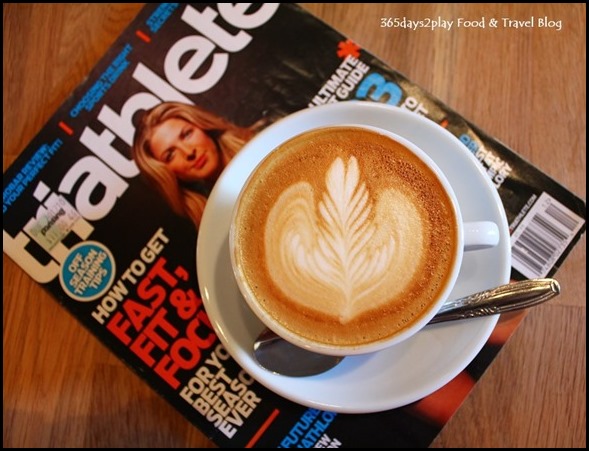 Espresso with Milk 5 oz $4.50
Have to talk about the coffee first even though we had this last. Coffee was really fantastic. I want to say that it is just like any of the 3rd wave cafes out there, but actually the truth is that this coffee was even better than many of the cafes I have visited. So smooth, rich in aroma and just lovely to drink. There was no hint of bitterness in the coffee, and we did not have to put any sugar at all, which is my preferred way of having a coffee that is well made. Thoroughly regretted not getting the 7 ounce one at $5.50.