As promised, here is part 2 of the Au Chocolat write-up. I visited Au Chocolat a total of THREE times in the span of 1 week, BEAT THAT!!!
The first time I was there, I was there with my BFF2012 to recce if Au Chocolat would be a nice location for my pre-wedding shoot. It was a pretty easy and unanimous decision that the whimsical and quaint look of Au Chocolat would be just perfect for chocolate loving me. A food blogger having her pre-wedding photos taken in a restaurant, not a bad idea right? We were there at 4pm to recce the place, and after perusing the menu, I was so famished that I ordered dinner! Ok fine, I had a very light lunch, and I had a Spa session which would end only after 8, so it was a good time for dinner.
The 2nd time I was at Au Chocolat was with The Partner and a whole contingent of photographers and makeup artist! The staff at Au Chocolat were so sweet (a pun?) they just made our day by being so helpful throughout our shoot. I'm glad I didn't scare off any customers. They looked more amused and curious than annoyed. And in fact, the number of passers-by that did a double take, some even retreating their steps to get a better look at us, it made me feel like a model, aww!! It must be the wedding dresses I wore, plus the entourage!
The 3rd time at Au Chocolat was with The Partner again, after a quick visit to the Harry Potter Exhibition. This time I got to eat a proper dinner, although I had to rush off for the F1 after that. While eating, lo and behold, another friend walked into the restaurant! The same friend who I mentioned Au Chocolat to, and couldn't wait to come and try it out too!
Au Chocolat is definitely a must visit when you are at Marina Bay Sands. Even if you don't dine there, it's worth taking a look. The sweet shop is enough to make you wanna open up your purse or wallet. Hey, that's what happened to my make-up artist, who ended up buying some cute sweets for her son!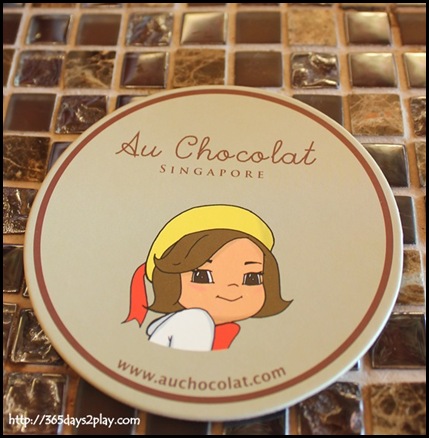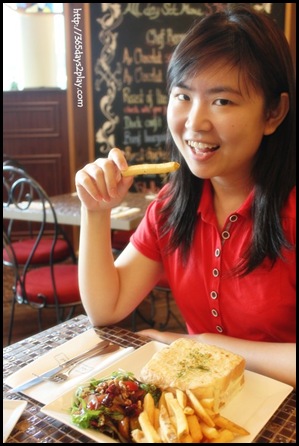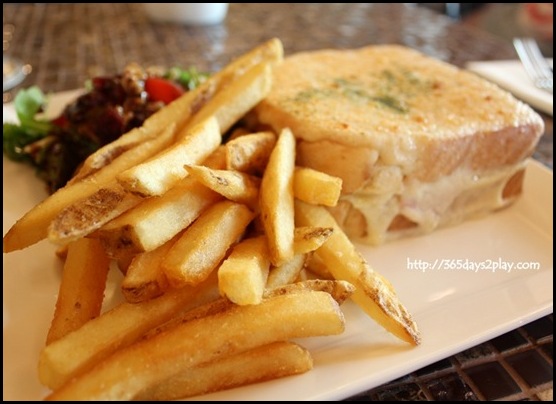 Croque Monsieur $16 – Sliced ham & aged gruyere cheese between 2 slices of crusty bread, coated with creamy bechamel grilled
Before I begin on sandwich, I have to tell you that Au Chocolat's fries are fantastic! Really crispy on the outside, and having fluffy insides. It was a pleasure to eat every single one of them. And they arrived piping hot and crisp on all the occasions that I ordered them.