It's no secret that I love dining at fine-dining restaurants, I love the effort the chef displays in every dish that is presented, I love the attentive service and ambience, I love how the 3 hour meal feels like a long luxurious session perfect for catching up with the Partner. I what I do hate though, is the bill after the meal! Sometimes it's expensive enough to shock you into indigestion straight away!
But now, with the Amex Platinum Card, you can enjoy up to 50% discount when you dine at many of Singapore's illustrious restaurants. Take for example our visit to JAAN at Swissotel, the bill was a whopping $400+, but with the Amex Platinum Card, we only paid half the price.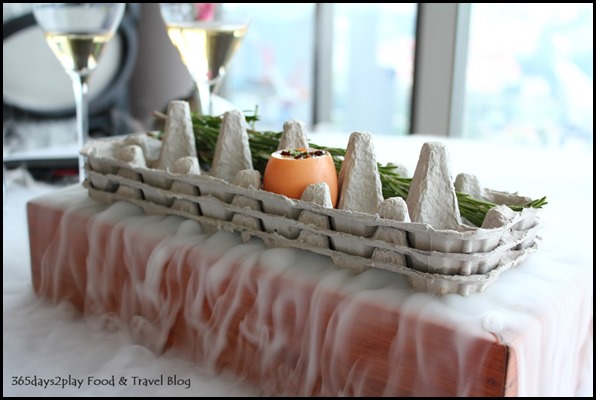 ---
---
Here's what the American Express Platinum Card offers you
A complimentary Palate membership* worth S$457.96 (incl. GST)

Get up to 50% savings on food orders* at some of the best restaurants in Singapore
Enjoy 15% savings on drinks* at some of the island's trendiest bars.

A complimentary The Far Card Classic Membership worth S$425 (incl. GST)

Enjoy year-round savings of up to 50% on dining for unlimited visits at your choice of 11 restaurants at Fairmont Singapore, Swissôtel the Stamford Singapore, Equinox Complex and Swissôtel Merchant Court.
Revel in the accommodation benefits by free room upgrades and special room rates
Enjoy 15% off a la carte bookings of spa treatments from Mondays to Fridays at Willow Stream Spa at Fairmont Singapore and Spa & Sport at Swissôtel Merchant Court

American Express Selects® – Enjoy up to 50% savings* with American Express Selects at a wide selection of restaurants in Singapore and around the world.
And that's just the dining privileges! There are also movie discounts, spa discounts, golfing and shopping privileges!
Lucky Draw Promotion (exclusively for Platinum Card Members): From now till 9 Nov 2014, you can also be one of the 5 lucky winners every day to win S$100 worth of dining vouchers (TungLok dining vouchers for Monday to Saturday draws and Fairmont dining vouchers for Sunday draws). Every receipt above S$50 earns you one chance to win.  Enjoy double the chances when you spend S$50 or more in a single receipt at any The Far Card or Palate establishment.
---
Anyway, the proof is in the eating so let's get down to the experience we had at JAAN. JAAN is a lovely restaurant helmed by Chef Julien Royer. Being on the top floor of the Swissotel, it's a really nice place to have a romantic dinner or an important birthday celebration. Derived from the ancient Sanskrit word for 'bowl', JAAN is an intimate, 40-seat restaurant dedicated to showcasing the finest in Artisanal French cuisine in Singapore.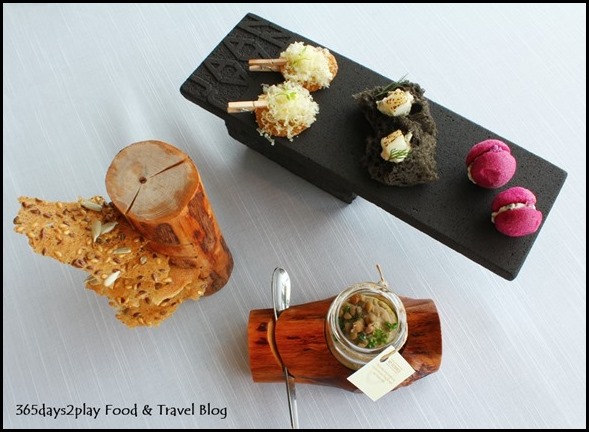 Cantal and Walnut Cracker, Black sesame sponge with Smoked Eel, Beetroot macaron
The Amuse bouche, or several of them to be exact, to kick start the meal. Absolutely loved those cheese crackers and mini macarons.