*Media Invite*
Jalan Riang is another of those up-and-coming laid-back type street lined with cafes and cool restaurants. I've been meaning to check it out for the longest time, but being an Eastie, Serangoon has always been so called off my radar. Well, I finally made it there for lunch on the Saturday just before Christmas at the kind invitation of Rokeby Cafe Bistro.
I was told I could bring a guest, but because it so happened that my parents were with me, I lugged them along for the tasting session well prepared to share everything, and thank god I did because Rokeby was so generous with the food, there was no way the Partner and I could have finished the feast!
Rokeby Cafe/Bistro is an Australian inspired establishment serving delectable gourmet food and artisan coffee with unique latte art. Coffee beans are freshly roasted from Western Australia and gourmet teas imported from Melbourne. Staying true to its roots, Rokeby serves Australian wines and offers a variety of Australian beer.
I really like the woody tones used in the decor at Rokeby, and of course a pretty Christmas tree during the Christmas season is never a bad thing.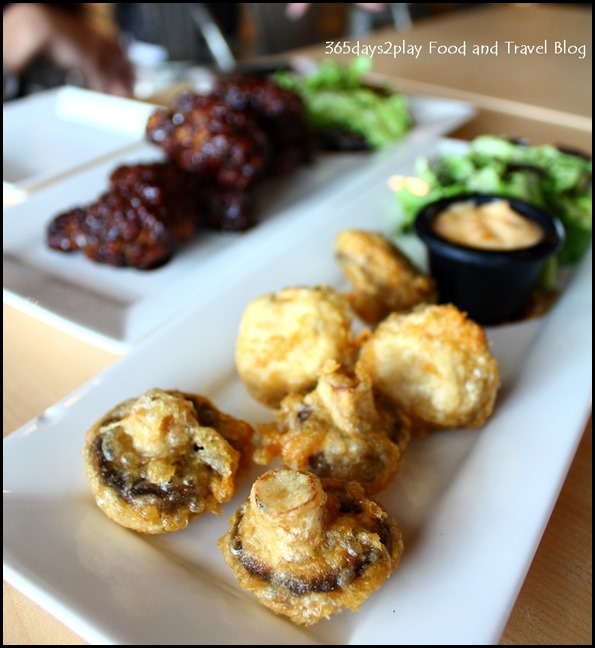 Mushroom Fritters $9
We left it to Denyse Janz, co-owner of Rokeby to recommend us dishes to try. Rokeby has been reinventing and upgrading itself ever since their opening earlier in 2013. You will find that even the colour theme as change, not to mention tweaks to the menu. Quite a number of dishes we tried were only just introduced into the menu.