This is going to be a series of posts from the Resorts World Genting trip I partook in last week, courtesy of the Resorts World people.
First up, pictures of the Genting Outdoor Theme Park. For the record, I have not been to Singapore's Universal Studios. However, I have been to the Universal Studios in both California as well as Orlando. If there's one thing about theme parks, it's that you usually have to do a lot of lining up. If the queues are long, they might even snake out into the open, beyond the shelter of the ride's waiting area.
Genting's Outdoor Theme Park obviously isn't as awesome as that of Universal Studios and Disneyland. But most people aren't expecting that anyway. It's just a nice little Theme Park, good for tourists looking for a short getaway. It does have the thriller roller coasters to satiate the dare devils, as well as placid family rides for the kiddos. For me, I just loved being outdoors in the cool, crisp mountain air. It's been a while since I've stepped into a theme park, the last being in 2007, Gold Coast Australia's Movie World and Dream World.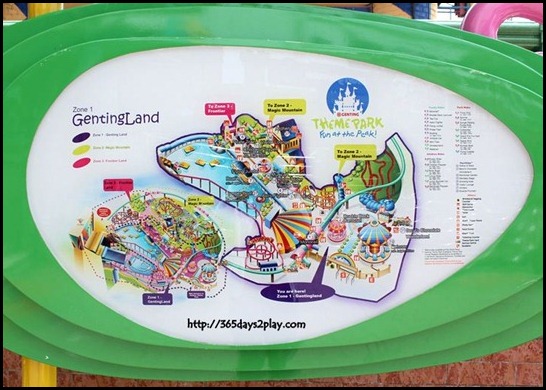 Always study the Theme Park map first so that you know how to maximise your time. Don't want to spend half the day on something average, only to find out that you've missed the star attraction.
Water rides seem to make up more than 1/3 of the rides at Genting.