[Media Invite]
Greenwood Fish Market is going places! They have just opened a 2,700 sqft outlet in River Valley and this is on the back of a 4,100 sqft outlet at Quayside Isle Sentosa Cove opened in 2016. And guess what, they're not stopping there either. A whopping 8,500 sqft outlet is set to be opened in Dempsey Hill by the end of this year, and finally one outlet in the East at Jewel Changi Airport come next year.
To think that this little seafood restaurant has stood the test of time, 10 plus years is a very good record for an F&B business in Singapore!  When I first visited back in 2007, it was so small I recall having to squeeze past numerous seafood refrigerators in order to access the main restaurant itself. But my boss at that time waxed lyrical about the place (and its $1 oysters on Tuesday) so we all wanted to go (and also because he was paying the bill).
I haven't been back in years so it was good to be able to check out their new outlet at Valley Point Shopping Centre. The menu has obviously expanded over time and since I'm not the biggest of fish fans, I liked that is a wide selection of seafood dishes and meat dishes too. Fish lovers will obviously want to select a fish of choice and have it either pan seared, baked, steamed, chargrilled, battered or crumbed, and served together with vegetables and starch. Non-fish fans can go for seafood based pastas, burgers and even steaks.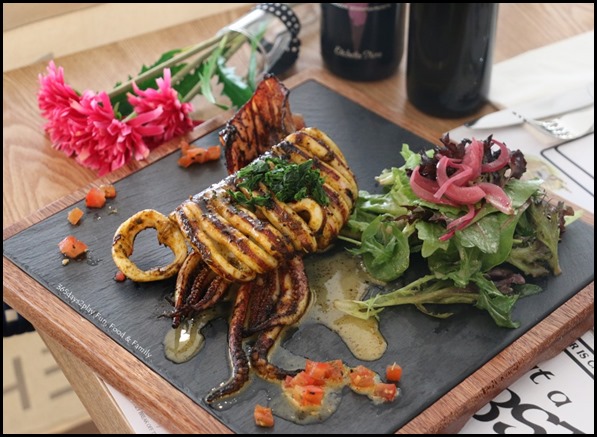 Chargrilled Mediterranean Squid with soba egg sauce $16.90
The small plates selection is worth looking at too and that's where I felt like ordering everything. They have things like deep fried calamari, chargrilled Mediterranean squid, tuna poke bowl (why no salmon poke?), cold smoked salmon and swordfish carpaccio. Put 2 or 3 of these together and you have a meal sized dish! In fact, the chargrilled Mediterranean squid was so humongous, it could have been a meal on its own.
Scroll down for pictures of what I tried!