Here are some of the pictures I took of Perth City centre during my trip to Western Australia in September 2010. Interestingly, all the other photos I have of Western Australia are pretty parched and brown. The Perth City photos are the only ones that still show evidence of winter.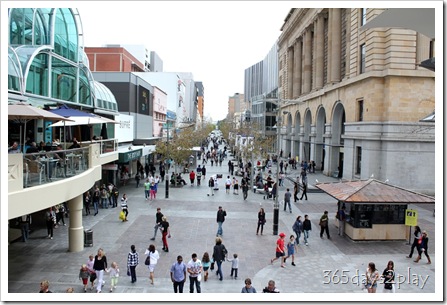 Hay Street and Murray Street are the main shopping streets. Cars are not allowed to drive into this area, which makes for nice strolling. It takes about 5 minutes to walk from one end to the other if you don't stop, so walking to your car is not a worry.
When choosing a hotel, it makes sense to get one as near to Hay Street and Murray Street. Then you can just pop out of your hotel and you are right in the midst of things.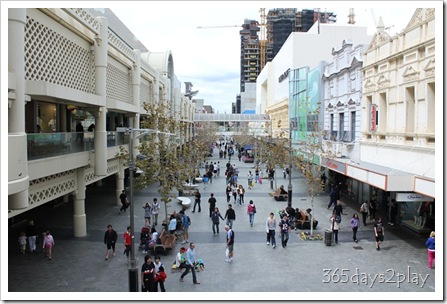 The other direction, in the direction of David Jones Mall. David Jones and Myers are the 2 largest malls in this area.  Beware, the stores slam shut at 5pm sharp here! Even the supermarkets shut at 5pm too. They stay open longer only on Fridays, which is Late Night Shopping day. On Sundays, the stores open pretty late, around 11am or 12noon even, and some don't even bother opening.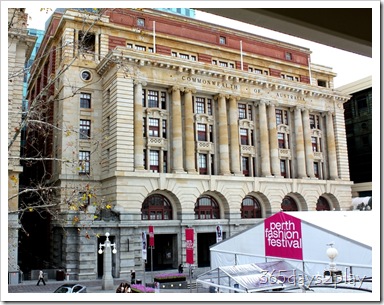 I love it that some of the old buildings are still preserved.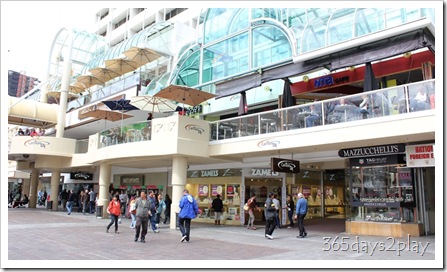 It's nice to have lunch on the upper floors of Carillon City at either Delizioso Cafe or Sassellas Bar & Bistro. It is a nice vantage point to watch people milling around on the ground level.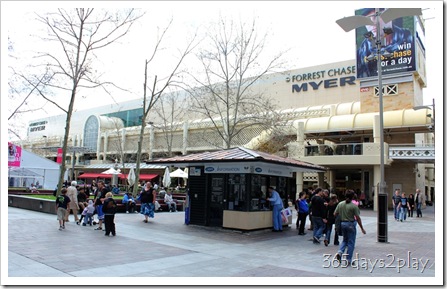 The tourist information booth is just in front of Myer. They have a huge map of Perth city centre. Get this 1 page map. I found it more useful than the tiny ones in the brochures you find at the airport.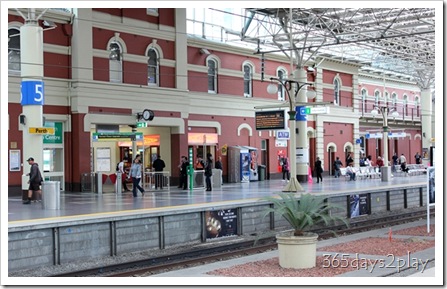 Perth Train Station. We caught the train from Perth Train Station all the way to Fremantle. The ride took about 1/2 hour. On the weekends, get the $9 family pass, which allows up to 7 people to travel on bus and train. And you know something amazing? There are no turn-styles at some of the stations. It's a wonder that people don't abuse the system, or maybe they do. Whatever the case, there were no turn styles 10 years ago when I was last there, and there still aren't any today at the less populated stations.
Perth is very generous with its public transport. If you are travelling on the bus in the Free Travel Zone, which is basically Perth City Centre itself, transportation is free! You don't need a ticket. Also, look out for the CAT buses, which are dedicated buses travelling around the city centre. They cover most of the stuff that you would want to see in the heart of Perth.