With a name like that, is it any wonder that this cafe located at the foothills of Fort Canning Park is crowded all the time? The place is pretty unique. For one, do you remember the old River Valley Swimming Complex? After the River Valley Swimming Complex was abandoned in 2003, the place was left pretty much disused, until the pools got filled up in what is now known as The Foothills Fort Canning Park. The Fabulous Baker Boy is situated at the Viridian Art House building, which was the former canteen of the swimming complex!
If you're visiting Fort Canning Park for some exercise, you might like to give yourself a treat at the end of your walk by having a cuppa and some cake at The Fabulous Baker Boy. In fact, that was exactly what we did several Saturdays ago. I know it sounds like a total waste of the exercise if I were to be eating cake directly after, but look at it this way. I'm going to have cake and coffee ANYWAY, so shoving in some hill climbing and brisk walking just before I eat my cake can only be a GOOD THING.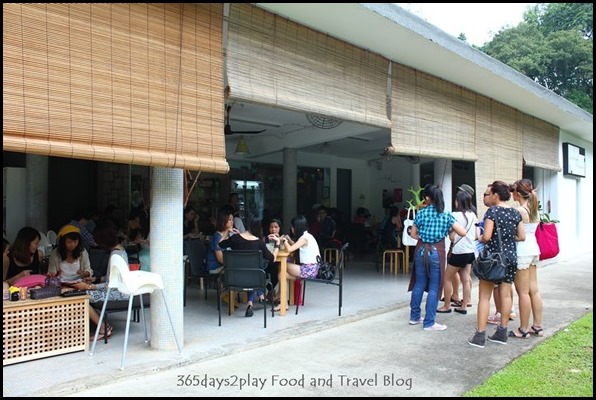 The only thing is, it can get crowded on the weekends (like which cafe isn't full house on weekends these days) so brace yourself for a long wait or no cake after the walk. Oh, it can get a little hot here as there is no air-conditioning.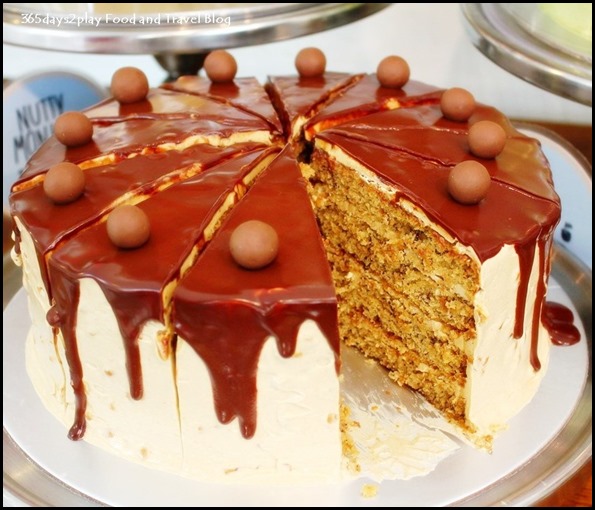 Let me tempt you with some pictures of the cakes first. They look so darn luscious I want to have a piece right now as I'm typing this! This here is their Nutty Monkey cake which retails for $85 per cake or $8.50 per slice. 2 slices "free" if you buy the whole cake. Cakes are getting really expensive these days!