There are many hotels in the Marina Bay Area that will provide a view of of the National Day fireworks. Some hotels that come to mind include:
Mandarin Oriental
PARKROYAL COLLECTION Marina Bay
Fullerton Bay Hotel
Swissotel Stamford
Ritz Carlton Singapore
Pan Pacific Singapore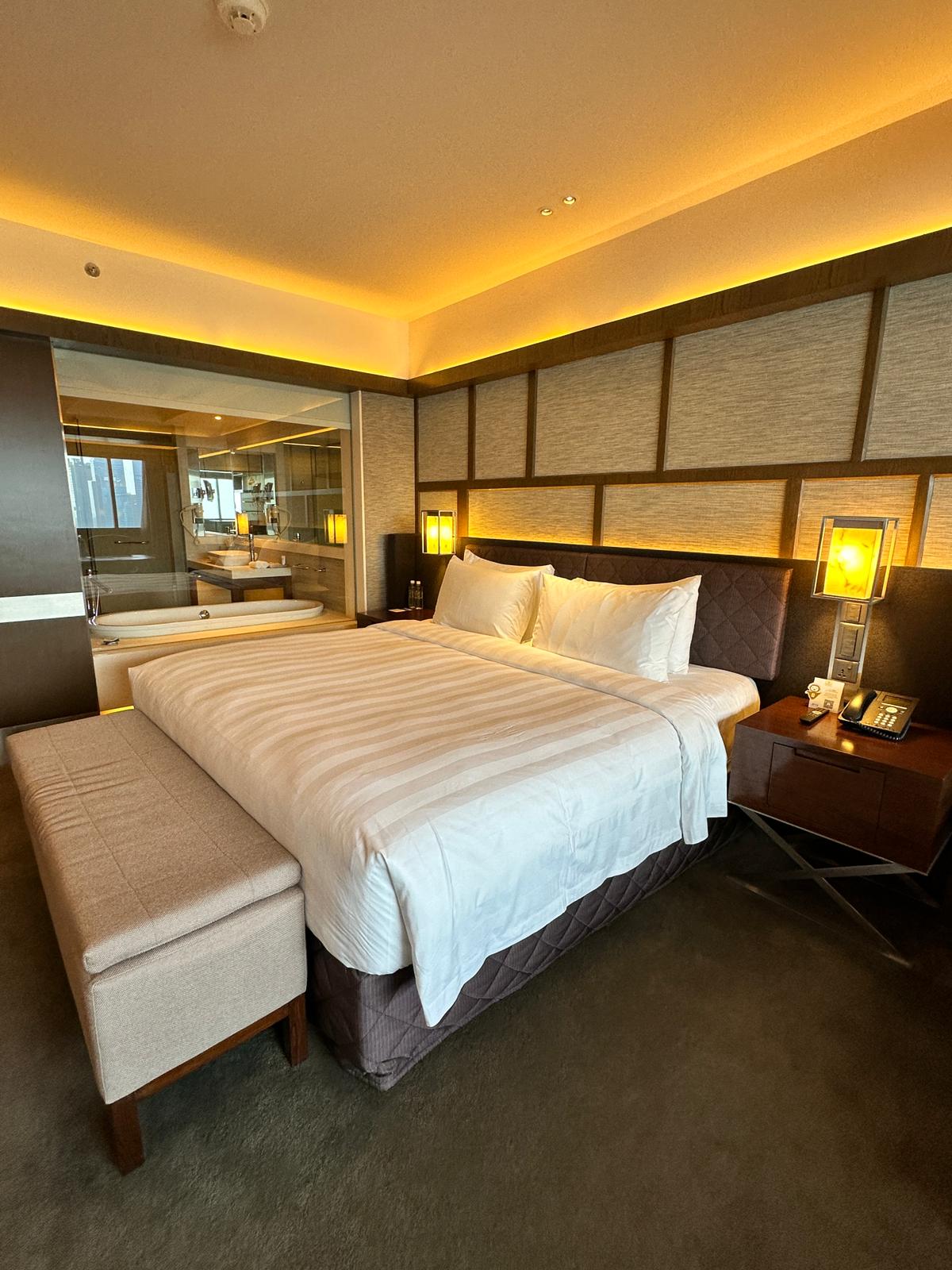 Last weekend, we stayed at the Pan Pacific Singapore and had a fabulous time. Although there are hotels that are nearer to the fireworks, we chose Pan Pacific Singapore because there was a flash deal from Klook at the time of our booking. Specifically, we stayed at the Pacific Club Room on the 31st floor with a harbour view. The Pacific Club Rooms do not come with balconies. The great thing about the Pacific Club Room is that it is located only on the upper floors of the hotel.
From our room, we managed to enjoy an unblocked view of the National Day fireworks that happens above the waters in front of Marina Bay Sands. If we had taken another room category or booked a room on a lower floor, our views of the National Day fireworks would likely be obscured partially by the Mandarin Oriental directly across the road.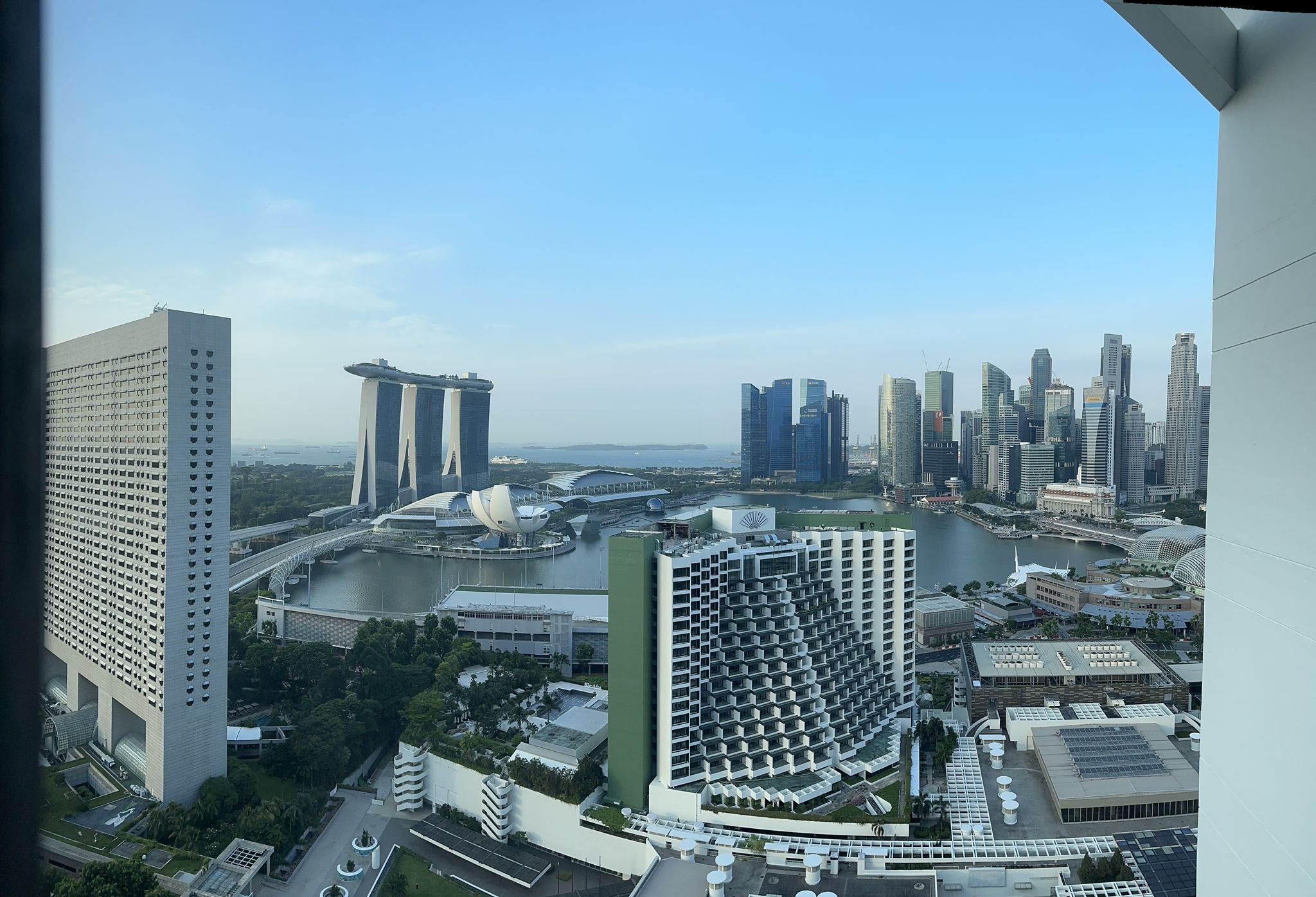 From our room we could also sight a good portion of the Floating Platform. However this year the National Day parade is held at the Padang so we couldn't view the parade from our room. If we had taken a room with a balcony, we might have been able to stick our heads out towards the right to sight the Padang, but beware that some rooms with balconies are on the lower floor and hence have an obscured view of the fireworks.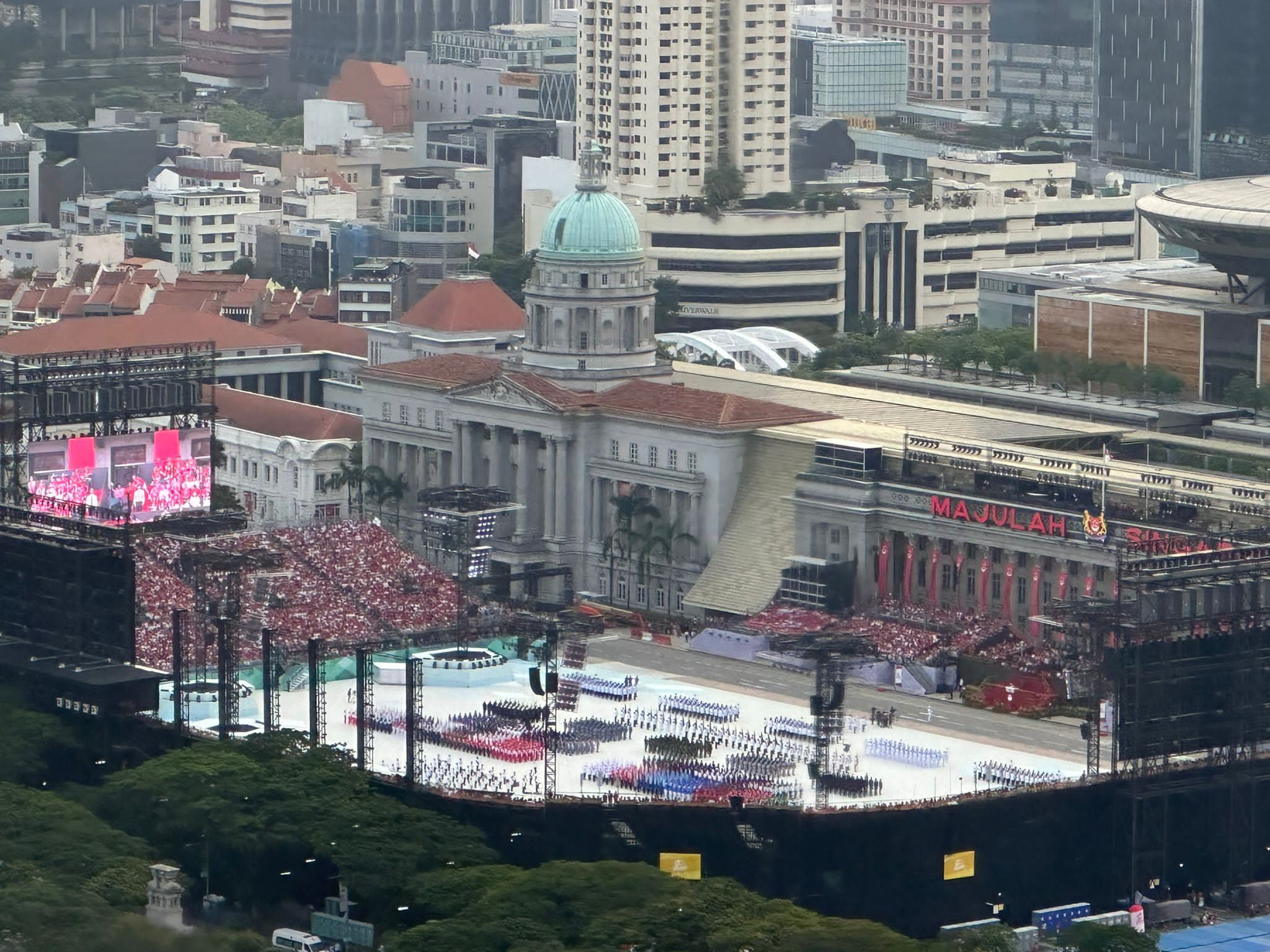 Nevertheless, we still managed to sight the Padang from the Pacific Club Lounge which the Pacific Club Room guests are entitled to enjoy. The Pacific Club Lounge has 360 degree views. It's not perfection though. Due to the design of the building, a portion of the building sticks out like a platform and obscures the view of things directly below.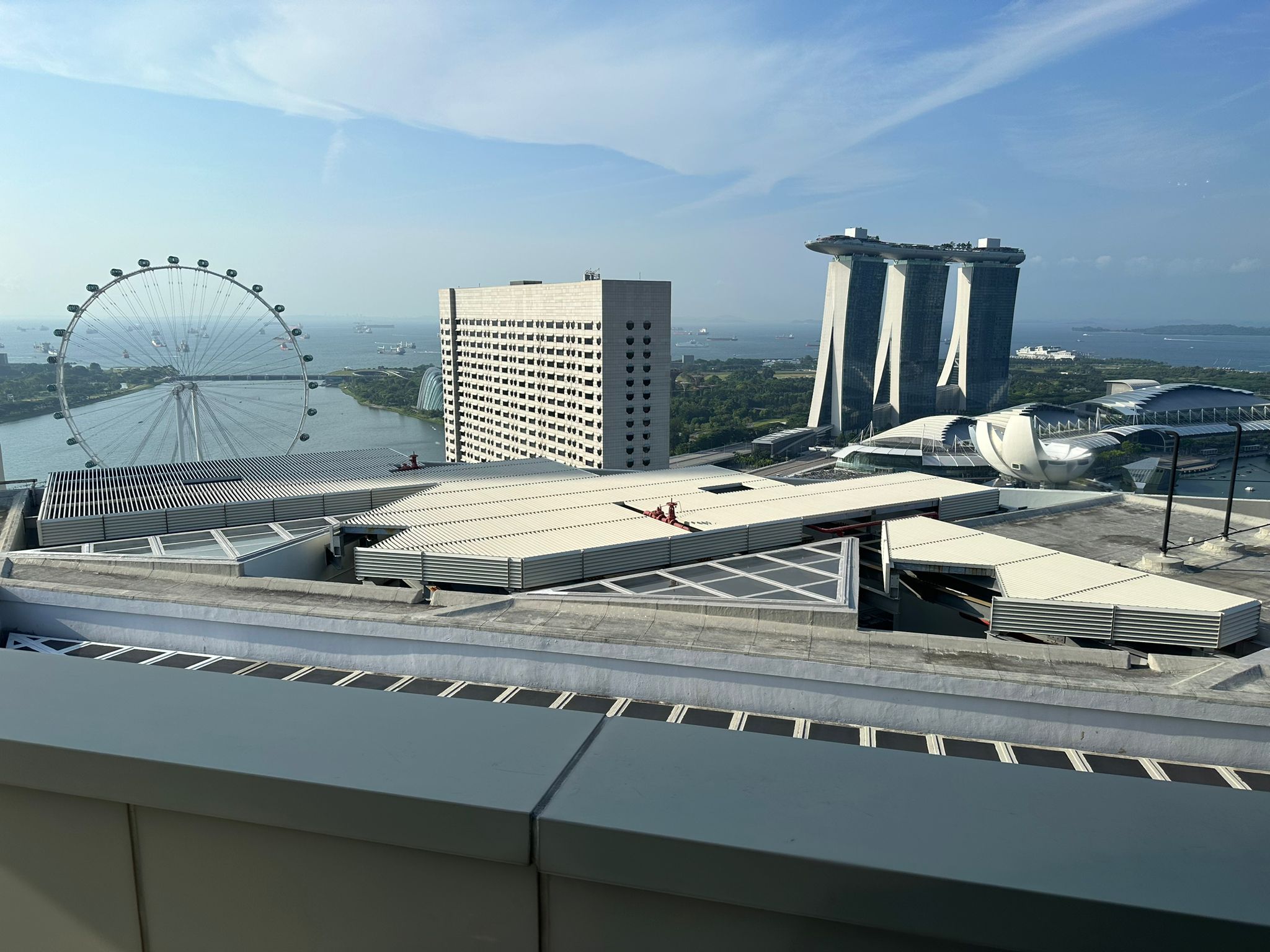 Yes it's also possible to have a view of the fireworks from the Pacific Club Lounge. The table facing the fireworks wasn't occupied earlier as nothing was happening in that direction. I would assume come fireworks time, everyone would crowd around that area, so better come early. We retired to our room to have a more private view of the fireworks, since we could. Also we could switch off the lights so as not to get a reflection in our photos/videos. Reflection is something to bear in mind if you can only view the fireworks from the Pacific Club Lounge. You need to press your phone directly to the glass to minimise reflection. If there are too many people there you may not be able to do that.
Another interesting point to note is that the higher up you go, the more at eye level the fireworks are. Some people might find the idea of fireworks erupting overhead to be more exciting? Or maybe I am just nitpicking, when one should be grateful to have such a close view of the fireworks.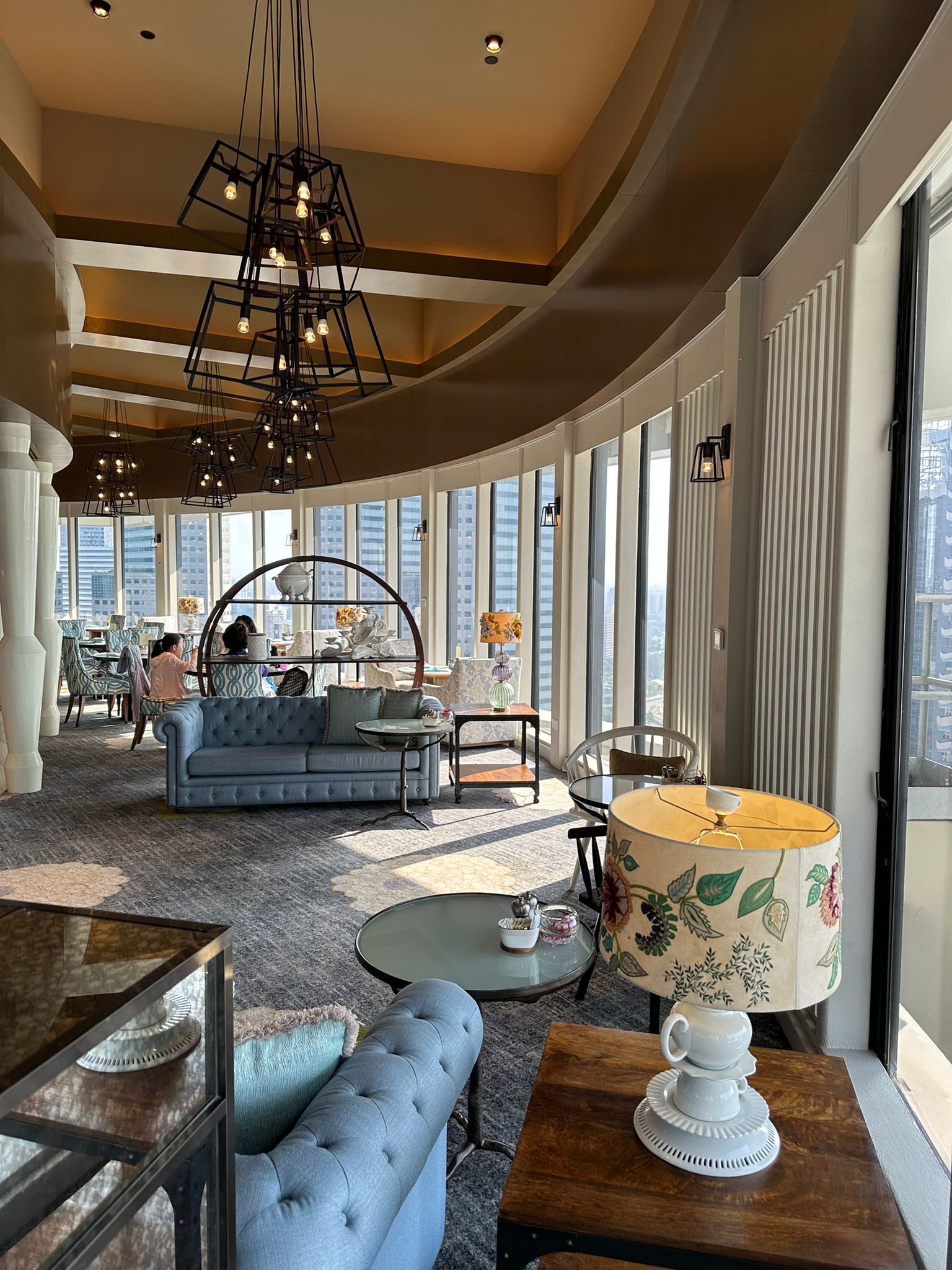 If you've never had club lounge access before, I highly recommend getting a room with access, or paying extra for access. The Pacific Club Lounge is one of the best when it comes to executive lounges in Singapore. Many hotels have one, but they can be rather no frills. The Pacific Club Lounge throws in the entire works. These are some of the main privileges you can enjoy if you are a Pacific Club guest:
Access to the Pacific Club at Level 38 from 7:00am to 10:00pm.
Champagne breakfast from 7:00am to 10:30am
Afternoon tea at Pacific Club Lounge from 3:00pm to 5:00pm
Evening cocktails and canapés at Pacific Club from 6:00pm to 8:00pm
Pressing or laundry of up to 2 pieces per room per night.
Complimentary non-alcoholic beverages from the in-room mini bar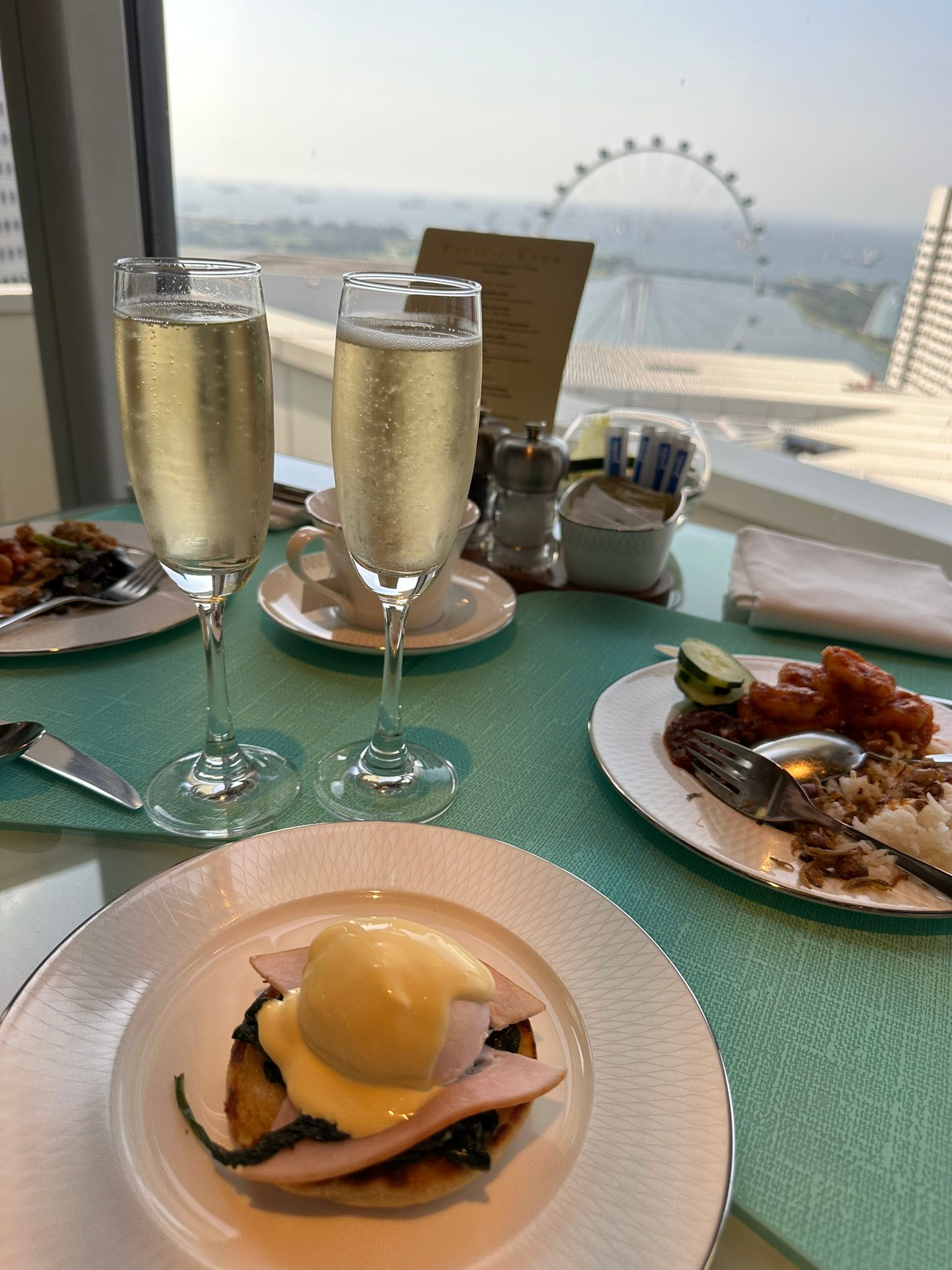 A basic room at many of Singapore's hotels does not entitle you to a free buffet breakfast. However with club lounge access, you not only can enjoy a complimentary buffet breakfast, it's a Champagne breakfast, in the comfort of the exclusive Club Lounge. What's a Champagne breakfast? Basically free flow alcohol such as wines, plus the Champagne/bubbly. The buffet spread is slightly smaller than the one downstairs, but many of the popular dishes are still available upstairs, including made to order pancakes, waffles, egg dishes etc.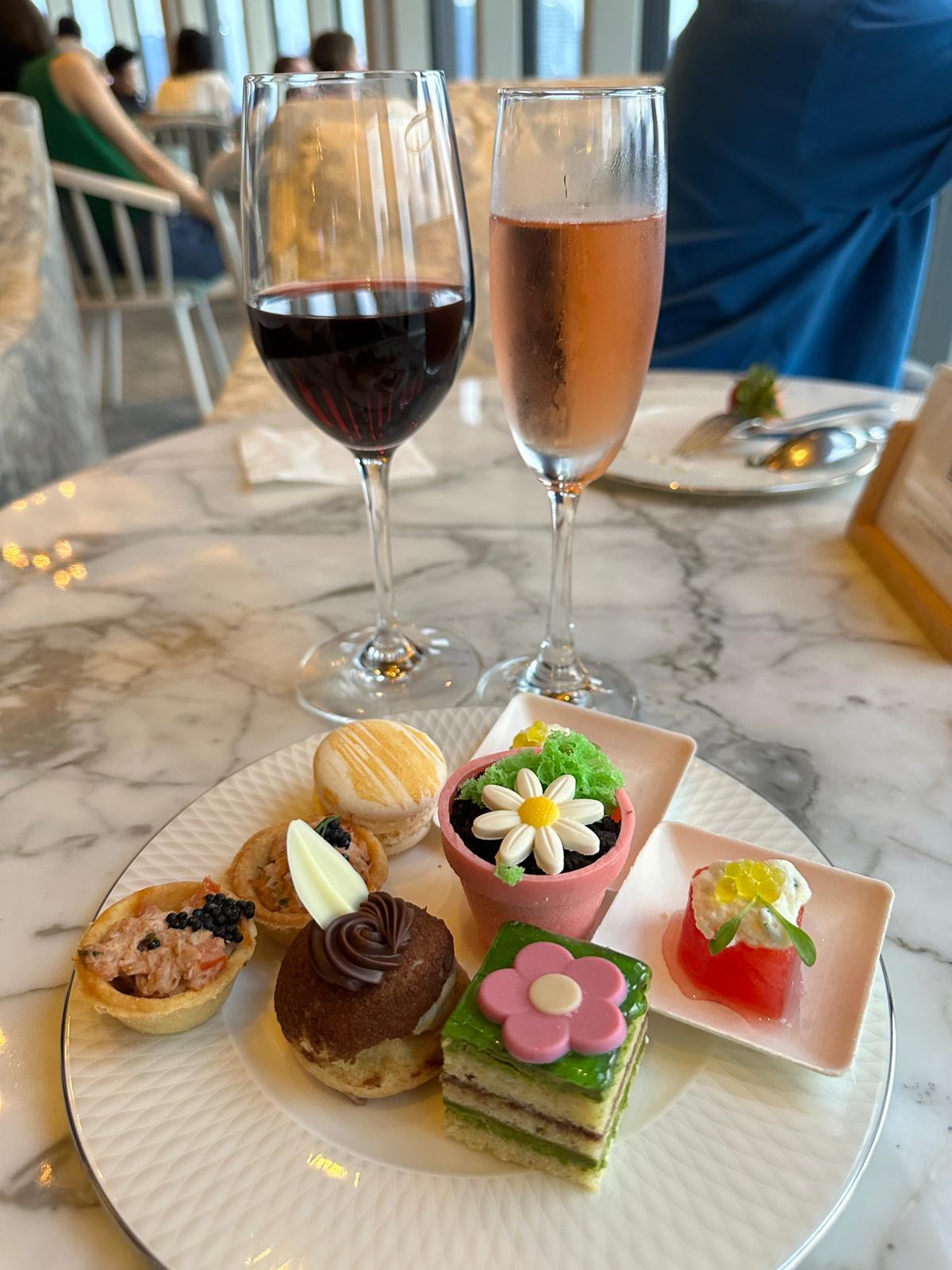 And after you've digested the Champagne breakfast, there's an afternoon tea buffet starting from 3pm. Some lower tier hotels with club lounges may not even provide afternoon tea, or a very small selection of bites. The quality of the cakes and canapes at the Pacific Club Lounge is actually quite good, as can be seen from the picture above.
And just when you think you can leave the hotel, it's time for evening cocktails. More finger food and other savouries, plus free-flow of alcohol again. It's not "dinner food" as in it's not a full steak or a full plate of pasta, but certainly if you take enough of the finger food and canapes, they will fill you up adequately. I always treat cocktails time as dinner.
So, if you add up the cost savings from not having to separately dine out, you'll understand why I say it is well worth paying for club lounge access.
Check out my review of the Pan Pacific Singapore back in 2013, also during the National Day Period!
Text written by 365days2play | Photos supplied by guest contributor
Add me on Instagram to follow me on my escapades in Singapore and abroad!