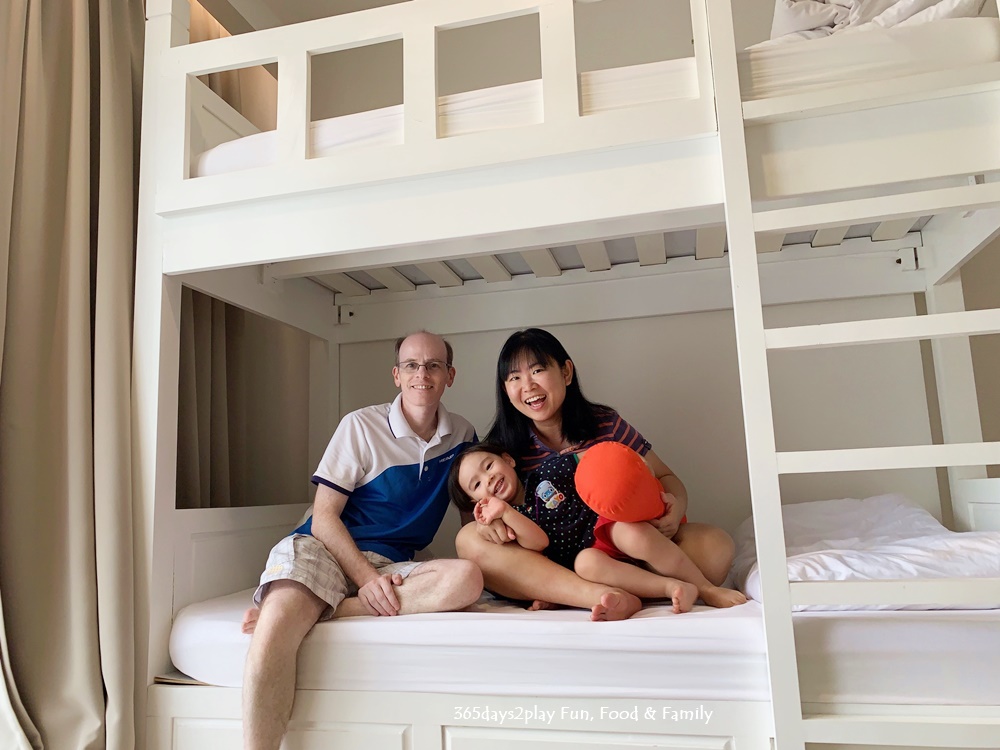 If you have been following me on Instagram, you would have seen me spamming a lot of Batam pictures on Instastories. Yes, I spent a grand total of 4 days in Batam! It was my first time in Batam and it was great. Truth be told, I have been wanting to go to Batam for the longest time. However most people have already been to Batam at least once so it was difficult to find an enthusiastic partner. So I was really happy when I was contacted by HARRIS Hotels to check out two of their properties : HARRIS Resort Waterfront Batam and HARRIS Hotel Batam Center. (Promo code available right at the end of the post!) (Also win a free night's stay at HARRIS WATERFRONT by entering my contest)
But first, I had to secure my own ferry tickets. That took a bit of research because there are actually a number of ferry terminals in Batam. For the journey from Singapore to Batam, I chose to go from Harbourfront Ferry Terminal to Sekupang Ferry Terminal. From Sekupang Ferry Terminal, it is a 20 minute journey by private transport to HARRIS Resort Waterfront Batam  (transportation provided by hotel). Actually, there is the Waterfront Ferry Terminal in Batam that is a mere 5 minutes drive from HARRIS Waterfront, however there is but 1 ferry service with an inconvenient timing so I could not take that option. For my return journey to Singapore, as I would be at HARRIS Hotel Batam Centre, the obvious choice was to take the ferry from Batam Centre Ferry Terminal, it being just next door to the hotel. I chose to disembark from Tanah Merah Ferry Terminal instead of HarbourFront Ferry Terminal simply because I live in the East. There was no ferry service from Tanah Merah to Sekupang Ferry Terminal or I would have loved to take up that option. Because of the ferry terminals I chose, I ended up taking BatamFast to Batam and Majestic Ferry back to Singapore. If you are able to take the same ferry service for both journeys, you can save a few dollars per ticket. Anyway, the point is to research where you want to go in Batam, and then choose the ferry terminal that is nearest to your destination. Another thing about the ferry is that you should check in at least 1 hour before departure, especially if you want to secure seats together with your travelling companions.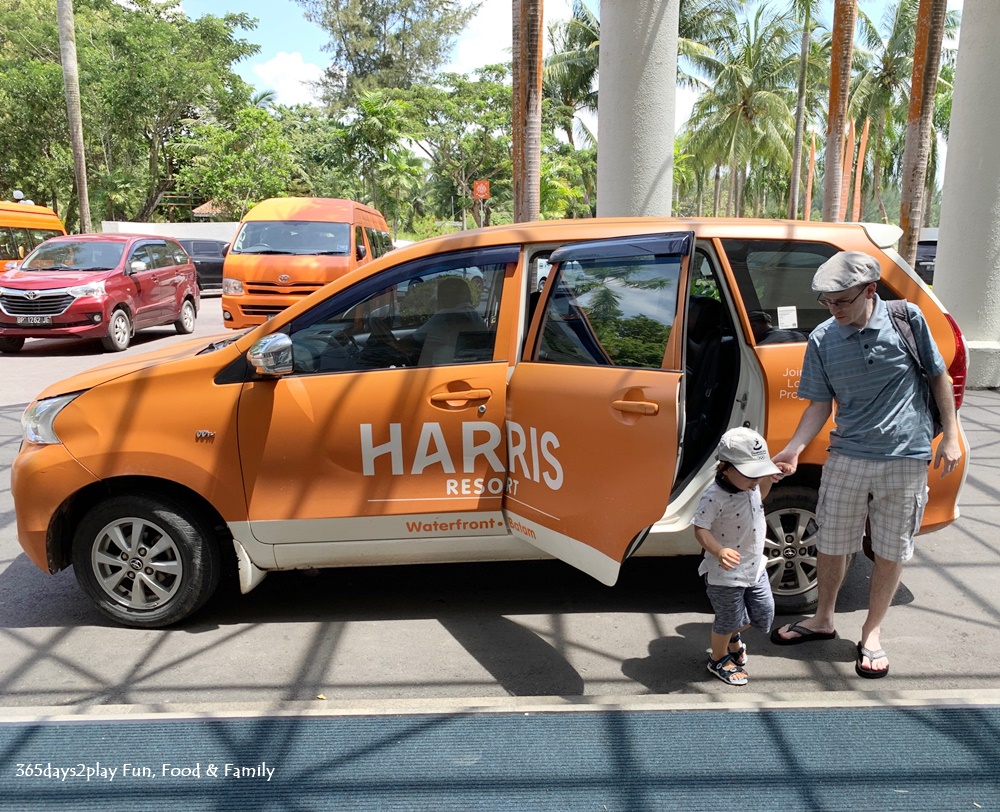 HARRIS Resort Waterfront Batam provides free transfers so someone from HARRIS was at the Sekupang Ferry Terminal to meet us. It's always useful to have a reliable person meet you in a foreign country, at least you know you'll be well taken care of and need not worry about being overcharged by unscrupulous taxi drivers. And in our case it was even more useful because even after we had emerged from the "transit" area, we still had no idea where to retrieve our checked-in luggage! Luckily the HARRIS guy told us it was at the entrance of the ferry terminal. Surprisingly that was indeed so, and worse still, the baggage handlers charged us 10,000 rupiah for our suitcase. Surprised this happens in broad day light, literally, but given that it is the equivalent of SGD$1, we paid up and left quickly.
Anyway….the journey to the resort was pretty uneventful. I enjoyed seeing all the village shops as we zoomed past them. I just love seeing stuff that is so different from Singapore. If only we had more time to explore, but with just 2 nights at the resort and lots of watersports and other activities planned, exploring how the locals live would have to be left to another time.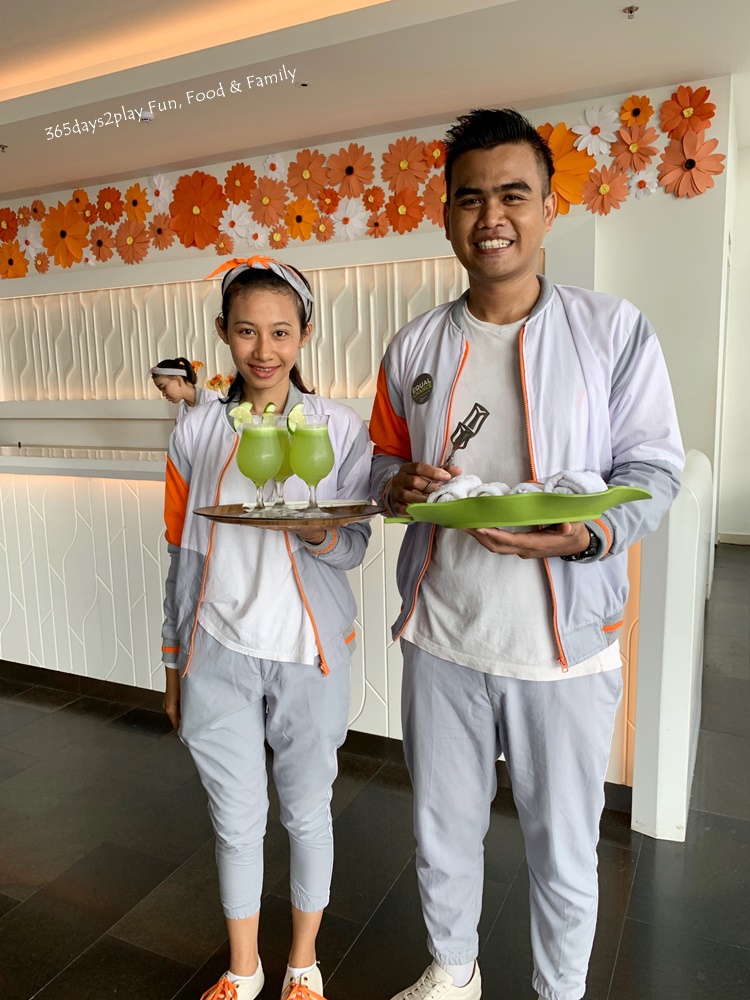 The staff at HARRIS are really a friendly bunch. They always have a smile or a greeting for you, and the loudest greetings for Edward. Perhaps it's the corporate colour of Orange. How do you not be cheery when the colour orange is splashed all over the property? Being at the resort is a world of difference compared to the outside. It's like being cocooned in a very comforting, clean and friendly environment. Our room was also fantastic. We were given the family room with direct access to the pool. If you are bringing kids, I'd say splash out and go for this room category. It's not much more expensive actually. I did a brief check and it's only SGD$120, as compared to SGD$100 for a normal room.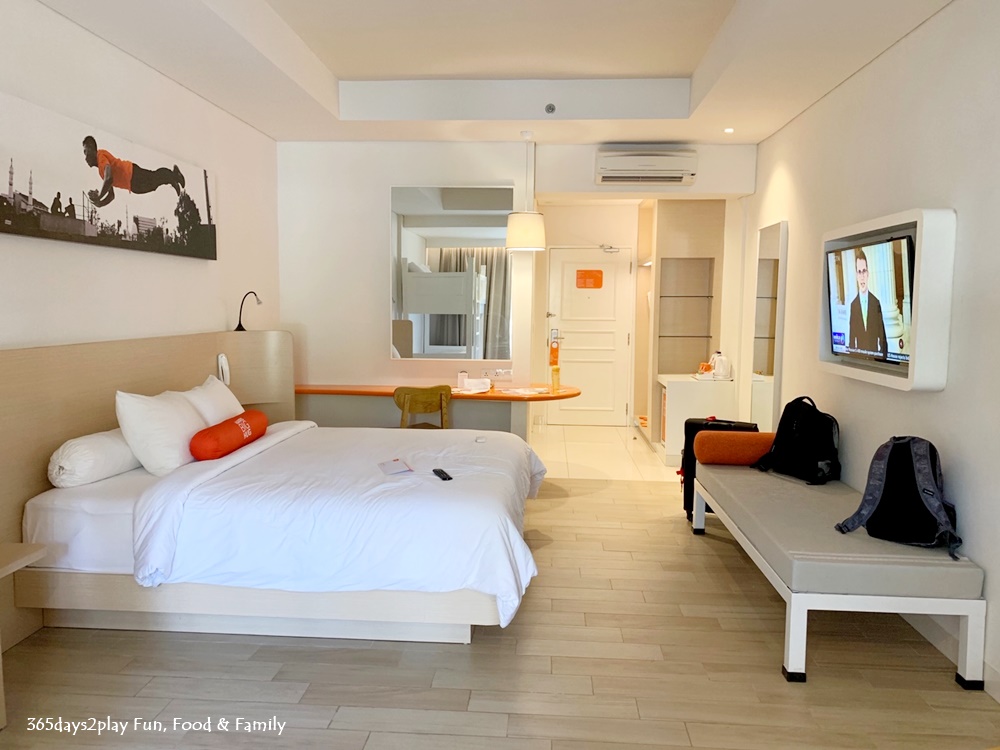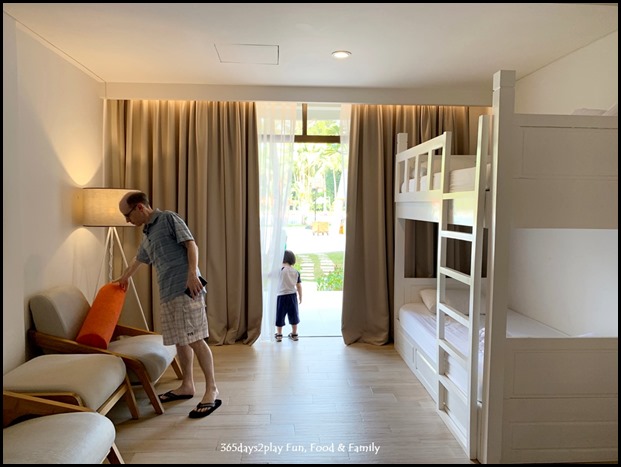 Let me tell you why the room is so fantastic. Firstly, it's very spacious and the light tones with their signature orange makes the room very inviting. Next, bunk beds. Do I even need to describe more why you would want bunk beds? There's something about kids and bunk beds, they just go insane and excited about them, and Edward was no different. He was practically dancing around the room, rolling on the bed and climbing up the ladder time and again. Papa and I were very happy to be able to enjoy our King-sized bed without an intruder barging in, because said intruder was perfectly happy to sleep on the bunk bed himself. And of course, the pool access. Open the sliding doors and you can march straight out to the pool. It can't be locked from the outside so this is good if there are family members who wish to remain in the room. Only remember which door you exited from because they are not numbered on the side facing the pool.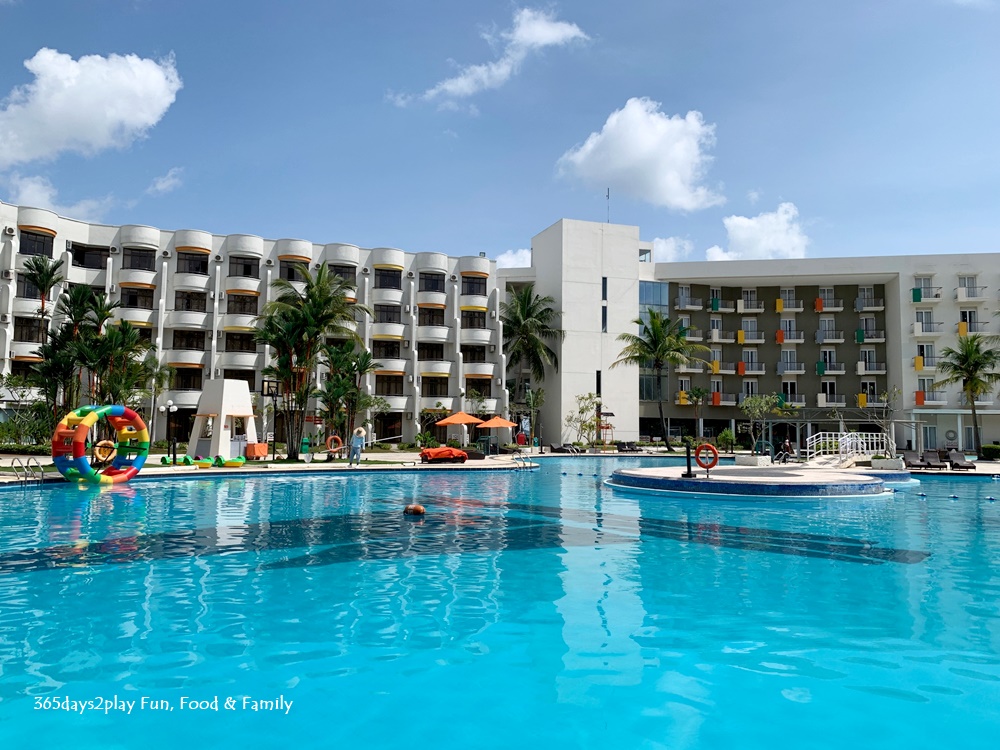 Now for the pool. I myself managed to hit the pool a grand total of 3 times. On the first day, the pool water had a lot of sediment. Apparently when the winds are strong, the tall trees nearby shed some of their matter into the pool. One poor guy was scooping out the sediment with a fish net, but I don't think he got very far. He said that there are other guys around to help trawl the sediment out, and I presume they had knocked off for the day as it was already evening. Thankfully, I never did see anymore sediment on subsequent days. Aside from the adult pool, there is also a baby pool as well as a jacuzzi pool which because of the depth, a lot of the older children loved playing in. And if that's not enough, HARRIS Waterfront also provides huge floating "beanbags" for you to lie and float along the water. There are also some paid activities, such as the "Hamster Wheel" and the Paddle Boats. For a small fee, you can rent these to use for a short period of time. Edward had a fabulous time on the paddle boat (purple of course). He looks so cute paddling the boat with his little arms!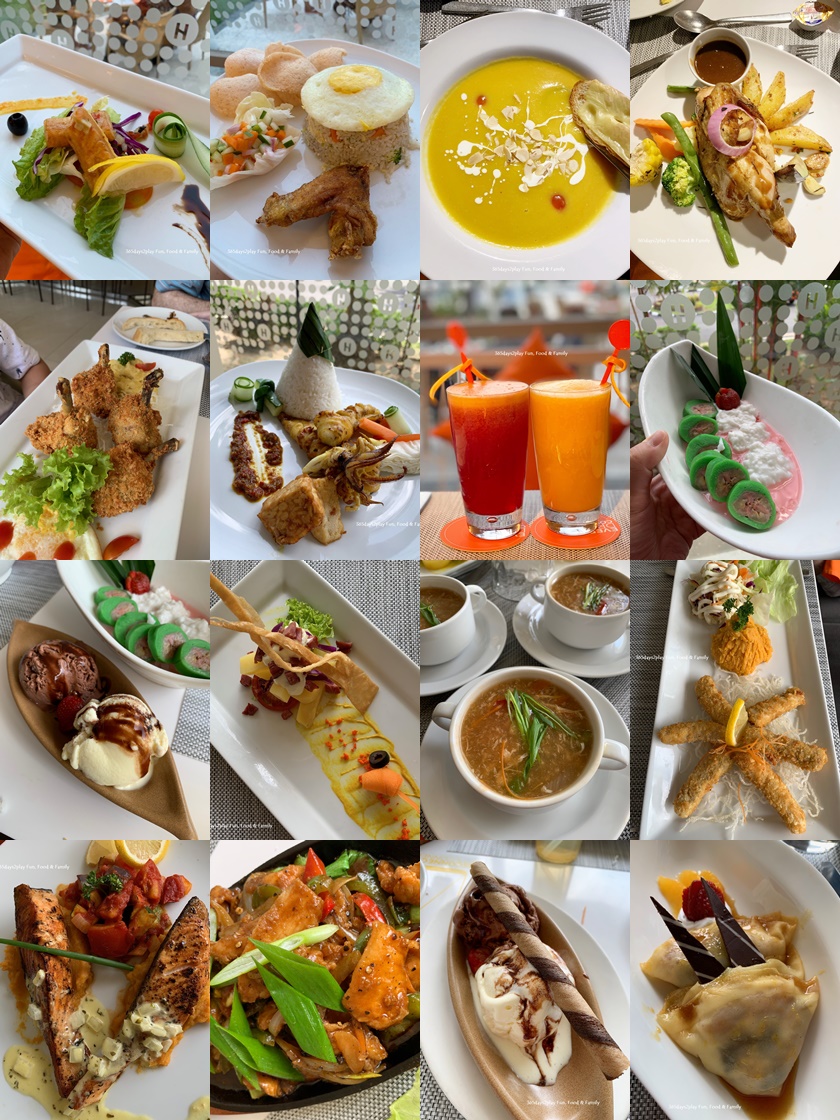 Food-wise, I was pleasantly surprised by how tasty the food was during our stay at HARRIS Waterfront. We sampled quite a lot of the dishes as we had all our meals at the hotel during our 2 nights and 3 days there. The Harris Cafe, which is the main dining restaurant and where the buffet breakfast will be served, is spacious and overlooks the swimming pool. The kids menu here is quite good, not just chicken nuggets or hot dogs. Edward was really impressed and even till this day still mentions the Tinky Winky fried rice that he had. I too stole some items off Edward's plate. I must say the chef has a flair for Western food. I just couldn't get enough of the potato mash and pumpkin mash that accompanied my main courses. And the fried things we had like fish fingers or fried chicken, they were beautifully crispy without feeling greasy at all.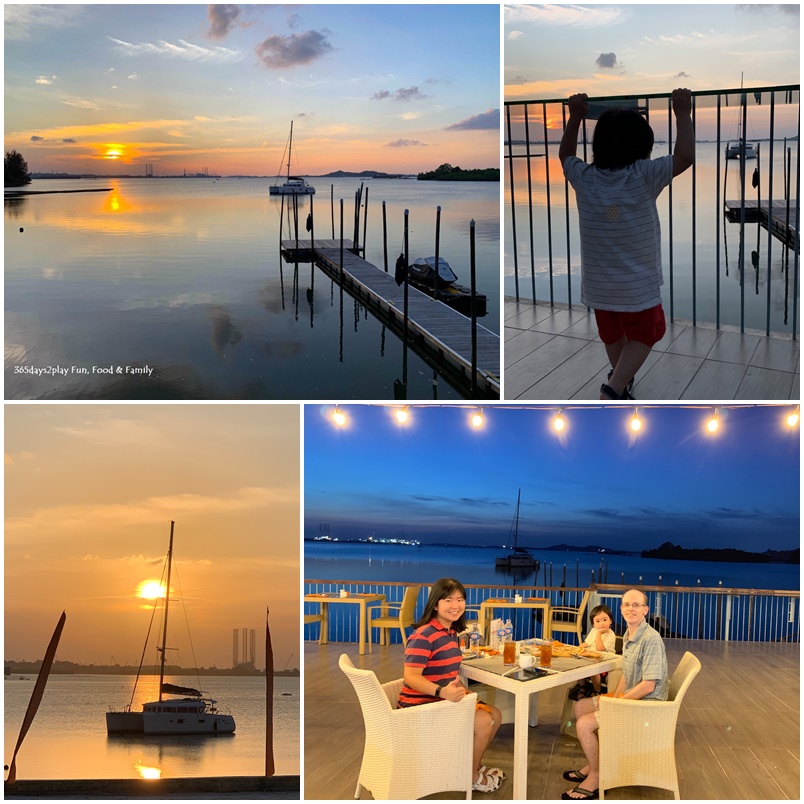 There is also an al-fresco dining area which overlooks the sea. This is the best place to be for dinner if you want to enjoy a romantic view of the sunset or be serenaded by a band of guitarists. Even if you don't have dinner here, you should certainly catch the sunset hour here. You will be surprised, you can capture some great shots of the sunset if you get your angle right. Just make sure you have a ton of mosquito repellent!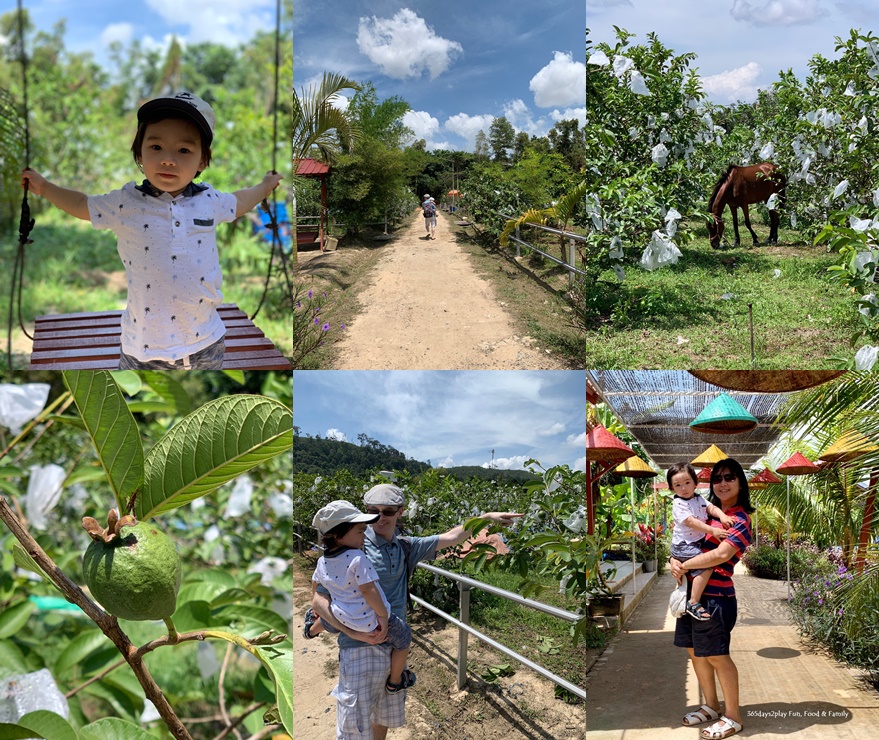 Those travelling with kids will tell you that you don't need to plan many activities during a hotel stay because the kids are perfectly happy to laze around in the room watching TV, or head to the pool. But if variety is the name of your game, there are also other activities to be enjoyed both within the property as well as in the near vicinity. There is a small kids room which is suitable for young children. There is a spa providing massage services. If you want something sportier, for a fee you can go for kayaking, stand-up paddling, banana boat and similar activities. This is still within the property. Right next to HARRIS Waterfront is also an archery venue, which we unfortunately did not have time to try. We did however travel 2 minutes up the road (the hotel provides free transportation if you indicate your interest in advance) to a guava farm. For about SGD$2, you can gain entry to the guava farm to walk around and take a look at the plants. The entry fee also comes with a free cup of refreshing guava juice, which is a must try because it tastes so sweet and fresh. In fact I hear that people often just stop by to purchase the juice just because it tastes so good. To be frank, the guava farm is pretty small, although we enjoyed it because anything "farm" is interesting to us given that we live in the concrete jungle that is Singapore. You could think of it as paying $2 for a cup of guava juice with free entry to the guava farm thrown in! Oh and next door is an ATV venue next to the guava farm, should you be interested in that.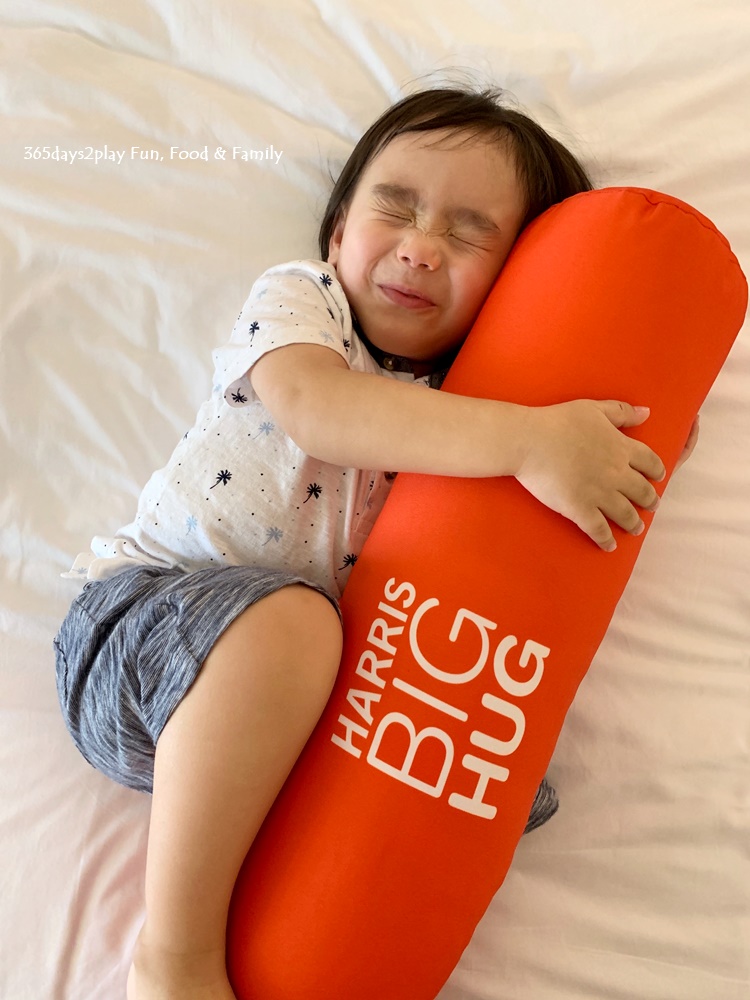 Nooooo…. I don't want to open my eyes and have to leave the room!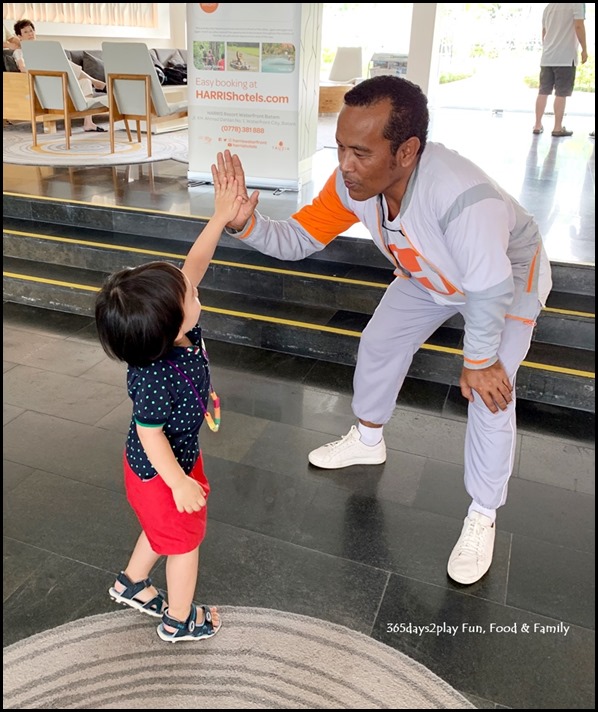 Adios Sapril! See you again soon! Sapril is the HARRIS Man which is like the concierge. He'll give you advice on what to do and where, or arrange for transportation.
All in all, we had a really enjoyable time at HARRIS Waterfront. We were sad to have to pack up and leave on the 3rd day. It felt like we had barely arrived and scratched the surface of what to do at HARRIS Waterfront and we had to leave already. But we were still not done with Batam yet because we were going to spend 1 final night at sister property HARRIS Hotel Batam Centre. More on that in the next post!
Scroll down for more pictures
HARRIS Waterfront Family Room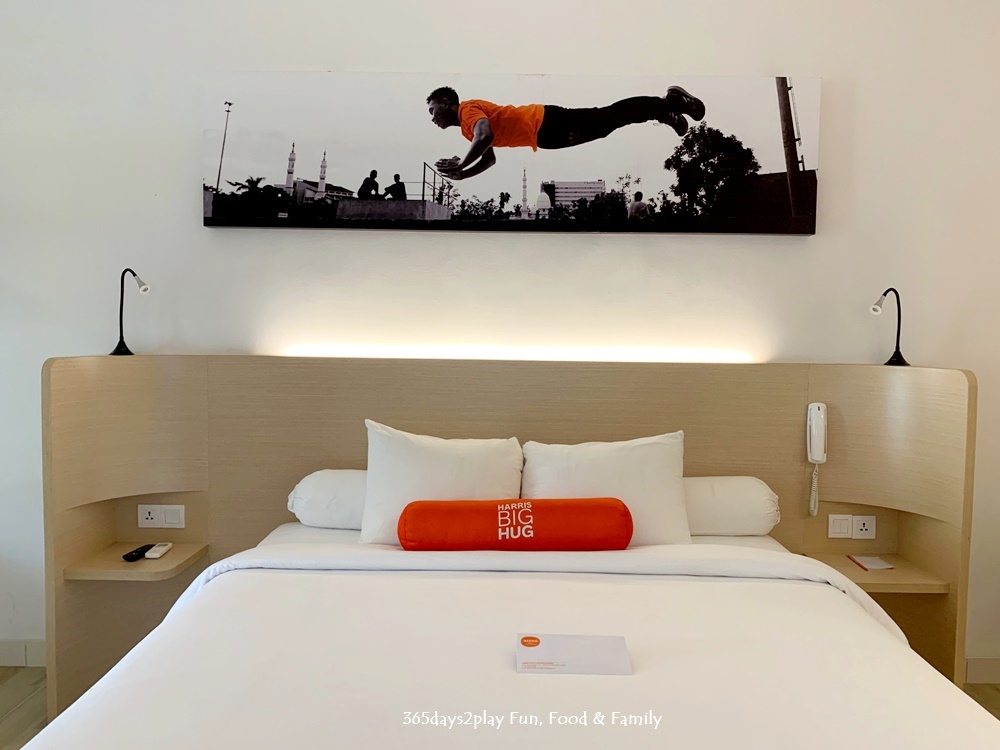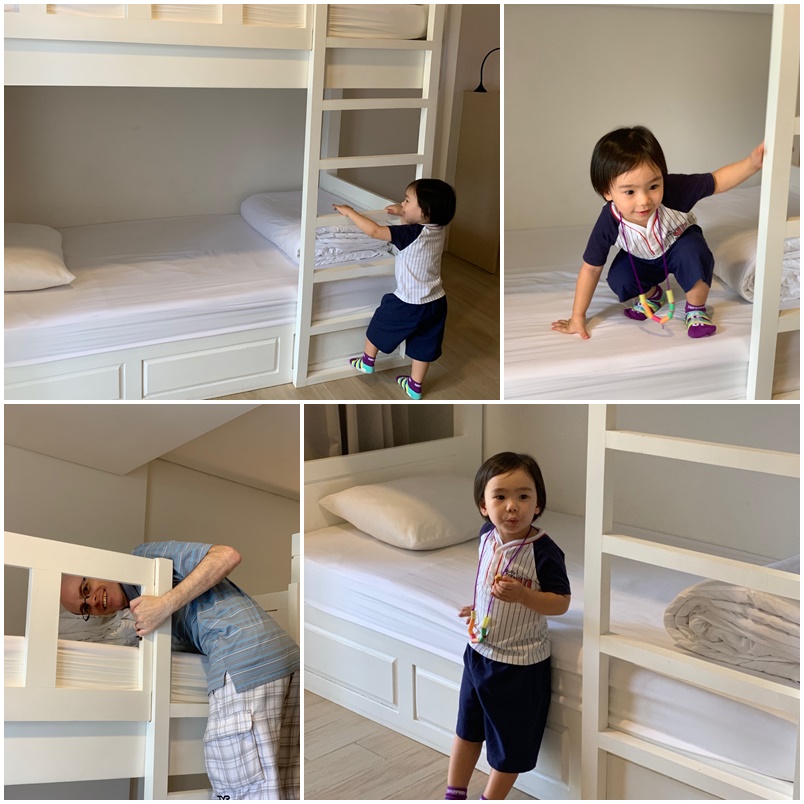 Up down up down. Edward couldn't get enough of the double-decker bed! Even Papa had to have a go at it.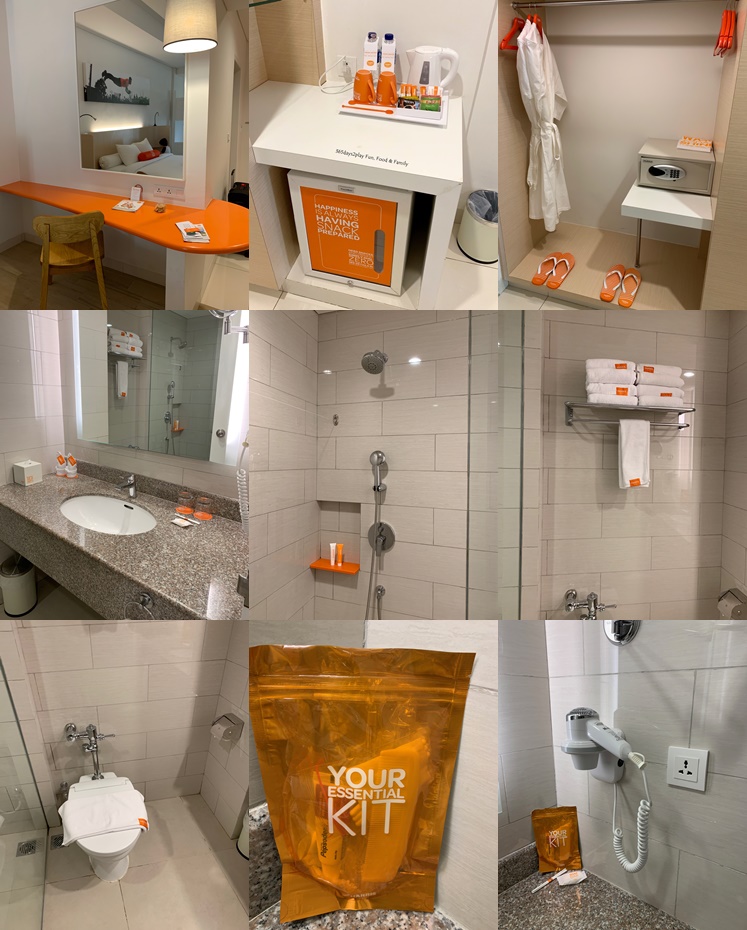 The amenities in the room and pictures of the bathroom
Around the resort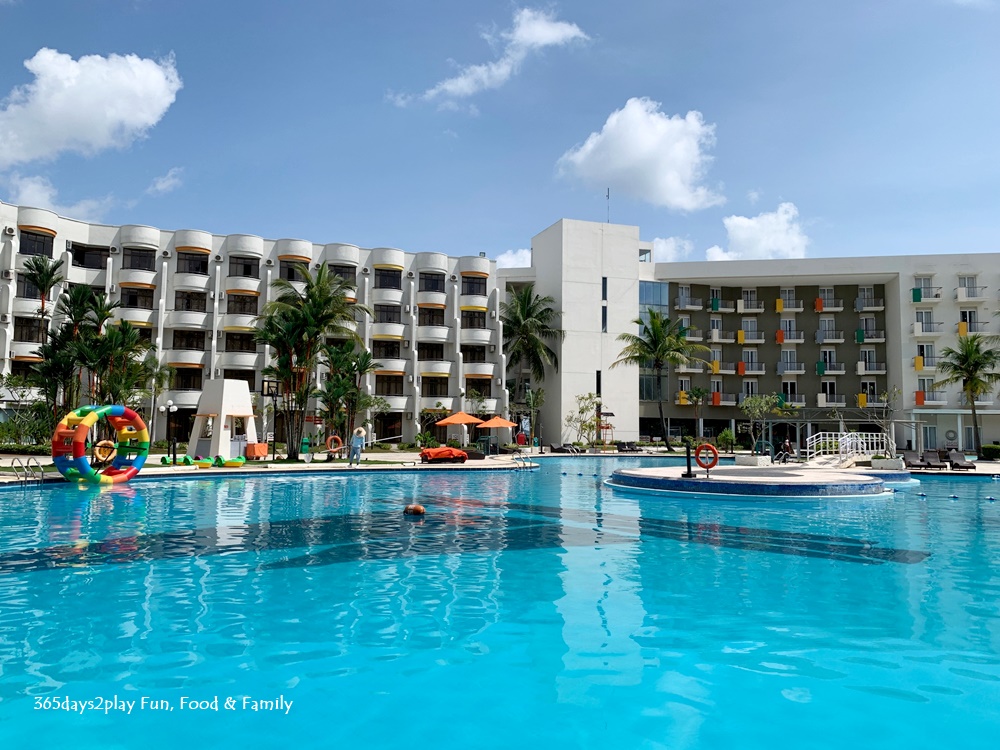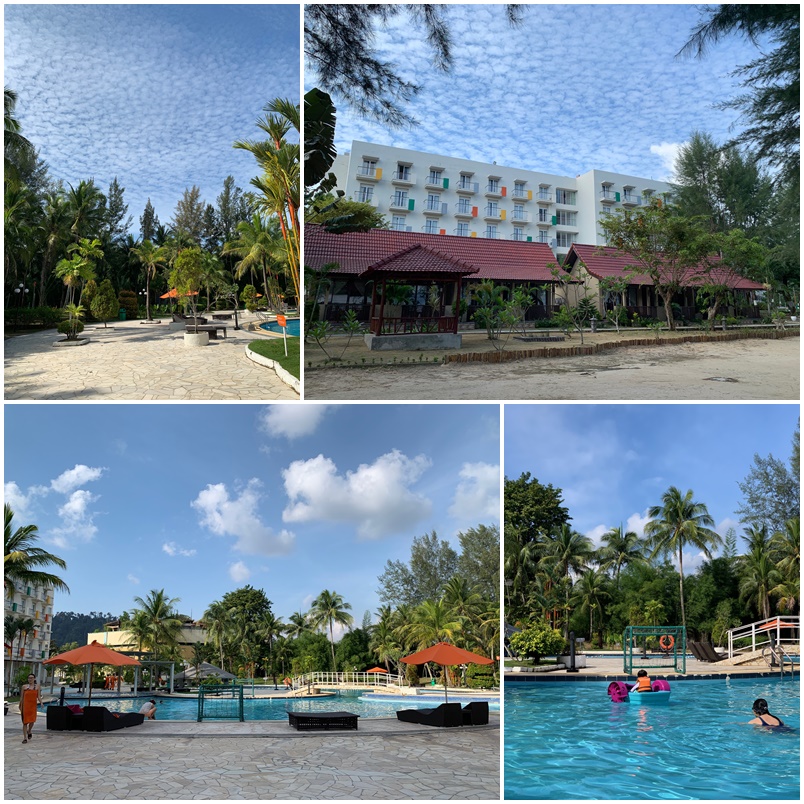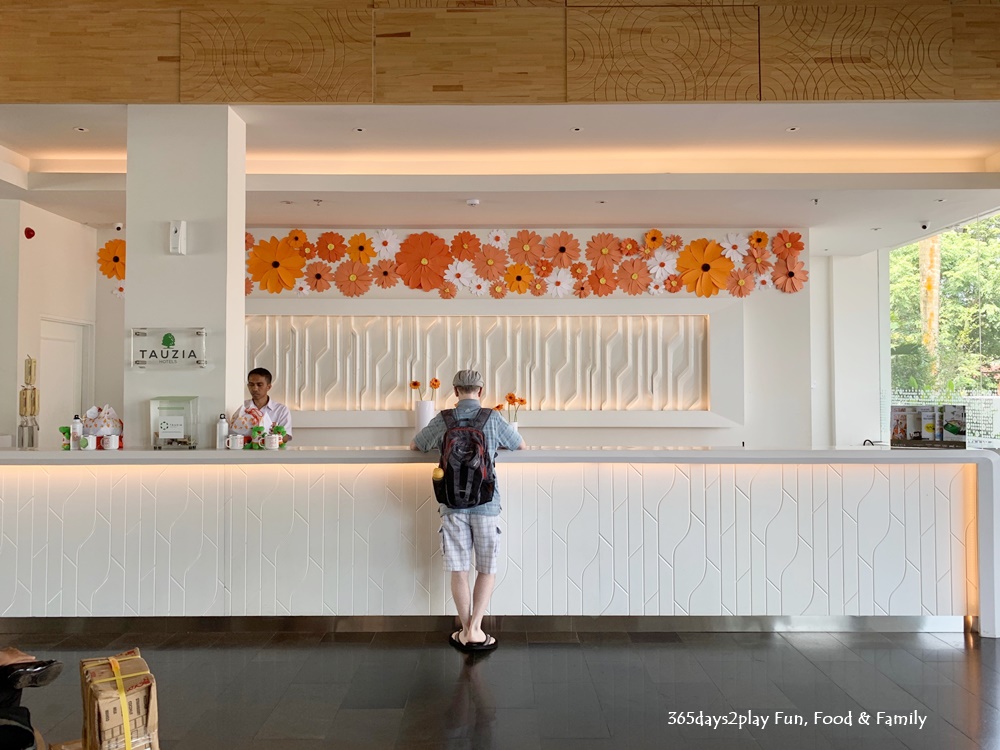 Activities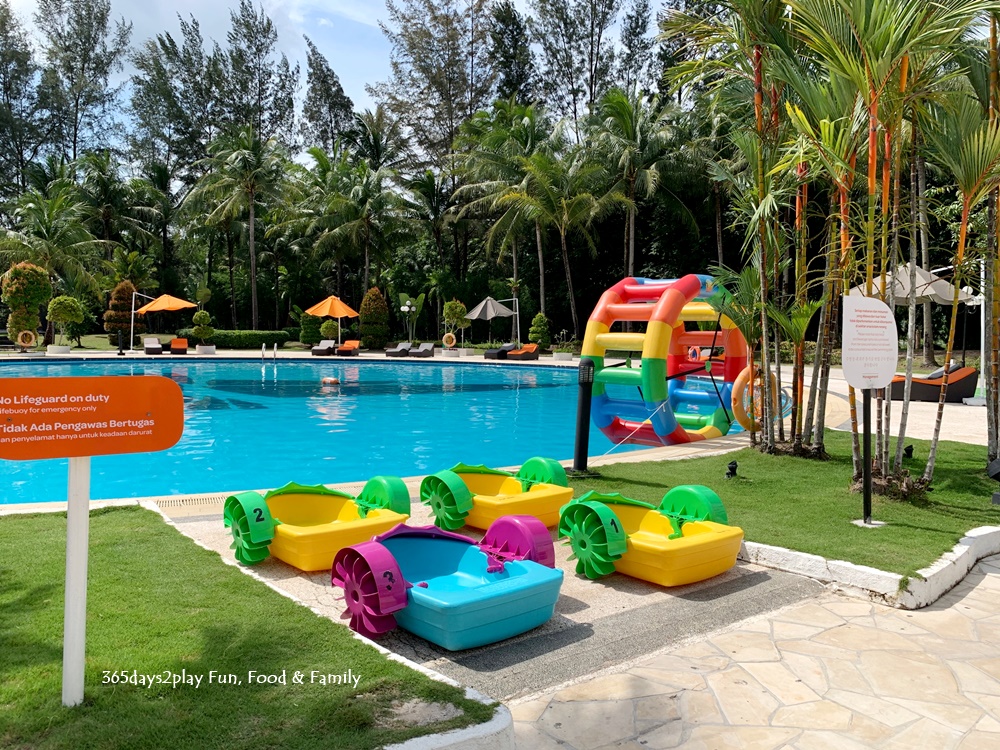 If you want more than just a swim, you can pay a small fee to try the paddle boat or that hamster wheel there. Or lie on the huge bean bags which are free (not pictured)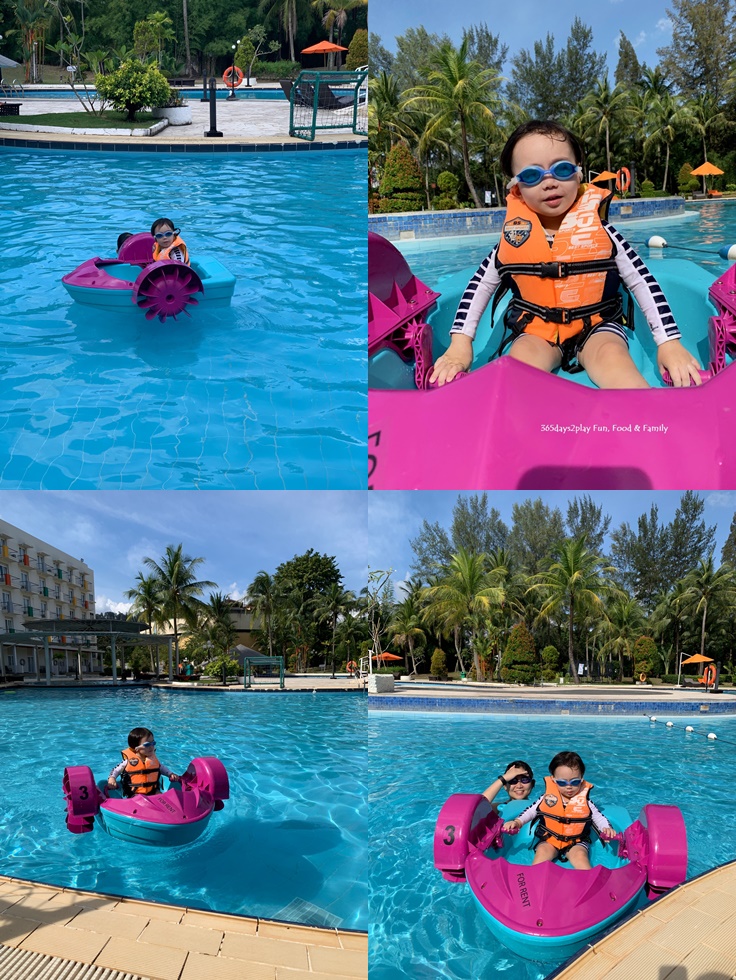 Paddle boating! Edward enjoyed this so much he didn't want to get off!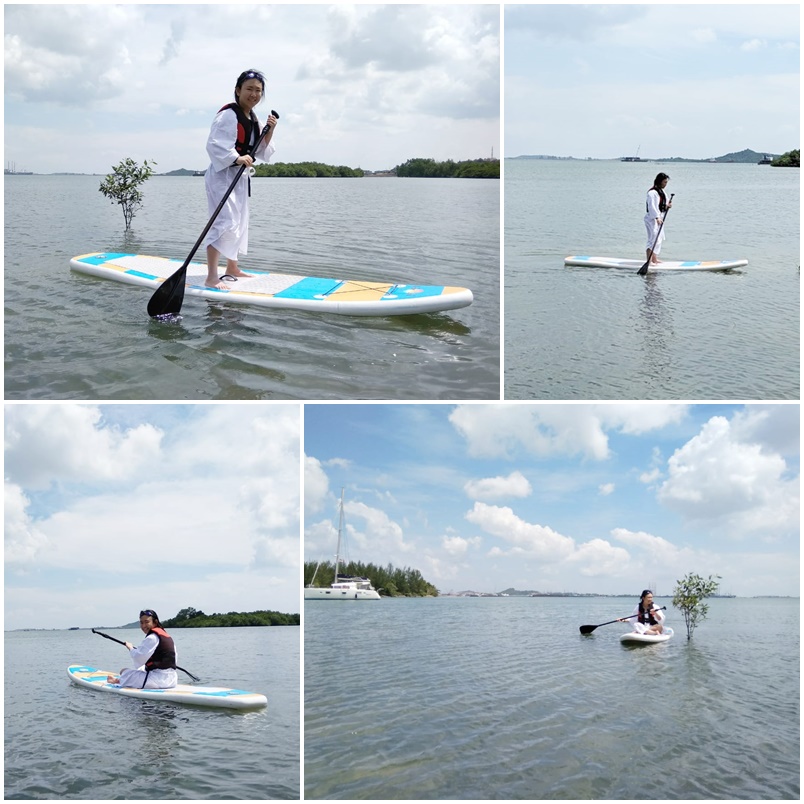 Me trying my hand at stand-up paddling….You know what, it looks more difficult than it is! It's actually very very shaky so I spent quite some time sitting down before attempting to stand up! This is still within the resort compound so you don't have to leave at all, and also explains my dressing. I actually came from the pool to have a look and was persuaded into trying…. There's many more water activities to try if you have the time.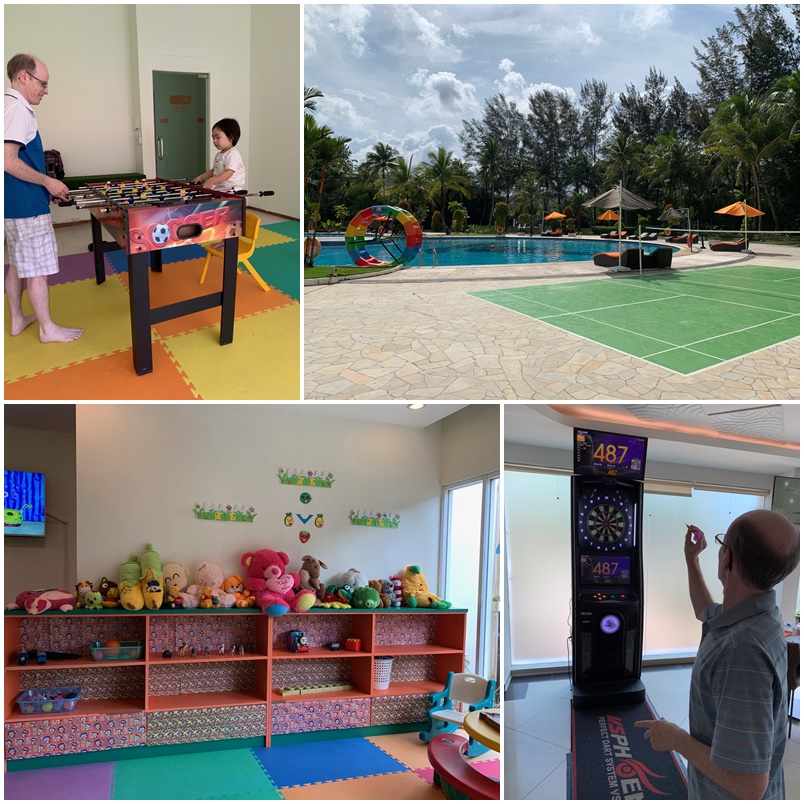 Also a small games room, badminton court, kids play club. These are all free to use. Also tried our hand at this dart board. Very cheap to have a game so we kept playing. My husband is quite good at it, as he had a dartboard since he was a kid, where as I'm just taking random shots at the board….
Restaurant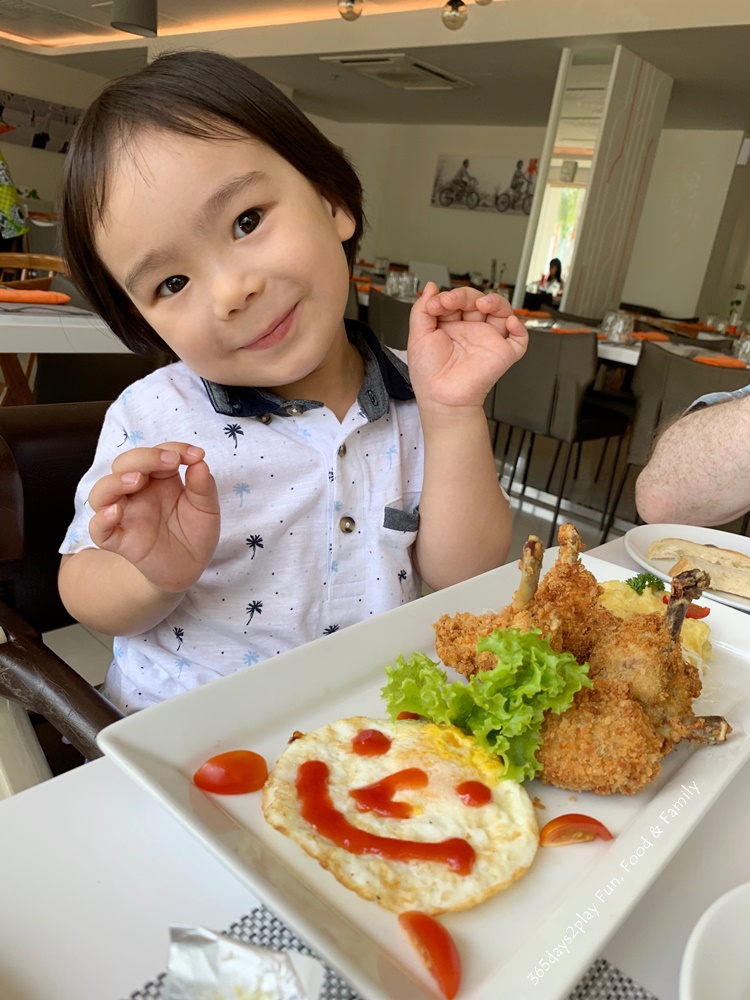 I can tell you Edward was beaming like the smiley face on the fried egg when he saw how elaborate the kid's meal looked like. You wouldn't believe this is the kids meal if I didn't say so right?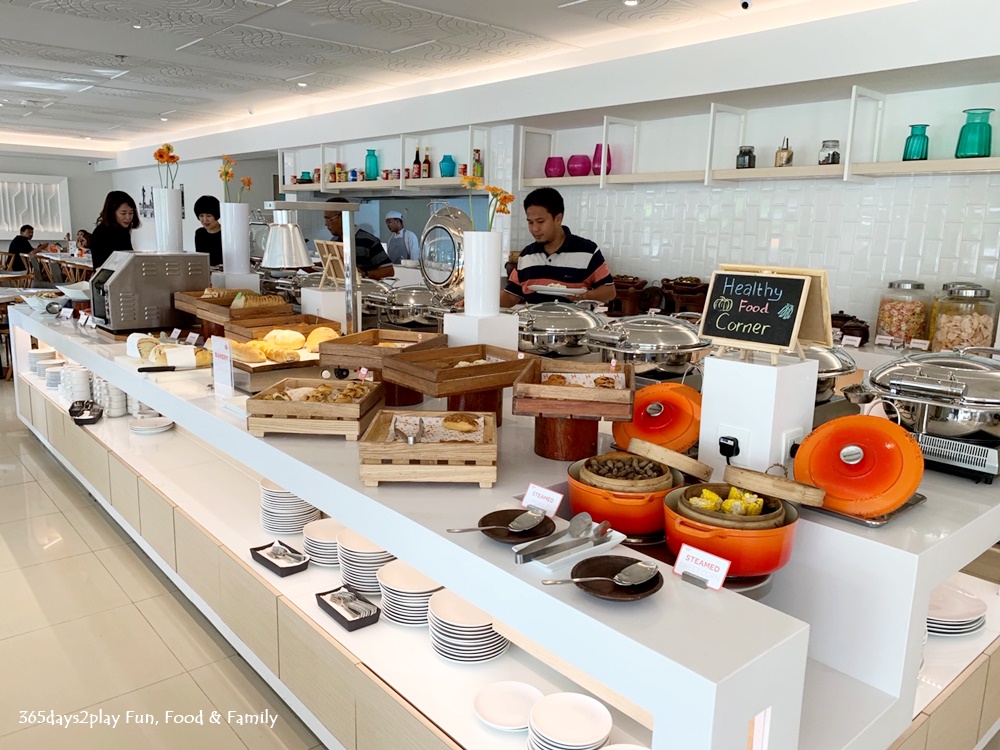 Breakfast buffet with a mix of Western pastries and other local delights.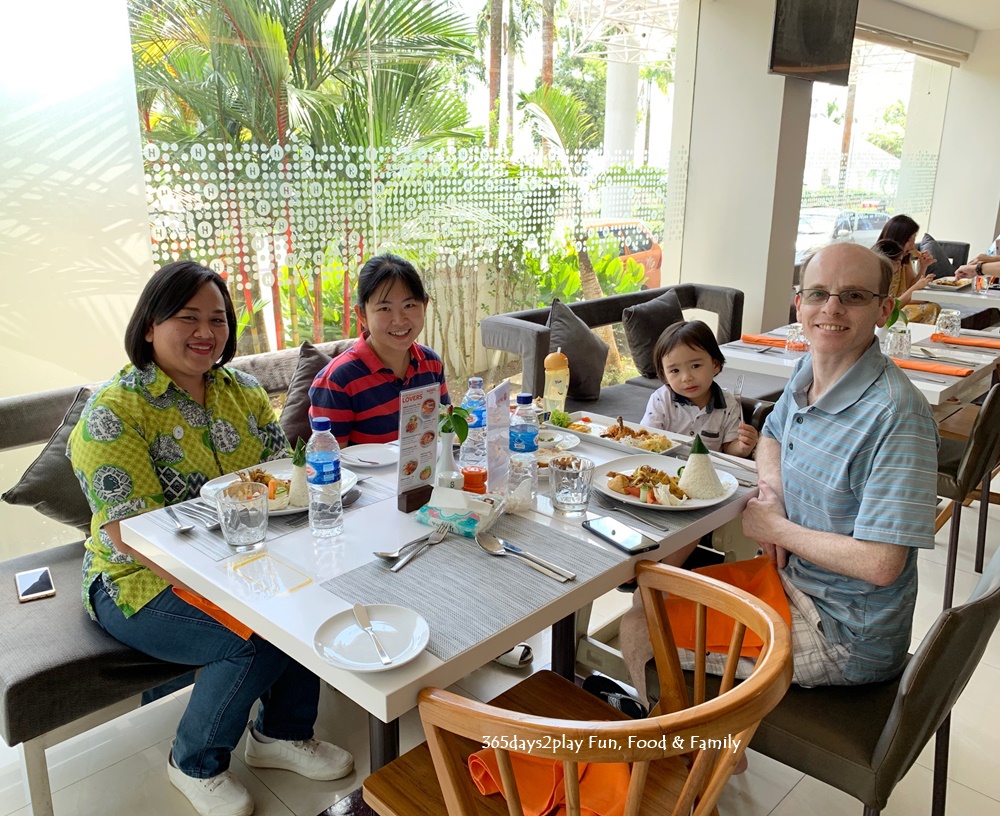 Us having lunch with our lovely host at the resort's restaurant. Dila is really friendly and even took us on a personal guided tour of Batam before we headed off to HARRIS Batam Center. Thank you Dila for inviting us, hosting us and making this a most memorable holiday for all of us Bookmark my website so you won't miss my next article!
DISCOUNT for HARRIS Resort Waterfront Batam and HARRIS Hotel Batam Center
If you're planning a trip to Batam, I'd highly recommend HARRIS Resort Waterfront Batam! And if you do indeed decide to stay at the following Batam HARRIS properties, do use my promo code for a 10% discount! Click on the links below to access the discount, or key in promo code : 2Play if prompted.
HARRIS Resort Waterfront Batam
https://booking.tauzia.com/21/HARRIS-Resort-Waterfront-Batam?utm_source=web365days2play&utm_campaign=2play&promo=2play
HARRIS Hotel Batam Center
https://booking.tauzia.com/23/HARRIS-HOTEL-Batam-Center-Batam-Island?utm_source=web365days2play&utm_promo=2play
---
Add me on Facebook, Instagram and Twitter if you want to be kept up to date with the latest happenings in the food and lifestyle scene in Singapore!
Follow my travel stories around the world
---
HARRIS Resort Waterfront Batam
Jl. KH. Ahmad Dahlan – Waterfront City
Batam Indonesia 29422
Ph: +62 778 381 888
Fax: +62 778 381 142
Email : sales-harris-batamwaterfront@tauzia.com / res-harris-batamwaterfront@tauzia.com
http://www.harrishotels.com/en-US/Waterfront