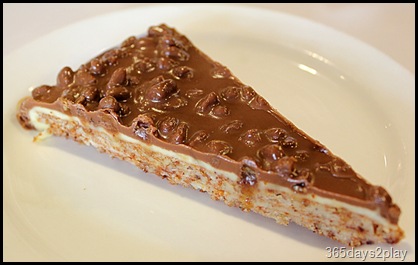 One of my favourite chocolate cakes doesn't come from a top notch hotel, nor does it cost a bomb. It's super decadent and super chocolatey. There are crunchy bits of caramel at the top, followed by a layer of milk chocolate, followed by more layers of chocolate mixed with nuts. I don't even know if this cake has any flour in it. Maybe it's just a whole mish mash of chocolate, but it sure is good. This is a chocolate cake of substance!
You can get it at the Ikea Food Hall and the best part is it costs only $3.50!!! If you ask me, I'd vote this Ikea Daim Chocolate Cake as most value for money yet tasty chocolate cake around. To tell you the truth, to me, it tastes even better than chocolate cake from Awfully Chocolate or Lana Cake Shop, and you don't have to break the bank to enjoy it. If you are an Ikea member, then your coffee or tea is free too! How's that?
I have to admit, you have to navigate through the crowd of hungry and noisy diners at the Ikea Food Hall to enjoy this tasty treat. You could try going at around 3-4pm, when there is a lull, although this just means waiting for 5 minutes for a table instead of 15 minutes. The alternative option is to buy the entire cake of about 8 slices at the frozen section.
Has anyone tried buying the frozen Swedish and premixed sauce from the frozen section? Their meatballs taste so good at the Food Hall, but I'm not so sure about the frozen ones.