The much anticipated Tulip Mania tulip extravaganza is back again at Gardens by the Bay! The blast of cool air upon entering the Flower Dome, the waft of fresh tulips and the kaleidoscope of colours, Tulip Mania is one event at the Gardens that I look forward to attending each year because it just makes me feel like I am on holiday overseas in a temperate climate. 
This year, Tulipmania pays homage to the origins of the tulip by showcasing them in a Turkish theme. Way before the tulip was brought to the Netherlands where it sparked "Tulipomania" during the Dutch Golden Age, the first wild tulips were believed to have grown in the mountainous regions of Central Asia and the ancient Ottoman Empire (present-day Turkey). So captivating was it to the Sultan and people of the 16th-century Ottoman Empire that it became the inspiration for many songs, poetry and paintings.
Btw local senior citizens get 50% discount for purchase of tickets onsite!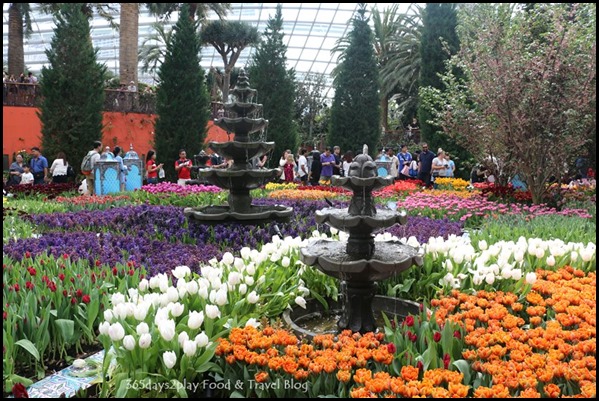 This year's visit to Tulipmania was extra special because we brought a special someone along with us! Although Baby is only 2.5 months old, we think it's important that Baby gets to experience as much as possible instead of being stuck at home with the 4 white walls. We were hoping that he would enjoy the colours of the various tulips, but he was in a grumpy mood. Oh well, at this age, he is indeed a little too young to appreciate what he is seeing. Still it was great fun for us the parents nonetheless! The pictures of his grumpy face below are priceless!