[Media Invite]
Did you know that the Halia restaurant at the Singapore Botanic Gardens has recently been converted into a Halal restaurant as of June 2017? This beautiful restaurant which has been at the UNESCO World Heritage inscribed Singapore Botanic Gardens since 2001 can now be considered an inclusive dining destination for all. Muslims who visit the Botanic Gardens often now have the option to dine amidst this lush greenery without having to scoot off elsewhere for lunch or dinner.
It certainly makes sense to cater to the Halal market because of its unique location in one of Singapore's most popular tourist destination.  In order to be certified Halal, a significant change they have had to make is to remove alcohol from the menu. I am told this has not put a dent on profits because now the customer base has widened! Anyway, with a name like "Halia", which means "ginger" in Malay, the connection is now even stronger.
Btw, when I say "inclusive dining destination", I do mean it also in terms of pricing. Years ago, if you thought Halia to be an expensive restaurant, you would be right. But the menu has been largely revamped and now there are many main course-sized dishes going for less than $30. Appetisers are in the $15s range while desserts are about $11. Yet when you look at the decor and the ambience at Halia, you feel like you are dining in an upscale restaurant! On the evening of our media tasting, quite a number of tables were occupied by people celebrating birthdays. I would certainly love to celebrate my birthday there, it is so romantic at night!
Anyway, on to the food. In general, I thought the food was very good, given the pricing. Quite a number of the dishes were also innovatively presented so that nothing is predictable or mundane. Also the presentation, and small touches were befitting of an upscale restaurant. It is the attention to detail that takes a dish from good to great.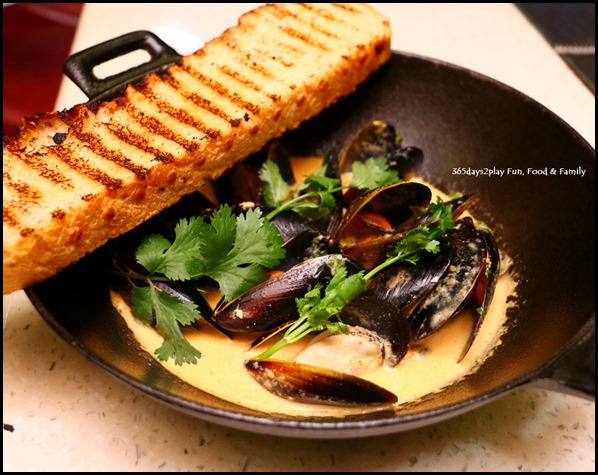 Fresh Boston Bay mussel $22
My favourite dish of the evening was this mussel dish, featuring a slightly spicy coconut and ginger flower broth had such an intense flavour that made me crave for more. A good thing that they provided a substantially sized slice of focaccia bread to mop up the delicious broth. This dish is listed under the "In Between" section of the menu, meaning that this may not be filling enough if you're a large eater.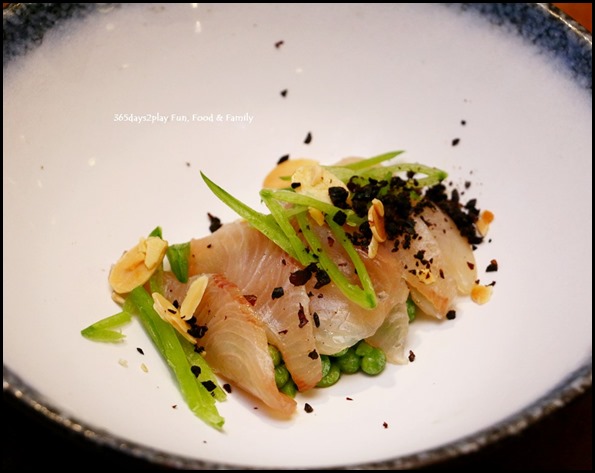 Lightly Smoked Kingfish $17 
The fish was pretty delicate in flavour as well as texture, and disappeared all too soon. Oh you're supposed to pour a chilled cucumber & ginger shooter onto the fish, but I quite liked it on its own.