A couple of weeks ago, after visiting my once favourite Epicurious for brunch, I decided to hop over to another place for coffee. We are so privileged now aren't we? There are so many cafes to choose from these days that it is now possible to go cafe hopping, sometimes even along the same stretch of shops!
Robertson Quay's definitely changed somewhat since I was last there over a year ago. A number of prominent players have left or joined the scene. Eg Brasserie Wolf is no longer there, and in its place is now Haxenhaus, a German restaurant with quite affordable pricing. The Partner did not manage to satisfy his schnitzel craving while in Alsace / Germany, so I think we'll be visiting Haxenhaus or some German restaurant soon. Even La Maison Fatien has opened a second outlet in Robertson Quay too. And of course, a few more cafes have joined in the action.
We decided to have our cuppa at Smitten Coffee and Tea Bar. Although they've only been around for one year plus I think, they aren't considered the new kid on the block anymore! It was quite a cosy little cafe, with the bulk of the seating actually outside the cafe, but still sheltered as it is in the concourse area of The Quayside building.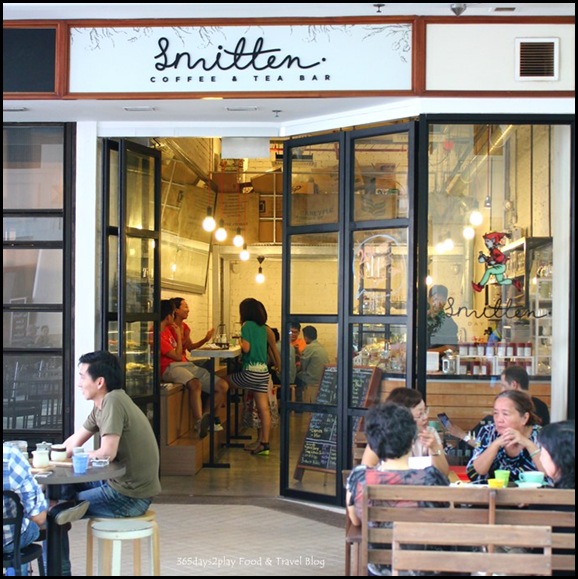 We got the raised seats inside, facing the coffee making area, so that was quite nice.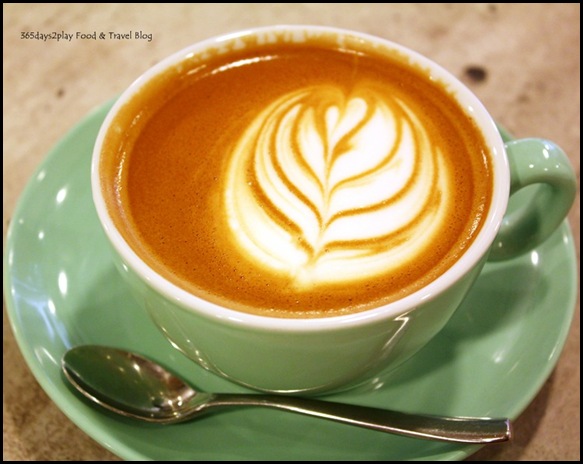 All we had was just cafe latte, costing $5. It was the Thumper Expresso Blend and it was rather strong and slightly acidic, so we had to add an entire packet of sugar. For coffee beans that have a less acidic and bitter tone, I sometimes do not need sugar at all.