The Mid-Autumn Festival is nearly upon us. September 19th, Thursday is the big day! Have you planned anything interesting? When I was a child, the week leading up to the Mid-Autumn Festival, or the moon-cake festival as I sometimes call it, would be licence for us kids to tot around lanterns at the playground. Maybe I haven't been looking out for it, but I get the feeling that children these days don't go gaga over the lanterns as much? I don't feel as if I've seen many pretty toy lanterns being put up on sale.
Anyway, for the adults, the most iconic thing about Mid-Autumn Festival would be the eating of mooncakes. Selecting a good mooncake is no easy job, and worse still, they aren't cheap! It's hard to tell which mooncake is the best, especially when you're sampling tiny morsels at the mooncake counters. Most people end up buying from the famous hotel brands, or they simply choose mooncakes with the prettiest boxes. Yeah, it's become a box buying ritual rather than a mooncake buying ritual, but with the eye-catching and innovative mooncake box designs out there, who can be blamed?
The truth be told, people mainly buy mooncakes because of symbolism. Like it's respectful and courteous to give a box to your parents or your elders. I mean, do you hear of people craving for mooncakes in April? Not that mooncakes aren't tasty, get the right ones and they are quite delectable. But they are soon forgotten after the Mid-Autumn festival is over. In any case, the job has to be done, and this is the last weekend to throng the malls to find your favourite mooncakes. Here are some last minute recommendations if you haven't already gotten yours!
---
Where to buy mooncakes in Singapore
Your best bet is to go to one of the big shopping malls such as Raffles City Shopping Centre or Takashimaya (Event Hall) and Vivocity where there will be rows and rows of booths featuring all manner of mooncakes. Even the hotels will set up a stall there. You can sample to your heart's content, but mind the calorie count!
If not, here are some that I have sampled over the last few months (yes!)
~~~ Paradise Inn ~~~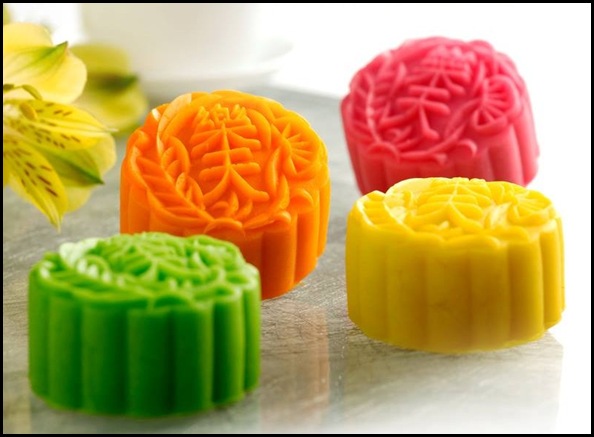 Assorted Fruit Snowskin Mooncakes
These are refreshingly fresh tasting on the palate, and come in vibrant mooncake skin colours. Flavours include revitalising green apple, energizing orange, summery pomelo and rejuvenating cranberry. Love these eye-catching moon cakes that I would say are very kid friendly!
Call 8363 8555 / 9452 5664 10 am – 7 pm daily or visit any of the Paradise Group outlets. www.paradisegp.com
---