If you've enjoyed reading my articles, do vote for me 365days2play by clicking on the green banner above.  You stand a chance to win $500 painting package vouchers and $100 home decoration vouchers too! Voting is from 8th Dec to 14 Dec! Vote once daily!!
---
When getting your rooms painted, most people would pay a lot of energy and effort into deciding what colours to choose. I for one am still thinking whether or not to go ahead with my original stately blue choice, or to go for a more neutral earthy tone, both of which I think would go really for the theme that I have in mind.
But one thing most people forget to think about, is the type of paint to get. Yes, you may have selected the colour, but times have changed! Gone are the days where paint is just a coating on the wall that happens to have a colour. Nowadays, paint comes with magical scientific properties that you would have not thought possible, I kid you not! For example, if your walls have many imperfections like cracks, you ought to try the the Dulux Pentalite  paint. If you want some help making your tiny rooms look just that bit bigger, Dulux Light & Space with Lumitec is what you want. For indoor spaces, these are the following paints that you can get from Dulux.
Dulux All (all in one)
Dulux Wash & Wear (Repels tough stains)
Dulux Pure (with air cleansing properties)
Dulux Light & Space with Lumitec technology (makes rooms look bigger)
Dulux Pentalite (hides walls imperfections)
Dulux Weathershield (protection against the weather)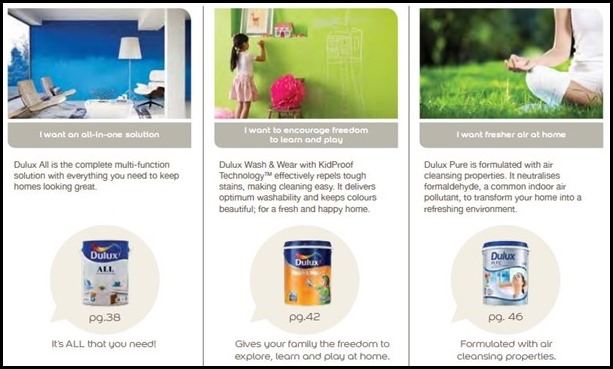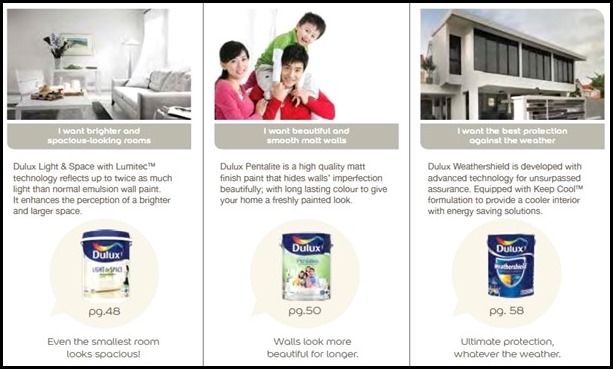 That Dulux Light & Space with Lumitec technology sure sounds like it was taken out of a page from Harry Potter's world, but in actual fact, how it works is that it has properties which allows it to reflect up to twice as much light than normal emulsion wall paint, which makes the walls look brighter and hence larger. I'm sure most HDB dwellers would be keen to consider that.
I won't be going for the Dulux Light & Space though. Although my rooms are also HDB sized, I am lucky that due to the layout of the flat, all my rooms already receive bright sunshine throughout the day. I can't imagine it getting any brighter, so I'll be going for another type of paint to solve another "pesky" problem that I recently discovered.