As a tribute to Singapore's golden jubilee, Master Chef Leong Chee Yeng of The Fullerton Hotel's Jade Restaurant is introducing his SG50 Nostalgic Feast Menu inspired by traditional Cantonese dishes from the '70's and '80s. The menu is curated in partnership with Wong Ah Yoke, the highly respected restaurant reviewer and food critic at The Straits Times.
When you look at the pictures of the dishes below, you will undoubtedly be able to recognise elements of yesteryear which we did not even realise have quietly disappeared with time's passing. For example, when was the last time you saw coloured rimmed keropok adorning a banquet dish?
Wong Ah Yoke chose dishes that he used to eat as a youngster growing up in the 1960s and 1970s, where the dishes were served only at banquets and special occasions. For example, Roast Chicken or Chinese Eight Treasures Duck was served mainly at weddings or birthday banquets. Roast Chicken I believe I've seen served over the years, but I don't recall 8 Treasures Duck at all! Do you?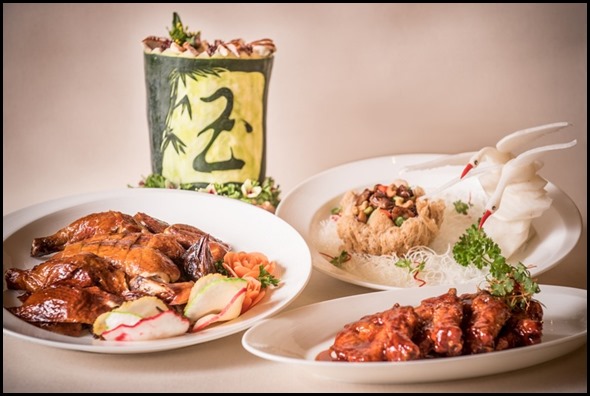 Of course, this being Jade Restaurant at the Fullerton Hotel, all the dishes are jazzed up and presented exquisitely.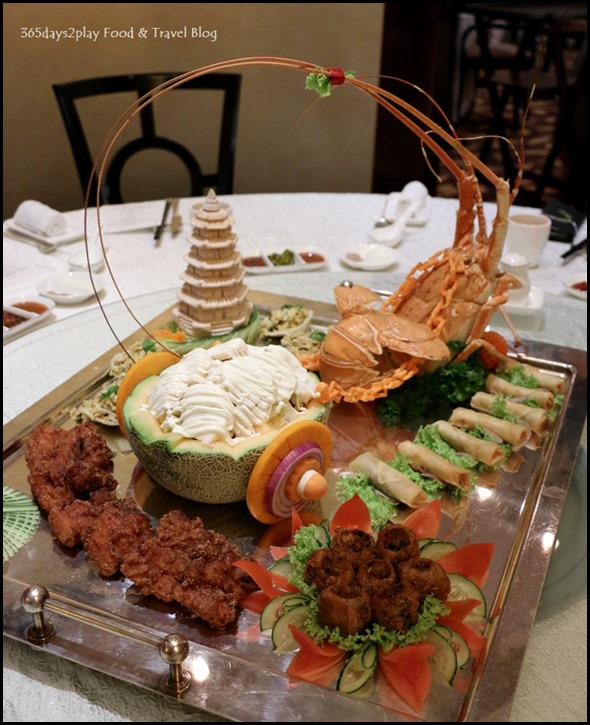 Combination Lobster Platter : Lobster Fruit Salad, Traditional Fried Prawn Roll (Hei Zhor), Fried Crab with Eggs, Crispy Kung Pao Chicken with Cashew Nuts, Fried Pork Rib with Garlic and Red Fermented Bean
Don't mind the messy table, but this elicited oohs and ahs from all the seasoned bloggers. I for one love the cold platters during wedding dinners.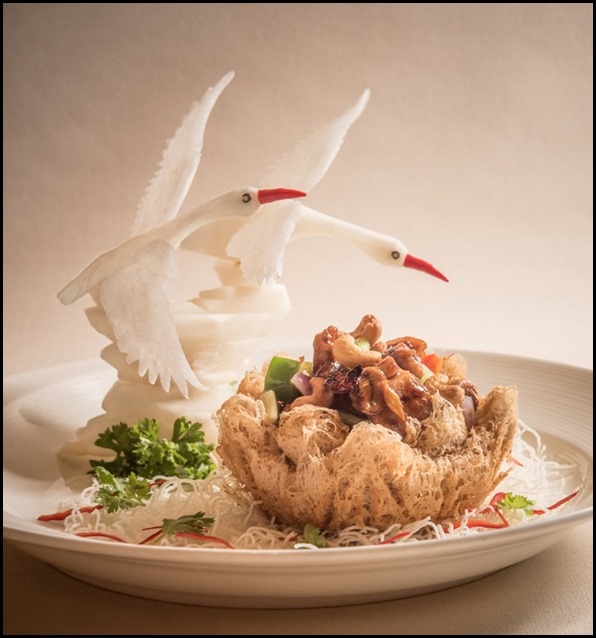 Crispy Kung Pao Chicken with Cashew Nuts $32
Kung Pao Chicken, always a crowd favourite for its smooth and tender diced chicken in sweet sauce. Check out the intricately carved figurines, which are hand-crafted by Chef Leong himself!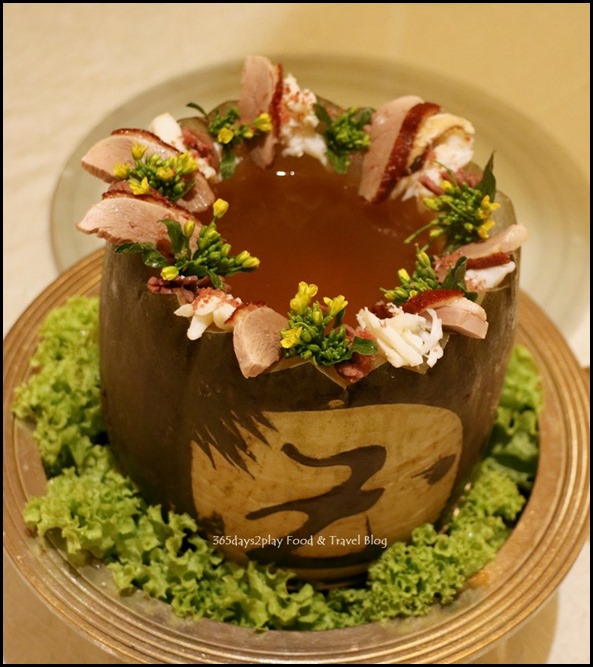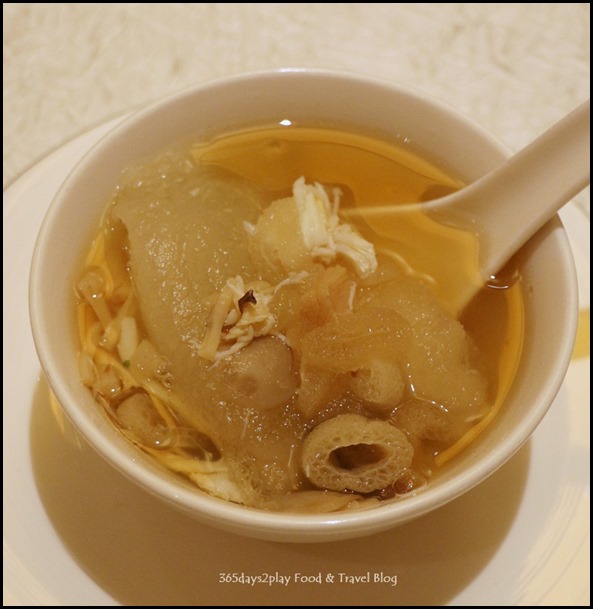 (Quail & Scallop in Melon Boiled in Clear Soup) $16 per person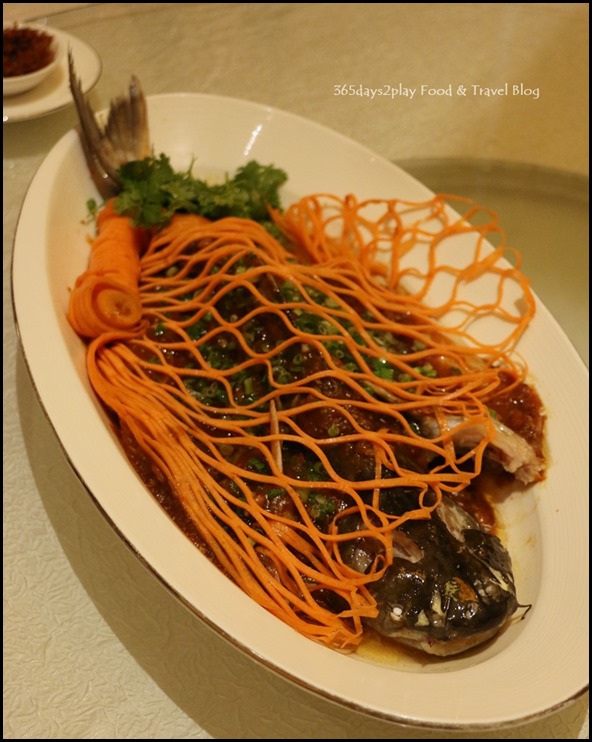 Nostalgic Steamed "Badin Fish' with Special Sauce $9 per 100gram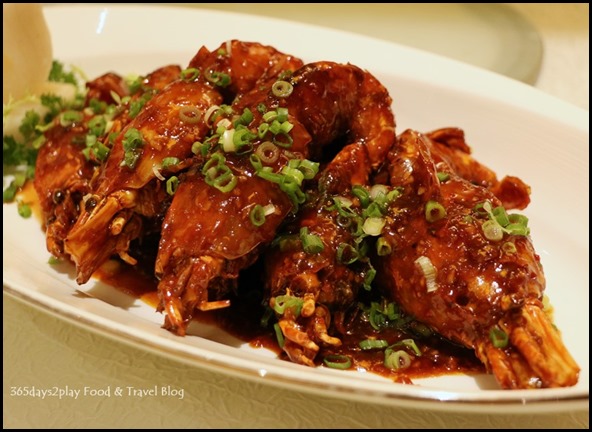 Pan-Fried King Prawns in Special Sauce $23 per 220 gram
One of my favourite dishes for the evening. I really liked the special sauce, where the prawns are marinated with salt, dark soya sauce, and coated in Chinese barbecue sauce, tomato ketchup and sesame oil.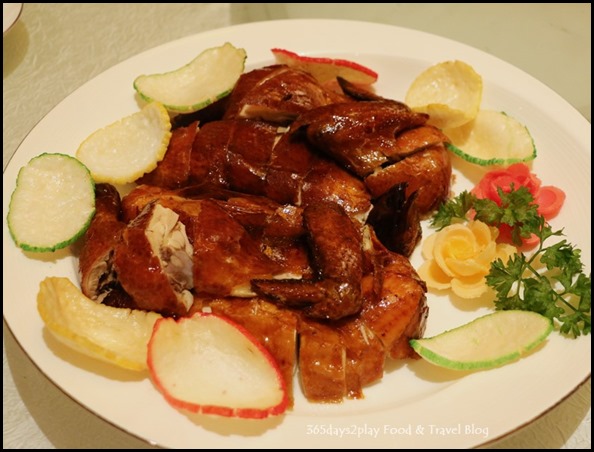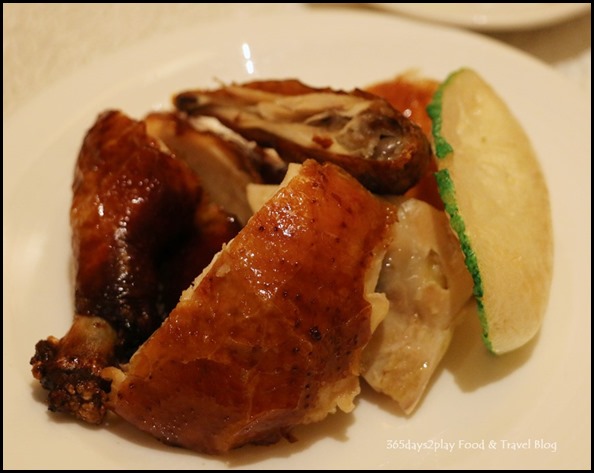 Roast Chicken $32 for half, $58 for whole
Here's the nostalgic chicken with the colour rimmed keropok. Loved this dish for its simplicity and crispy paper thin chicken skin.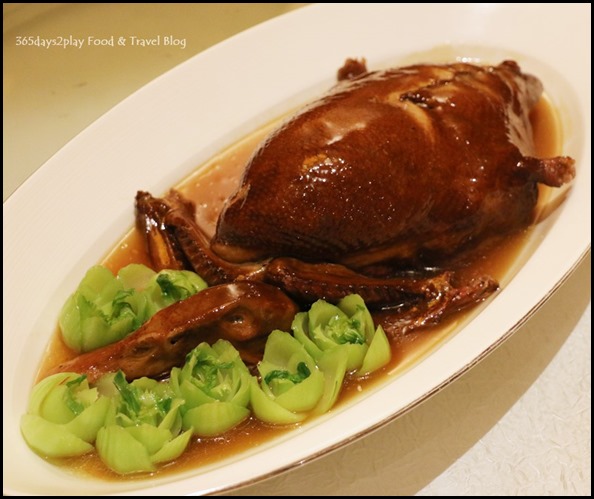 Chinese Eight Treasures Duck $90 per duck (please order 24 hours in advance)
I didn't particularly appreciate the duck though, as I thought it was too embellished with too many things stuffed inside.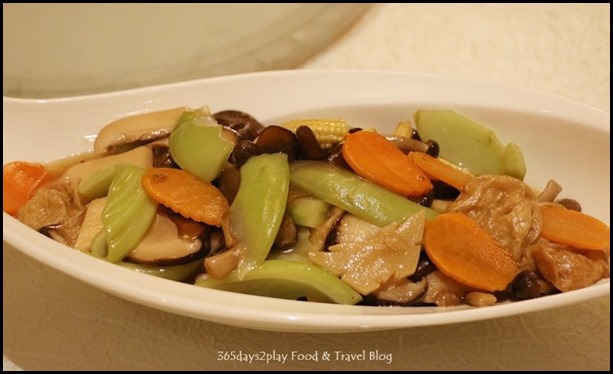 Arhat's Feast for Vegetarians $28
This is a jazzed up version of the Lo Hon Chai that those who sometimes eat vegetarian may be familiar with. I've always liked Lo Hon Chai for its mixture of crunchy vegetables in a savoury sauce, plus the gluten bits! Love the gluten bits!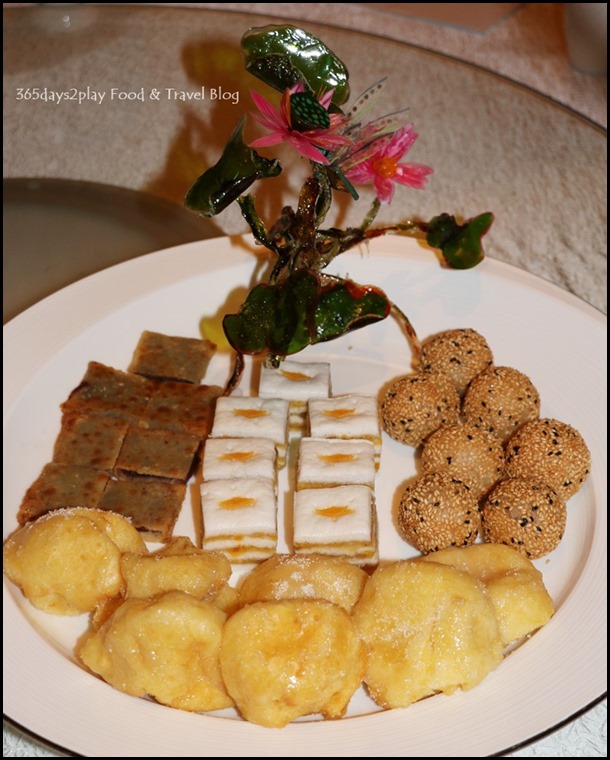 Pan-Fried Red Bean Cake $10, Chinese Sugar Egg puff $10 and Steamed Layered Cake with Salted Egg and Nuts
Alas, nostalgic desserts that I don't mind bidding adieu to. I much prefer mango sago and the likes.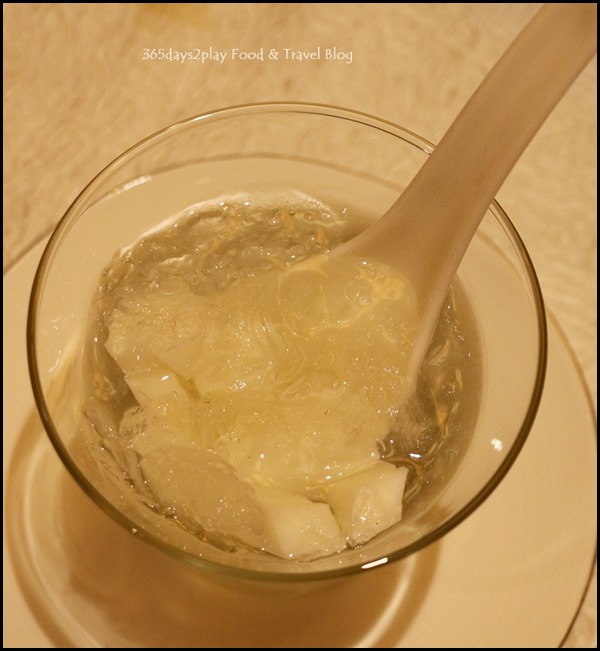 Braised Bird's Nest with Almond Toufu $32
This dessert, every single person at the table finished to the last drop. A few were on the verge of turning the glass upside down to get every last shred of the bird's nest! Definitely a very good idea to finish the heavy feast with something as refreshing and light as this.
---
The Nostalgic Feast Menu* is available only until 31 July 2015.
陶回古早味食宴 — Nostalgic Feast Set Dinner Menu – $125++ per person (6 pax)**
陶回古早味食单 – Nostalgic Feast Set Dinner Menu – $85++ per person (2 — 5 pax)
陶回古早味食单 – Nostalgic Feast A La Carte Dinner Menu*** (2- 4 pax)
Pre-ordering is essential.
Click on the link below to see the full list of dishes available in each of the menus.
http://www.fullertonhotel.com/master-chef-leong-chee-yeng-presents-his-nostalgic-feast-menu-along-with-his-first-exhibition-,mediaroom_viewItem_541-en.html
---
Add me on Facebook, Instagram and Twitter if you want to be kept up to date with the latest happenings in the food and lifestyle scene in Singapore!
---
Jade Restaurant
The Fullerton Hotel Singapore
1 Fullerton Square, Singapore 049178
Tel : +65 6735 8388