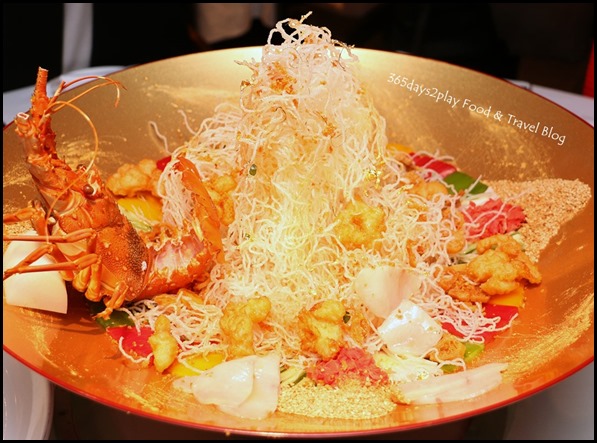 Yes, you heard me right. A yu sheng so decadent it boasts gold flakes in it! Dine at Yan Cantonese Cuisine at the National Gallery and you'll be able to toss to a year of abundance with the signature Yellowtail Fish Yu Sheng with Golden Flake in Shun De Style. The gold flakes aren't the only special thing about this yu sheng. Because crispy fried vermicelli is used as a base instead of the usual vegetable strips, the yu sheng tastes savoury rather than cloyingly sweet. Coupled with cubes of crispy lobster fillet, it's no wonder I completely cleaned my plate when I tried this decadent yu sheng last week. Scroll to the end for more pictures of the Yu Sheng.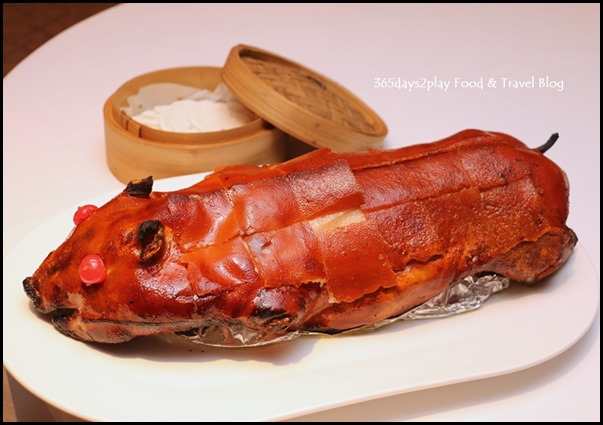 Two other must haves when you dine at Yan for Chinese New Year are the Signature Crispy Roasted Suckling Pig, and the 2 Heads Whole Abalone. Twice I've dined at Yan, and both times, the Roasted Suckling Pig impressed. The mandatory crispy skin, crackling with each chomp, but not just that. The treatment to the rest of the pig was tasty as well. Somehow, the fragrant lemongrass made the tender pieces of pork so tasty, and it's not a cooking style that is common.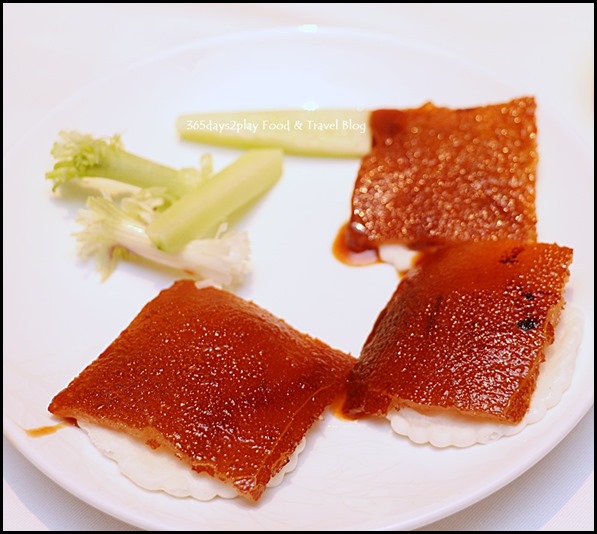 Signature Crispy Roasted Suckling Pig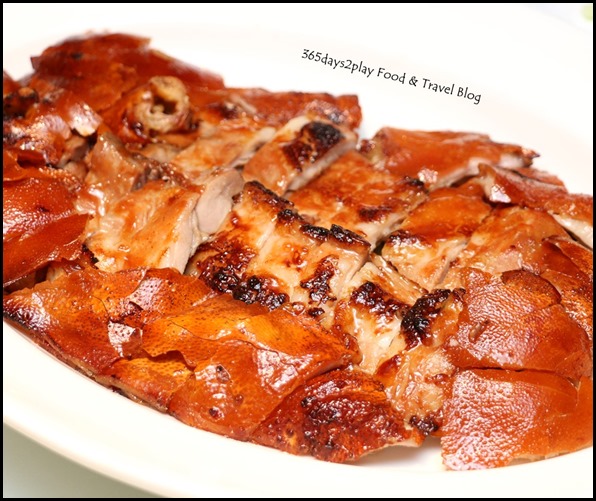 Carved Shoulder and Oven Baked Suckling Pig fillet with Lemongrass (2 ways)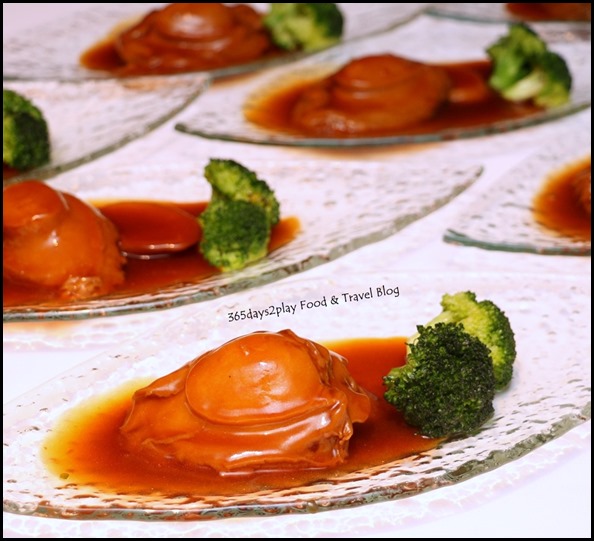 Braised 2 Heads Whole Abalone, Wild Mushroom & Sea Moss with Superior Oyster Sauce
If you have to splurge on something during Chinese New Year, let it be on this fantastic abalone dish. Move over bak kwa, to me, nothing spells CNY like abalone. The voluptuous abalone was a pretty sight to behold, and the whole table was quiet, methodologically slicing the abalone, drenching the pieces in the superior oyster sauce and delivering each succulent morsel to mouth.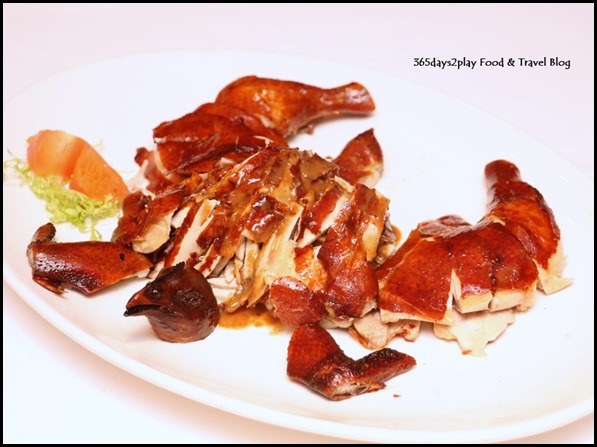 Duet Style roasted chicken with Szechuan shredded chicken
I don't think I'e come across a spring chicken served 2 ways, come to think of it. Half of the chicken was shredded and coated with a traditional homemade Si Chuan Ma La spice, while the other half was aromatically roasted. Thankfully, the Si Chuan Ma La spice wasn't that spicy to me, in fact I think I hardly noticed it.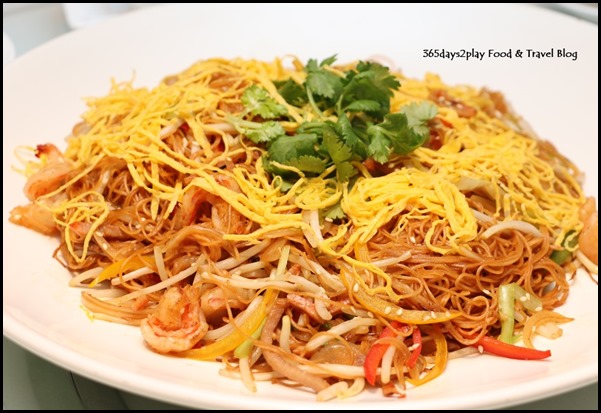 Wok-fried Mee Sua with Shrimps, Honey-Glazed Pork and Mixed Capsicum
This looked like fried bee hoon but was in fact mee sua, although if you're looking for silky soft mee sua, this wouldn't be it. I find the texture to be closer to bee hoon actually. Nonetheless, it was a tasty and light dish to complete the main courses.
Yellowtail Fish & Crispy Lobster Fillet Yu Sheng with Golden Flake in Shun De Style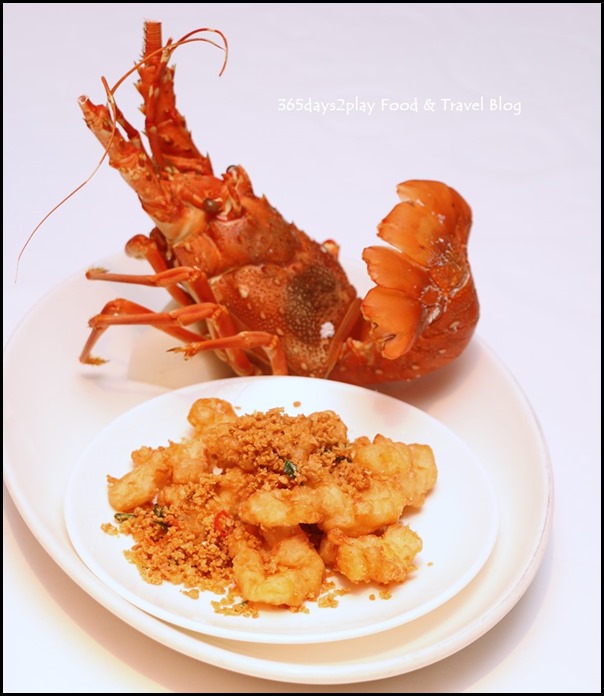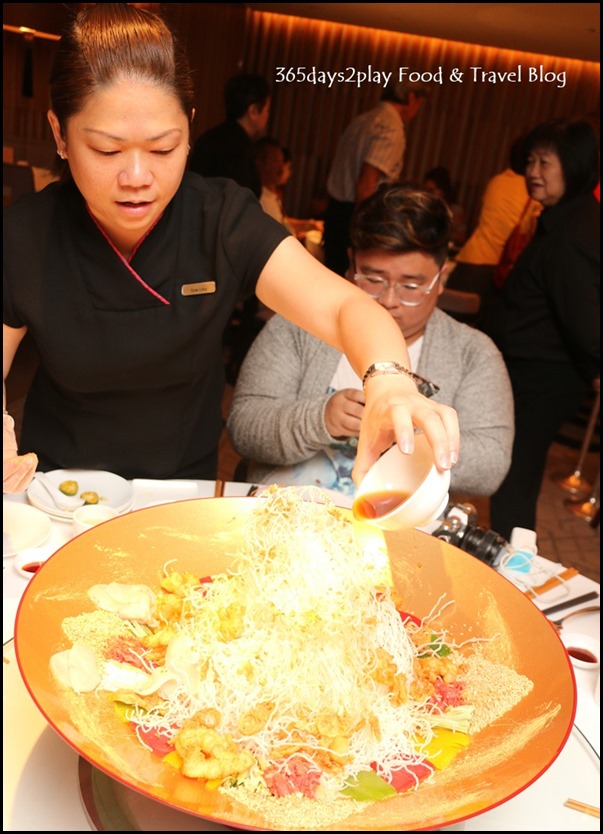 Don't forget the auspicious sayings when you lo hei!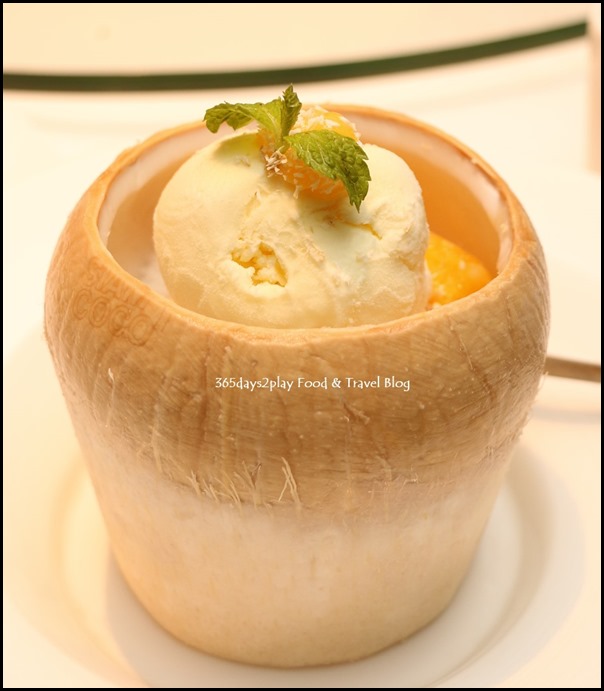 Chilled Mango Cream Topped with Vanilla Ice Cream and Oats served in Coconut
Sad to say, the coconut dessert could have been better executed. Don't get me wrong, the various components from the mango cream to the ice cream were delicious. However, when you hear that it's served in a coconut, you kind of expect coconut to be incorporated into the dessert, but it was merely used as a vessel. Fortunately for me, my coconut was tender and I enjoyed it. However several at the table had coconuts whose flesh were too hard to be scraped out.
---
Add me on Facebook, Instagram and Twitter if you want to be kept up to date with the latest happenings in the food and lifestyle scene in Singapore!
Read about my previous visit to Yan.
Where to makan for Chinese New Year 2017???
---
Yí n å®´
#05-02 1 St Andrew's Road, 02 National Gallery, Singapore 178957
Call (65) 6384 5585
Email reserve@yan.com.sg
Book online via CHOPE http://bit.ly/219xw4u
Website : www.yan.com.sg
Operating Hours :
11.30am — 2.30pm (Lunch)
6.00pm — 10.30pm (Dinner)
Yí n's Chinese New Year menus are available for both lunch and dinner from 9 January to 11 February 2017. 2 reservation slots for dinner at 5.30pm and 8.15pm are available on the eve of Chinese New Year on 27 January 2017. Guests can refer to www.yan.com.sg for the respective menus and make their reservations at reserve@yan.com.sg.