[Media Invite]
Pan Pacific Singapore's renown Cantonese restaurant Hai Tien Lo has recently refreshed its dim sum buffet menu, so if you're looking to indulge in multiple servings of dim sum, you might just want to check out Hai Tien Lo. The dim sum list isn't very extensive, however there are also numerous main course type dishes to choose from, as well as special dishes. The special dishes are a must order because they are things like Mini Buddha Jumps over the Wall, and braised abalone. The pricing for the dim sum buffet, especially on the weekends seems relatively more affordable than other dim sum buffets from comparable hotels, based on my recollection.
The dim sum dishes I tried were all very good. I think you won't go wrong with any dim sum dish that you order because this is certainly one of Hai Tien Lo's expertise. Although the main dishes we tried were all good too, if I had to pick one, I would definitely recommend the poached sliced pork belly with shredded ginger in fish bone broth. The pork slices were melt in the mouth tender, and the fish bone broth was of the type of broth where you want to just keep drinking it because its richly flavoursome and nourishing.
For the desserts, go for the Chilled homemade bean curd with imperial swiftlet's nest. The beancurd is not the old school type, if you know what I mean. And it has birds nest, so it's self explanatory why you have to order this right? Also go for the Chilled osmanthus jelly with quail's egg and maltose. It's really light and with a nice fragrance, so it's a fitting end to a heavy meal, unless of course you still have stomach space for a heavier dessert.
Scroll down to see a sampling of what I tried during the media tasting session.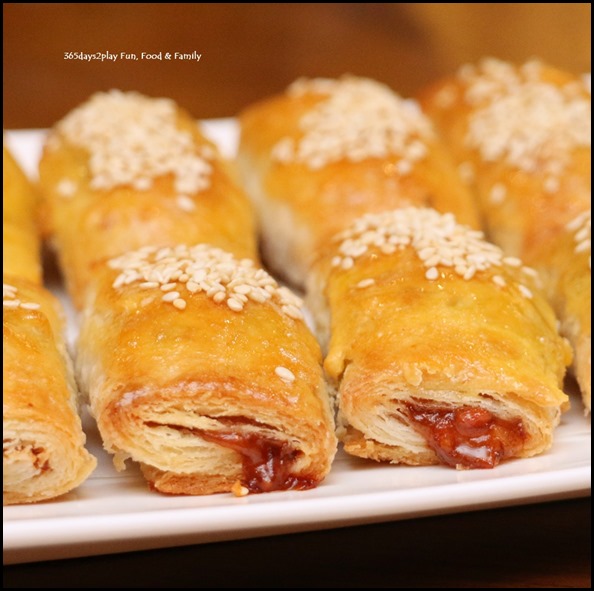 Char siew puff