A few days ago, we were at Ricciotti to celebrate the impending departure of one of our colleagues. The last time I was at Ricciotti was several years ago, and while the food was good, I thought it was too expensive to go there on a regular basis. This time round, it seems there are lots of promotions going on, which makes it worth my while to try out Ricciotti.
2 of the colleagues decided to go for the $23 set meal. The set meal comprises of a mains, a dessert and drink. There's very few mains to choose from, basically some chicken pasta or salad. The good part about the set meal is that you get to choose any dessert and drink from the main menu. Desserts themselves are already $8+, and coffee is $5+, so it's not a bad deal. I didn't like the pasta so I couldn't order the set meal. However, there was a 1-for-1 pasta promotion going on, so it was fine in the end.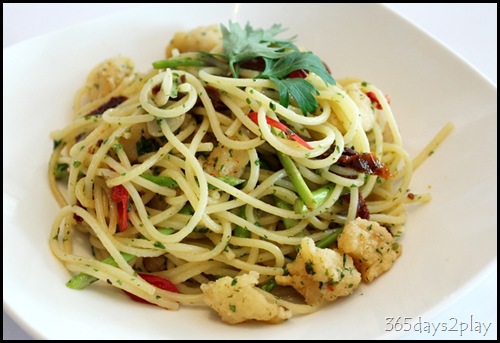 The spaghetti dish from the set lunch – The person who ate this said that it was "OK".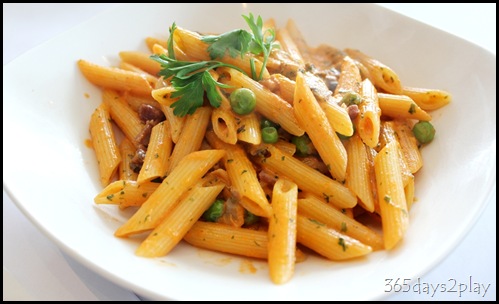 The Penne dish from the set lunch – The person who ate this said that she liked the sauce and the pasta was tasty.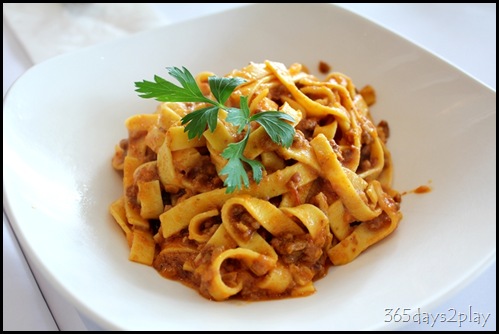 FETTUCCINE ALLA BOLOGNESE – $19.50
Fettuccine with beef ragu sauce from the main menu  
The person who ate this said that it was nice but too oily. There was still a pool of oil at the bottom of the plate after the pasta was finished.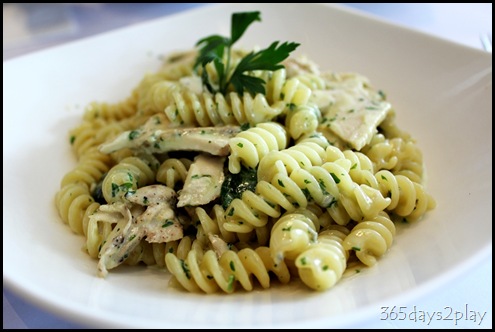 FUSILLI AL GORGONZOLA – $23.50
Fusilli with gorgonzola cheese, chicken, zucchini in cream sauce from the main menu
This was what I had. I love cheese and this gorgonzola cheese dish sounded like the cheesiest dish available. I must say I overestimated my tolerance of this pungent cheese coz it was SO STRONG! The 1st few mouthfuls was wonderful, but towards the end, I could feel myself being defeated by the gorgonzola.
I normally like Fettuccine and Tagliatelle but Ricciotti charges $4 extra to have the pasta changed, so I had no choice but to stick to Fusilli. I know all the pastas are made from the same ingredients, just that the shapes are different. But still, I prefer the long stringy texture of Fettuccine and Tagliatelle. I like swirling long strands of pasta on my fork, I don't like spooning pasta up. If this sounds funny, then just think of rice. Some people like rice firm to the bite while others like theirs sticky and moist, but yet it is all rice.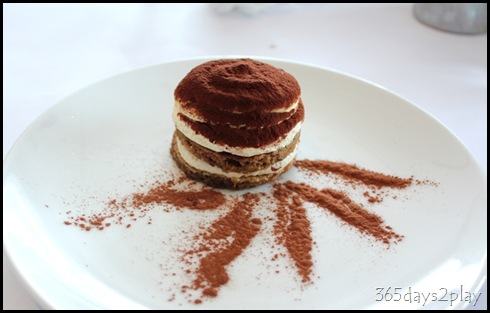 TIRAMISU – $7.80
Mascarpone cheese cake with ladyfinger biscuits, coffee and cocoa – MMMMmmm, tasty and moist!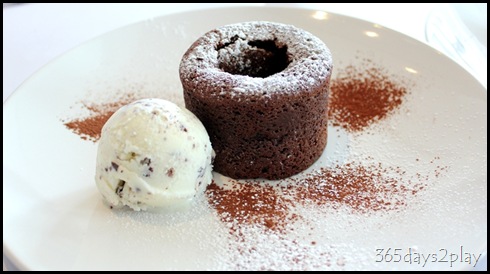 SOFFIATO – $8.90
Warm dark chocolate cake with chocolate chip ice-cream 
If you don't know what dessert to order, then order this. Rich, chocolatey and sweet. Even though I was pretty full, I regretted not ordering my own Soffiato and could only steal 2 bites from my colleague!
This time round, no one ordered any of the pizzas. But from what I could see on other diners' tables, the pizzas look good! Definitely want to try them out next time. Maybe on a Tuesday or Wednesday when they have 50% off on the 2nd pizza ordered. Click on MORE below for a list of Ricciotti's credit card or daily promotions. Click on Ricciotti's website link for their menu.
Ricciotti Pizza Pasta & Deli
20 Upper Circular Road
B1-49/50 The Riverwalk
Singapore 058416
Tel: (65) 6533 9060Fax: (65) 6535 5915
Email: ricciotti-riverwalk@ricciotti.com.sg
There is also another branch at China Square Centre in the Central Business District.