My office is located just outside the Orchard area, which makes it sound like it's in an excellent location. It is indeed but 5 minutes for those blessed with cars, but without one, it takes 1/2 hour to get to Orchard! So when my parents were in town and available to pick me for lunch, I had to select a restaurant befitting of the occasion. It wasn't a difficult choice, given that it was Restaurant Week. Took the opportunity to check out Yan Ting, which is in one of my favourite hotels, the St Regis Singapore.
Yan Ting owes its inspiration to the Ming Dynasty, when authentic Chinese culinary art flourished. The words 宴 (Yan) 庭 (Ting) translates as an Imperial courtyard for a lavish banquet, where royalty and influential diners meet for a feast befitting their importance and stature.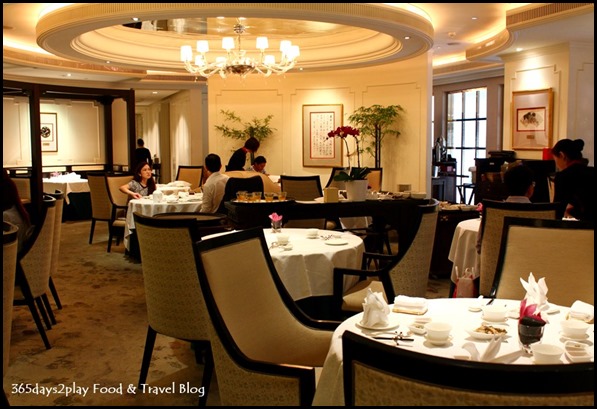 I think Chinese restaurants can sometimes have decors that are a bit garish, if you know what I mean. I love Yanting's elegant and refined look using pastel colours, with black rimmed chairs to accentuate the place. Can't help but keep an eye on what makes for a pleasing look, now that I'm redecorating my house.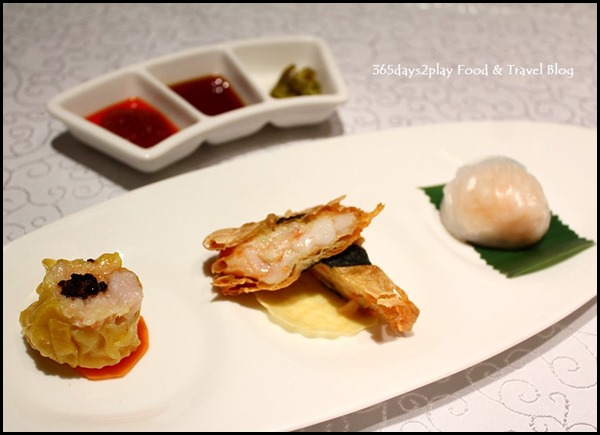 Trio of Appetisers – Steamed pork and shrimp dumpling with black truffles, crispy beancurd roulette with shrimps and seaweed, steamed crystal shrimp dumpling with bamboo pith