Can you remember the most important things to you when you were 22? Probably thinking of what modules to take next in Uni, or how to tackle the upcoming exams? Well Serene Tan has done all that and started her own cafe in Singapore by the age of 22! Have you heard of the Dazzling Cafe brand from Taiwan, which is renown for its sky high honey toast? I am told it that you have to wait 5 hours just to snag a table at the cafe! Such a pity I never got to check it out when I was in Taiwan a couple of years ago.
The brand was launched in 2010 and has now expanded to 9 outlets all over Taiwan, in addition to 4 outlets in Shanghai, 1 outlet in Hong Kong, and now also available in Singapore! Savoury Creations, owned by Serene Tan plans to open a couple more outlets in Singapore featuring different concepts.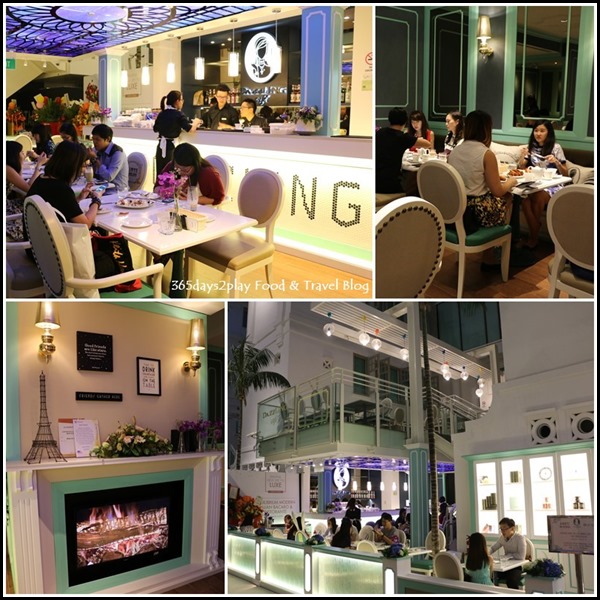 Dazzling Cafe is currently in its soft launch stage so it is only open from 12 noon – 8pm. On the day that it opened, I heard that people were already lining up at 8am. Crazy or what? I was lucky enough to be able to check out the cafe sans the queue.

I think it's only obvious that we start with a review of the desserts first…. Dazzling Cafe serves the Shibuya style French toast that are all the rage these days. They have somehow come up with a technique to render the French toast at an amazingly even crispness. I don't recall seeing it in the menu but apparently you can ask for the toast to be either normal, medium or crispy, depending on your personal preference, and whether the toppings are more moist or not. And apparently, there are FOUR generations of French toast!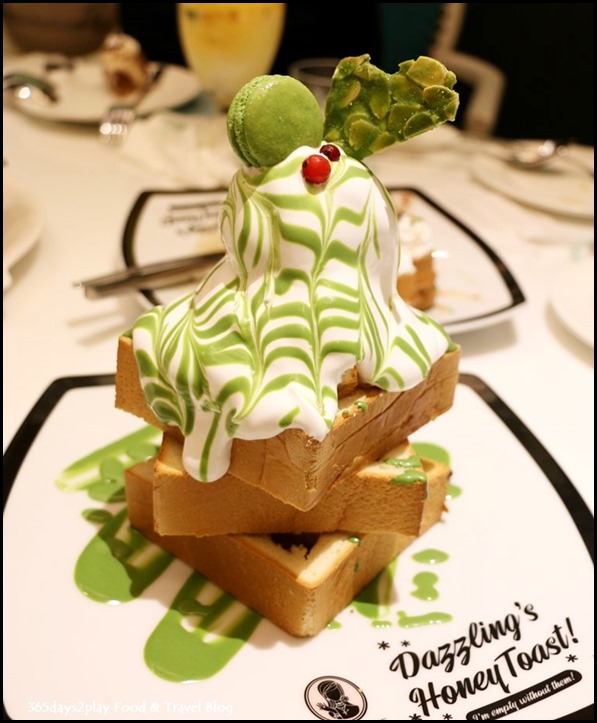 [4th Generation French Toast] Matcha with Azuki Beans Honey Toast $19.90
One of the more popular choices at Dazzling cafe despite the hefty nearly $20 price tag for toast, as it's literally the tallest dessert here, and matcha anything always seems to up the interest factor. The toast was generously laden with thick cream, hiding some ice cream inside as well. The Matcha flavour is definitely distinct. While enjoyable, we all agreed that more ice cream and less cream might be a better combination. The azuki beans were kinda non existent too, or perhaps so in the portion that I took.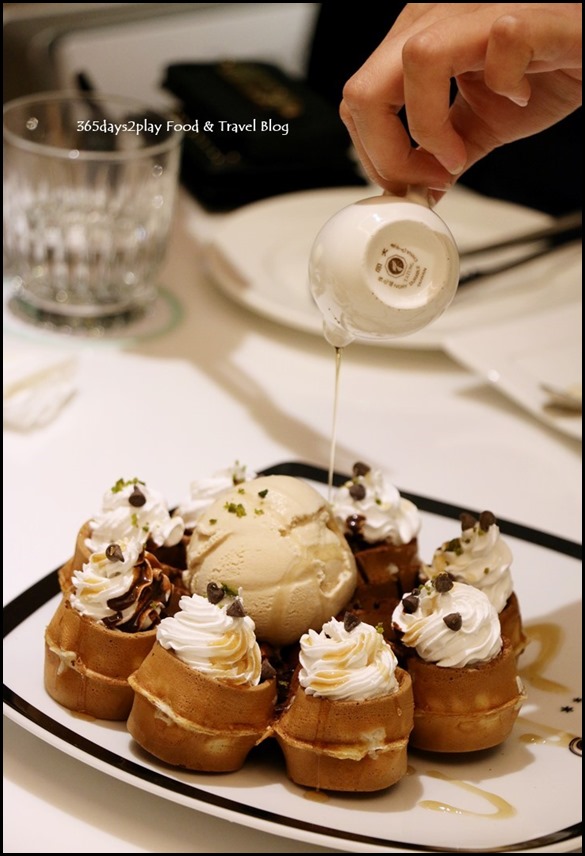 Valrhona Chocolate Waffle With Bailey's Ice Cream $12.90 + $2.50