[Media Tasting]
Foodies will be familiar with the popular yoghurt brand Sogurt, one of the first few players in the froyo market. After 7 years in the market, Sogurt has decided to rebrand its very first store in Bukit Timah from just a Froyo shop into a full-fledged cafe serving hot food and healthy eats. Owner Lee Li Ping recognises that the F&B scene changes rapidly, and that "it's important to keep up with the latest trends or be left behind". Tell me about it, even the social media scene has changed as compared to the days when I first started blogging. Time really waits for no man.
The new menu does indeed comprise of a substantial number of healthy dishes such as hearty soups, grain bowls and salads. But there are also comfort food dishes and sweet treats, because let's be frank, what's the point of eating out if you can't indulge just a little bit? The signature self-served froyo bar is still available, for loyal fans who might miss it if it were gone. It now includes soft ice-cream flavours as well.
Scroll down to see some of the dishes from the newly revamped menu.
Toasties and Snacks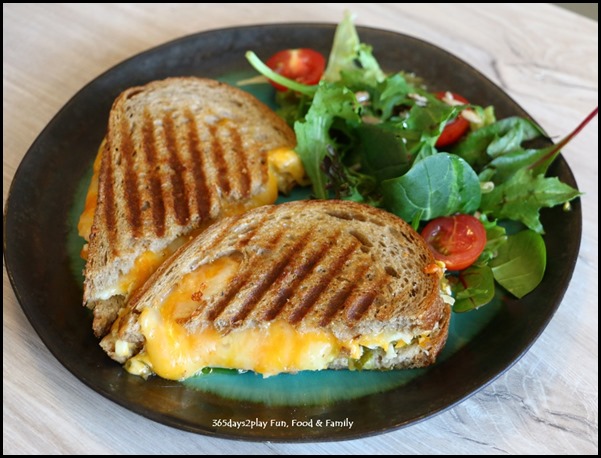 Classic Grilled Cheese $10 – Cheese lovers will love this sourdough sandwich which is literally oozing with cheese. Good idea to include the sweet pickle relish, to help taper down the cheesiness.