[Media Tasting]
Foodies will be familiar with the popular yoghurt brand Sogurt, one of the first few players in the froyo market. After 7 years in the market, Sogurt has decided to rebrand its very first store in Bukit Timah from just a Froyo shop into a full-fledged cafe serving hot food and healthy eats. Owner Lee Li Ping recognises that the F&B scene changes rapidly, and that "it's important to keep up with the latest trends or be left behind". Tell me about it, even the social media scene has changed as compared to the days when I first started blogging. Time really waits for no man.
The new menu does indeed comprise of a substantial number of healthy dishes such as hearty soups, grain bowls and salads. But there are also comfort food dishes and sweet treats, because let's be frank, what's the point of eating out if you can't indulge just a little bit? The signature self-served froyo bar is still available, for loyal fans who might miss it if it were gone. It now includes soft ice-cream flavours as well.
Scroll down to see some of the dishes from the newly revamped menu.
Toasties and Snacks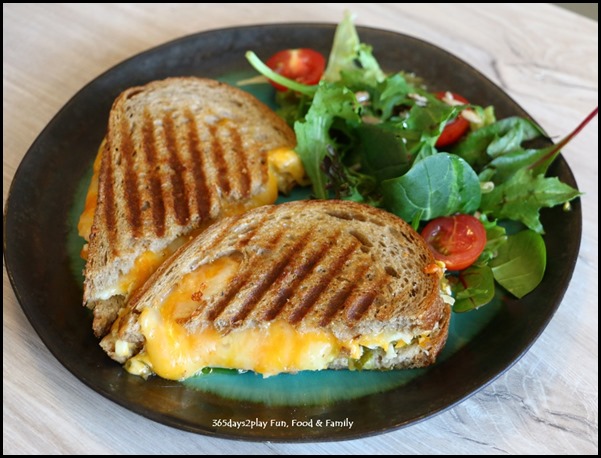 Classic Grilled Cheese $10 — Cheese lovers will love this sourdough sandwich which is literally oozing with cheese. Good idea to include the sweet pickle relish, to help taper down the cheesiness.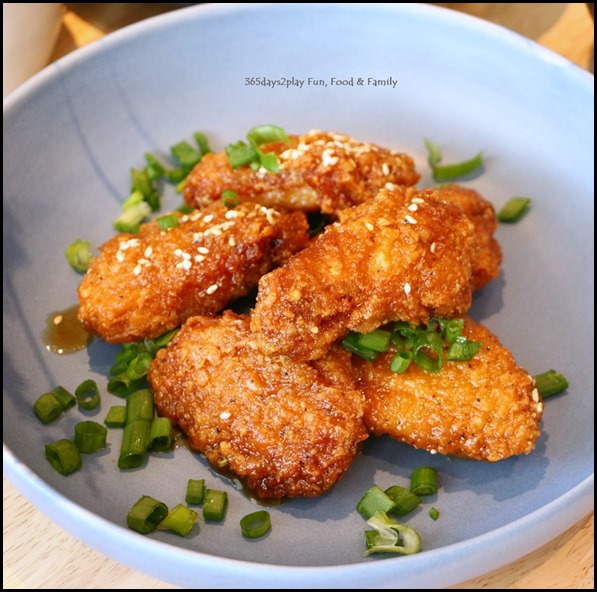 Korean Wings $13 — These chicken wings are topped with a savoury-sweet glaze of honey, Japanese soy and garlic. The flavour is nice, although they don't seem to taste like the Korean Wings from those Korean fried chicken fast food joints. I would have preferred these to be more crispy.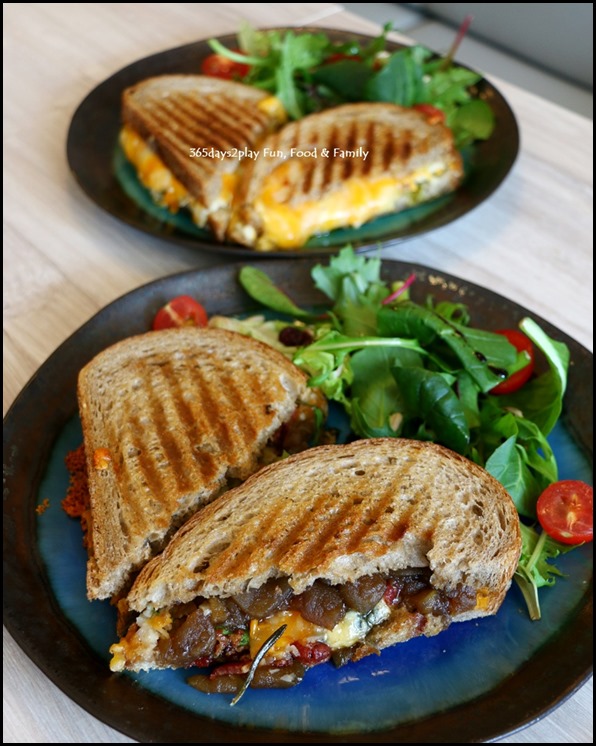 Smoked Bacon Blues $15 — Quite rare to find Stilton blue cheese being used in a sandwich, so if you love Stilton, I say go for this. Don't worry, just a little is used so it isn't overpowering.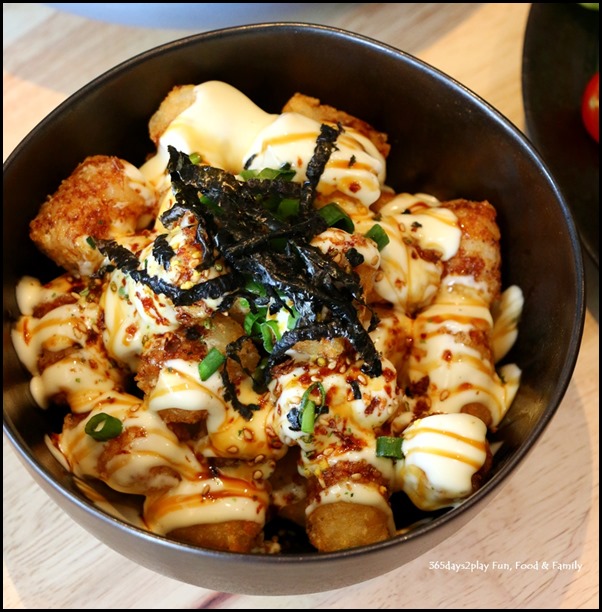 Okonomiyaki Truffle Tots $12 — Kara sells Truffle Cheese Tots as well as Okonomiyaki Truffle Tots, the difference being in the sauce. With this version, the sauce really does remind you of Okonomiyaki! A tip when ordering this though, ask for the sauce on the side so you don't end up eating more sauce than required (calorie overload!), unless of course you want to.
Grain Bowls and Salads
There are quite a number of healthy options to choose from, you might actually have to spend some time perusing the menu, because they all sound so good! There's a generous amount of greens given, plus savoury protein to jazz up the meal. For the grain bowls, you have a choice of garlic Japanese Rice or Quinoa Salad (+$3). Prices listed below are before the +$3.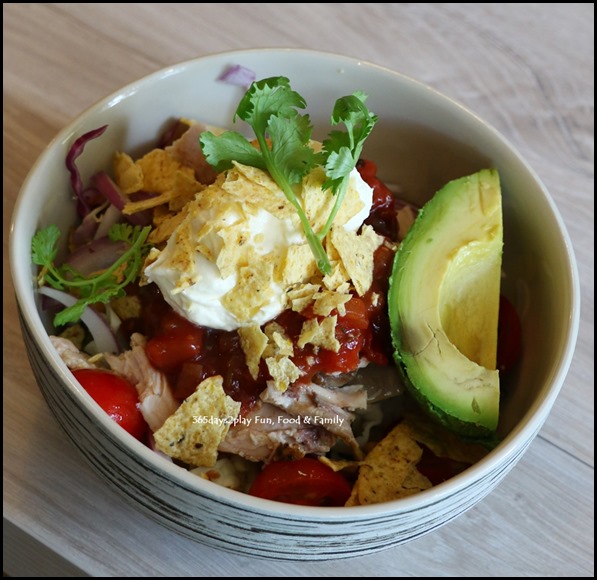 Taco Mexx Chicken $14 — If you like tacos, you might want to order this dish comprising taco-spiced chicken, creamy avocado, corn and sprinkled with crispy corn chips.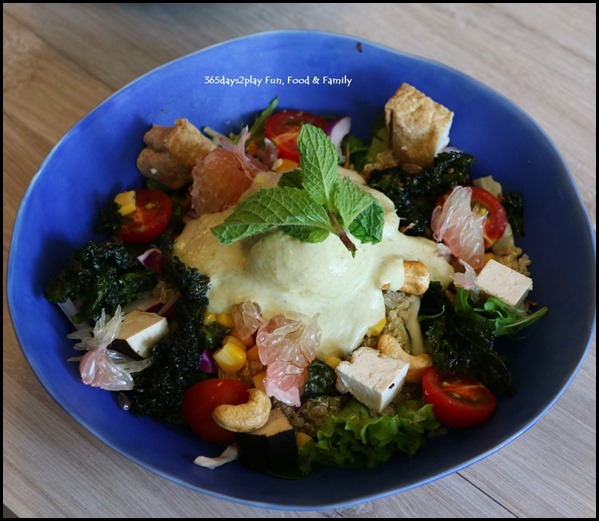 Coco Cashew Pomelo Grain Bowl $13 — This interesting dish actually has coconut curry in it, but I think it was too mild for me to notice, it just felt like a creamy dressing. Another interesting item in it, black tofu! And the super veg kale.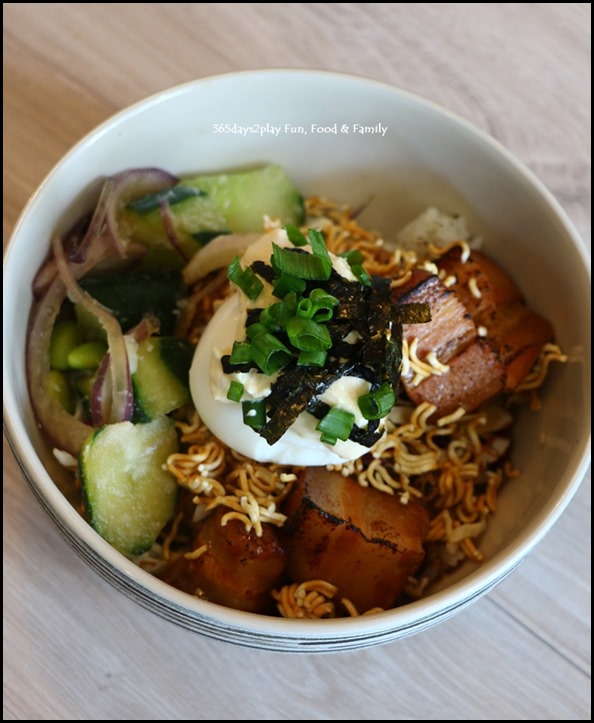 Pork Belly Miso Grain bowl $16 — A ramen-inspired dish, this looks and tastes very comforting, you might forget you're having a healthy grain bowl! There's even crispy ramen pieces, like the childhood snack of yore!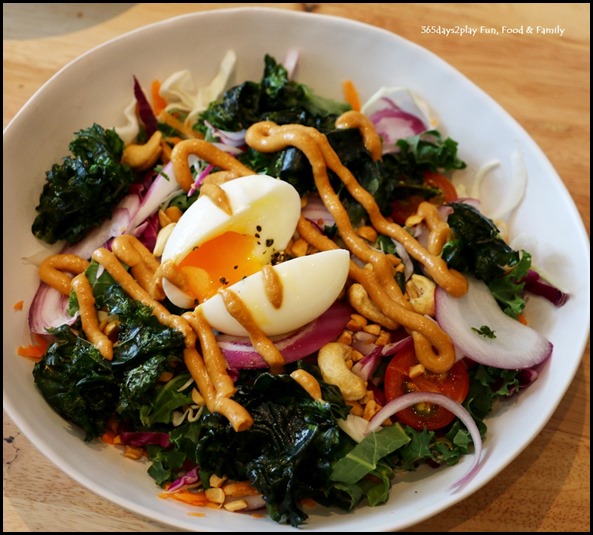 Thai Tofu Salad $14 — Although this is a super healthy salad, with kale, cabbage, tofu and all, the peanut dressing helps make it more exciting. Peanuts are actually also very good for health, did you know?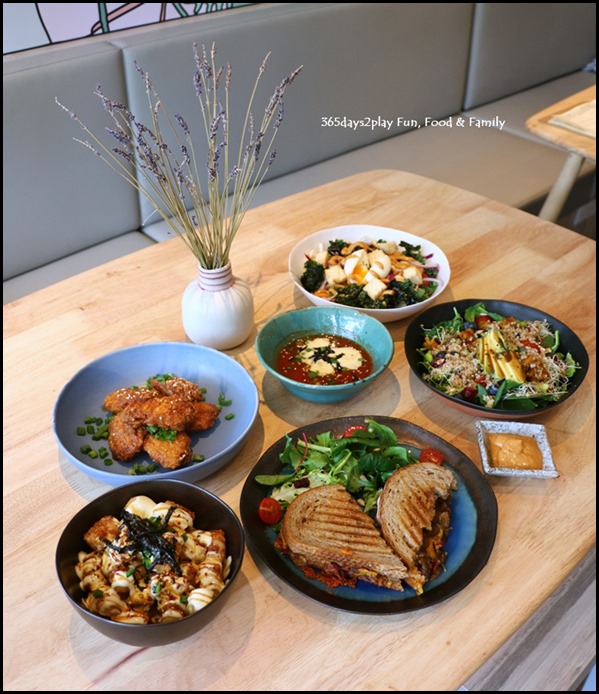 Group shot!
Desserts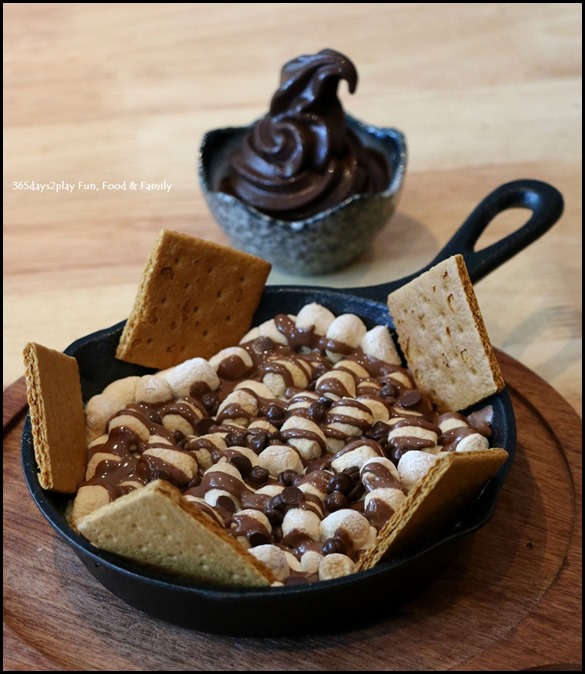 S'Mores Sensation $11.50 — Desserts are the show stoppers at Kara Cafe in my opinion. Both the desserts we tried were fabulous. This baked on the spot dessert features chocolate, fluffy gooey marshmallows and crispy biscuits on the side. Oh my, gooey and decadently sweet this was. It was so gooey, my teeth were stuck together momentarily! It tasted so good!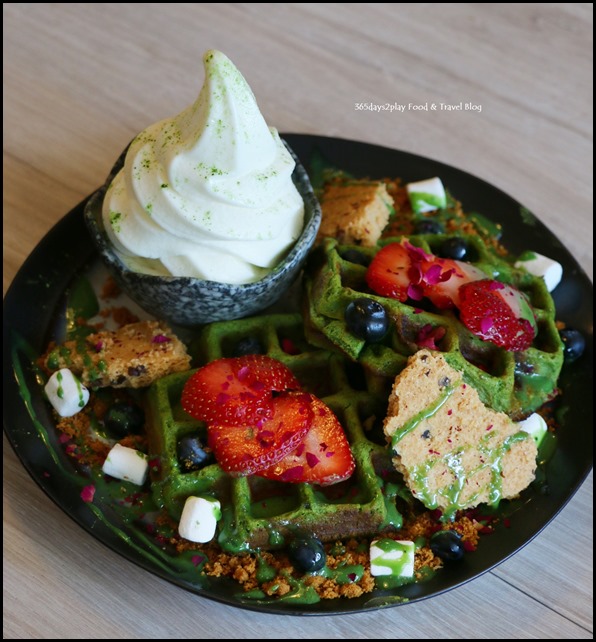 Mochi Waffle $12.50
When Li Ping said that she wanted to make a different type of waffles, I was skeptical if she would succeed. Turns out these homemade mochi waffles $12.50, chewy on the inside and crispy on the outside, were fantastic. There are 4 different flavours to choose from and we tried the matcha berry. Indeed the waffles feel more substantial and I like the chewiness to it. We paired it with the Lychee Rose froyo, our favourite one from the entire froyo selection. You guys must try the Lychee Rose froyo, it's so good! And if anyone says they don't like it, they're lying!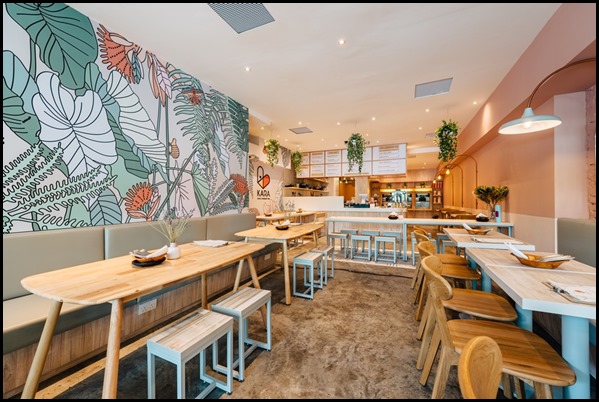 Nice soothing decor with botanical impressions on the walls, taking inspiration from the UNESCO World Heritage awarded Singapore Botanic Gardens.
---
Add me on Facebook, Instagram and Twitter if you want to be kept up to date with the latest happenings in the food and lifestyle scene in Singapore!
---
Kara Cafe & Dessert Bar
617 Bukit Timah Road, 269718
Open Daily : 10.30am—10.30pm
Tel:  +65 6468 8940
kara@sogurt.com.sg
https://www.karacafeanddessertbar.com/
http://www.facebook.com/karacafesg
http://instagram.com/karacafesg