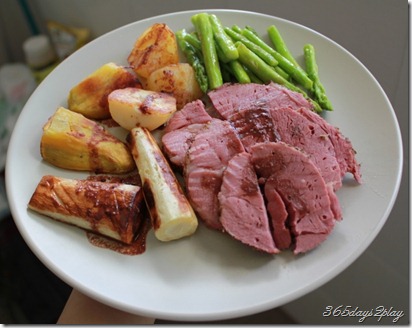 Mmmmm, the Partner cooked a roast lunch today. Every Sunday should be like this! Meat in Singapore is rather expensive. For the 700gm of lamb, it cost nearly $25. It would probably have been about half the price in New Zealand, or for that matter, countries with an agricultural industry.
Still, $25 is not too much if you compare to eating out at restaurants. And at the very least, you get to choose the best and the freshest cuts, cook it exactly how you like it to be, and last but not least, choose the side dishes you want! I can possibly say that no where else in Singapore can you get roast parsnip and roast sweet potatoes (kumara) with the meat.
Click below to see the recipe….