I had a great time at Robertson Walk today. I love this place because it is so peaceful. Because it is off the main roads, few people come here and the place is not crowded. There are many restaurants and cafes to choose from, most of them are quite unique and cannot be found in the usual shopping malls. Plus there is the lovely walk along the river. It was a great idea to spend a slow Saturday afternoon. And today, the weather was so accommodating. It was one of those lovely blue sky days with a cool breeze minus the humidity.
We had lunch at Brasserie Wolf, a French restaurant by the Esmirada Group. We got a good seat far away from everybody else. They have a special set menu. A 2-course set lunch costs $25 and a 3-course set lunch costs $35. The main courses on offer were Pan-Seared Salmon, Grilled Beef Onglet, Roasted Rump of Lamb, Roasted Chicken Roulade Stuffed, Roasted Pork Tenderloin and Linquini with Asparagus and Black Olives.
I love tagliatelli so I had my eyes set on the Tagliatelle de Confit de Canard (Duck Confit Tagliatelle) from the ala carte menu so I couldn't order the set lunch even though I thought it was a very good deal. The Partner wanted the 2-course set lunch of the Roasted Pork Tenderloin and Fresh Fruit Salad with Raspberry Sorbet. I got him to get the 3-course set lunch so that I could order the appetiser of Smooth Chicken Liver Pate with Melba Toast.
Brasserie Wolf also has a 1 for 1 house pour promotion from 12pm — 7pm. On Sundays, children eat free per paying adult. Click here for Brasserie Wolf's website.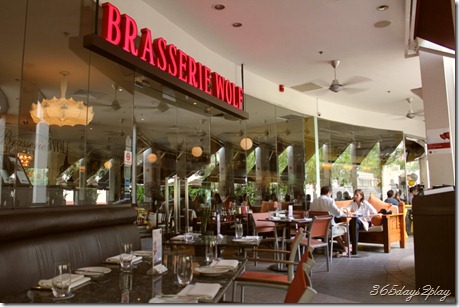 The facade of Brasserie Wolf. We sat outside because it was such a beautiful day. Because of the curvature, be careful that you don't speak too loudly because the sound travels far.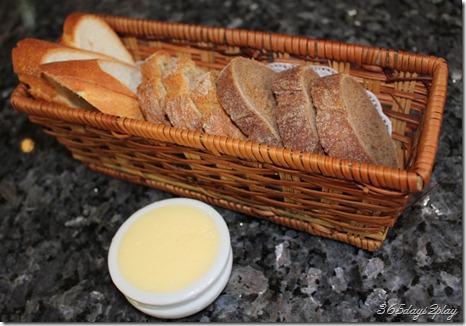 Complementary bread basket with 3 types of bread. Just the thing I need for my liver pate.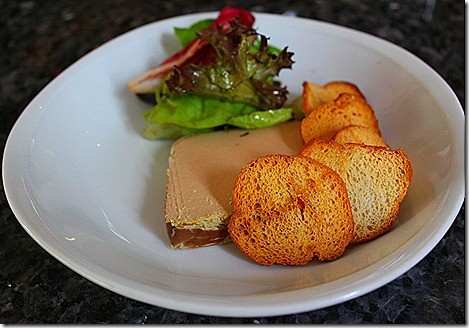 The smooth chicken liver pate appetiser. It was so delicious I nearly finished all of it even though it made me fuller than I wanted before having my main course. I only wish there were more slices of toast to go with the generous amount of liver pate. I wonder if liver pate is full of cholesterol and fat???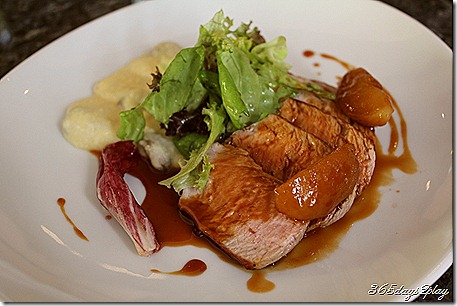 The Roasted Pork Tenderloin was indeed very tender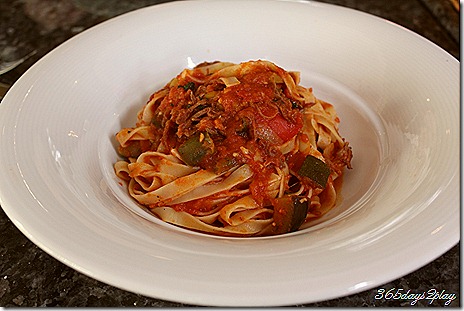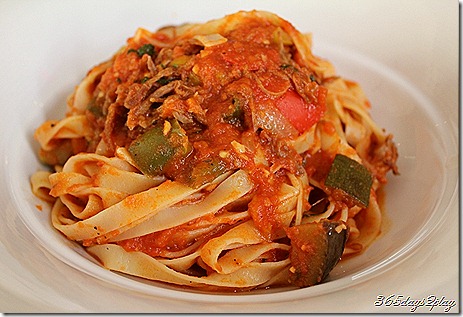 It was nice tagliatelle, but I thought the duck was just a little too dry.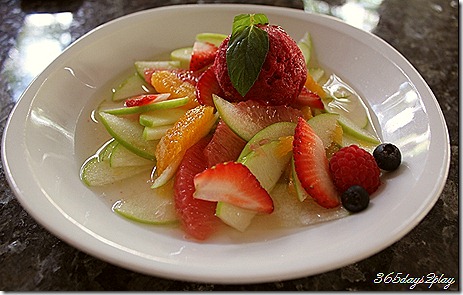 When the mixed fruit salad arrived, I was a little taken aback by the not so stylish appearance. I mean who serves apple slices for dessert at a restaurant? Thankfully, it was really refreshing and sweet despite the looks. I think the Partner really enjoyed the Raspberry sorbet, him being a berry person.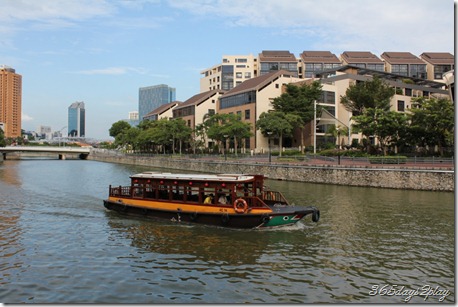 Behold the wonderful view of the Singapore River.
80 Mohamed Sultan Road
The Pier at Robertson #01-13
Tel: 6835 7818
brasserie@esmirada.com