Everyone's been raving about Marina Bay Sands and the views from there. Ok I was one of them too and took numerous photos of both Shenton Way as well as the MBS buildings. But did you know, that one really great vantage point to enjoy the splendour of the Marina Bay Sands towers as well as the Singapore city skyline is actually at the new Marina Bay Financial Centre (MBFC)?
I was there with 3 other of my colleagues just the day before at Level33 restaurant and the views were breath-taking! And if was not enough, we got a real treat when fireworks started erupting in the night sky, thanks to the National Day Parade rehearsals! Great stuff for my colleague as it was her birthday.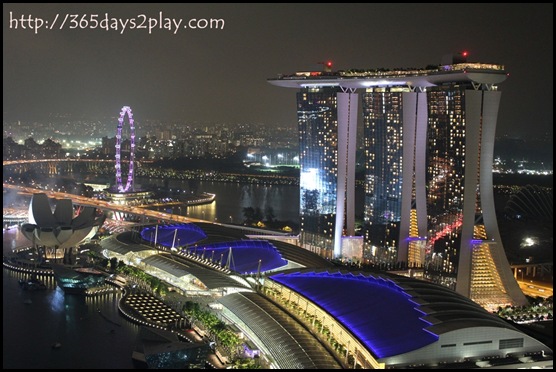 I really do think that Singapore looks so mesmerising at night. I think it would be so romantic to sit in the al-fresco area, gazing into your partner's eyes while having this as a backdrop…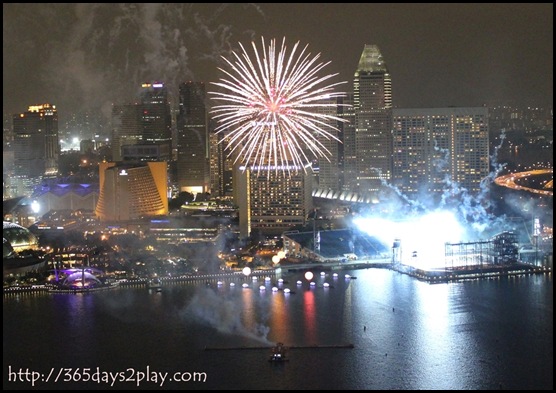 Lucky us got to watch the fireworks from a vantage point!
Level33 touts itself as the World's Highest Urban Craft-brewery. There are several huge as copper brew house kettles positioned right at the front of the restaurant, so that you know for sure that they mean business. I tried the 33.1 Blond Lager, and it was quite good! Food-wise, I thought it was overpriced but I guess it's inevitable to have to pay a premium if you want the views. To fully enjoy the views, you must sit outside as the indoor area's views are blocked by numerous pillars. Another way to enjoy the views without breaking the bank is to just have a drink there instead of having a full scale dinner.
33.1 Blond Lager $9.33… Someone's eyeing MY beer.
The orangy spice thing is curry salt! Be sure you don't take a whole heap of it!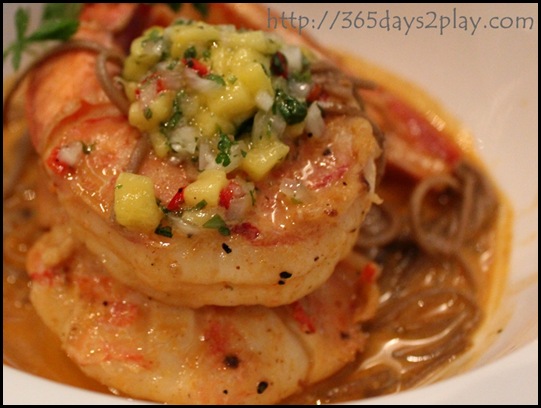 (Gambas) Prawn bisque with soba noodles $39 — 2 really humongous and succulent prawns. Tasted very good and I liked the rich gravy. The amount of soba is enough to make you wonder if it is there as a garnish. If you are a big eater, you may need to order some side dishes as well.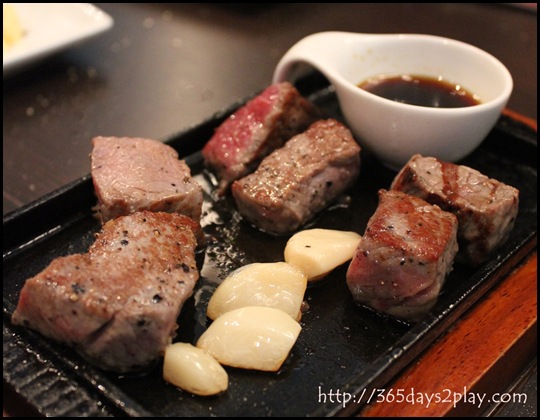 (Sizzler Beef) Striploin on sizzling hot plate $16 — This was pretty good, but not spectacular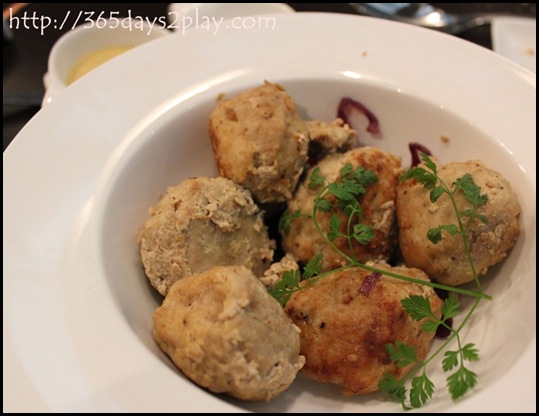 Meatballs $9 — First time I'm seeing "dry" meatballs. They were so so.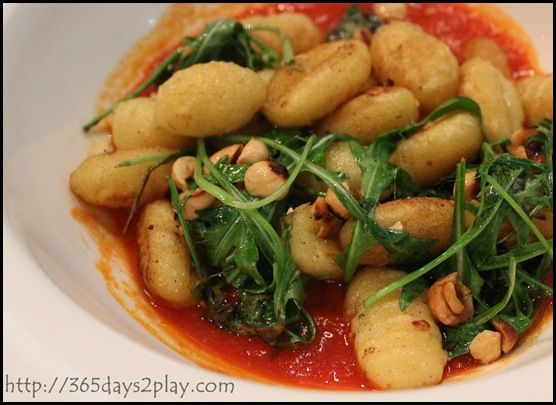 Gnocchi $26 — An acquired taste for my colleagues I think, but I personally like gnocchi normally. This one was a tad oily.
Chicken Breast $29 — I don't know what's with chicken breast in Singapore. They are so tough! I would never order chicken breast out of my own accord, but since we were sharing all the dishes, I didn't object. This dish here didn't change my mind but my colleagues thought it was fine. I did like the ravioli at the bottom though, as well as the asparagus.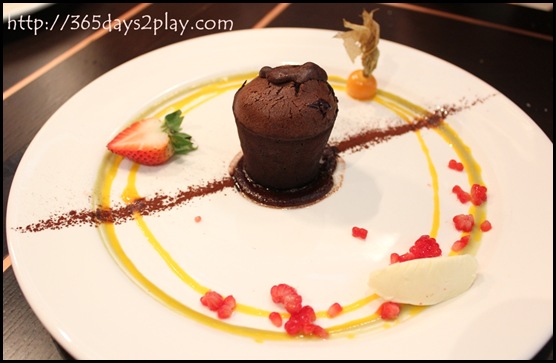 (Cacao Fondant) Molten Chocolate Cake $16 — Tasted very nice, especially with 4 people sharing this tiny piece of cake. A lot of molten chocolate lava oozed out as we sliced the cake, which is exactly how I like it. The non sweet tooth amongst us liked it although I definitely wouldn't complain if it were just a little bit sweeter. The white piece of thing at the bottom right was a piece of frozen marscapone, which I felt tasted disgusting in this state and form.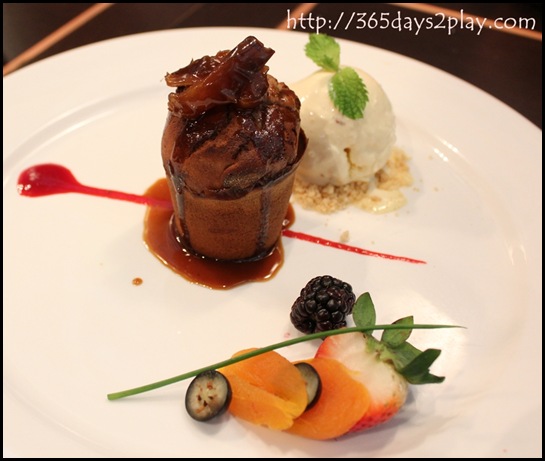 Sticky Date pudding $14 — Also very nice, and not overly sweet either. I'm usually quite fearful of ordering date puddings or sticky toffee puddings because I feel they are just way too heavy and sweet, but this one was just right, and for some reason, had a hint of banana as well.
LeVeL33
8 Marina Boulevard #33-01 "¢ Marina Bay Financial Centre Tower 1 "¢ Singapore 018981
12pm — 12am Daily "¢ 12pm — 2am on Friday, Saturday and Eve of Public Holiday
Tel: +65 6834 3133 "¢ Fax: +65 6834 3073