In celebration of its 10 year anniversary in Singapore, Bistecca Tuscan Steakhouse has launched a 4-course limited edition Best of Bistecca' menu at $138++ per person, made available to guests for the entire month of March.
If you want good steak, you won't go wrong with Bistecca. Did you know that Bistecca was awarded the accolade of 13th best steakhouse in the world? I tried their popular Fiorentina steak as part of the set menu and it was fabulous. It was one of the best steaks in Singapore that I have had in a long time. Done just right, tender, flavourful, beautiful char, all the things you want in a steak. So glad this steakhouse delivers on taste, because I've been to other brand name ones that don't. I really have to revisit again and have the entire steak just for myself.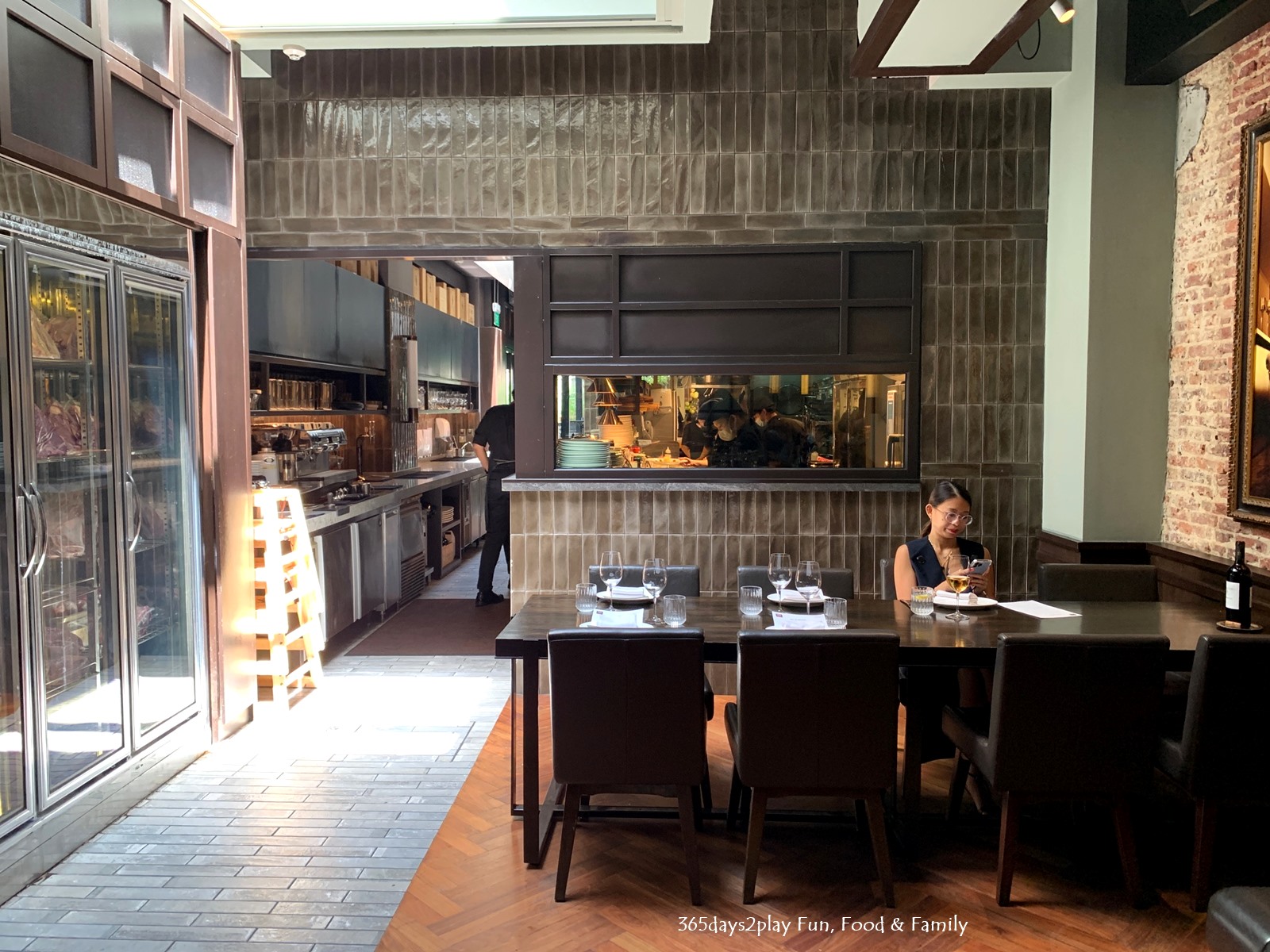 Love the exposed brick wall and dark tones in the restaurant
Other items we tried include the following:
Starters
–> Fremantle Octopus with Romesco, Cannellini Bean Puree, Gremolata
–> Pan-Seared Scallops with Mint Salsa Verde, Tomato Jam, Artichoke
–>150g Burrata with Chitose Cherry Tomatoes with Arugula and Aged Balsamic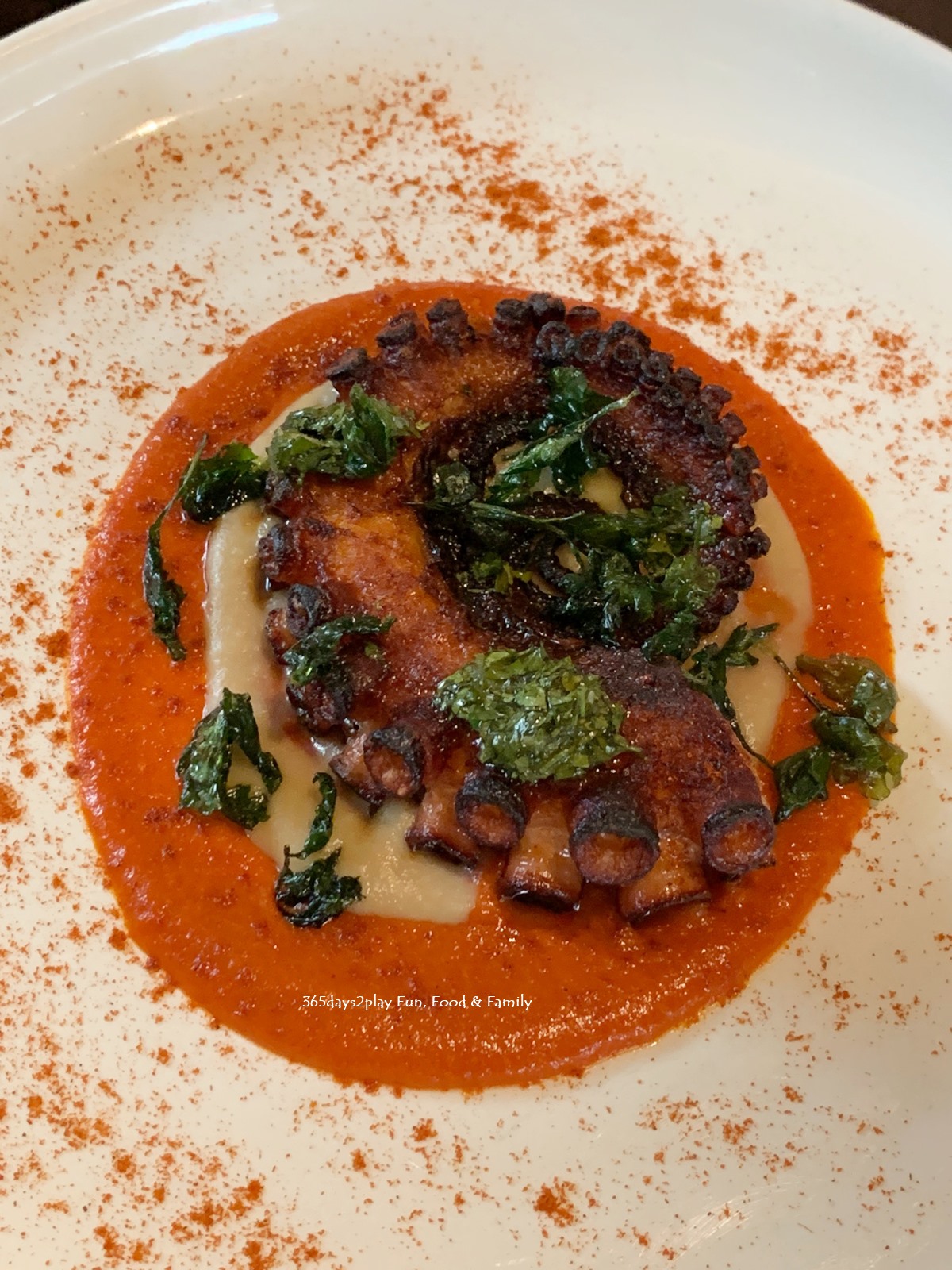 The Octopus was more enjoyable than the scallops as it had a lovely charred flavour and a nice bite, whereas the scallops were a bit more common tasting, although enjoyable as well. I may be biased, being a cheese lover, but my favourite of the starters had to be the Burrata. It was everything that a burrata should be, luscious and creamy curds inside, with a firmer cheese exterior to provide some contrast. I would have polished it all off if I didn't have to share.
Pasta
–> Busiate with Beef & Tomato Ragu, Red Wine, Pecorino
–> Agnolotti with Japanese Pumpkin, Almond, Gorgonzola Piccante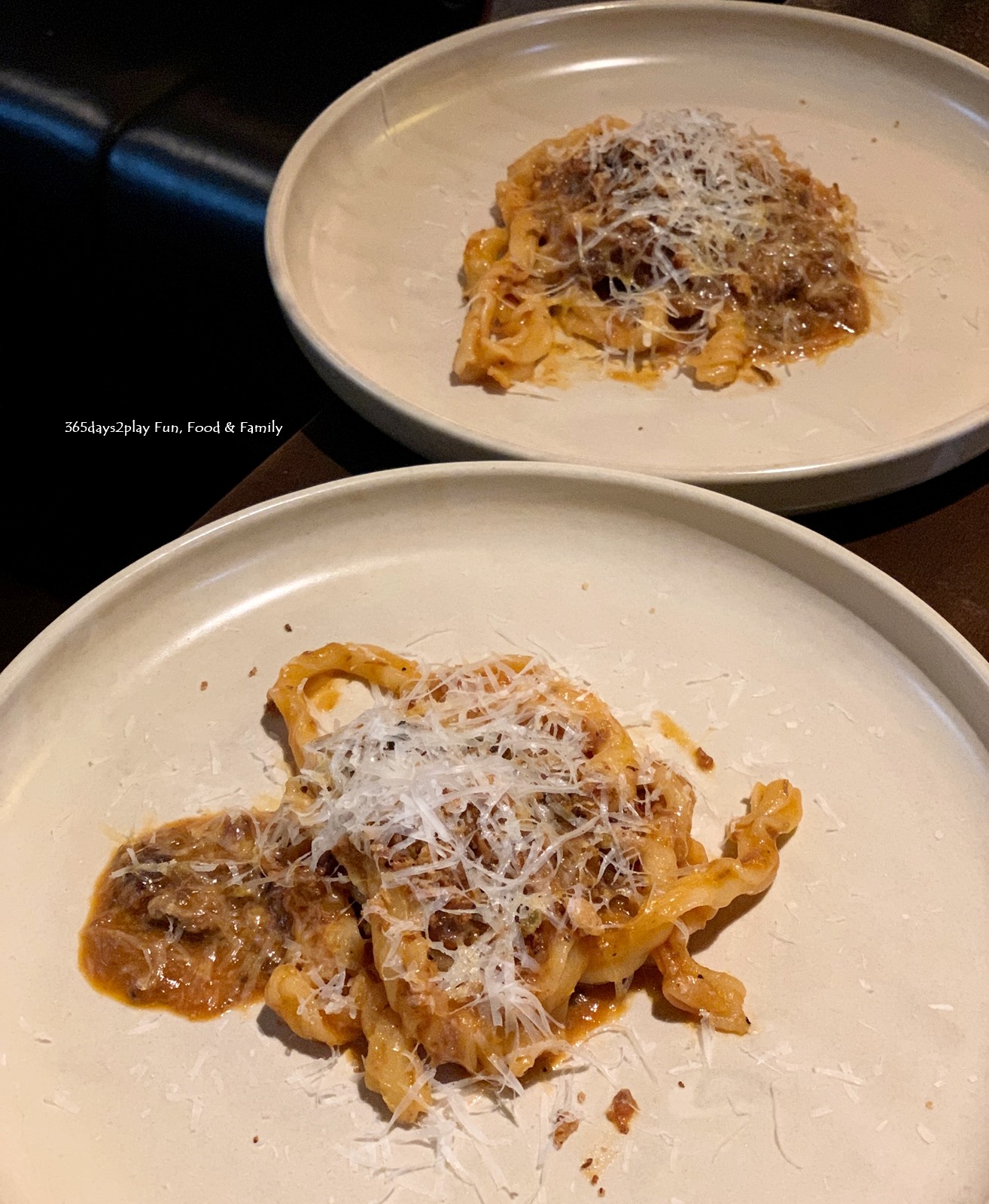 I went with the Busiate, which is a shape of pasta not commonly found in Singapore. It was delicious, with the beef being fork tender. It was a bit predictable though, which is why some of my dining companions chose to go with the Agnolotti with Japanese Pumpkin.
Mains
Signature Sharing Steak (1.3kg Fiorentina T-Bone) served with choice of sides.
My thoughts as described at the beginning of the article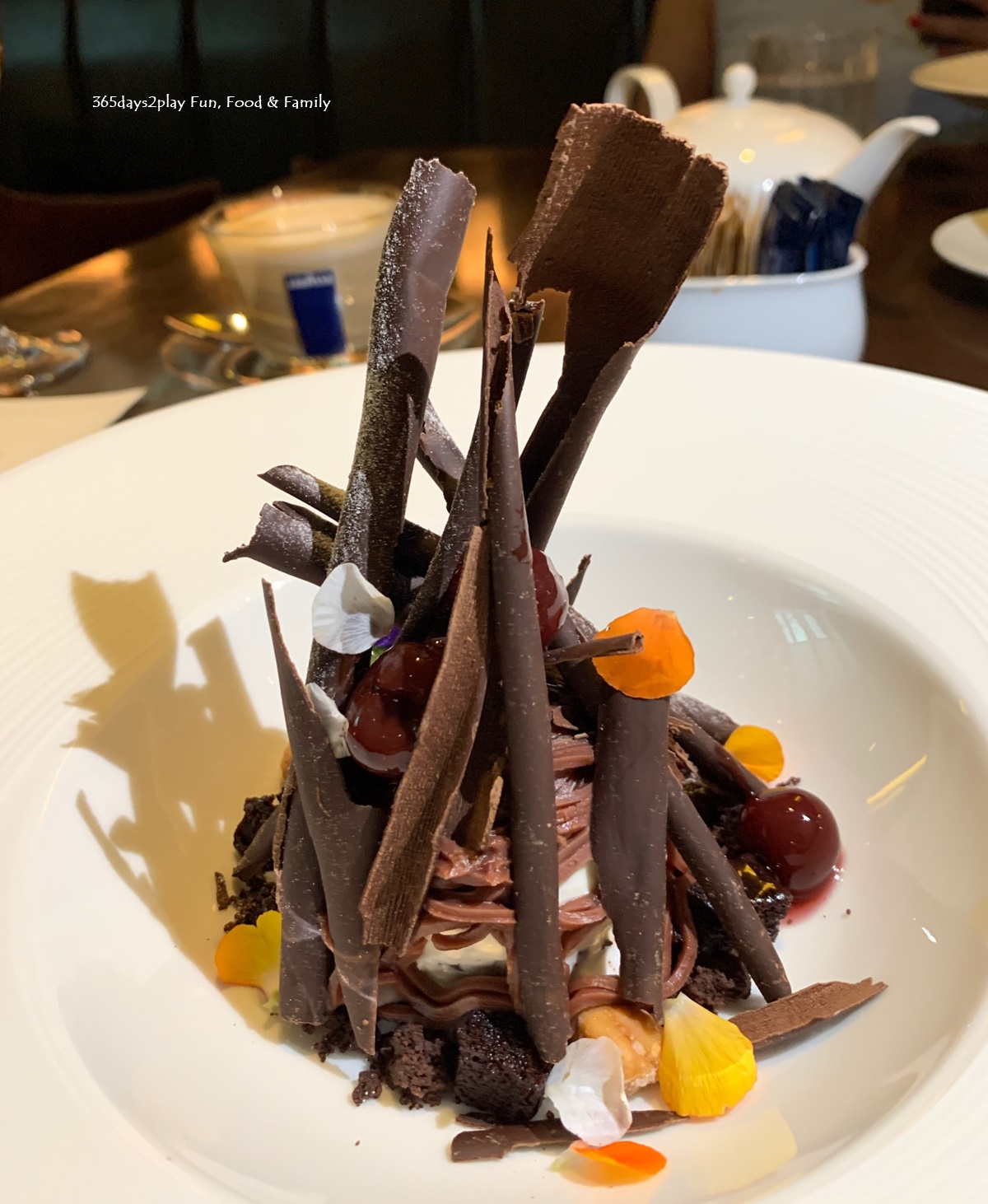 Desserts
–> Panna Cotta
–> Tiramisu
–> Black Forest
–> Sticky Date Pudding
I went with the Black Forest as that is one of my all time favourite desserts. What was served came as a total surprise because it looked nothing like a Black Forest cake that I was expecting. It had the requisite cherries, and chocolate shavings, but it also had hazelnuts as well as a scoop of stracciatella gelato thrown in.
Bonus! Each guest will receive a complimentary glass of bubbles, red or white wine.
Scroll down for more pictures and information of the dishes we tried.
The burrata, which was creamy and decadent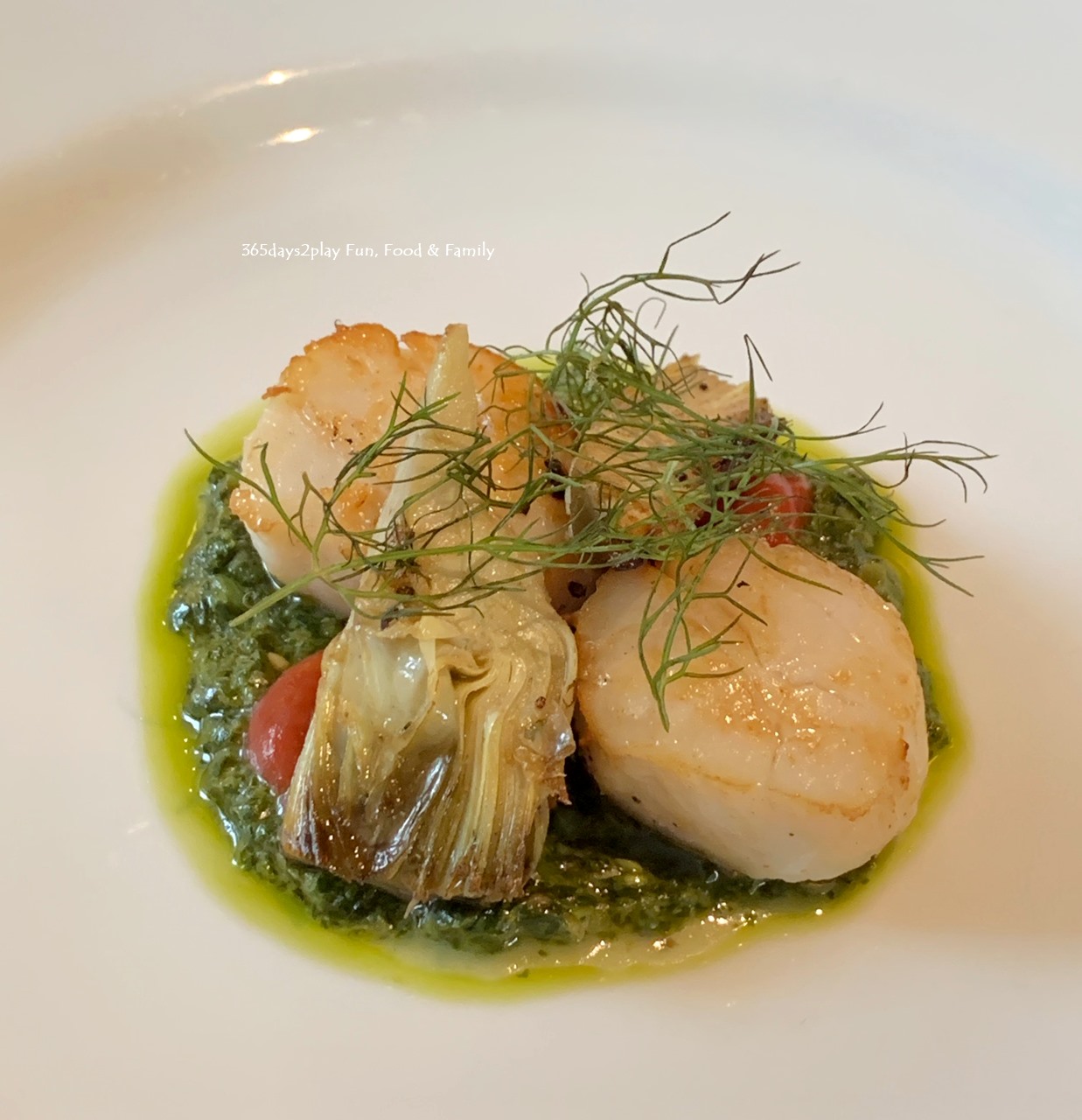 The scallops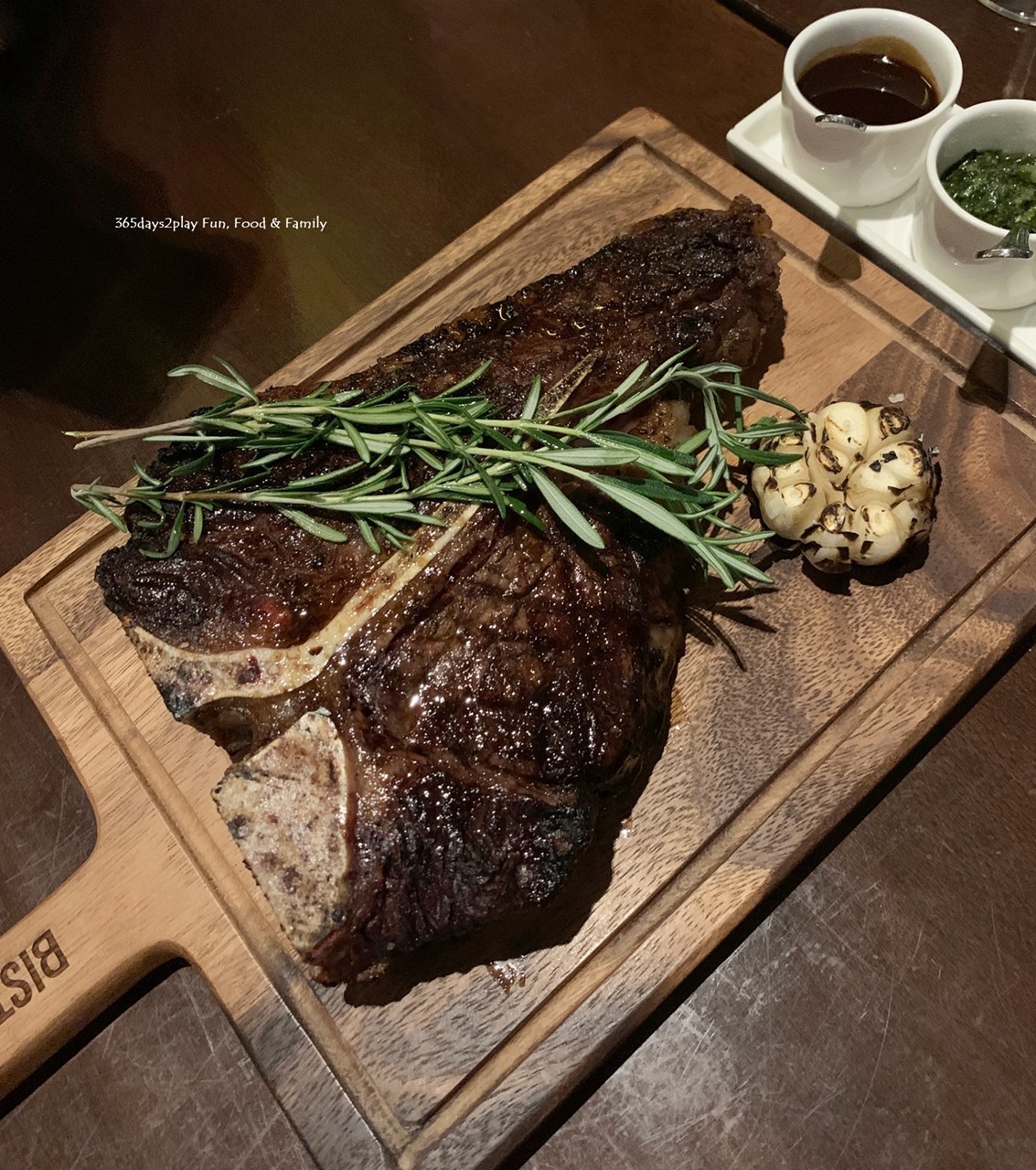 The famous Fiorentina T-Bone Steak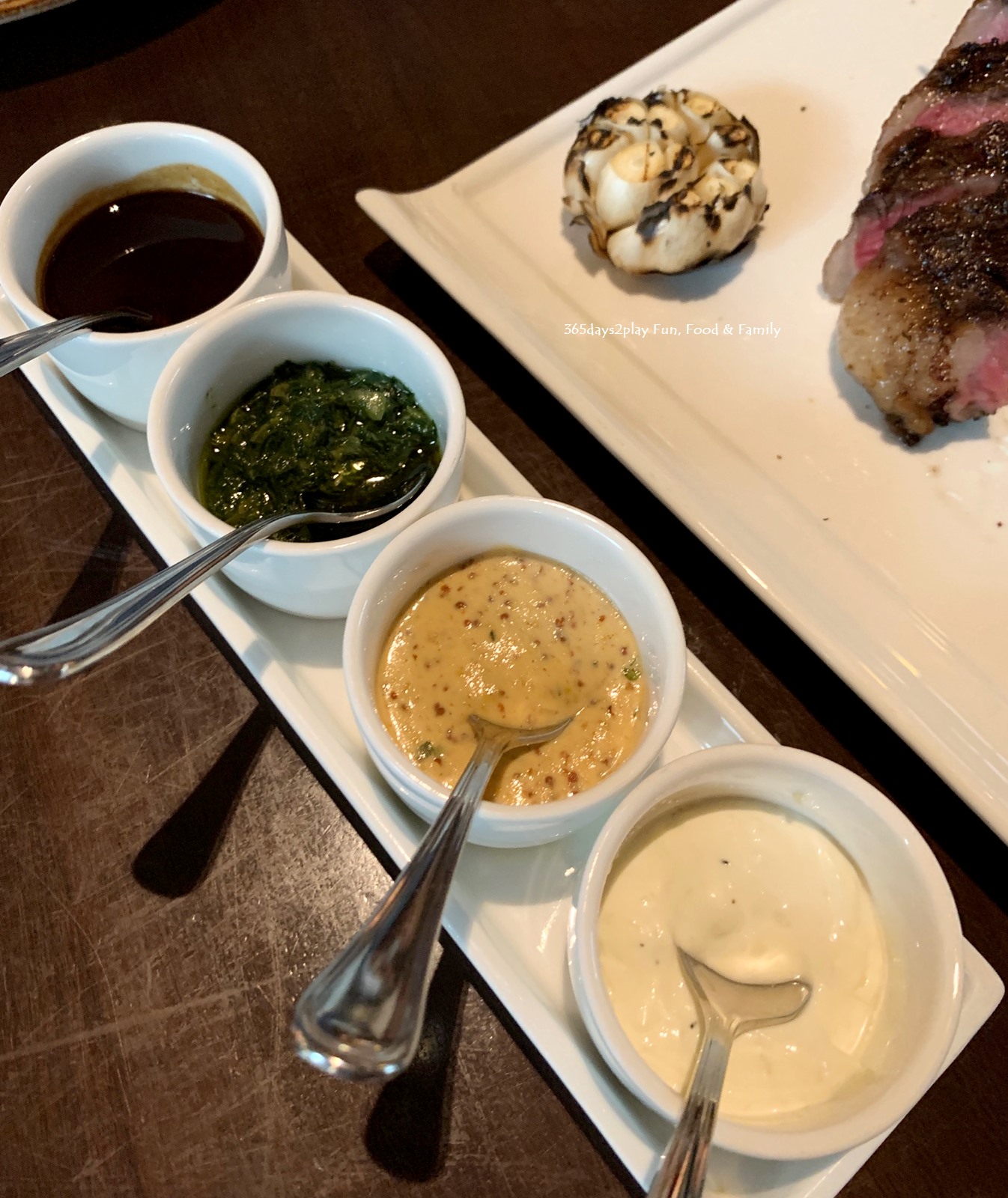 And the sauces to accompany the steak
Bistecca Tuscan Steakhouse @Bistecca
26 Mohamed Sultan Rd, Singapore 238970
Tel: 6735 6739