*Media Invite*
Last week, I attended a cosy get-together with 14 other bloggers to check out the Grand Mercure Roxy's brand new Level 4 facilities as well as to sample the delights at the hotel's Jia Wei Chinese Restaurant. I've only ever been to Grand Mercure Roxy once, about 2 years ago for drinks at the lobby bar. Probably only those people living in the East know about Grand Mercure Roxy, as it's a hotel that isn't located in the heart of town.
Still, Grand Mercure Roxy enjoys on average a 95% occupancy rate, with a total of 569 guestrooms and suites! Apart from the usual business travellers, apparently many Singaporeans love to check into the hotel over the weekends for easy access to East Coast Park beach. Scroll all the way down to read more about the hotel's room promotions. And did you know that children under 12 are entitled to complimentary breakfast?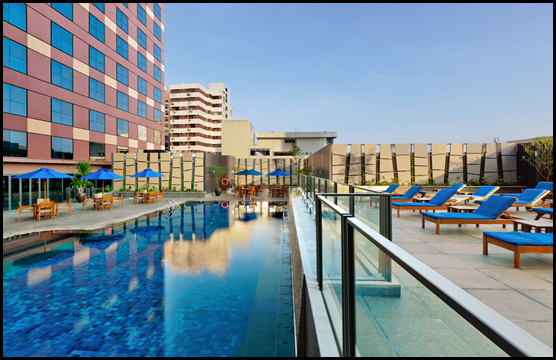 Image taken from Grand Mercure Roxy website
As an avid traveller myself, I'm listing down 3 services which I think will really benefit guests who stay at Grand Mercure Roxy.
Complimentary Airport Transfer – I think the complimentary shuttle bus service to and from Changi International Airport from 6.30am to 2am must surely be a welcome benefit. Not many hotels in Singapore provide free airport transfers, if at all. Having to book your own transportation is no joke. It's a foreign country, you don't know the roads or the systems. It can be a tedious affair as you have no idea which companies are reputable, or whether your ride would even turn up! Not to mention it usually costs a bomb!
Complimentary Wireless Internet Access – Again, this is something I think that many top notch hotels in Singapore do not provide for free. For me, Internet access is absolutely essential and I will almost always choose a hotel with free Internet access over one that hasn't. How else did I manage to blog about my Norway and Denmark trip every single day? Gone are the days when I would camp out at the Internet Cafe and pay $3 for half hour's use. Yes I did that in NZ, Australia and UK back in 2005 – 2007. Free Internet seems commonplace in other countries now, but not so in Singapore. I suppose the tide will change eventually when hotels start getting competitive.
Coin-operated Laundrette – An extremely useful facility if you ask me, that is lacking in most hotels be it in Singapore or abroad! With this service, you can afford to pack less clothes, and keep your luggage space free for more important things like SOUVENIRS! 2 years ago, I was having a leisurely sip of orange juice while lounging on the lawns of some park in Perth. Along came a baby, who tripped right over me and the orange juice spilled all over my cream coloured jacket. I spent THREE hours washing the thick jacket and then ironing it to get it dry.