*Media Invite*
Last week, I attended a cosy get-together with 14 other bloggers to check out the Grand Mercure Roxy's brand new Level 4 facilities as well as to sample the delights at the hotel's Jia Wei Chinese Restaurant. I've only ever been to Grand Mercure Roxy once, about 2 years ago for drinks at the lobby bar. Probably only those people living in the East know about Grand Mercure Roxy, as it's a hotel that isn't located in the heart of town.
Still, Grand Mercure Roxy enjoys on average a 95% occupancy rate, with a total of 569 guestrooms and suites! Apart from the usual business travellers, apparently many Singaporeans love to check into the hotel over the weekends for easy access to East Coast Park beach. Scroll all the way down to read more about the hotel's room promotions. And did you know that children under 12 are entitled to complimentary breakfast?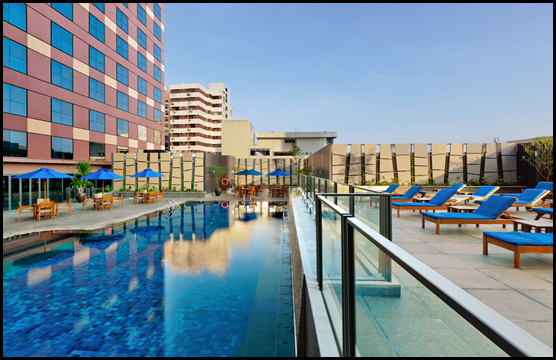 Image taken from Grand Mercure Roxy website
As an avid traveller myself, I'm listing down 3 services which I think will really benefit guests who stay at Grand Mercure Roxy.
Complimentary Airport Transfer – I think the complimentary shuttle bus service to and from Changi International Airport from 6.30am to 2am must surely be a welcome benefit. Not many hotels in Singapore provide free airport transfers, if at all. Having to book your own transportation is no joke. It's a foreign country, you don't know the roads or the systems. It can be a tedious affair as you have no idea which companies are reputable, or whether your ride would even turn up! Not to mention it usually costs a bomb!
Complimentary Wireless Internet Access — Again, this is something I think that many top notch hotels in Singapore do not provide for free. For me, Internet access is absolutely essential and I will almost always choose a hotel with free Internet access over one that hasn't. How else did I manage to blog about my Norway and Denmark trip every single day? Gone are the days when I would camp out at the Internet Cafe and pay $3 for half hour's use. Yes I did that in NZ, Australia and UK back in 2005 — 2007. Free Internet seems commonplace in other countries now, but not so in Singapore. I suppose the tide will change eventually when hotels start getting competitive.
Coin-operated Laundrette — An extremely useful facility if you ask me, that is lacking in most hotels be it in Singapore or abroad! With this service, you can afford to pack less clothes, and keep your luggage space free for more important things like SOUVENIRS! 2 years ago, I was having a leisurely sip of orange juice while lounging on the lawns of some park in Perth. Along came a baby, who tripped right over me and the orange juice spilled all over my cream coloured jacket. I spent THREE hours washing the thick jacket and then ironing it to get it dry.
More about our wonderful evening at Mercure last week.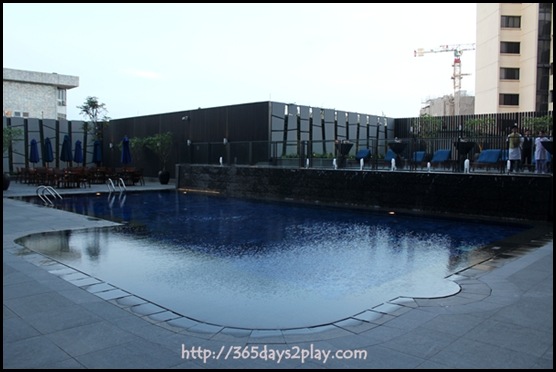 We were first treated to cocktails and finger food by the pool side, food provided by the Breez Bistro Bar.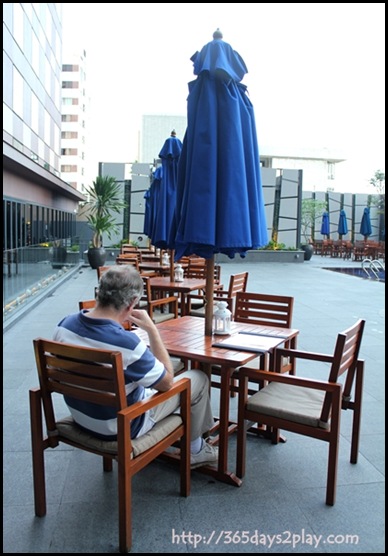 Quite a number of guests were having drinks by the pool side too. They weren't perturbed that a huge bunch of people were having cocktails at the pool area. Guess that's the in thing now, to have outdoor events like these.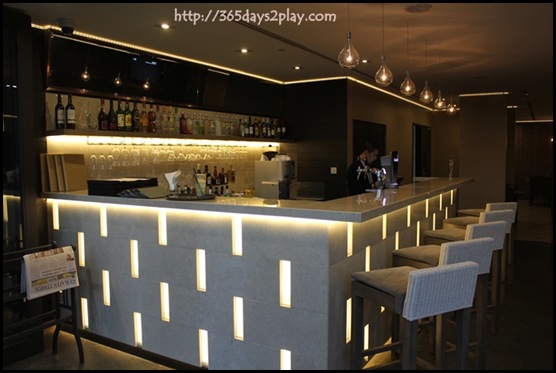 We walked by Breez Bistro Bar briefly and I must say, it does look like a very nice place to have a couple of drinks. I didn't know this place existed, since it's on the 4th floor. Might stop by again since I live in the East!
We also got to check out the 4th floor deluxe rooms. These rooms have direct access to the pool. Just open the glass doors you see on the left, and voila, you are at the pool! You can't actually see the pool from the room though, as it is a little recessed.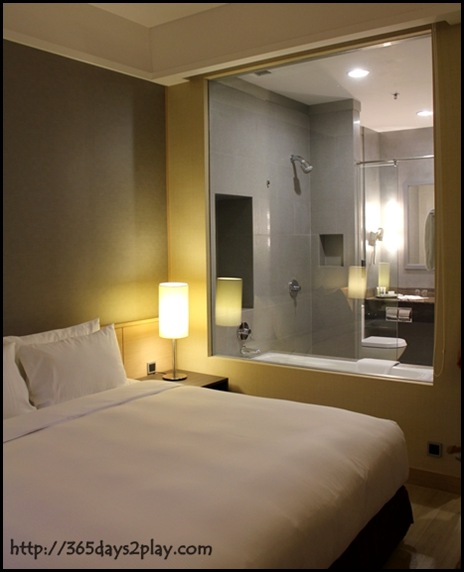 Nowadays, it's fashionable to have a see through bathroom. I'm traditional lah. I don't think I would like a see through bathroom. And the worst part is, there are blinds if you want some privacy. But the blinds are IN THE ROOM and not in the toilet! So if your Partner or whoever you're bunking with decides to EXPOSE you, good luck to you! I know some of you out there love this kind of thing, well so you know where to go.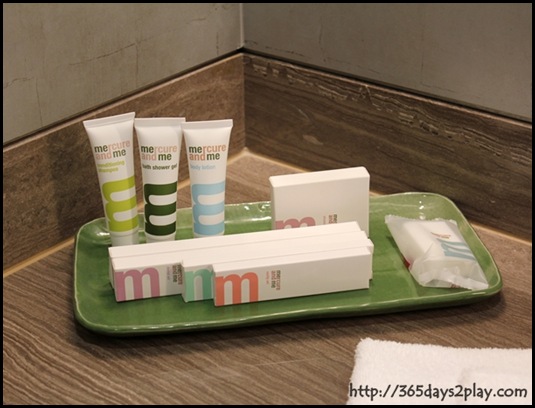 Nice toiletries to use or to bring back home as a souvenir. I used to love taking the toiletries, as mementos of my wonderful travels abroad. But 99% of the time, I never used the stuff, so nowadays I tie my hands together to stop myself from overloading my luggage. Yes it takes quite some effort.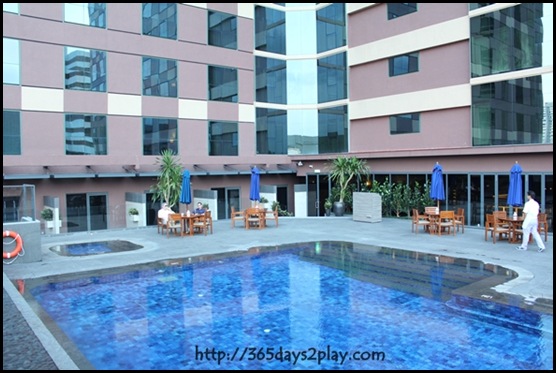 View of the pool from another angle. The deluxe rooms are the ones on the left. Of course if you take the higher floors, you will have a view of the pool, but not the direct access.
Grand Mercure Roxy Singapore (豪华美爵乐斯酒店) is currently offering two special packages — the Holiday Saver and the Weekend Escape, for business and leisure travellers as well as Singaporeans looking for a staycation.
Below are some of the highlights that you can expect from the Holiday Saver and Weekend Escape special packages:
– Holiday Saver special package: The Holiday Saver package which is available during Singapore's public holiday periods starts from S$156++ per room per night with a maximum booking of one night. The package is inclusive of breakfast for two, complimentary internet access and a free one day city tour hop-on-hop-off bus ride. This promotion is a great choice for travellers who are looking at spending their next holiday touring our sunny island, whether it's during Easter, Vesak Day, National Day, Hari Raya Puasa, Deepavali or even New Year's Eve!
– Weekend Escape special package: The Weekend Escape package is the perfect getaway choice for the busy Singaporeans who want to have a relaxing weekend or recharge their energy, as well as visitors from neighbouring countries who are looking to explore the city or enjoy some retail therapy. Package starts from SS$156++ per room per night with a maximum booking of one night during the weekends and is available for arrivals as early as Friday afternoon. This package is also inclusive of breakfast for two, complimentary internet access and a free one day city tour hop-on-hop-off bus ride.
– Extra perks: Families travelling with children can also benefit from the hotel's child policy because at Grand Mercure Roxy Singapore, accommodation and breakfast are free for children 12 years old and below sharing parents' room, with a maximum of 2 children. Hotel will provide, upon availability, a complimentary rollaway bed for 1 child with second child sharing existing bed. A|Club Accor Advantage Plus members can also enjoy an additional 10% discount on the Holiday Saver and the Weekend Escape special packages.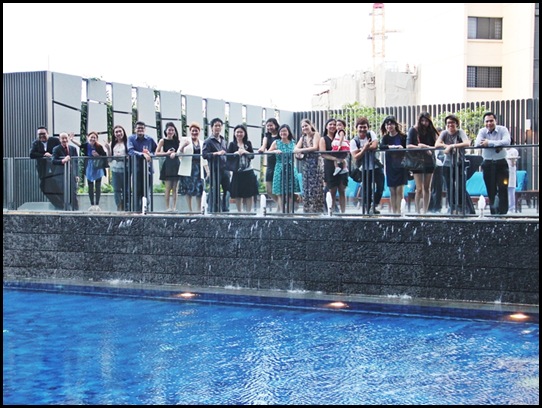 Grand Mercure Roxy Hotel
50 East Coast Road, Roxy Square
(Opposite Parkway Parade Shopping Centre)
Singapore 428769
Telephone: +65 6344 8000
Facsimile: +65 6344 8010
Email: H3610-FO16@accor.com