So we happened to get another DBS birthday month 50% discount voucher for Il Lido in February. It is not my usual practice to return to the same restaurant so soon, such is the job limitations of a food blogger! However, because we had such a good time there in January, I just couldn't come up with a better venue for my own birthday. So off we trooped to Il Lido again.
They didn't have the same Super Weekend Set Lunch $68 that I had in January. Instead, they had another weekend set lunch for $58. For the set lunch, this time round only 2 appetisers, 1 mains and 1 dessert, instead of the 5 appetisers, 5 mains and 4 desserts!!!! I was therefore quite torn between getting an ala carte dish vs the set lunch. The suckling pig was also $58, and totally calling out for me to eat him. Variety won in the end and I went for the set.
On the whole, the new set menu was very good too. It's just that having sampled the SUPER set menu, there was basis for comparison. And as you know, where there is comparison, there is discontent, if you're on the wrong side of it. Nevertheless, YOU haven't tried the super set menu, so don't let me cloud your judgement.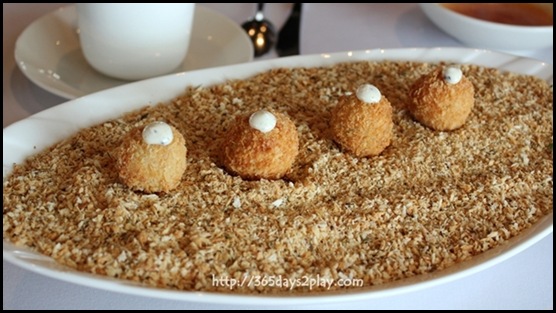 Amuse Bouche to keep your mouth entertained while they prepare the real stuff
Another Amuse Bouche…keep it coming!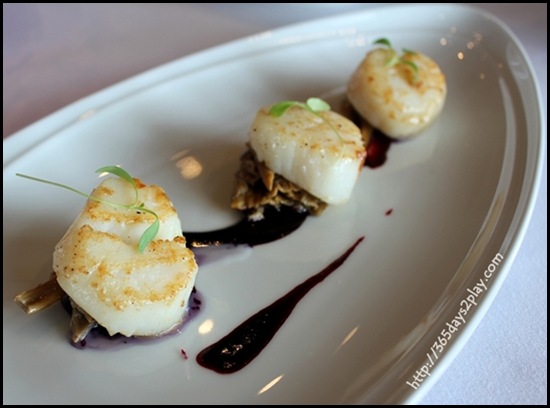 Roasted Scallops with Chanterelle Mushrooms and Blueberry Caramel
I was quite right to expect that since there were lesser dishes, each dish would be more substantial. These scallops were roasted to perfection. They were very tender, juicy and still retained their seafoody taste. Went very well with the interesting blueberry caramel as well as the mushrooms.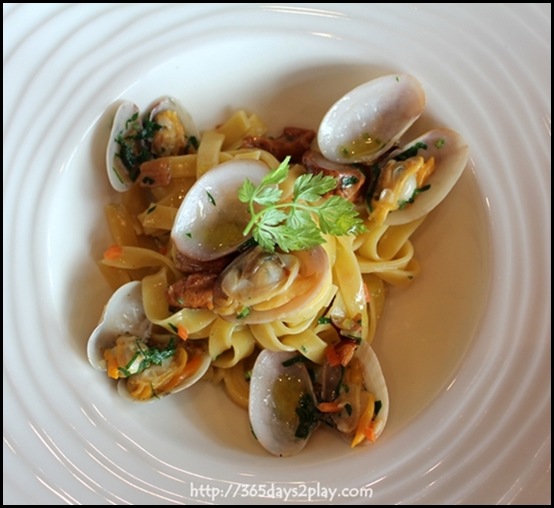 Linguine with Clams and Chanterelle Mushrooms
Hmmm they seem to have given us Fettuccine instead of linguine, but never mind, I actually like Fettuccine more. This pasta dish was extremely delicious! The pasta was cooked just right and had a firmness to it. It absorbed the rich clam broth and every mouthful was so pleasurable. It was a GREAT PITY that I didn't order this as my mains. I am definitely coming back for this dish itself as an ala carte order $35. NOT GOING TO SHARE. This was really good!!! Star dish of the day!!! Order this if you don't know what else to order!