*Media Invite*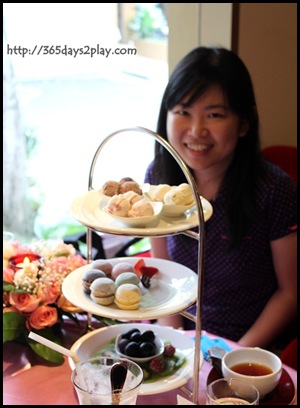 Despite the proliferation of new ice cream parlours in Singapore, I still stick loyal to my favourite ice cream company. There's nothing quite like a Hí¤agen-Dazs ice cream out there. If you ask me, Hí¤agen-Dazs makes the best vanilla ice cream and Belgian chocolate ice cream. Their ice creams are rich tasting and each mouthful of the cold treat envelopes your tongue like smooth velvet and just instantly makes you forget your troubles (even if they crash back onto you when you pay the bill). I've never disliked any ice cream flavours I've tried at Hí¤agen-Dazs.
They say commercialised ice creams have lots of additives in them, but I've looked at the ingredient list on their vanilla ice cream and the ingredient list is super short! I'm sure everyone has their own favourite ice cream brands, but I think most people will agree that when it comes to indulgence and having a luxurious time, nothing spells it quite like Hí¤agen-Dazs.
As if a trip to a Hí¤agen-Dazs store wasn't indulgent enough, the people there had to up the ante with this new High Tea Affair promotion. The Hí¤agen-Dazs 3-tier High Tea set is decked with 3 mini scoops each of Cookie Dough Chip, Belgian Chocolate and Strawberry ice cream; followed by a choice of 6 delicate ice cream macaroons and finally, succulent pieces of kiwis, raspberries and grapes.
Hí¤agen-Dazs kindly invited me and 3 of my girly pals to check out their new offerings. It was truly a perfect girls day out! Good ice cream. Good friends. What more can you ask for?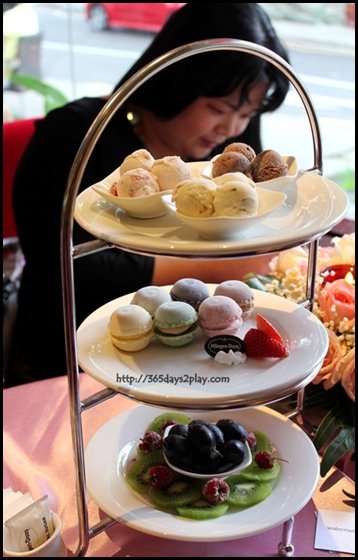 High Tea Affair $38++ Friend in the photo not included in the set!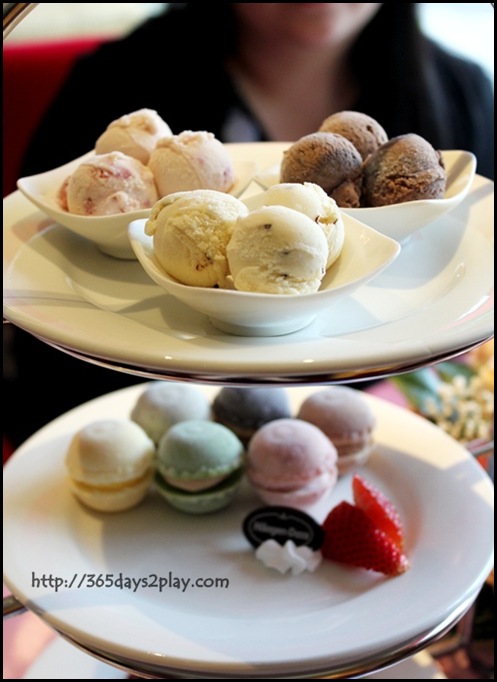 Closer shot of the -Dazs 3-tier High Tea. Top deck comprises of 3 mini scoops each of Cookie Dough Chip, Belgian Chocolate and Strawberry ice cream.
The mini scoops of ice cream were decadently delicious! The 4 of us were practically swooning over the set. I know it's meant to be a "Girl's Day Out" affair so the ice creams are mini and dainty, but when it comes to ice cream, big is good! Wow I can just imagine if Hí¤agen-Dazs creates a "Boy's Day Out" promotion and comes up with some gigantic ice cream, I'd be the 1st in line to try it!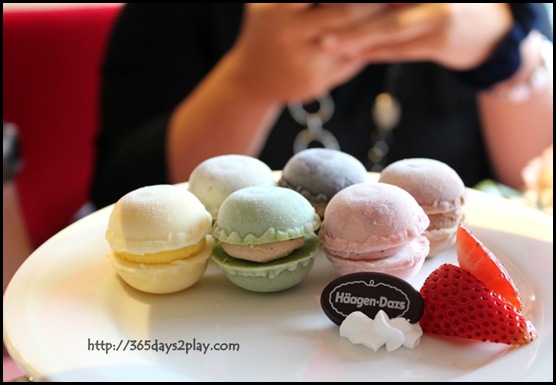 Ice Cream Macaroons. 8 flavours to choose from.
On the 2nd tier, you have the ice cream macaroons (or macarons if you will). These are nothing like the French macarons even though they look similar!! If I may say so, these ice cream macarons are way BETTER! Seriously! Each macaron has a thin chocolate shell, which hides creamy, luscious ice cream and Chantilly cream. The chef who created this must be a genius! Biting into each macaron, you get a mix of wonderful flavours and textures. You have the crisp and thin chocolate shell, and the delicious cold ice cream just bursts into your mouth. One word, FANTASTIC. Okay 2 more words, MUST TRY.
You don't have to get the 3-tier High Tea in order to enjoy the macarons. You can order the Macaroon Mélange on its own for $18++ served with mango sauce and garnished with almond nibs and strawberries. The macaroons are also available as gift sets to take home and come in a variety of flavors including Caramel Biscuit & Cream, Strawberry, Chocolate and Cookies & Cream. The gift set is priced at S$25+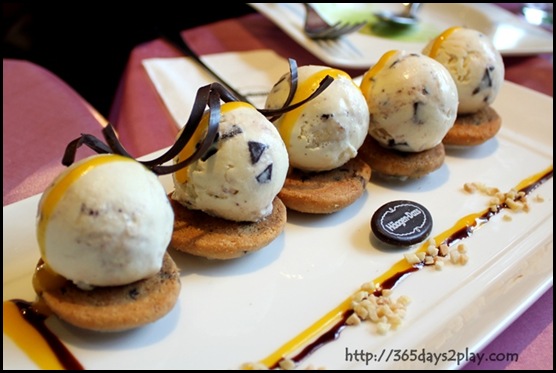 Petite Temptations
That's not all that Hí¤agen-Dazs has come up with. You can also try the Petite Temptations — S$18++, which is not included in High Tea Affair set. This is vanilla ice cream studded with chunks of buttery cookie dough and sweet fudge chips, accompanied by drizzles of mango and chocolate sauce. I found the cookie dough ice cream to be yet another excellent ice cream flavour. I never was a fan of cookie dough, but I think I'm a convert now. Love it that I can "bite" my ice cream. The cookie at the base of the ice cream was a nice touch, although on it own their own those cookies were pretty ordinary.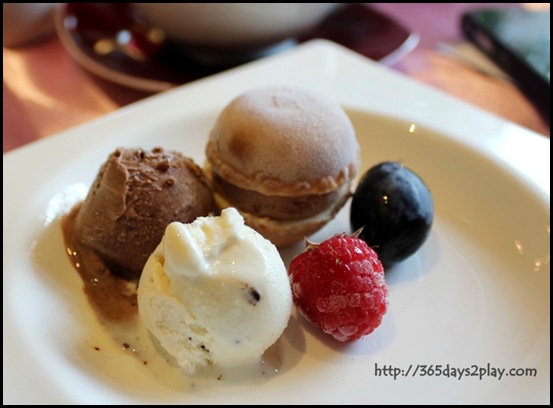 This was what I had from the 3 tier set. You can tell I like Chocolate eh…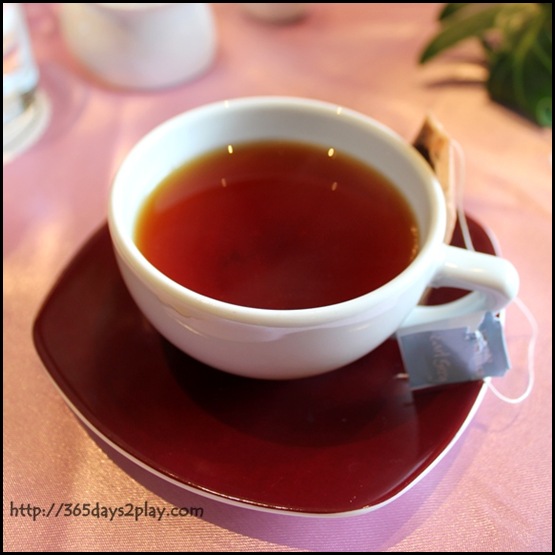 At first I ordered an Earl Grey, thinking that I might need something hot and light to help the ice creams go down.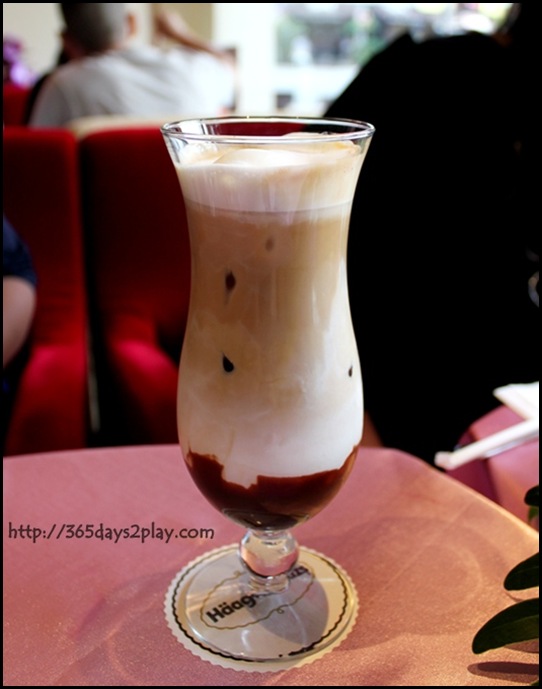 But who was I kidding man. I didn't need help with ice creams! After I finished my Earl Grey and was still thirsty, I ordered another Cafe Mocha. Now one place I think serves excellent Iced Cafe Mocha is The Coffee Club. It's like the only drink I order when I go there. I think I've just found another Iced Cafe Mocha which I like very much. Check out the generous amount of chocolate at the bottom of the glass!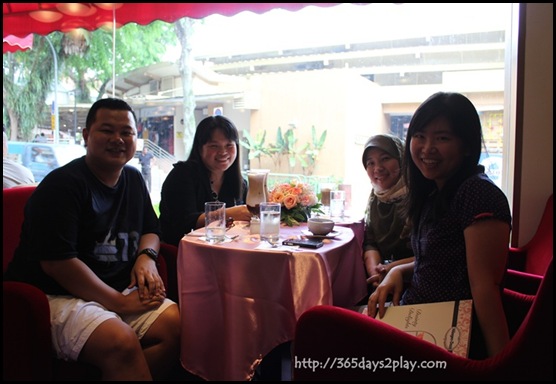 Me and my 3 other girly pals….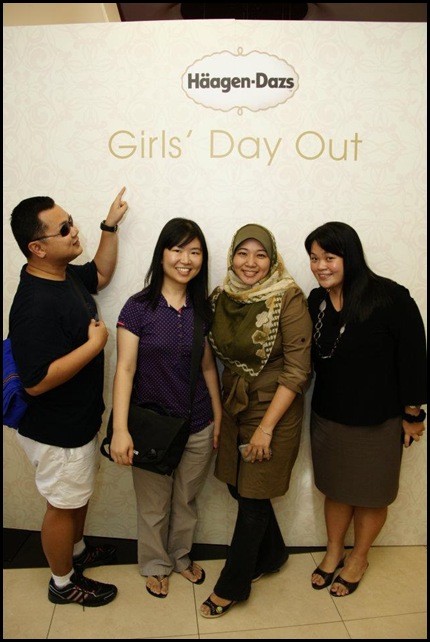 One of the 4 is not like the others…
The High Tea Affair, ice cream macaroons and limited edition Petite Temptations creation are available at all Hí¤agen-Dazs shops nationwide, from 27th March 2012 to 31st May 2012, during opening hours. If you go between 2pm — 5pm on weekdays, you will enjoy a 15% discount on the High Tea Affair (that's the 3 tier set)! Last day is 31st May 2012, don't forget! Girl or not, you gotta try these out, especially the Macarons!!!
https://www.facebook.com/HaagenDazs.Singapore