Have you been wondering where to spend your Christmas or which restaurant to have Christmas-eve dinner? I did a quick look at the prices charged by the hotels for Christmas-eve dinner and Christmas day lunch and I nearly fell off my chair! The prices are really exorbitant! Most hotel's Christmas buffets are $100 and upwards! Sure they throw in a lot of festive goodies, but it's a little painful to have to part with so much cash just for a bit of Christmas cheer.
One way to not miss out on the Christmas festivities is to organise your own Christmas Party. You don't have to do all the cooking because you can simply find a reputable caterer who will do the job for you.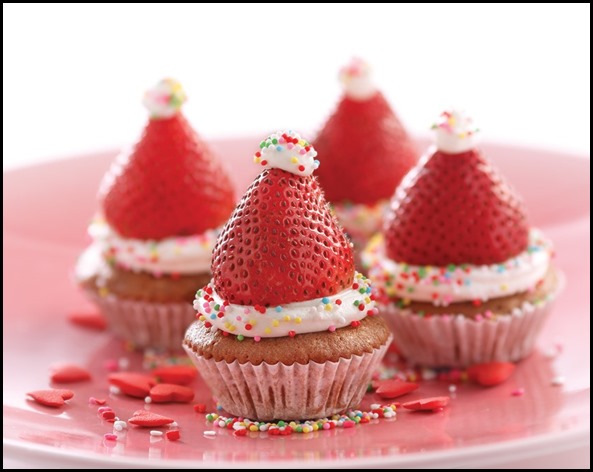 Or you could consider ordering from Crystal Jade's Christmas Takeaway menu! I would never have thought of approaching a Chinese restaurant for Christmas goodies, but I've looked at their menu and it does look really good! Check out the 2 affordable deals below. I mean for $330, which probably feeds 3 at a restaurant, you can have your own party for 10 pax! This is in fact the 7th year running that Crystal Jade has had a festive Christmas menu and the food is prepared on the same day of collection so that you don't have to reheat before serving.
The Deluxe Candilicious' Package
The Deluxe Candilicious' Package ($330) for parties of 15 — 18 persons featuring:
ï'· 1 Strawberry Log Cake
ï'· 1 Roasted Home Recipe Turkey
ï'· 1 Honey Baked Ham
ï'· 16 Mini Egg & Bacon Bread Roll
ï'· 12 Pork Meatball with Brown Sauce
ï'· 16 Mini Meat Pie
ï'· 16 Smoked Salmon Vol-au-vent
ï'· 2 portions of Creamy Lasagne with Smoked Salmon & Spinach
or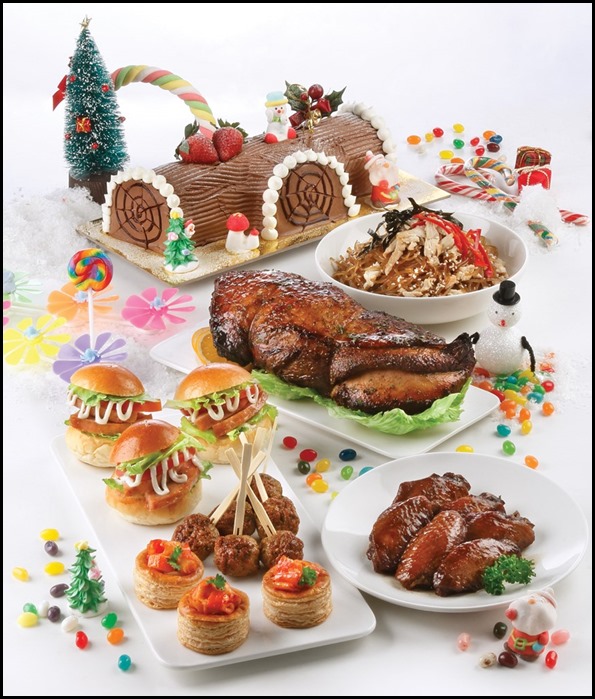 The Premium Candilicious' Package
The Premium Candilicious' Package ($165) for gatherings of 6 — 8 persons featuring:
ï'· 1 Black Forest Log Cake
ï'· 1 Roasted Home Recipe Turkey Breast
ï'· 12 Braised Chicken Wing in Oriental Brown Sauce (12 pcs)
ï'· 8 Mini Burger with Luncheon Meat (8 pcs)
ï'· 12 Sambal Crabmeat Vol-au-vent (12 pcs)
ï'· 8 Fish & Pork Stick in Thai Style (8 pcs)
ï'· One serving of Cold Glass Noodle & Chicken with Home-made Wafu Sauce (suitable for 4 – 6 persons)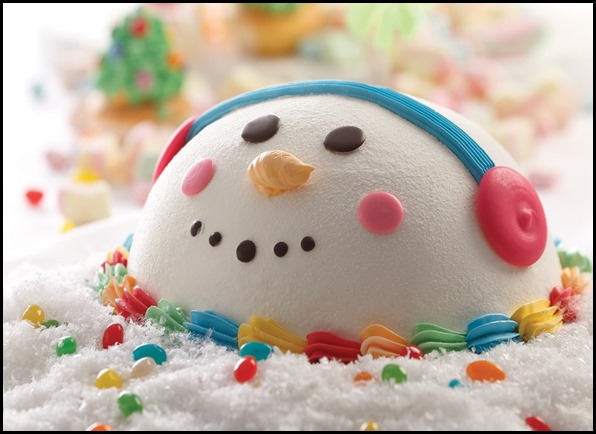 How about a fruitcake that doesn't look like any other type of fruit cake? The ´Joyous Snowman´ Mixed Fruit Cake ($45, approx. 1kg and 20cm in diameter) will bring a smile to diners' faces. One of Crystal Jade's best sellers, the vanilla sponge cake is packed with luscious bits of fruit — fresh strawberries, canned pineapples or peaches depending on availability.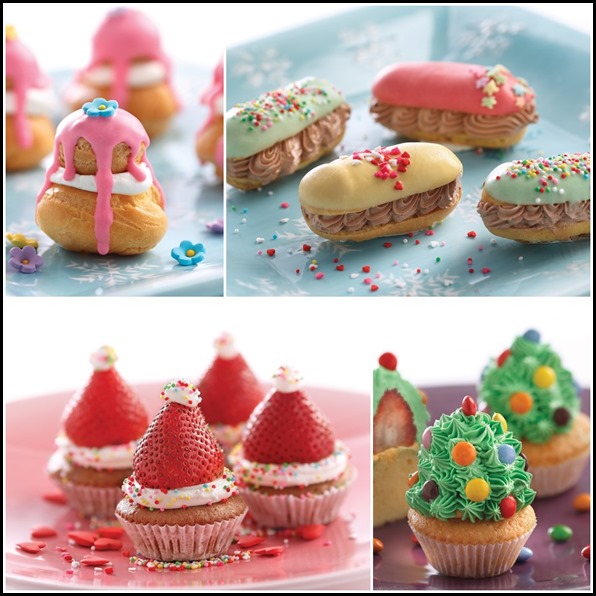 These dessert tartlets look so darn good I almost feel as if they could be used as decorations around the house. Maybe you can even organise a treasure hunt for the kids by putting these around the house!
Some of the savoury finger foods such as Mini Egg & Bacon Bread Roll, Braised Chicken Wing in Oriental Brown Sauce and Dried Pork Curry (Rendang Style)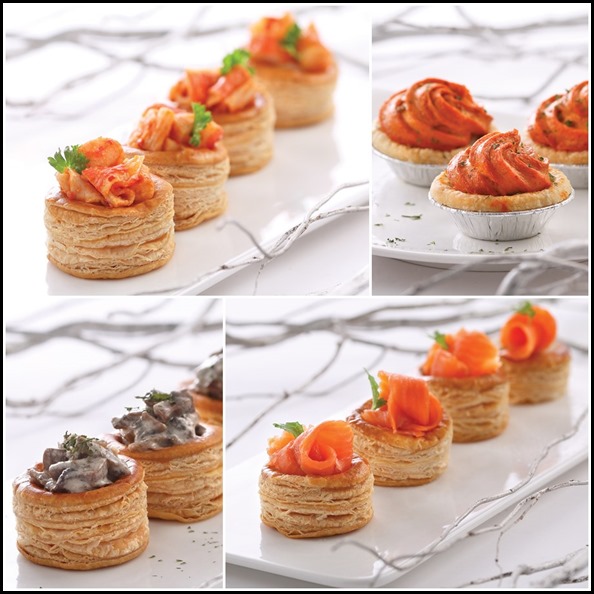 Vol-au-vent : Sambal Crabmeat Stick, Smoked Salmon and Mushroom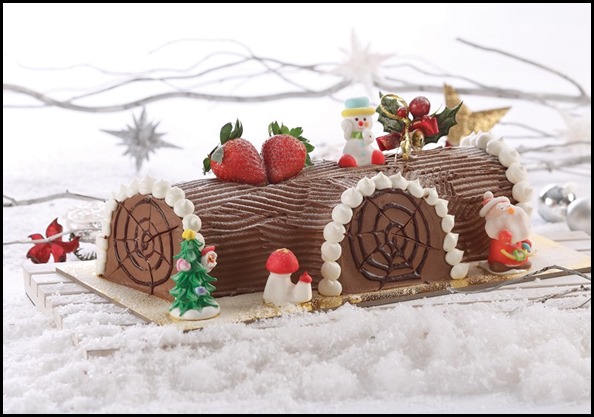 And somehow, it ain't a Christmas meal if there isn't a log cake! There's also Strawberry flavour and Mango flavour to choose from if you don't want traditional Chocolate. If only we could have log cakes all year round. Someone should organise a Christmas dinner sometime in June for people who can't wait till December!
Click here for the full Crystal Jade Christmas Takeaway Menu. Last day for orders is Sunday, 29 December 2013, before noon, for take-away on 1 January 2014. Diners can place their orders three days in advance of collection. They can also call the Crystal Jade hotline at 6512-0800 Mondays to Fridays, 9am to 6pm (excluding public holidays). Pick-up can be made between 11am to 7pm.
~~~~~
Add me on Facebook, Instagram and Twitter if you want to be kept up to date with the latest happenings in the food and lifestyle scene in Singapore!
~~~~~