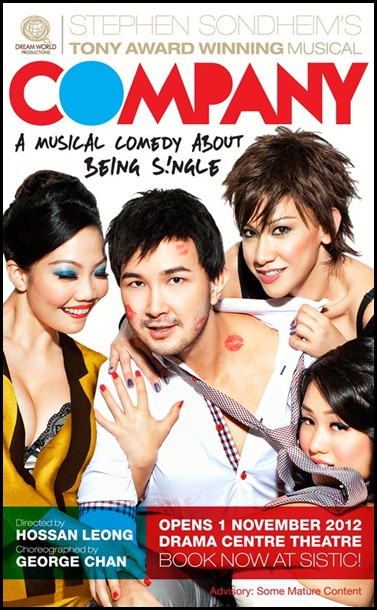 When Dream Academy invited me to watch this upcoming musical, I was quite delighted. I did a quick calculation and realised that the last time that I have watched a theatre performance was back in 2007! It was a Crazy Christmas, held at the National Library Drama centre and I enjoyed the performance tremendously! To think that during my younger days I was Chairperson of my school's English Drama Society. How terrible that I've totally lost touch with the ins and outs of our local theatre circle!
Anyway I'm really looking forward to watching Company, the musical next Friday! I'll do up another post once I've watched the musical.



More about COMPANY
Dream World Productions presents its first production, COMPANY by the legendary Mr. Stephen Sondheim. COMPANY has won a total of seven TONY Awards, including Best Musical, Best Book of a Musical, Best Original Music and Best Original Lyrics in the 1971 Original Broadway production and Best Revival of a Musical in the 2006 Broadway Revival. Hossan Leong is the director for the Singapore version of Company. This super-funny musical comedy explores the pros and cons, the ups and downs as well as the ins and outs of being single. Join our talented cast as they try to persuade our hero, Robert, to do what our Government has been hard selling for years… Get married!
Check out the teaser videos!
1) Teaser video: http://www.youtube.com/watch?v=wEGufq1watI&feature=relmfu
2) Bobby's ladies singing in the MRT: http://www.youtube.com/watch?v=-xuUGRIh2bA&feature=plcp
CAST:
Tan Kheng Hua, Karen Tan, Brendon Fernandez, Petrina Kow, Candice de Rozario, Ivan Choong, Matt Grey, Tim Garner, Rebecca Spykerman, Juwanda Hassim, Mina Kaye, Glory Ngim, Seong Hui Xuan and introducing Peter Ong
SHOW DETAILS:
Opens on 1 November 2012 to 11 November 2012
Drama Centre Theatre, National Library Building Level 3
Tuesdays — Fridays 8pm, Saturdays — Sundays 3pm and 8pm
TICKET PRICES (Excluding $3 SISTIC booking fee):
Preview (1 November 2012): $77, $57, $37
Standard: $97, $77, $57
Tickets can be purchased through SISTIC website: www.sistic.com.sg,
SISTIC Hotline: (65) 6348 5555 and SISTIC Authorised Agents islandwide.