*Media Invite*
At this point in time, I guess just about any lover of dim sum would have heard of the opening of Tim Ho Wan in Singapore. For the uninitiated, Tim Ho Wan is a Michelin Starred dim sum restaurant in Hong Kong. Since it's opening on 10 April 2013 in Singapore, if you've been in the Plaza Sing / Atrium area, you would undoubtedly have seen the snaking queues of eager customers awaiting their turn to try out Tim Ho Wan's legendary dim sum. I was lucky to be able to avoid having to line up for my food, however I have heard that the average waiting time is 2 hours, and at one point it got so bad that the queue was even closed to more customers.
So the big question is, is Tim Ho Wan worth the 2 hour wait? Actually, I think no restaurant is worth a 2 hour wait. There is so much good food available in Singapore that to have to "work" for your food invariably means having even higher expectations on the food. There comes a tipping point where it is physically impossible for the quality and taste of the food to exceed expectations. In my opinion, the 2 hour wait is only for people who have a curiosity itch to suppress, and scratch it they must.
I have never been to the Tim Ho Wan in Hong Kong. And to be frank, I am a little disappointed with the dim sum served at the media tasting. I found quite a number of the dishes exceedingly ordinary, especially when taking into account the price charged. But to be fair, there were some dim sum items that were great too.
So, should you find yourself having a table there, here are my recommendations as to what is worth ordering at Tim Ho Wan.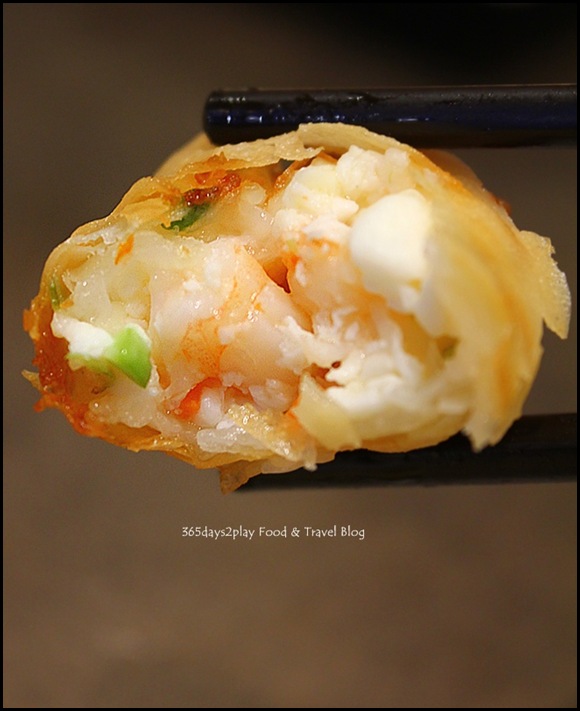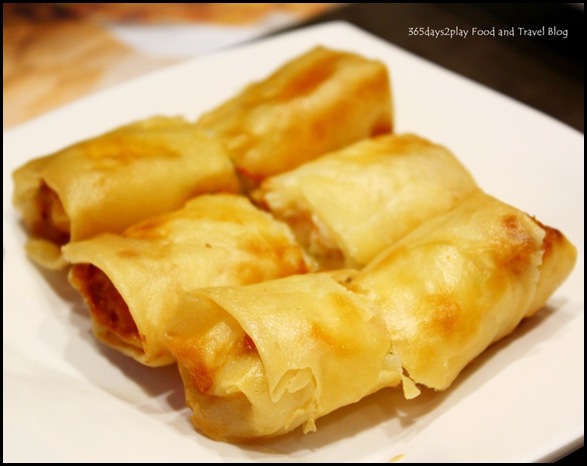 Spring Roll with Egg White
This was hands down, the best dim sum dish of the evening. I did a quick poll of several of the bloggers that attended and we all agreed that we loved the Spring Roll with Egg White the most. It was refreshingly different from any other spring roll I have ever eaten. The addition of egg white in the filling made for a very tasty interior, while the skins of the spring rolls were extremely crisp.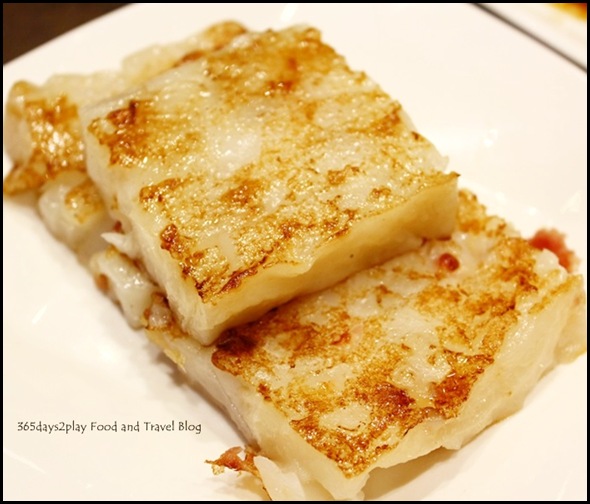 Pan Fried Carrot Cake
Another must order is the Pan Fried Carrot Cake. Now at first glance, it may look like the cheap square of carrot cake that is often sold at the hawker centres or in schools. However, this one was quite different in that a much higher percentage of radish is used. It wasn't cakey at all and you could taste the individual slivers of sweet tasting radish.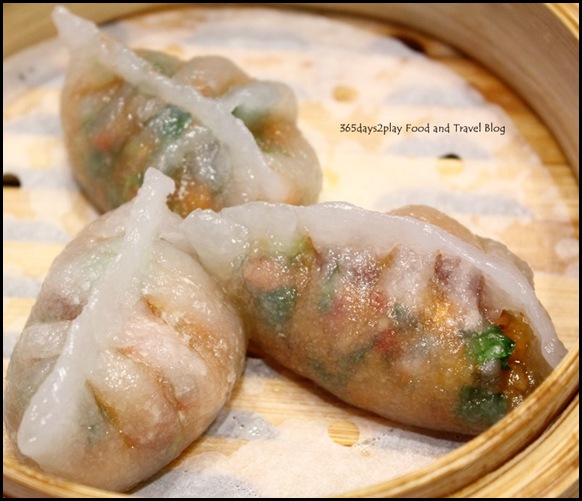 Steamed dumpling with Mushroom & Spinach
The filling of mushroom and spinach was nice, however, the skin of the steamed dumpling was thick and chewy.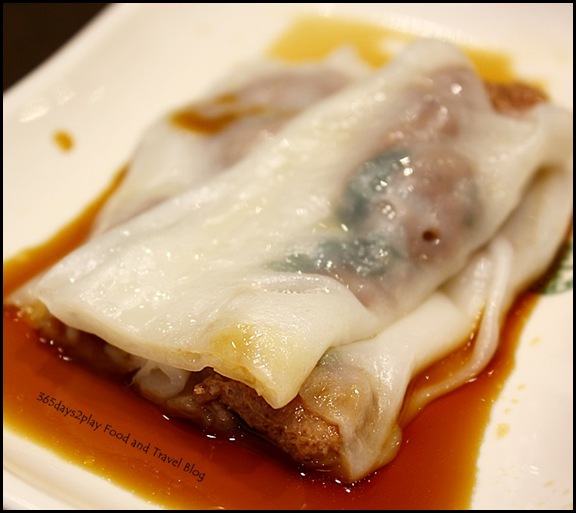 Vermicelli roll with pig liver
I've never had rice roll with pig liver before and when I saw this on the menu, I had high hopes for it. Unfortunately, this was a let down as the liver tasted dry and rubbery while the rice roll was even more rubbery. To me, rice rolls should be thin such that if you lift up a single sheet, it should almost be translucent, and it should slide down your throat without energy. I really hope that the chefs do a better job of this dish in future because there is much potential for it. I would love to return to Tim Ho Wan to try this out again.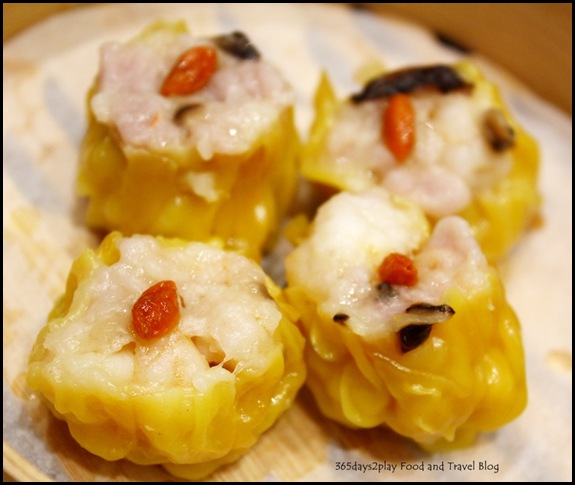 Siew Mai
I thought this was quite okay, average.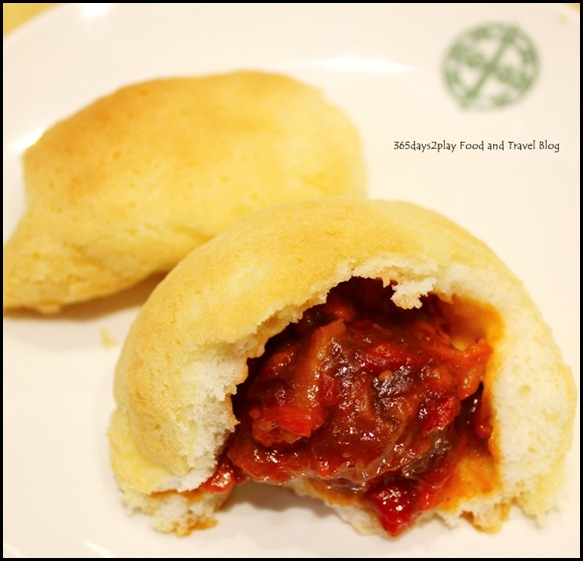 Char Siew Bao
This was supposed to be the piece de la resistance, the reason why people would want to line up for 2 hours. Unfortunately, the char siew bao did not live up to it's reputation. There was nothing to should about the bao part itself. I did like the filling as it had a rich sauce and lots of meat. Actually, this to me resembles a boluo bao more than a char siew bao, which in my mind should be a fluffy tender melt in the mouth white bun.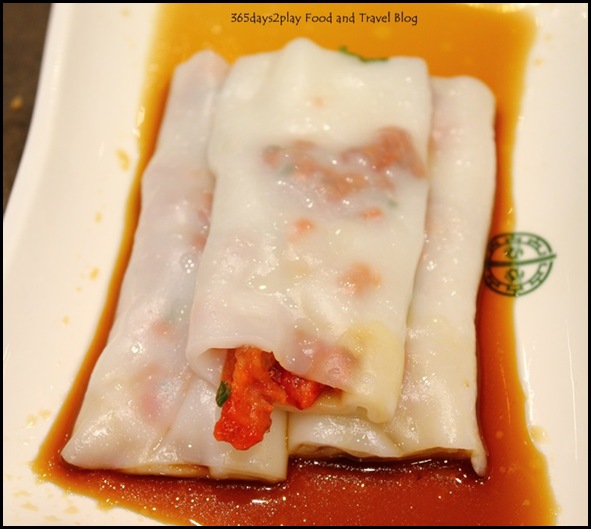 Vermicelli roll with Char Siew
As with the pig liver rice roll, the skin for this rice roll was as thick as can be.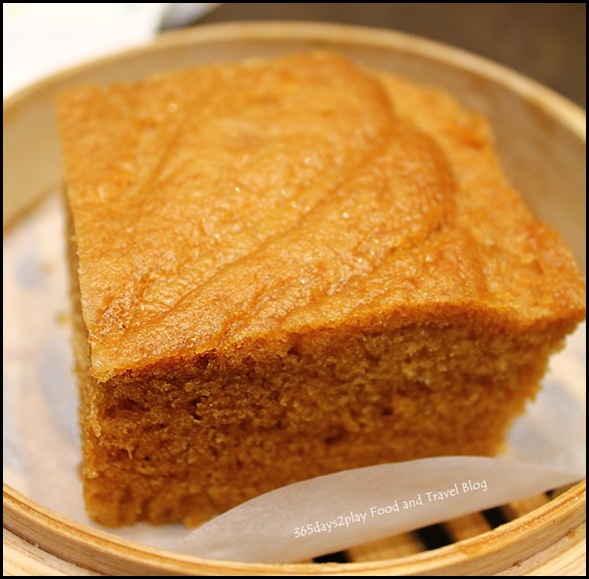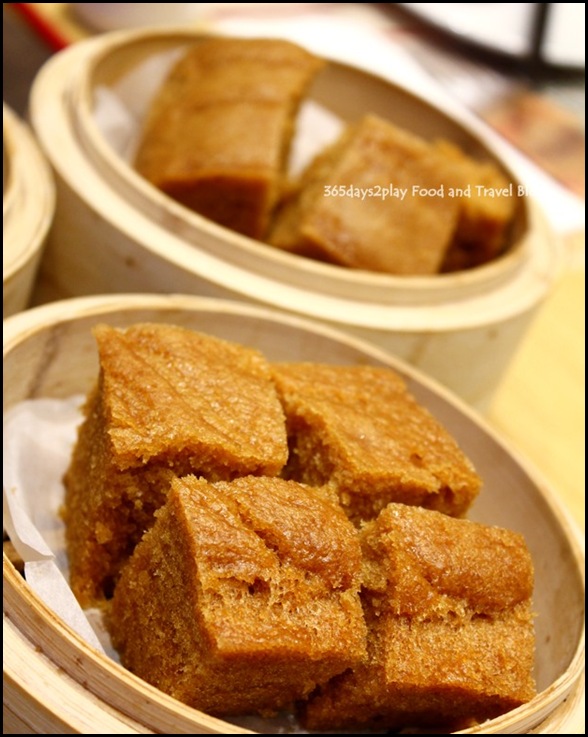 Steamed Egg Cake
I can't quite get over the fact that this look so much like kueh! In fact, the Mandarin name for the steamed egg cake is Malay Cake!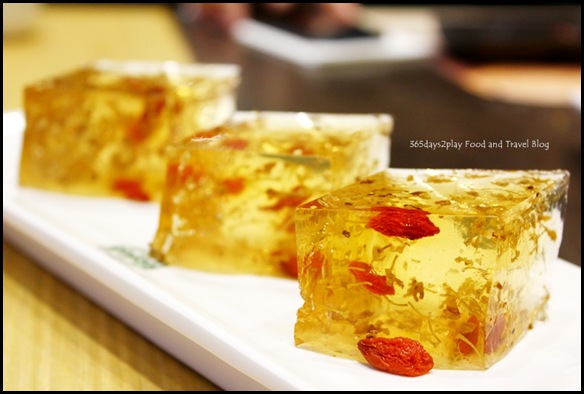 Tonic Medlar & Osmanthus Petal Cake
A pretty dessert to end off the meal. If you want something really light, this might just be the thing for you. Although it's called a cake, it's really more of a jelly.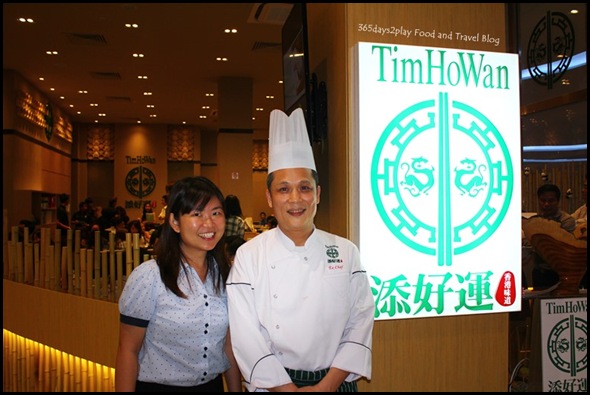 Me with Chef Chef Mak Kwai Pui aka "Pui-Gor". He doesn't look very pui to me.
**All the portions shown in the pictures here are the exact portions if you would get with each order.**
**********
Check out other great dim sum restaurants in Singapore
Add me on Facebook, Instagram and Twitter if you want to be kept up to date with the latest happenings in the food and lifestyle scene in Singapore!
**********
Tim Ho Wan 添好運 – Michelin Star Dim Sum
Plaza Singapura /The Atrium @ Orchard, 68 Orchard Road #01-29A, Singapore 238839.