*MEDIA INVITE*
Adobo! is a new eatery set up by an Indian-Filipino couple. It's a stall within a coffeeshop located at the junction of East Coast Road and Joo Chiat Road. If you know where Joo Joo/Awfully Chocolate is, then Adobo! is just directly across it. Apparently Michael and his Filipino wife chose this location because of the high number of Filipinos working around the Joo Chiat Katong area.
Come to think of it, I don't think I've ever tried Filipino food before. I was quite surprised to find that the dishes I tried were very similar to Chinese dishes! I could have sworn that the Chicken Adobo (stewed chicken) came from some Chinese stall! It's refreshing to find more than just the usual Chinese/Indian/Malay/Western options, and the occasional Japanese, in a coffee shop. A lot of the dishes on offer are also quite meaty, which should please the meat lover.
Most of the stuff was sold out by the time I got there around 8pm on Monday night! ARGH!!!
Adobo is the name of a popular dish and cooking process in Philippine cuisine that involves meat or seafood marinated in a sauce of vinegar and garlic, browned in oil, and simmered in the marinade.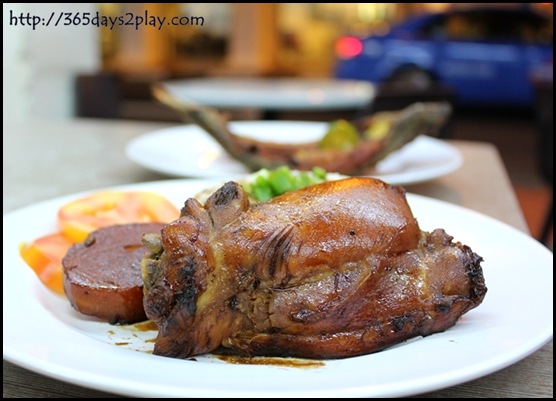 Chicken Adobo (Stewed Chicken) $4 — As I was saying, the chicken tastes really like the Chinese version of braised soya sauce! The portion of thigh meat offered was pretty humongous. It was juicy and flavourful. The exterior was a tad dry, but towards the bone, the meat was really tender. I also LOVED the stewed piece of potato that came along with the dish. For $4, I think it's a really decent price.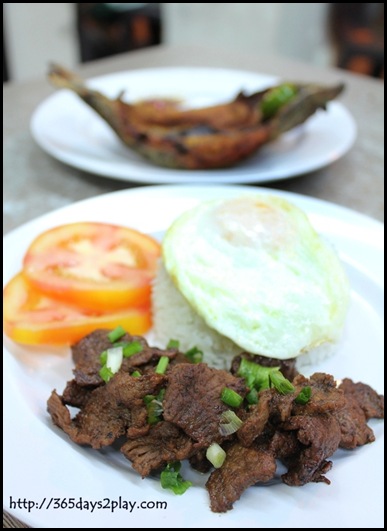 Tapsilog (Beef tapa) $4.50 — The Partner had this and liked the flavour of the spices and marinade of the beef. There was also a particularly strong lime flavour, which he liked as well. I took a slice and thought that the beef was pretty tough though. For this dish, you also get a fried egg. I love mine sunny-side-up but I believe they don't mind giving you a scrambled one if you so wish.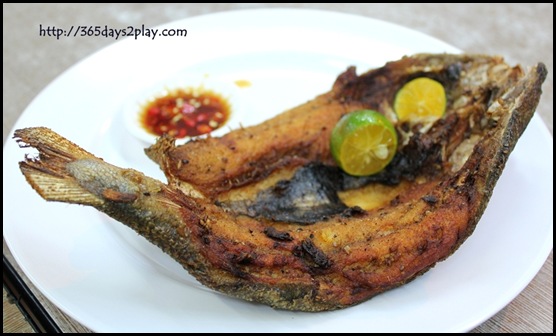 Bangus (Milkfish) $5 — The Milkfish was butterflied and deep fried. At first bite, the strong flavour of the fish really hit me, which was surprising since I love strong flavours. There was this river type taste, together with the vinegar marinade which I wasn't used to. However, on subsequent bites, I got over the river taste, and actually quite enjoyed the flavours in the end. This fish has like over 200 bones, of which about 70% has already been removed by the skilful chef in less than 2 minutes. The other 30% are rather tiny. I tried chomping and swallowing them and it was okay. Despite the bones, you should try this fish as it's the national fish of the Philippines!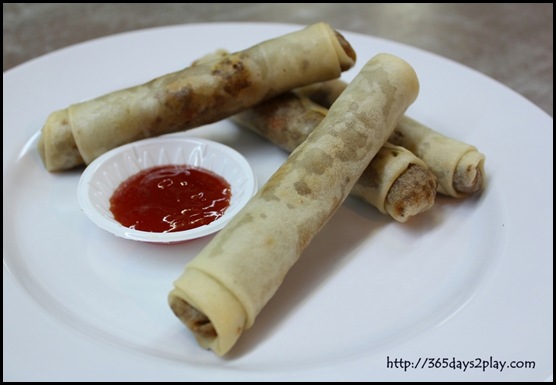 Lumpia Shanghai (Fried Eggrolls) $0.50 each — These are basically spring rolls filled with minced meat. I LOVED this dish! For one, it's fried and I have a soft spot for fried stuff despite my healthy talk. The minced meat also tasted very nice and went very well with the crispy spring rolls. They remained crispy even though I saved them for last. It's nice to eat spring rolls for once without the shreds of ingredients falling all over the place.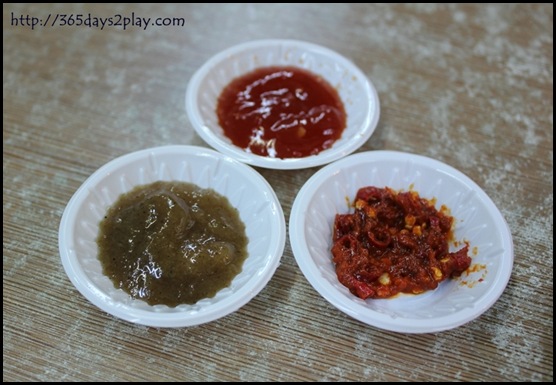 Three types of sauces to choose from. They have the usual chilli sauce, sambal and a type of Filipino sauce, made with lots of garlic. Beware of the sambal. There's very little of it in that dish for a good reason.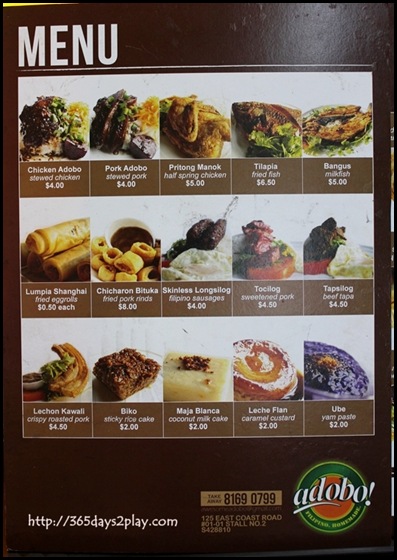 The next time, I really want to try out the fried pork rinds and the crispy roasted pork, and perhaps a whole pile of stewed potatoes to go along with my stewed chicken, and and extra order of egg! I heard that the Leche Flan is pretty good too! Mmmmmm!!!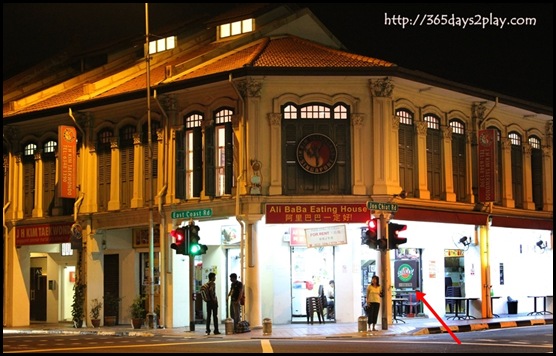 From today until the 20th of October 2011, you can enjoy authentic Filipino cuisine – $7.70 instead of $11.00 for 1 set meal of Bangus (Milkfish – worth $5) + Skinless Longsilog (Filippino Sausages – worth $4) + Leche Flan (Caramel Custard – worth $2). Click here to buy the coupon from Poppist!
ADOBO!
125 East Coast Road
#01-01 Stall No.2
Ali Baba Eating House, Singapore 428810
Opens daily 11.30am to 10.30pm except Tuesdays
Tel: 8169 0799 for takeaways   Email: Awesomeadobo@gmail.com