Day 10 of 365days2play's Honeymoon in Luxembourg, Germany & France
We spent our 1st night in Paris at the lovely Citadines Suites Louvre Paris. Although Paris wasn't our first stop in France, I'm starting with this post first because the Citadines Suites Louvre Paris is managed by Singapore's very own Ascott Limited, a member of Capitaland. Also, it was the only service apartment we stayed at in our honeymoon trip to France.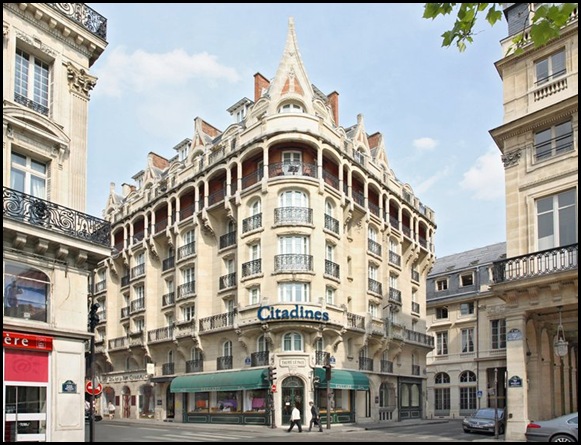 The hotel is slightly difficult to identify because there isn't a grand entrance like most hotels in Singapore. You do have to keep your eyes peeled for the Citadines logo and the entrance at the side of the building. However, once you enter the lobby, I assure you that you will feel mesmerised, as I was. From the bustling and noisy streets of Paris, I felt as if I was being transported into an oasis of calm. The lobby is stylishly decored in a pale blue grey theme, as is pretty much the rest of the areas of the hotel.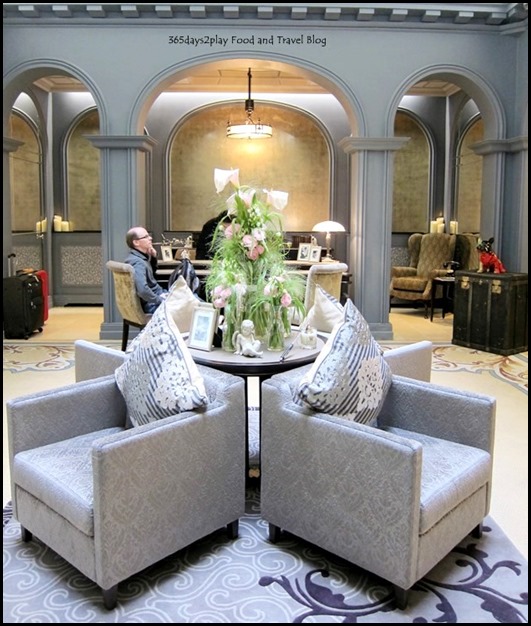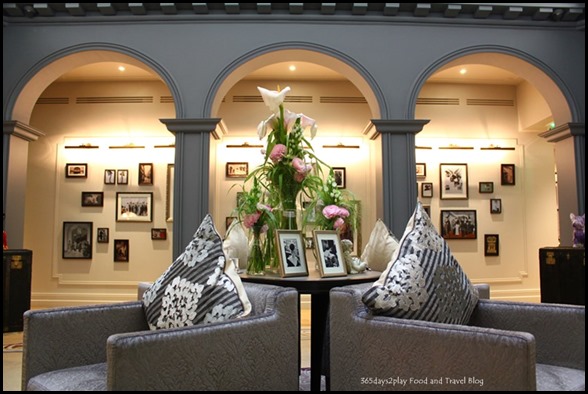 We got a lovely suite on the 6th floor. The truth be told, when I first stepped into the hotel room, I was just breathless at how soothing yet stylish the room looked. Suffice to say that the Citadines Suites Louvre Paris has given me the inspiration to furnish and decorate my new home in a similar style.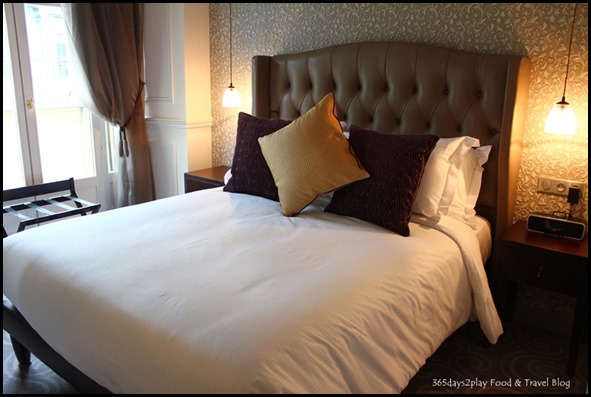 Love the hanging bedside lamps.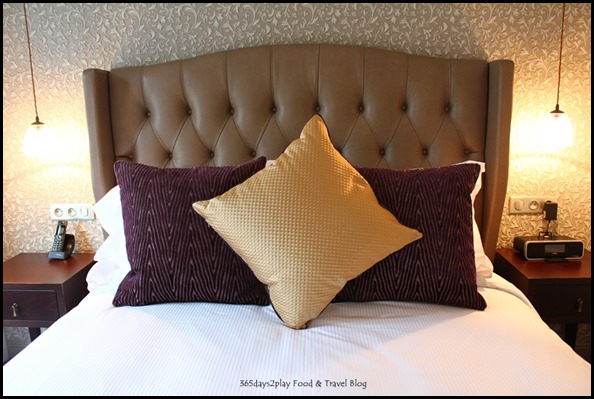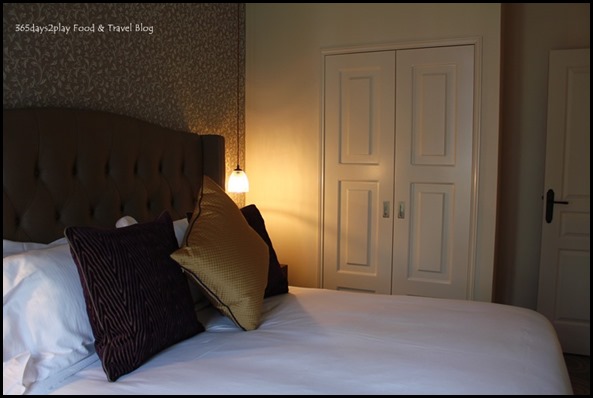 I love the number of plush pillows provided. In my opinion, you can never have too many pillows. The double doors in the background are the doors for the wardrobe.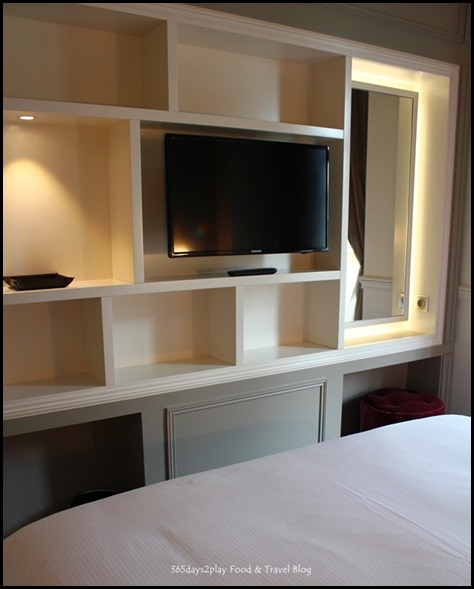 Flat screen TV and vanity mirror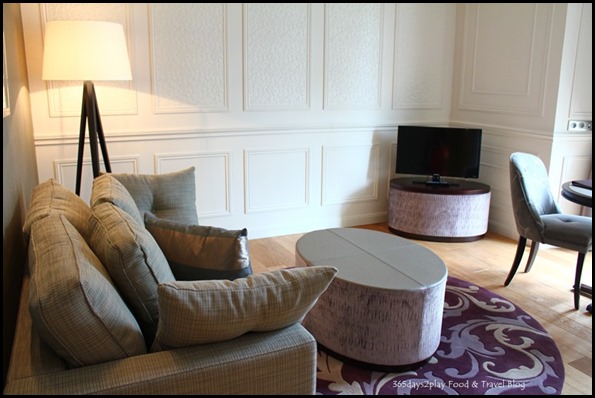 The room itself isn't very spacious, but you have a separate living room to relax if you want more space. There is another flat screen TV, should you wish to get some work done in the living room.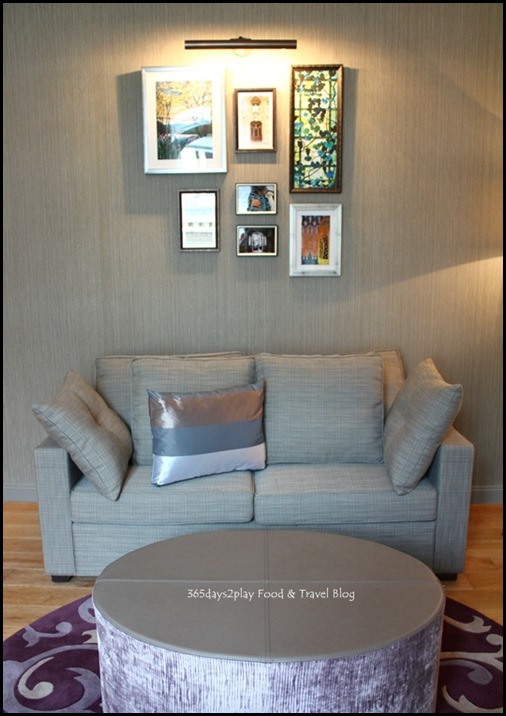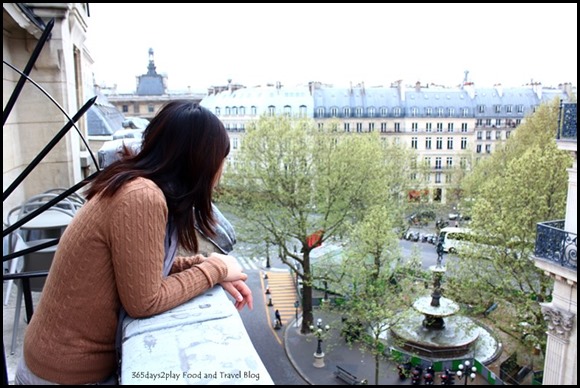 Enjoying the view from my balcony on the 6th floor.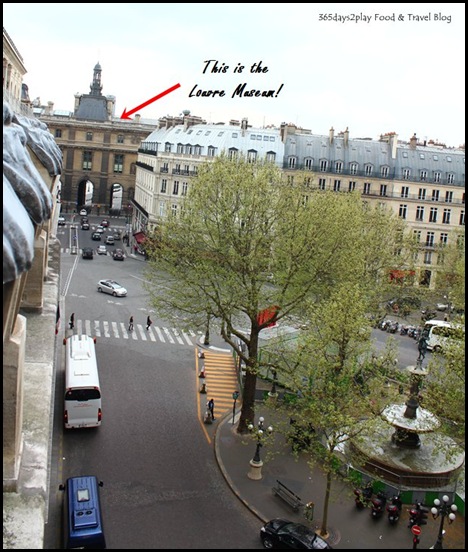 We are only 5 minutes away from the Louvre! What we can see of the Louvre from this angle is merely just a fraction, it is much larger than one could ever imagine! Did you know that the building that the Louvre is in used to be a Palace? It takes your breath away just looking at the monumental building. The iconic pyramid, where one of the entrances is also located, is behind the portion of the museum in this picture.
Behind the trees across the road is another building, not part of the Louvre, where there are 2 affordable Japanese restaurants as well as a supermarket. Of course, there are also numerous French cafes and restaurants dotted all over the place. If you throw a stone, you'd probably hit one.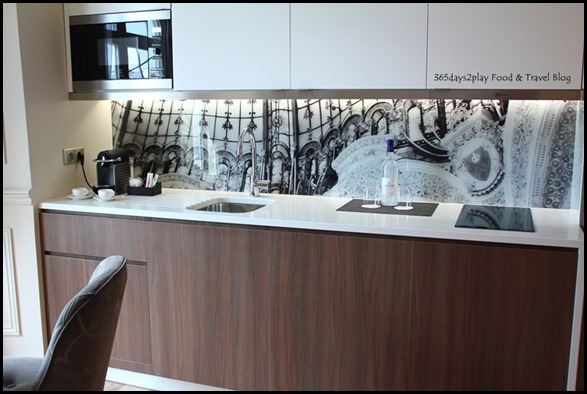 The highlight of every service apartment has got to be the kitchen facilities provided, and we were amazed with the stuff provided! Apart from the usual cooking hob and sink, we were amazed to find a dish washer as well as washing machine in the room! I mean seriously, one could consider living here for the long term and not miss our household conveniences back home! If I had to stay in Paris for business for a period of time, I could seriously envision myself staying here.
Check out the gleaming and clean cutlery provided. Keyword here is CLEAN.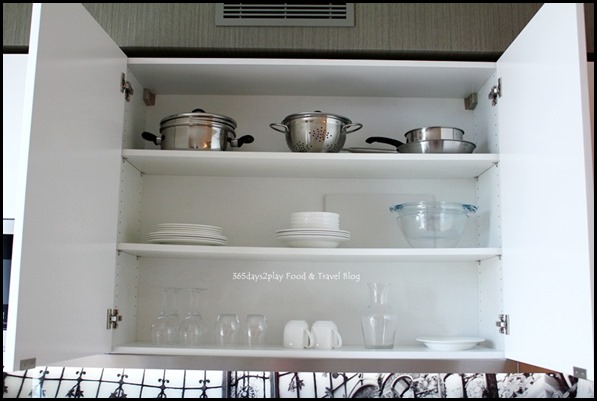 Another great thing about staying in a service apartment even if you are on holiday is that you can go wild buying up the local produce and cooking yourself a great meal back in the service apartment. Now I've been on many trips all over the world and one grouse I have is that if I were to visit a farmer's market or a supermarket, I can't buy the fresh produce on sale! It's a different story if you're staying in a service apartment cuz you can then whip up a storm. I do find pleasure in doing simple things like these, you don't always have to be outside taking in all the tourist attractions. And the great thing about Citadines Suites Louvre Paris is there is a small supermarket less than 5 minutes walk away.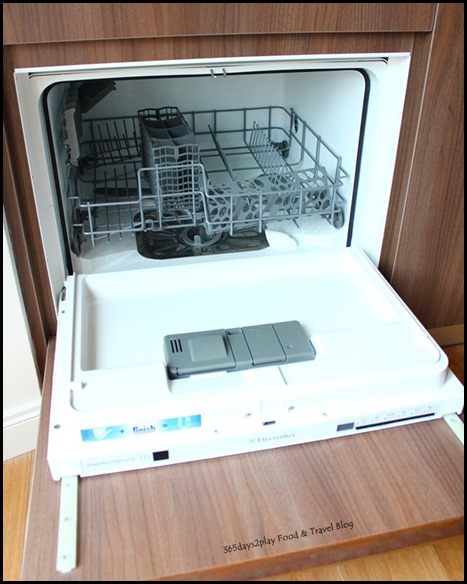 The Citadines Suites Louvre Paris must be expecting really long term guests to be providing a dishwasher. I'm truly amazed!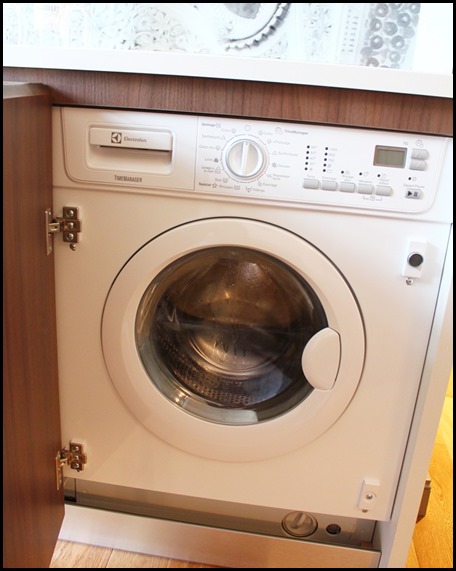 A washing machine is an extremely useful thing to have while you're travelling. Nothing like freshly laundered socks and underwear during your luxury holiday.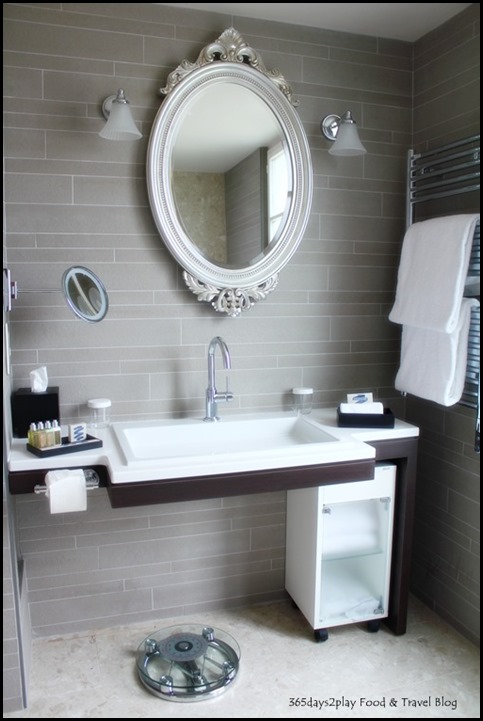 Even the bathroom is stylish and a pleasure to be in. Love it when hotels provide weighing scales. I often wonder if my suitcase has burst the 20kg limit with the amount of souvenirs I've bought. I love buying stuff like cheese, chocolate, olive oils etc and these items are all not light when bought in bulk!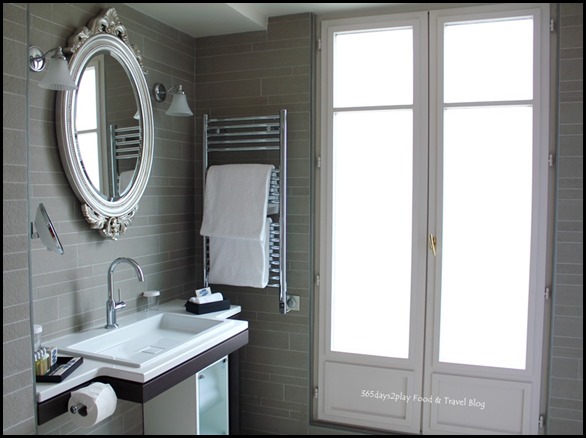 Every single room in the service apartment has a door leading out to a small balcony. Be sure to be fully clothed before you open this bathroom door.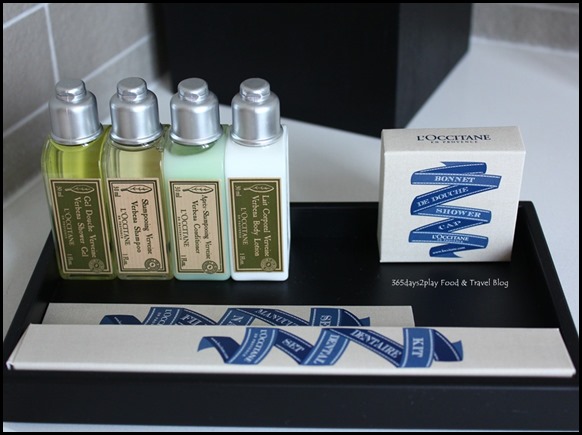 Luxurious L'Occitane toiletries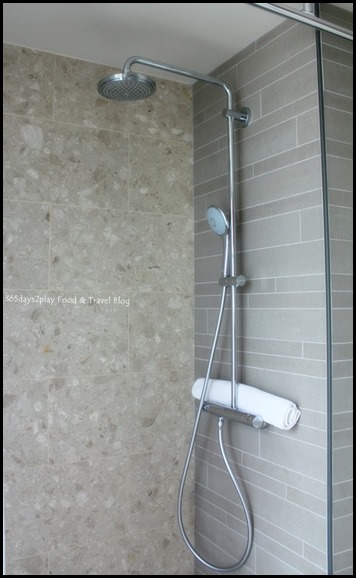 The only thing you won't find in this service apartment is a bathtub.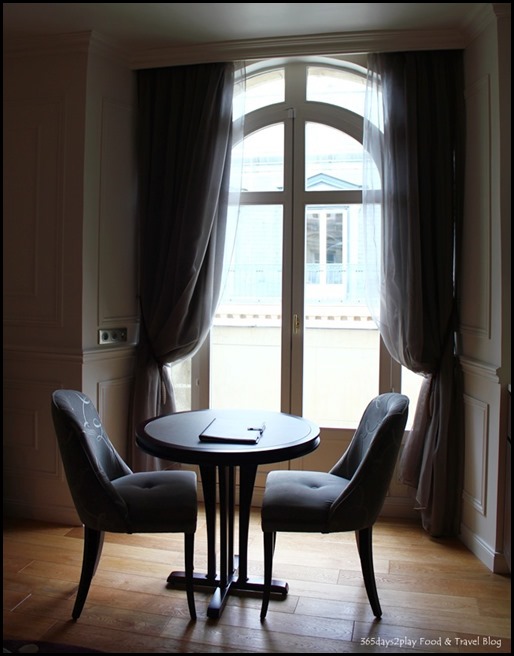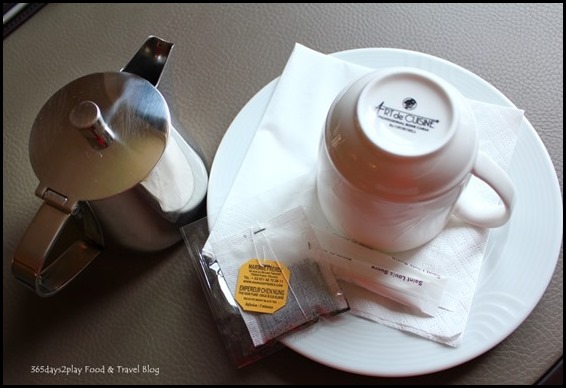 Now if you'll excuse me, I'll be having a cup of tea in my living room by the balcony.
A huge thank you to Citadines Suites Louvre Paris for sponsoring my stay.

**********
Click here to read more about my honeymoon in France or join me on my travels around the world.
Add me on Facebook, Instagram and Twitter if you want to be kept up to date with the latest happenings in the food and lifestyle scene in Singapore!
**********
Citadines Suites Louvre Paris
8, rue de Richelieu
75001 Paris, France
Tel : 01 55 35 28 00
Citadines Suites Louvre Paris Website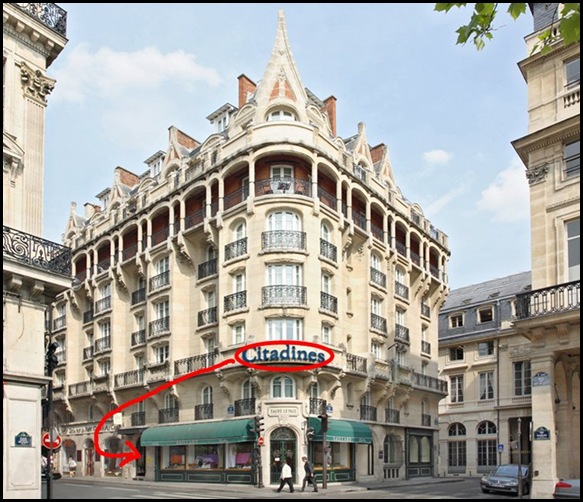 That's where the Citadines entrance is…