*Invited Session*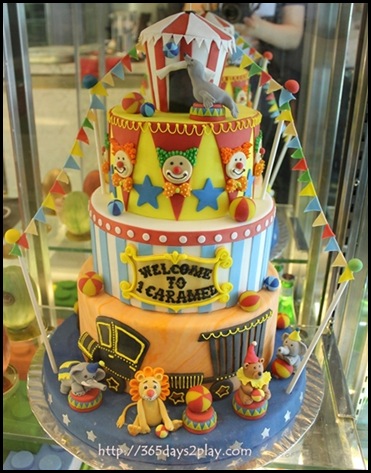 The cake says it all. Welcome to 1 Caramel! Don't you just love all the cutesy little clown faces and the adorable lion? If only someone would buy me this birthday cake instead of a boring old chocolate cake! I feel happy just looking at this.
With a name like 1 Caramel, it's not difficult to guess what they specialise in. Sweet treats galore, they have stuff like Baked Alaska, Mille Feuille, Earl Grey creme brulee and even 5 types of soufflé! This picture here is of the Raspberry lychee rose pannacotta with lychee-lemon compote. You have to try this exquisite little thing. Somehow it's the perfect combination and I really love the rose and fruity taste.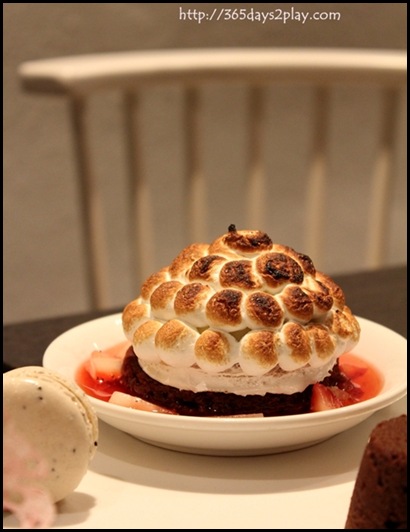 Baked Alaska — The only other time I've seen this in a Singapore menu was at The Ship.  Pretty good. The meringue was sitting on top of a decadent piece of brownie. It was an acquired taste for me, having meringue together with brownie. The macaron on the side was really nice! I wouldn't mind having seconds!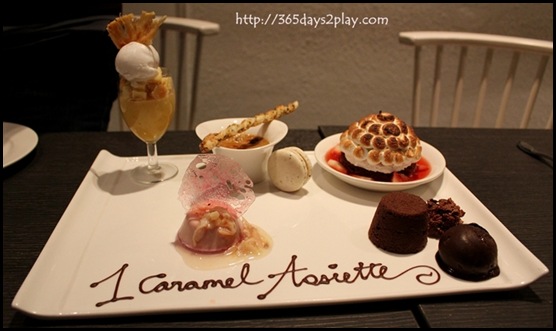 Each of the desserts can be ordered individually at $14. Or you could mix and match 3 — 5 desserts for between $16 – $24. Assiette means plate in French. I'd definitely recommend the panna cotta, Earl Grey creme brulee and the Death by Chocolate at the very least. I tell you, you have to believe them when they name their chocolate cake so. It takes a while to even swallow one mouthful because it is so rich.
~~~
More dessert pictures further down in the post. 1 Caramel doesn't just serve desserts, they also specialise in brunch menu items. Don't ask me how they got into this combination, but it just seems to work.
~~~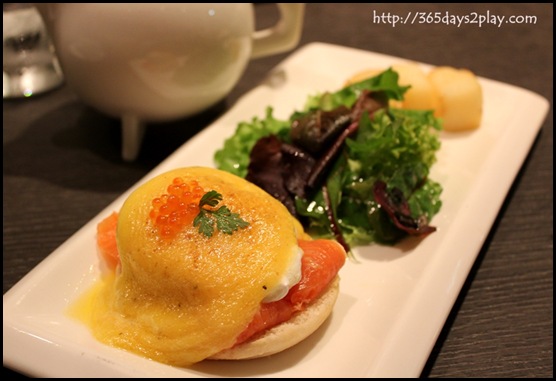 Traditional Eggs Benedict with smoked Salmon $14 — This is really good. This is like the perfect combination. Poached eggs with salty smoked salmon on a toasted English muffin. I don't think I can ever eat plain eggs Benedict again.You should check out Mr Keropokman's photo of the ooooozy yolk. Mine glopped all over the place so I shan't torture you with the photo.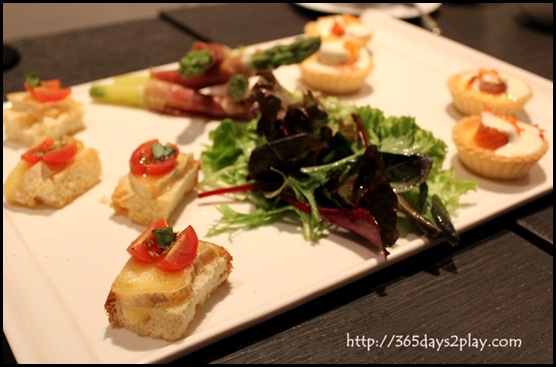 Posh Platter $22 — Comprises of smoked salmon tart with creme fraiche and ocean trout caviar, asparagus wrapped in basil and prosciutto, truffle brie and cherry tomatoes on a toasted brioche. If you don't like this platter, there are 2 other types to choose from, check their website for more information. Thought this platter was a bit pricey given the items, as compared to the dessert platter. The tarts were very delicious though.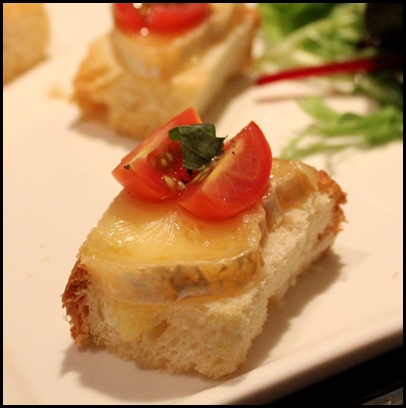 I like brie on crusty bread, but I don't feel this one is value for money…
Ahem, back to the desserts again. No prizes for guessing which souffle arrived first. Be warned, you have to eat your souffle ASAP, or else it starts sinking and collapsing on itself! Eat the souffles together with the ice cream, they go very well together!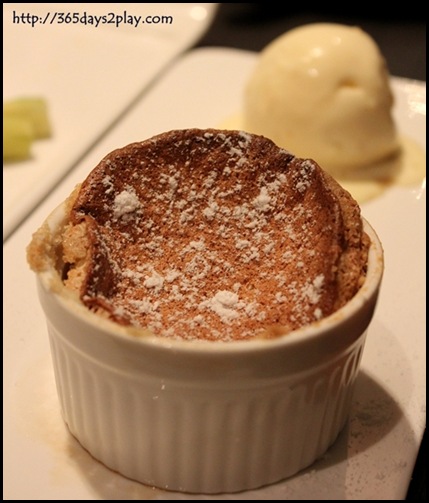 This macaron is goooood. And the Earl Grey creme brulee tastes very good too. Definitely items to include in your Assiette.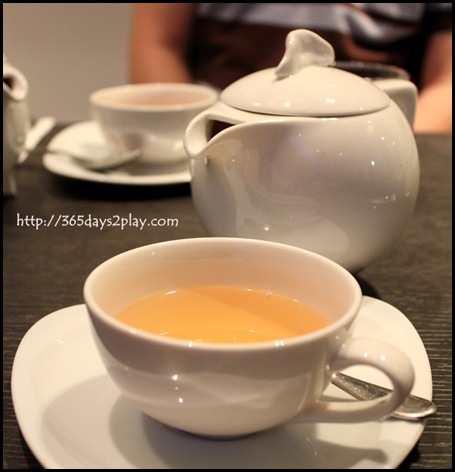 1 Caramel serves TWG teas. I chose the Bain de Rose, which I have tried before and I quite like hint of rose. Adds a lovely touch and makes me think of positive things.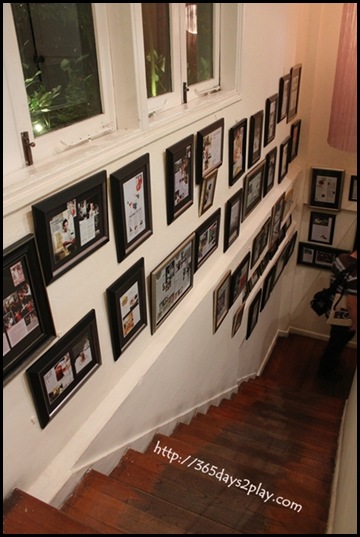 1 Caramel at Rochester is a very cosy place. The place seats only 20 people! It's situated on the second floor of 1 Rochester Park. I had to walk through the 2nd floor kitchen in order to get to 1 Caramel. If you can't get a seat at 1 Caramel, you can also order the desserts even if you are dining downstairs.
1-Caramel Dessert Boutique
1 Rochester Park, Level 2, Singapore 139212
Nearest MRT Station: Buona Vista
Tel:67741302 Fax:775 9477
Opening hours:
11.30am -9.00pm (for Cake Collection)
For dine in:
Mon-Fri:1130am — 1030pm
Sat & Sun:10am -1030pm (Brunch is available till 4pm)