Day 5 of 365days2play's Honeymoon in Luxembourg, Germany & France
One of the most memorable hotels I stayed at during my honeymoon trip through France was the Chateau D'Isenbourg. Although I stayed at a fair number of chateaus during the trip, Chateau D'Isenbourg struck me as being the most ornate and regal looking one. We got the most exquisite looking room and it was as spacious as could be.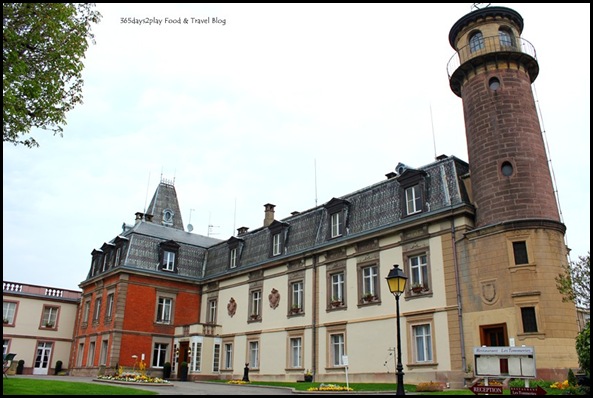 Built on the foundation of 12th & 14th Century cellars, the Château d'Isenbourg is soaked in the turbulent history of Dagobert and Charlemagne, whose names still echo here. Located on the Alsatian wine trail, in the heart of the vineyards, several kilometres from Colmar, it dominates the old town of Rouffach, offering a magnificent panoramic view of the Vosges foothills, the Rhine Plain and the Black Forest in the distance.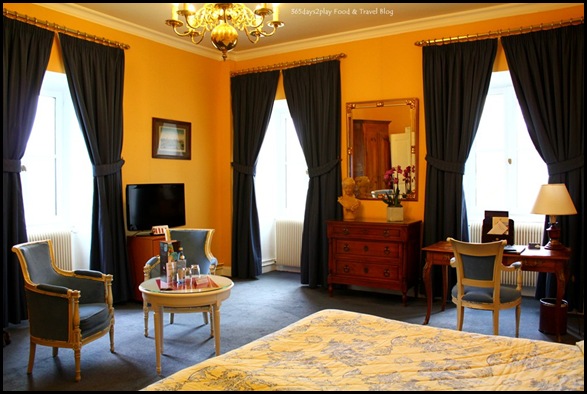 Wouldn't you just love to stay in a room like this? I love how the dark blue curtains blends so well with the warm orangey yellows of the walls. I feel like royalty staying in this room! Even the design of the chairs adds to the grandeur of the room, plus the ornate looking writing desk. I think if the bed hadn't been there, and if I'd told you that this was the sitting room of someone from the British Monarchy, you might have just believed it, right?