The weather has been crazy this past week! It's not even November or December yet we have been having torrential thunderstorms nearly every day. It may be very inconvenient, especially if the deluge is during the morning or evening commute hours. My colleague was forced to literally hang up his shoes, to dry! But one thing good that comes out of all this rain, is the cool weather we've been enjoying! I don't even have to sleep with the fan on, let alone the air-conditioner! If the temperature in Singapore remains in the 25 degree range everyday, life would be so wonderful!

I've been making full use of this weather by visiting our National Parks. Yesterday I visited Pasir Ris Park. If you've never been there, you really ought to go. It's such a tranquil and beautiful park. Similar to East Coast Park, it is flanked by a body of water, the Johor Straits I believe, but totally unlike East Coast Park, you can walk or run and jump about without bumping into a thousand other people there. There are huge rain trees with ferns growing on the trunks. Pasir Ris Park reminds me a little of the Singapore Botanic Gardens, kinda like a mini Botanic Gardens of the East. More pictures of Pasir Ris park next week, but first, let me show you where to eat at the Botanic Gardens without bursting your wallet.
Did you know that apart from some restaurants and cafes, there is a food court at the Singapore Botanic Gardens? Nope, it's not the one underground, that closed down quite some years ago. I'm talking about the food court called Food Canopy at Evans Road.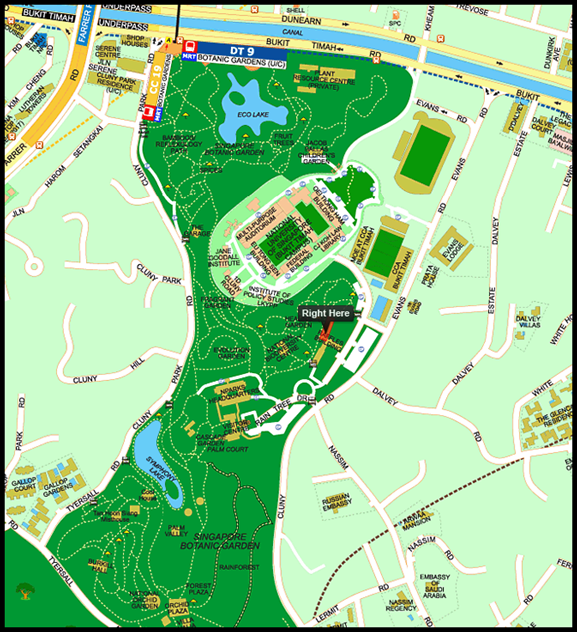 "Right Here" marks the spot of Food Canopy
I don't think many people know about Food Canopy because it's off the beaten track and you won't see it if you're just driving along. You have to walk right out of the gates of the Botanic Gardens actually, but there should be signs so keep your eyes peeled. If you're driving along Evans Road, you'll have to turn in at the carpark gantry next to the CCAB swimming pools.
Food here is pretty decent, and prices are affordable too. Apart from familiar favourites like the Prata Stall and Mixed Rice, there is even a Western Stall where you can get rib-eye steak and brunch items on the weekends! Do check Food Canopy out when you're next at the Singapore Botanic Gardens.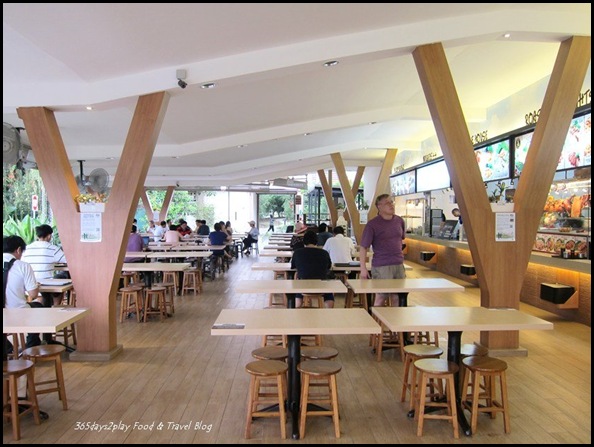 The food court is very airy and one of the prettiest food courts in Singapore if I may say so. It has a green roof, and lots of plants and flowers surrounding the foodcourt. It's really befitting of a food court at the Botanic Gardens. There is a return your own tray policy here, which people do abide by. It's interesting to note that if most people are abiding by the return your own tray policy, you'd feel awkward and embarrassed if you don't