Next up, my review of BreadTalk's Hosperity Cookie Set! The kind people from BreadTalk presented to me their unique 3-in-1 Horseperity Cookies Set ($33) that includes an assortment of almond cookies, sweet potato sesame cookies and prawn samosa. They also threw in a box of tasty Pineapple Tarts ($22) for an extra dose of good luck!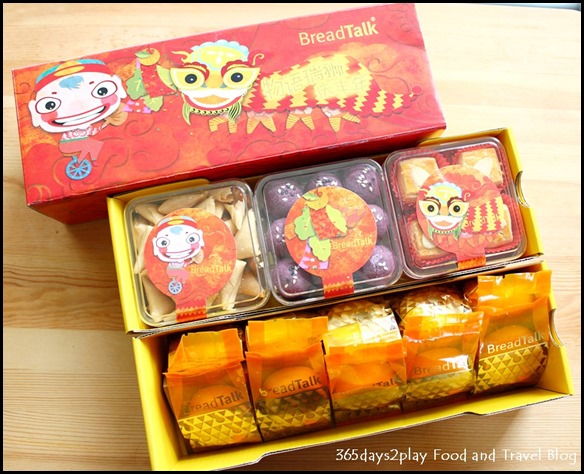 The 3-in-1 cookie set is really very festive looking, to the extent that they have used the boxes as decorations at their BreadTalk store! When I went to the BreadTalk at Bedok Mall to collect my loot, I totally walked past their CNY cookie display on the shelves because I had assumed that the shelves had been decked up in their CNY finery. It was only upon closer inspection that I realised that the boxes were the boxes from the Hosperity cookie set.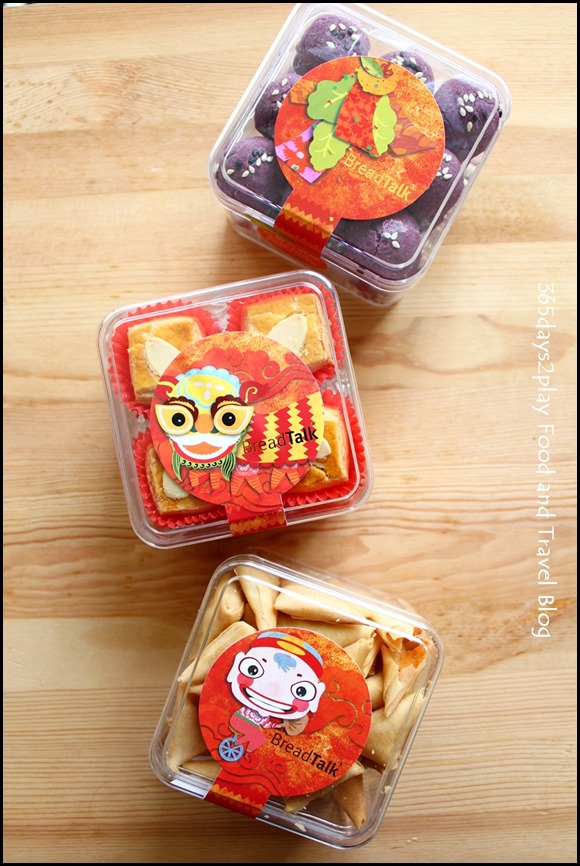 You will see that the boxes of goodies are smaller than the usual CNY cookie jar size. That's quite a good idea because for $33, you get 3 different flavours. This is particularly good if you're expecting fussy eaters who like variety. Also, the cookies, especially the prawn samosas are mini sized. They really look so cute you just wanna open the container immediately to have one! Be careful though, you think you're just eating a small piece, but then because you think it's just a tiny piece, you end up having more! Trust me, I went down that road. Like 5 cookies in quick succession. HELLO, it's not even Chinese New Year yet!
The prawn samosas taste really addictive. They are crispy as can be, and I love the savoury spicy prawn filling. A good change as compared to the usually sweet goodies that will be offered to guests during Chinese New Year.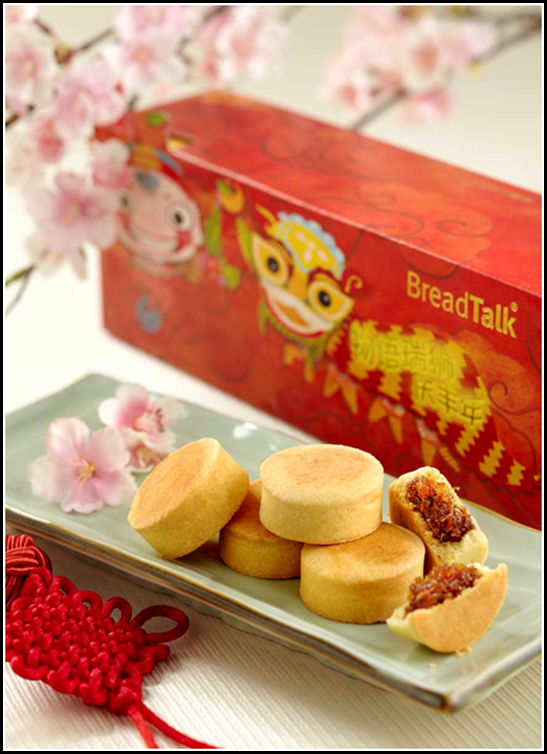 The Pineapple tarts from BreadTalk are slightly different from the pineapple tarts we associate with CNY. For one, they kind of remind you of Sunny Hills pineapple tarts, aka those tarts from Taiwan. The pineapple filling is similar to pineapple tarts coming from Singapore, however the crust is particularly fine and crumbly, which is just as well that each pineapple tart comes in its own packaging.
Speaking of packaging, most pineapple tarts are naked and in full glory in their transparent containers. Not these shy pineapple tarts! Each is individually wrapped. Very good for rewarding the kiddos and giving out as treats to bring home! And for those visitors who always say they are very full, or have eaten x number of tarts at the previous house, you can shove some of these tarts into their pockets, if you fail to shove them into their mouths.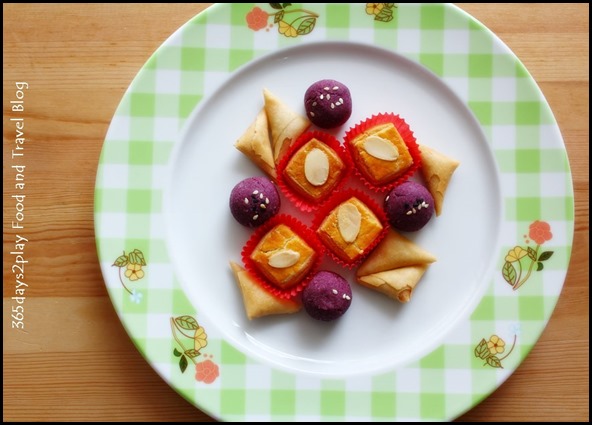 Almond Cookies, Sweet Potato Sesame Cookies and Spicy Prawn Samosa
Don't forget to enter BreadTalk's Horseperity Contest to win $388 in Cash or many other e-coupons!
---
Check out more articles on Chinese New Year Festive deals, Reunion Dinner and Lo Hei ideas
Add me on Facebook, Instagram and Twitter if you want to be kept up to date with the latest happenings in the food and lifestyle scene in Singapore!
---
Festive Promotions (Now till 14 February 2014)
· Enjoy the special Horseperity Fourtune Set 发财四宝at $50 which includes the 3-in-1 Horseperity Cookie set ($33) and a box of pineapple tarts ($22)
· UOB cardmembers can enjoy the Horseperity Fourtune Set at $48
è¯­ä½ é©¬å¹´ Money More! (Now till 14 February 2014)
· Reciteè¯­ä½ é©¬å¹´Money more!'to the BreadTalk staff upon payment and receive $1 off the Chinese New Year cookies
· Receive a Money More' coin and a pack of red packets with minimum spend of $8 in a single receipt
· Receive 2 sets of Money More' coins and red packets with any purchase of Chinese New Year cookies
– Collect 3 Money More' coins to redeem a free Chinese New Year bun worth $2.30
– Collect 6 Money More' coins to enjoy $8 off the Horseperity Cookies Set (U.P $33)
– Collect 10 Money More' coins to redeem a free box of Pineapple Tarts worth $22