*Media Invite*
**Absinthe refreshes their menu every 3 months. If you're ordering the Hamachi, Saint Jacques or Créme Brulée, it will look and taste slightly different from what I had during my visit.
When it comes to fine dining, the French are experts at it. All my favourite fine-dining restaurants are French, from Au Jardin to Absinthe to Brasserie Les Saveurs! And let's not forget all those French restaurants I dined at during my Honeymoon in France? The experience was sublime!
What I like about dining at a French restaurant is that the entire experience of going to the restaurant isn't just solely about the meal. Of course, the meal has to be exquisite. But It's also about the ambience, the service and the conversation. 3 hours of luxuriating, this is not for those like to gobble their food quickly as if someone's going to take the plate away soon. My only grouse with these romantic restaurants? The dim lighting makes for lousy photos!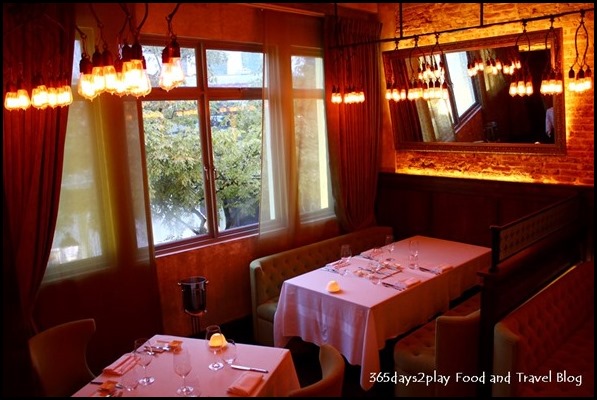 Our evening at Absinthe Restaurant Francais ticked all the boxes. The ambience was fantastic. Absinthe is located in one of the historic shop houses along Boat Quay. They have done a really good job in making full use and bringing out the character of the shophouse. The dim lighting, the portraits of 1800s women, even the drapes on the windows alluded to a Paris of yesteryear. I had been to Absinthe once several years ago when they were still located at Bukit Pasoh. The boat quay outlet is definitely much more spacious and less noisy.