*Media Invite*
**Absinthe refreshes their menu every 3 months. If you're ordering the Hamachi, Saint Jacques or Créme Brulée, it will look and taste slightly different from what I had during my visit.
When it comes to fine dining, the French are experts at it. All my favourite fine-dining restaurants are French, from Au Jardin to Absinthe to Brasserie Les Saveurs! And let's not forget all those French restaurants I dined at during my Honeymoon in France? The experience was sublime!
What I like about dining at a French restaurant is that the entire experience of going to the restaurant isn't just solely about the meal. Of course, the meal has to be exquisite. But It's also about the ambience, the service and the conversation. 3 hours of luxuriating, this is not for those like to gobble their food quickly as if someone's going to take the plate away soon. My only grouse with these romantic restaurants? The dim lighting makes for lousy photos!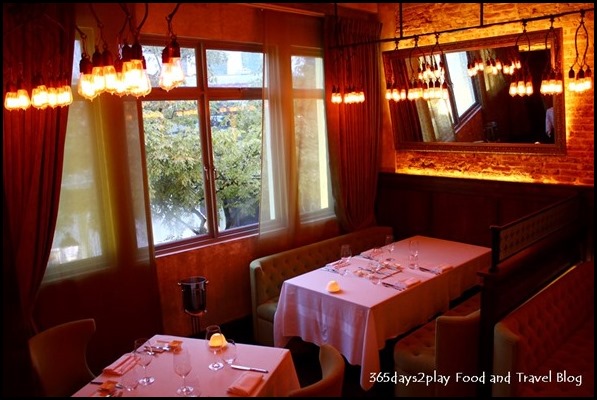 Our evening at Absinthe Restaurant Francais ticked all the boxes. The ambience was fantastic. Absinthe is located in one of the historic shop houses along Boat Quay. They have done a really good job in making full use and bringing out the character of the shophouse. The dim lighting, the portraits of 1800s women, even the drapes on the windows alluded to a Paris of yesteryear. I had been to Absinthe once several years ago when they were still located at Bukit Pasoh. The boat quay outlet is definitely much more spacious and less noisy.
You might have heard that Boat Quay is slowly transforming its image from being some sleazy tourist trap, such that now, even fine dining restaurants are moving into the locale. It is definitely for the better, given the prime location with a river-facing view!
Absinthe is the brain child of four long time friends Chef Francois Mermilliod & Vincent Jauguiberry on one side and Diego Chiarini & Stephane Colleoni of the famed OSO Ristorante on the other.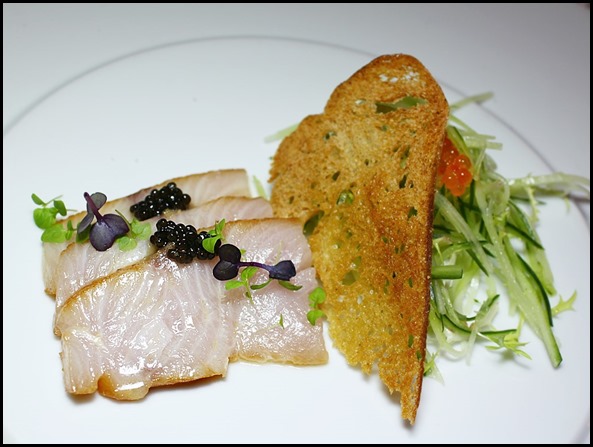 Hamachi (Carpaccio of Marinated Yellow Tail Kingfish, Aquitaine Caviar, Cucumber and Baby Cress; $26++)
First up on the menu, carpaccio of hamachi. Yes, you haven't read wrongly, hamachi. Interestingly, there are some Japanese influences in the menu at Absinthe, not least because the precise cuts of sashimi lends itself so well to fine-dining dishes. We polished off the hamachi in no time at all. The hamachi had such depth of flavour, which was further enhanced with the bits of caviar, and to give some added texture, a crispy sliver of bread was also served. The 3 precious pieces of fish disappeared so quickly and left me wondering if I had dreamt it all. Amazing dish which I enjoyed very much.
As we were served tasting portions, you would get about 6 pieces if you're ordering this from the normal menu.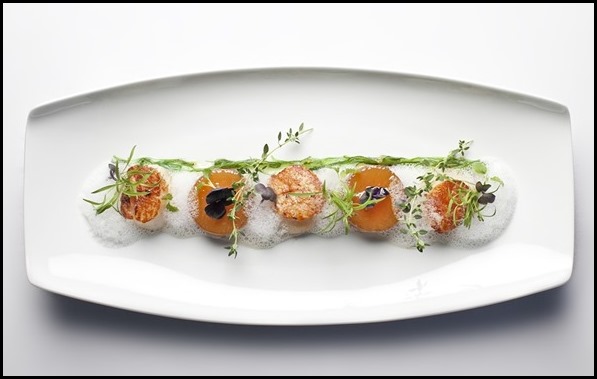 Saint Jacques (Seared Hokkaido Scallops, Braised Daikon, Wakame and Lemon Thyme Emulsion; $26++)
This is yet another example of Japanese influences in this western dish with the use of braised daikon and wakame. The scallops were well seared, although I wouldn't mind if it had be a tad less cooked. The braised daikon was bursting with flavour  and juiciness. When eaten together with the scallops, the 2 together created an interesting sensation of having scallops in daikon broth.
Foie Gras Poêlé (Pan-fried Foie Gras, Warm Blinis, Morello Cherries; $29++)
OMG this is hardly the most appetising looking picture, and I do apologise that the lighting is so bad. But believe me when I say that this was an amazing piece of foie gras, so full of flavour, such melt in the mouth textures, you'll know what I mean if you're a foie gras lover as well. One whole piece just to myself, with warm blinis aka little pancakes to taper the rich flavours just a little, it's akin to travelling to heaven.
I think you can tell I am a lover of foie gras, and it was pretty much a love at first bite situation with my virgin piece of foie gras. But I am surprised to discover lately that not everyone likes foie gras! I had assumed that it was so fantastic tasting that most people would like it, just like most people like ice cream!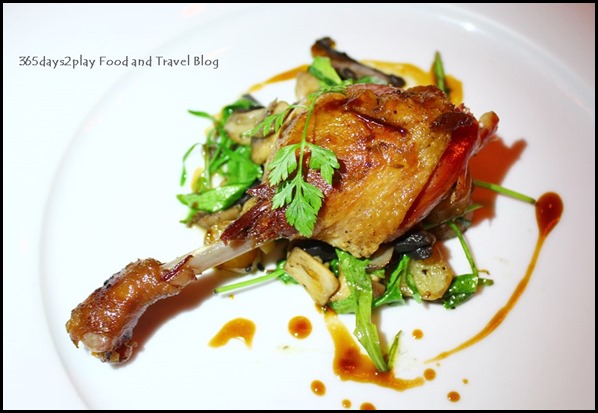 Canard (French Duck Leg Confit, Sarladaise Potatoes, Mushrooms, Madiran Wine Sauce; $42++)
I was quite looking forward to the duck confit, but alas, it was not meltingly tender as what I would have liked it to be. In fact, I don't think I've really come across any duck confits in Singapore that have been up to my expectations. It seems to be a rather difficult skill to master, even though it sounds deceptively simple, ie duck confit = duck cooked in its own fat.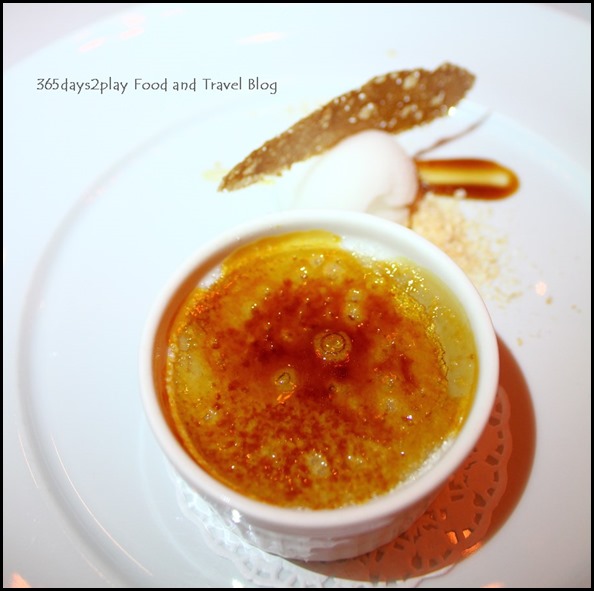 Crí¨me Brí»lée (Jasmine Crí¨me Brí»lée with Yuzu Sorbet; $15++)
Apart from the relatively thick and hard caramelised top, once the hard shell has been breached and the creamy goodness reached, the creme brulee was a lovely sweet end to the meal. The yuzu sorbet was a nice addition, although not so common an addition, which helped to lighten the palate as you ate the heavier creme brulee.
Madeleines (Freshly Baked-to-Order Vanilla Madeleines, Valrhona Chocolate Mousse; $15++)
And last but not least, the madeleine cakes to end off the meal. The madeleines were nice, with light centres but a delightfully crisp exterior. The Valrhona chocolate mousse was not really necessary in my opinion as madeleines are something you tend to eat on its own.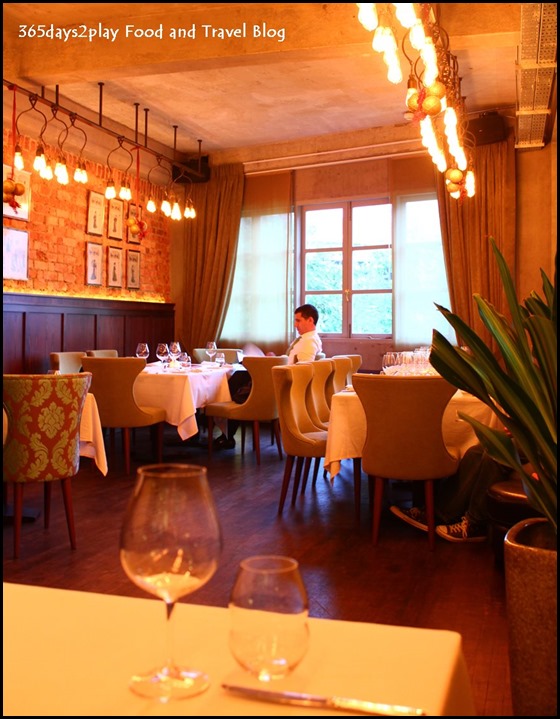 On the whole, it was a really enjoyable experience to dine at Absinthe Restaurant Francais. I really want to visit Absinthe again with the Partner as he has never been to Absinthe. It would be nice to relive our honeymoon in France, even if only for 3 hours. Maybe for Valentine's day, although I have to check with my bank account first. Actually, you'd be surprised with the cost. It's not as expensive as you would think. Main courses are about $45 on average. I do know of many casual dining restaurants located within malls which are already charging in excess of $30 for their main courses. Just pay $10 more to get more value, you know what I mean.
Oh, a secret to share with you! Absinthe has this special room, which you have to access via a flight of stairs. The whole evening we were staring at the room door at the top of the stairs. We were thinking it might be the office or something, but it's actually a private dining room. There's no extra charge or minimum order. It's just a private room for 2-4 pax, and it's on a first come first served basis. It is a little small, so if you're claustrophobic, don't ask for this room. But if you want utter privacy, you know what to ask for.

---
Read more about my previous visit to Restaurant Absinthe
Read more about French restaurants in Singapore : Au Jardin | Brasserie Les Saveurs
Add me on Facebook, Instagram and Twitter if you want to be kept up to date with the latest happenings in the food and lifestyle scene in Singapore!
---
Absinthe Restaurant Francais
71/72 Boat Quay
049860 Singapore
Tel: (65) 6222 9068
Fax: (65) 6225 6207
Email: reservations@absinthe.sg ; vincent@absinthe.sg ; francois@absinthe.sg
Opening Hours
Lunch : 12pm – 2:30pm (Mon – Fri)
Dinner : 6:30pm – 11:00pm (Mon – Sun)