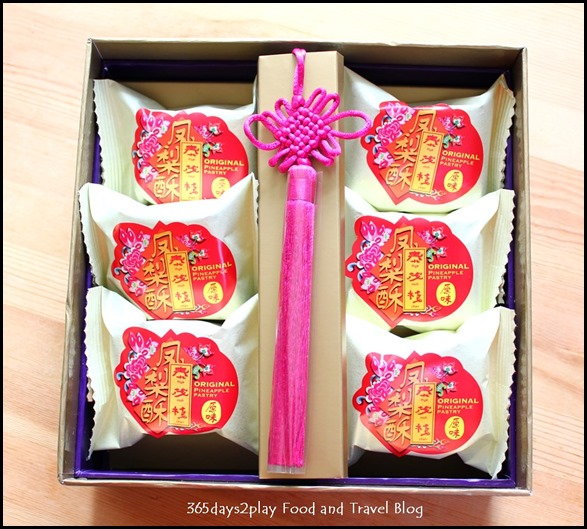 Golden Pineapple Pastries | $22.80 (一盒八粒 8pcs/box) (There are 6 only in the picture because I have to taste first right? Actually, I gave one away as a mini present when I bumped into my friend)
How's the Chinese New Year preparations everyone?? Have you bought all your new year goodies yet? Here are some more ideas if you're thinking of getting unique CNY goodies rather than from the usual supermarket varieties.
For the festive season, Singapore's iconic Teochew confectionary shop Thye Moh Chan presents their signature, melt-in-your-mouth pineapple pastries which now come in two new flavours – Walnut and Longan.
I did not manage to try the Walnut and the Longan Pineapple tarts, however, my BFF did and you can read his write up here.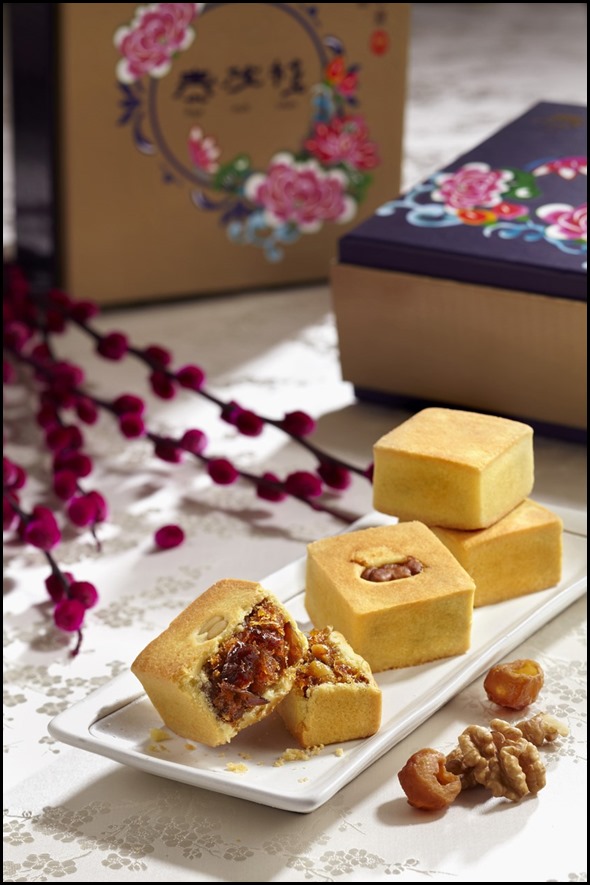 I only managed to try the original flavour which I found to be very pleasant eating. If you are familiar with the Sunnyhills brand, this is pretty similar. You can't finish the pineapple tart in one mouthful, and in fact, the larger size sort of allows you to slow down when eating, to really savour the tastes. The pineapple filling is not too sweet and is encased in a flaky pastry exterior. I wouldn't mind if it is slightly sweeter though.
If you want something REALLY unique, you can also try Tau Sar Piah from Thye Moh Chan as well. The labour-intensive process results in a perfect, flaky piah pastry that is much sought-after. Two new flavours – Prune and Longan – will be introduced this year!
Other products such as Egg Rolls, Peanut Candies and Assorted Crisps are also available and they make perfect gifts for this auspicious occasion!
---
Please see below for the full product list:
· Golden Pineapple Pastries | $22.80 (一盒八粒 8pcs/box)
Flavours: Original, Walnut and Longan
· Thye Moh Chan's Prosperity Hamper | $138
Hamper includes:
1 box of 8pcs Pineapple Pastries | 1盒凤梨酥 (8个)
1 bottle of Crisps | 1 罐麻条
1 pack of Peanut Candy | 1包贡糖
3 boxes of Egg Rolls (3 flavours) | 3盒凤凰卷 (3种口味)
1 large Gift Basket |1个大礼篮
· Tau Sar Piah | 8 pcs of small Tau Sar Piah /八粒小豆沙饼 – $10.80 (Usual Price $12.80)
Two New Flavours for 2014:
Prune Tau Sar Piah /黑枣豆沙饼
Longan Tau Sar Piah /桂圆豆沙饼
· Egg Rolls /凤凰卷 | $20 for two boxes (Usual Price $29.80)
· Peanut Candy / è´¡ç³– | $9.80 per box
· Assorted Crisps | 麻条 | $7.80 per box
---
Check out more articles on Chinese New Year Festive deals, Reunion Dinner and Lo Hei ideas
Add me on Facebook, Instagram and Twitter if you want to be kept up to date with the latest happenings in the food and lifestyle scene in Singapore!
---
Thye Moh Chan æ³°èŒ'æ ˆ | Chinatown Point
133 New Bridge Road #01-45 Chinatown Point Singapore 059413
Contact Number: 6604-8858
Open Daily: 10am to 10pm
Thye Moh Chan æ³°èŒ'æ ˆ | Parkway Parade
Food Republic, #B1-112 to 146
Contact Number: +65-6344 8885
Open Daily: 10am to 10pm
Corporate Sales Hotline: 6854-9732