The Fullerton Hotel's Town Restaurant, together with Taj Cape Town and South African Airways, will be presenting the fascinating South African cuisine from 21 to 27 April in a special dinner buffet. Traversing the globe to present the best from their country in Singapore, in conjunction with South Africa's Freedom Day on 27 April, are Guest Chefs Vivian Gary Solomon and Lloyd Mark De Stadler.
Savour the unique bounty of flavours from the culturally diverse "rainbow nation" in classic dishes like Bobotie, Seafood Potjie, Venison Fillet in Sour Cream Marinade, Braised beef with Port Sauce and Chicken, Bacon & Banana Kebabs with Spicy Marinade. Many of the ingredients not available in Singapore were specially flown in from South Africa to replicate as unique a taste as possible.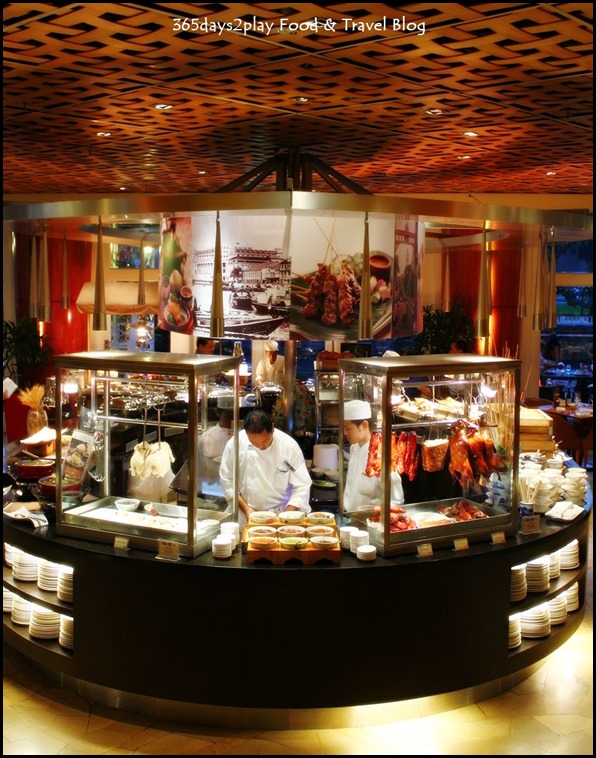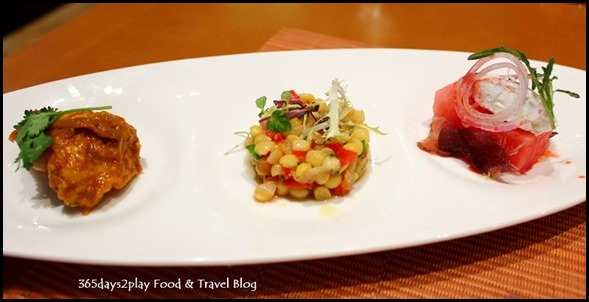 Cape Malay Picked Fish, Lentil & Banana Salad, Watermelon & Goat's Cheese
Although the South Africa Food Festival is a buffet, for the media session, we were served plated dishes instead, which was quite a good idea because if left to our own devices, we might have just avoided all the "scary" looking dishes.
From the starters, the watermelon & Goat's cheese stood out the most for me. As you can imagine the watermelon was a refreshing burst of sweetness helped along by the savoury goat's cheese, which really helped to whet the appetite.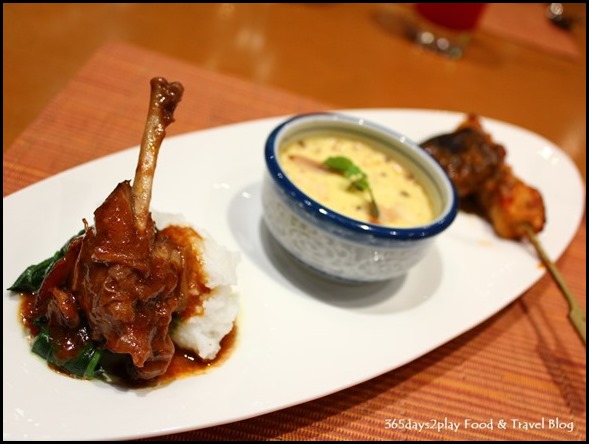 Putu Pap with Creamed Morogo (Wild Spinach) and Braised Lamb Shank, Bobotie, Venison Fillet in Sour Cream Marinade, Chicken & Banana Kebabs with Spicy Marinade
There are 4 mains featured here. For me, I absolutely loved the putu pap with creamed morogo and lamb shank. Putu pap is like a thick porridge made from ground maize. It sounds plain but it has a nice creamy consistency which really carried the flavours from the spinach and lamb shank very well. I had some of the putu pap on its own and it was quite delectable too! The lamb shank was supremely tender, and braised in a rich sauce that left the palate tingling.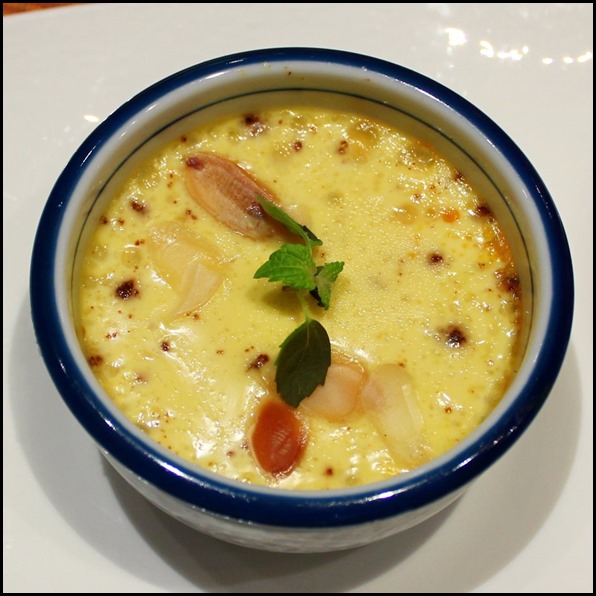 Bobotie
The bobotie was another dish that amazed me. It had a lovely creamy egg custard top with minced meat below. It looks similar to shepherd's pie, but the flavours are so much more complex thanks to all the special spices and dried fruits cooked along with the minced meat. I heard this might be South Africa's national dish, although its origins seems to have been from Indonesia and introduced to South Africa by the Dutch. If not for the fact that I had to pace myself, I would have dearly loved to get a second serving of this Bobotie.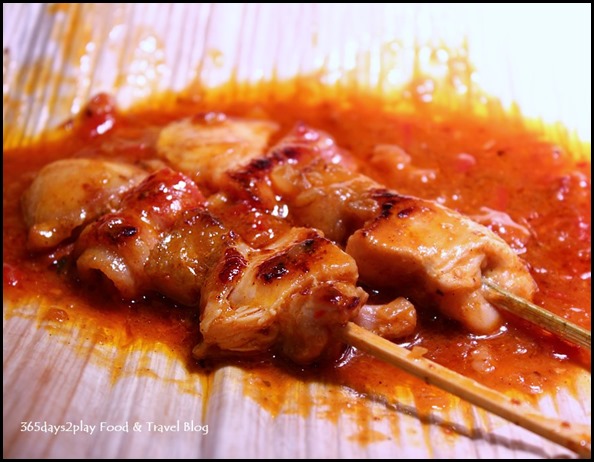 Chicken & Banana Kebabs with Spicy Marinade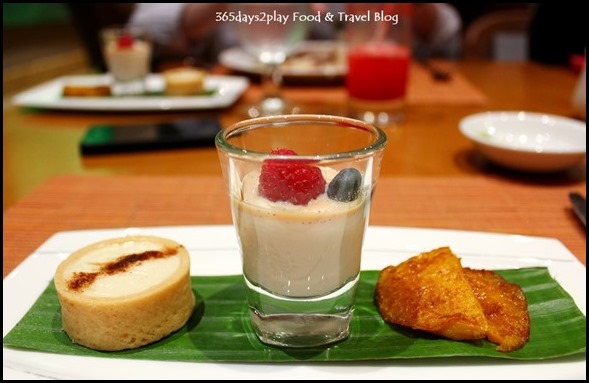 Coconut Tartlet, Amarula Panna Cotta, Pumpkin Fritters with Cinnamon Sugar
For the desserts, the hands down winner was the Amarula Panna Cotta. I don't drink all that much alcohol, and I was first introduced to Amarula by the Partner's parents in NZ. It's a cream liqueur made from the marula fruit, tasting similar to Bailey's but not quite. Apparently, elephants love eating marula fruit too. Without knowing that it had been infused into the Panna Cotta, the Partner and I were delighted to partake in this version of the Amarula. The chefs have been quite generous in the quantity of Amarula used in the Panna Cotta so it really packs a strong punch. The consistency of the Panna Cotta was pillowy soft, almost like eating Amarula clouds. I went back for a second serving.

Chef Vivian Gary was delighted to know that we enjoyed the Amarula Panna Cotta so much that he gave us more Amarula on the rocks.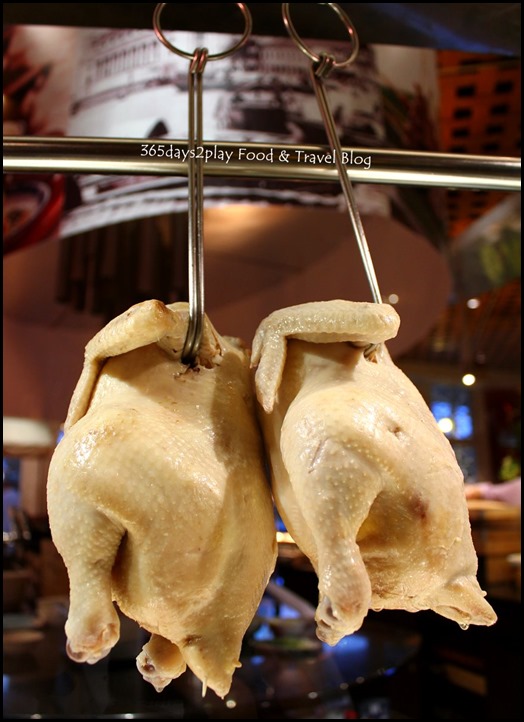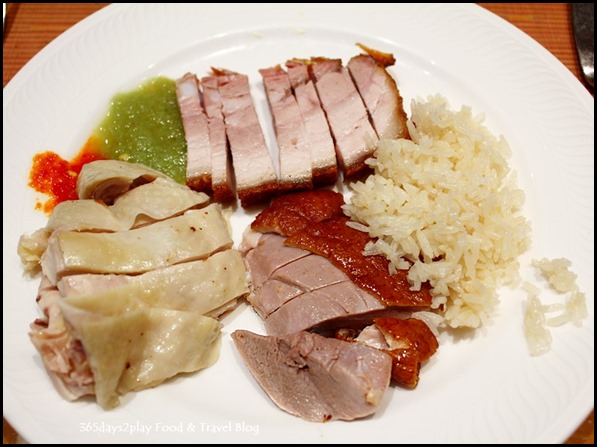 While you're at the Fullerton Hotel Town Restaurant, whether or not for the South African Food Festival Buffet, you must check out the hotel's version of chicken rice! They really do a mean version of chicken rice, and possibly the hotel that has the best chicken rice! For you chicken rice lovers out there, how about unlimited servings of chicken rice, aka chicken rice buffet????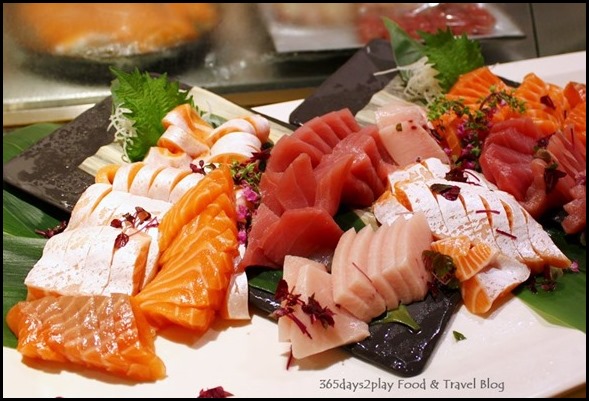 Even the sashimi display looks really appetising, with a generous selection of fish to choose from, one of the few sashimi buffets that includes Swordfish, my favourite!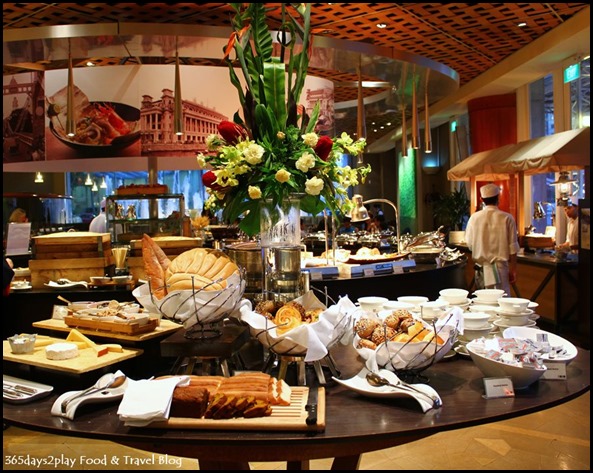 I must admit I know next to zilch about South African food, but I feel so privileged to have been able to taste these wonderful dishes from South Africa. I have in fact prior to this media invite been wanting to try South African or African food, but it seems like there are hardly any restaurants here in Singapore serving such cuisine! For those of you who miss South African food or would love to sample some without having to go all the way to South Africa, do check out this buffet at Fullerton Hotel Town Restaurant which ends tomorrow!
---
Add me on Facebook, Instagram and Twitter if you want to be kept up to date with the latest happenings in the food and lifestyle scene in Singapore! 
---
Fullerton Hotel Town Restaurant South African Food Festival Dinner Buffet
With international Delights (21 to 23 April, 27 April) — Adult : $56, Child : $28
With Ocean Fresh Seafood (24 to 26 April) — Adult : $69, Child : $34
With Seafood & BBQ Spread and free flow of Singapore Sling & Draught Beer for 2 hrs — Adult : $89, Child : $44
1 Fullerton Square, Singapore 049178

Tel: +65 6877 8128

Email: town@fullertonhotel.com