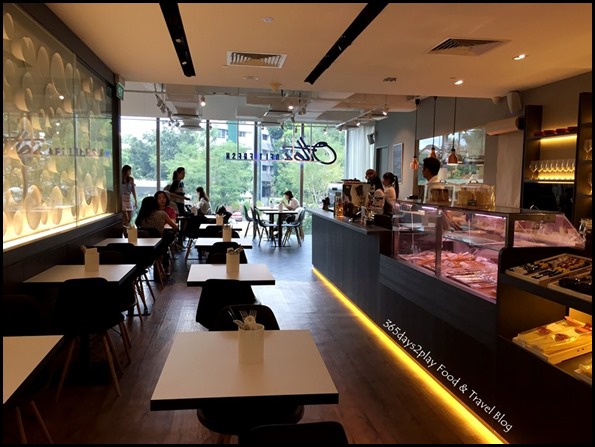 Otto's Deli Fresh
Yesterday, Straits Times gave Otto's Deli Fresh at the recently opened Raffles Holland Village a glowing review. I wouldn't be surprised, because when I was there a couple of weeks back, I really loved the Eggs Benedict that I had. In fact there were quite a number of dishes that sounded really interesting and I would have liked to try such as the Norwegian Salmon Cappelini, Braised Beef Cheeks and Wagyu Beef Rump.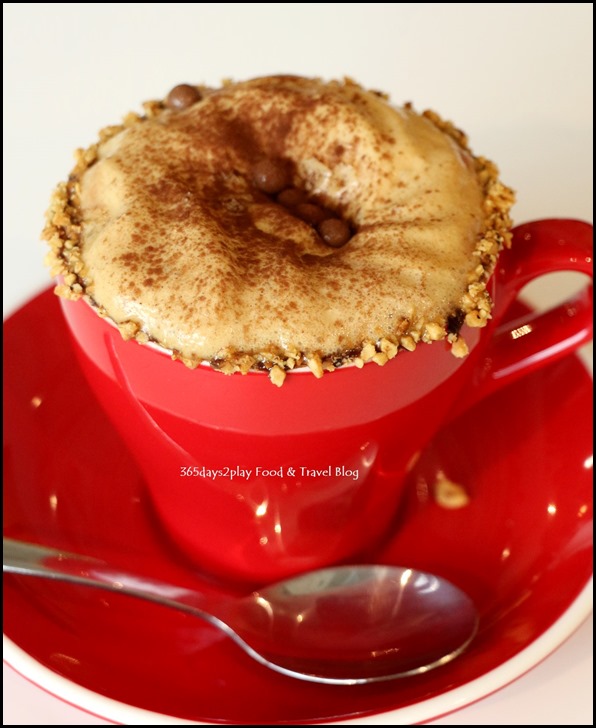 Valrhona Hot Chocolate $9.50 with sea salt, crunchy pearls, hazelnut cream espuma
Actually, what first brought my attention to Otto's Deli Fresh was their Valrhona Hot Chocolate drink, which I chanced upon on Instagram. It looked so decadently good, and festive in the striking red cup that I just had to make a trip to Holland Village. And the perfect opportunity came up after my good friend gave birth at NUH. Lunch at Otto's, followed by a visit to see the newly minted little one. Would have tarpowed a cup for her too because we had actually planned to visit Otto together but she popped early. But alas, post-pregnancy confinement rules are complicated, and she was worried that hot chocolate might not be allowed.
I must say the Valrhona Hot Chocolate is quite different from most others around. It wasn't a large cup, and thankfully so because it was really rich tasting. All that Valrhona chocolate that must have gone into it. And interestingly, it's capped with an airy hazelnut cream foam. The foam doesn't have much taste in my opinion but I liked that there were bits of hazelnuts dotting the foam so that I could bite into them. The crunchy chocolate balls also upped the decadence factor. On the whole, I think I like the idea of drinking this, but its a little too rich and thick for me to finish it on my own.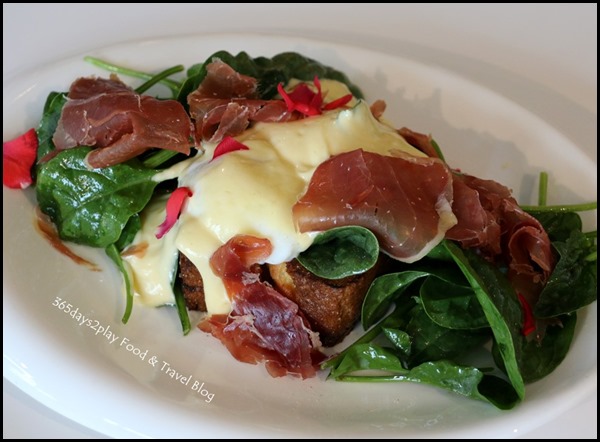 Eggs Benedict $15 with Jamon Serrano Reserva, brioche, spinach, hollandaise
In the end, I was considering between the Beef Stroganoff Fettuccine $17 vs the Eggs Benedict but because I hadn't had Eggs Benedict in a really long time, for some reason I was craving for it! It was a good decision because the Eggs Benedict was sooooo good! Although I must admit the presentation was a little messy with the hollandaise going all over, the taste was superb! The brioche was as fluffy as can be, the eggs soft and tender like clouds and the egg yolks runny of course. The salty ham shavings added good flavour contrast and they were quite generous with the amount too. There was just a bit too much hollandaise sauce, but I solved that by swiping it aside. My only grouse if any is that the brioche had a sprinkling of sugar on the crust, which is weird for a savoury dish. But again, I solved that by cutting it off.
All in all, a most enjoyable Eggs Benedict, with expensive ingredients (the Jamon and the spinach!) for only $15++.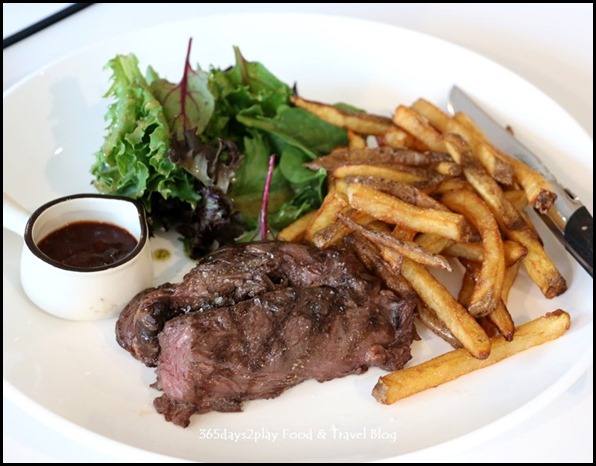 Southern Highland Grass Fed Beef Hanger Steak 150gm $22
The Partner zoomed straight for this because it's not that easy to find Hangar Steak in Singapore. The steak was nice, but it would have been better if the chef hadn't been so heavy handed with the salt on the steak and the fries. You can see the salt flakes on the steak in the picture above!
That's us enjoying our lunch. We had to distract Baby with some tissue paper so he'd look at the camera. Otto's Deli Fresh is quite family-friendly as it is quite spacious, with the tables being rather far apart from each other so we could accommodate our stroller easily. There were 2 other families with babies there too.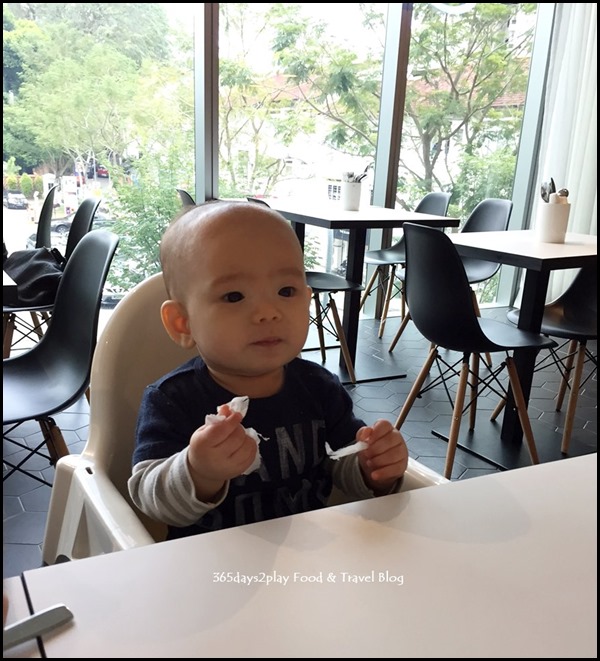 There's the offending piece of tissue paper that he had to shred apart. Hate to admit that a piece of it made its way into his mouth before we noticed it.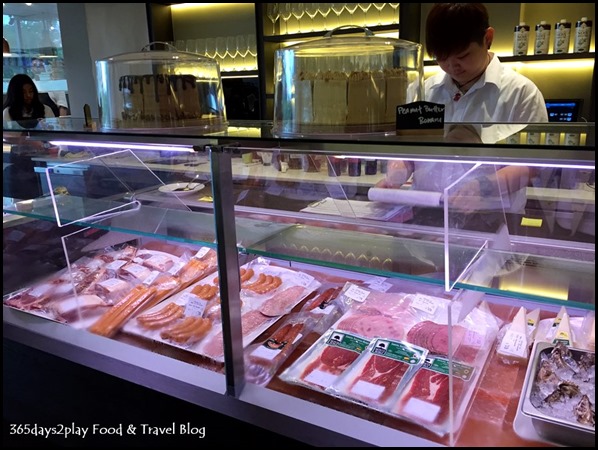 Otto's Deli Fresh, as the name suggests, also retails a selection of hams, sausages, cheeses, pastas and olive oils etc. All the stuff I would love to buy and cook up a storm…. when time permits… For an additional fee, these can be prepared and eaten at the restaurant itself.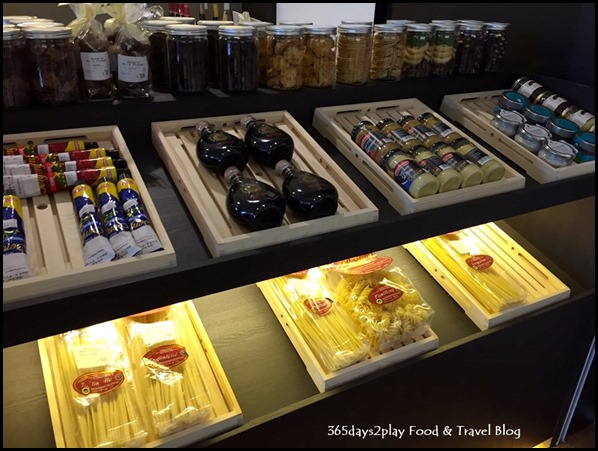 The eponymous Otto's Deli Fresh is opened by Mr Otto Weibel, 70, who used to be director of kitchens for more than 20 years at the Westin Hotels (now the Fairmont and Swissotel). Chef de Cuisine is Mr Rick Chow, who use to helm the kitchen at Portico Prime. It's no wonder this cafe/delicatessen/restaurant is able to offer dishes a notch finer than what you'd expect from the usual cafes.
---
Add me on Facebook, Instagram and Twitter if you want to be kept up to date with the latest happenings in the food and lifestyle scene in Singapore!
---
Otto's Deli Fresh
118 Holland Ave #02-01  Raffles @ Holland Village  Singapore 278997
Mon-Sun: 11am — 10pm
Tel : 6694-3291
Email : dine@ottosdelifresh.com
Website: https://www.ottosdelifresh.com
Facebook : https://www.facebook.com/ottosdelifresh/