*Media Invite*
Situated at Triple One Somerset, the newly opened Seasons Bistro presents seasonally-changing menus with the Americas as its inspiration for the cuisine. Eating by the season is the keyword here, as the founders believe that seasonal food not only tastes better, it also offers better value for diners.
If you've lived in the US for some time, you'll know that there's more to America's cuisine than just pizza and burgers. Seasons Bistro features numerous dishes from seafood specialties of New England, down to Louisiana's gumbo, to Mexican-spiced dishes of the Southwest, wherever that Executive Chef Benjamin Fong's travels in America inspire him. Fresh and in-season ingredients, a generous use of citrus and peppers to keep sauces light, as well as interesting twists along the way define the dishes that you will find at Seasons Bistro.
Given the prime location at Orchard Road, it's wonderful that the prices at Seasons Bistro are so affordable. This is no run of the mill restaurant featuring generic and copy cat dishes. I can really sense the thought and effort that has been put into the menu. Definitely a must try if you're in the Orchard/Somerset area and looking for affordable food.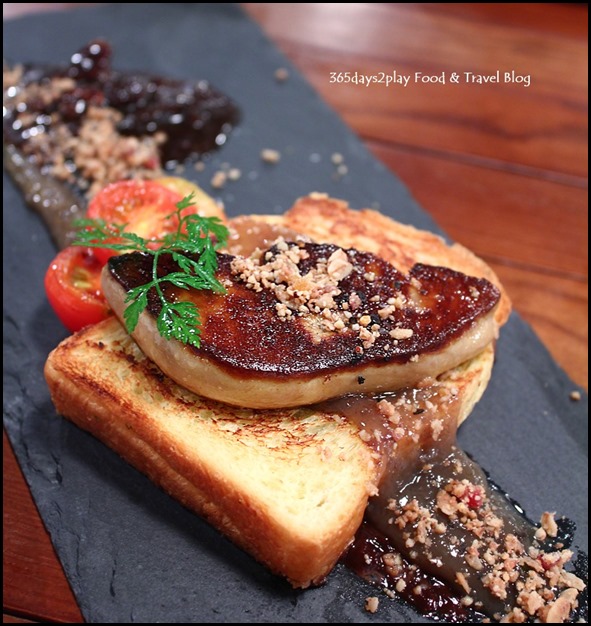 Pan Seared Foie Gras $16 – Pain de mie, chocolate ganache, bacon jam, caramalized bananas and granola crumbs
It's hard to go wrong with foie gras if you're a lover of one, and for $16, I thought it was a pretty good price for a decent size. Despite the sweet elements, this meant to be a starter rather than a dessert. I personally thought there were too many things going on, distracting us from savouring the true taste of the foie gras. However, Benjamin told us that in Canada where he studied cooking, foie gras is plentiful and so cheap (think 1/3 the price!) that people eat it quite often. And because foie gras is so rich, Canadians feel a need to have other elements to balance the taste.
I was truly shocked by this revelation. It's true that because foie gras is expensive here in Singapore that I feel it a waste to mask its rich flavours. It's really interesting to know that because it's cheaper over in Canada, people have the luxury of being more creative with it.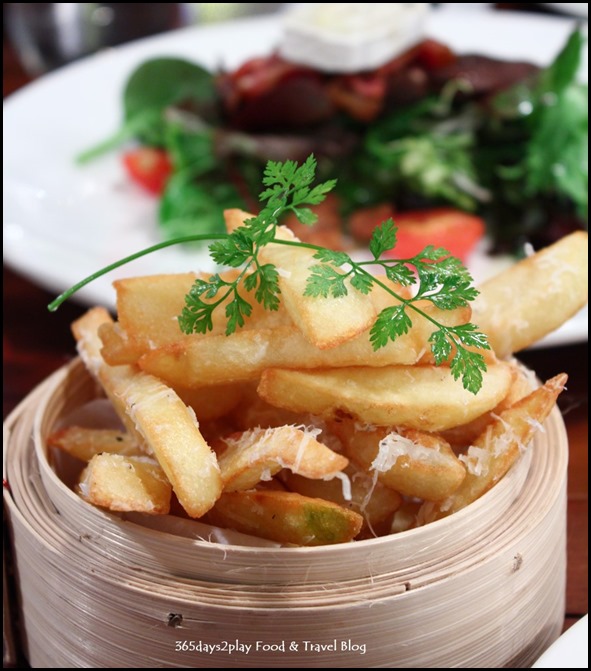 Truffle Fries with Parmigiano Reggiano and Rosemary Sea Salt $7
Another nice starter to share would be the truffle fries with shavings of cheese. Who loves truffle fries even though it's truffle essence you're tasting, raise your hands!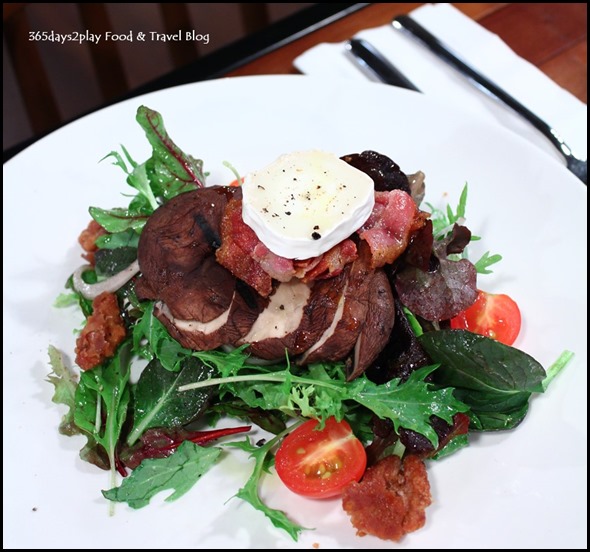 Grilled Portobello Salad $15 – St Maure Terroir, tomatoes, beans, candied walnuts, pickled onions, bacon crisp and red wine vinaigrette
This generous salad is pretty good as a mains or as a sharing dish. Love the firm and sweet portobello slices. The candied walnuts are an interesting addition and pretty addictive. They should consider selling these nuts on their own.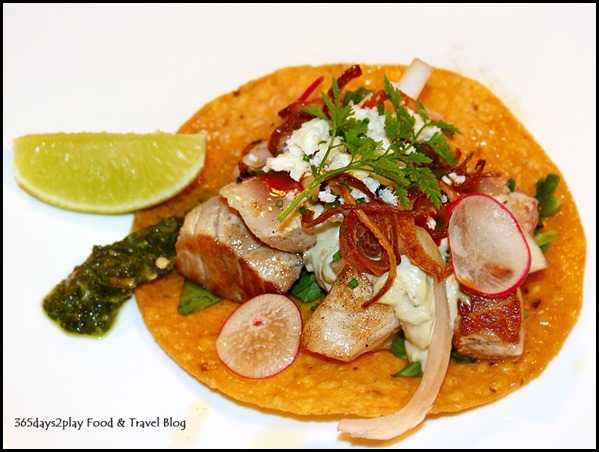 Seared Yellowtail Tuna Taco $14 – Avocado mayonnaise, pickled onions, crispy shallots, cotija cheese and cilantro jalapeno watercress salad on tortilla shell
Apart from the Foie Gras, this was another starter that I really enjoyed. The flavours were very well put together and it was a joy with every mouthful. If I didn't have to share this, I would fold the tortilla into two and chomp into this delicious mix!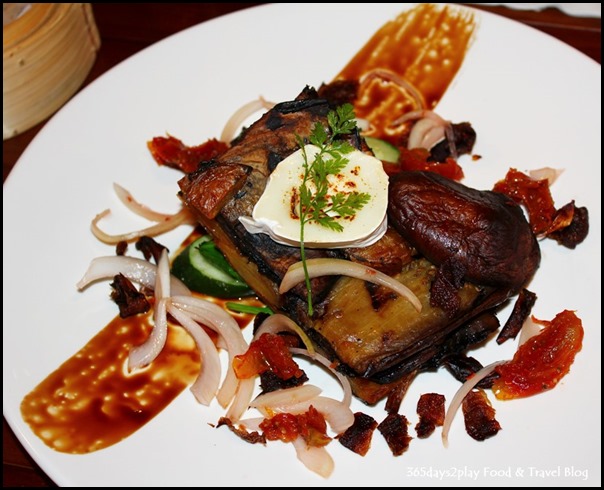 Chargrilled Mushrooms Stack $20 – Eggplant, cucumbers, salsa verde, tomatoes, herbed potatoes, goats cheese and spinach with maple balsamic reduction and artichokes
Another mushroom and healthy choice if you do not prefer the salad one earlier. I particularly liked the herbed potatoes which went well with the vegetables. Goats cheese added a savouriness to the dish as well.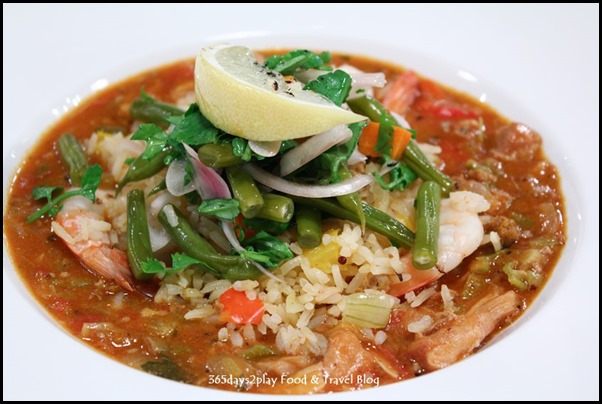 Surf & Turf Gumbo $27 – Shrimp, chicken, sausage, okra tomato stew with dirty rice, pickled onion, cilantro, chow chow relish & french bean salad
If you want something hearty, this would definitely be the dish to go for as this was chock a block full of ingredients. Every mouthful was an explosion of tangy sweetness from the tomato base and savouriness from the prawns, chicken and sausage. The spice level was just right for me too although chef says that if it were him, he would up the spice level further. Another of my favourite dishes at Season's Bistro.
Seared Albacore Tuna $26 – Asian pear, avocado, jicama, watermelon with chipotle mojo and salsa verde
Even though I'm not a fan of tuna, as I often find it rather tasteless, and sometimes stringy (think canned tuna), this version seems so different. I actually enjoyed eating the tuna, spiced up with the chipotle mojo and salsa verde. Tuna may not be on the menu a few months down the road if you're not quick, as it's not in season the whole year!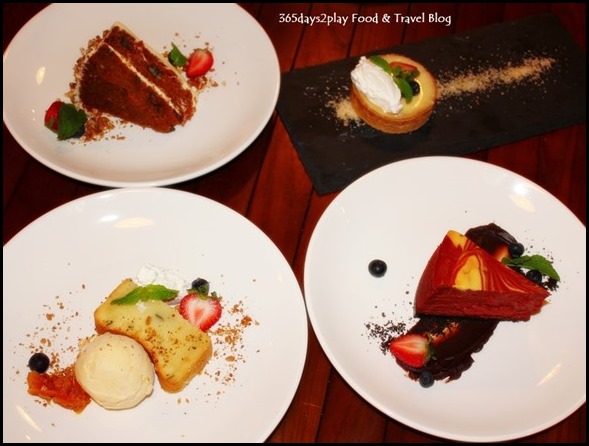 Carrot cake, Mojito Tart $12, Seasons' Red Velvet Cheesecake $10, Lemon Basil & Olive Oil Cake $8
Had the luxury of trying 4 desserts at Seasons Bistro. The mojito tart features lime curd rather than lemon curd, which is quite an interesting change. I didn't like the lemon basil and olive oil cake though, because well, the oil taste was quite pronounced for me. Didn't try the carrot cake.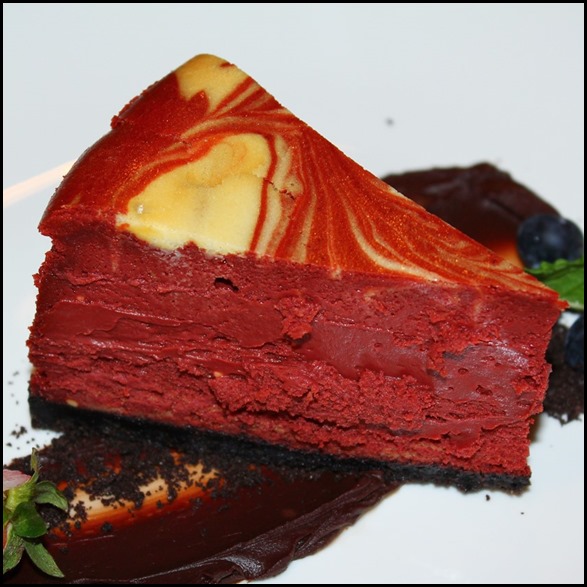 Season's Red Velvet Cheesecake $10
My absolute favourite cake of the evening. This red velvet cheesecake is a winner. To be frank, I don't really like cheesecakes. I wouldn't order it if I had the choice. But the interesting thing is, this cake does not taste like cheesecake, neither does it taste like a red velvet cupcake! If you'd blindfolded me, I would have thought this was a chocolate cake! A chocolate cake with a superbly moist and cheesecake-like texture! You gotta try it to believe it.

Thank you Seasons Bistro and FoodNews PR for the wonderful evening.
---
Add me on Facebook, Instagram and Twitter if you want to be kept up to date with the latest happenings in the food and lifestyle scene in Singapore! 
---
Seasons Bistro
111 Somerset Road, #01-­"11/12, Triple One Somerset Singapore 238164
Tel : (65) 68365841
Email : info@seasonsbistro.com.sg
Facebook : www.facebook.com/seasonsbistrosg
Hours : Mondays to Thursdays : 11am — 12 am
Fridays : 11 am — 2 am
Saturdays : 10am — 2 am
Sundays : 10 am — 12 am
Brunch menu available on Saturday and Sunday, 10 am to 4 pm