Pan Pacific Singapore celebrates National Day with the introduction of a limited time only Peranakan Afternoon Tea at the Pacific Marketplace. From 16 June to 9 August only, you can order a 4-tiered tiffin carrier to enjoy dishes such as Kueh Pie Tee, Open-Face Otak Sandwich and Quail Egg, Nyonya Chicken Curry. For desserts, you have kueh lapis, tapioca cakes and Onde Onde. It costs only $58++ for the 4-tier tiffin carrier plus coffee and tea for 2. The portions are quite generous, so 3 small eaters may even enjoy this Peranakan Afternoon Tea set.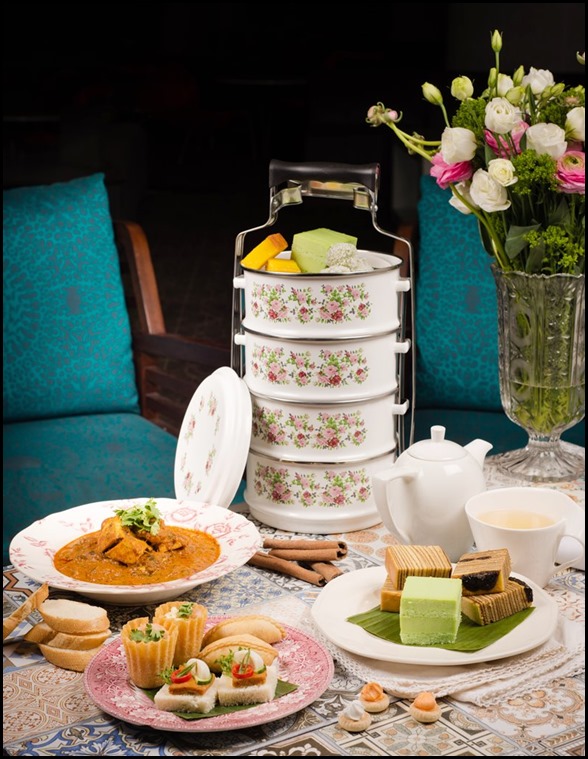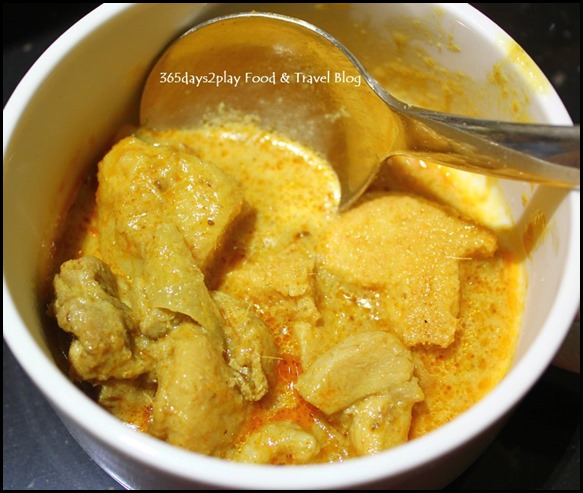 Started off with the Nyonya Chicken curry. This is what I scooped into my bowl, which is probably about 1/6 of what was available inside the tiffin set. The portioning seemed very generous and I found myself going back for more. All at the table agreed the chicken curry was very delicious and rich tasting. The baguette provided was toasted to a crisp, so I had to soften the slices by soaking them in the curry first. Hopefully Pan Pacific takes our open hints to have this Nyonya Chicken curry included in the permanent ala carte menu!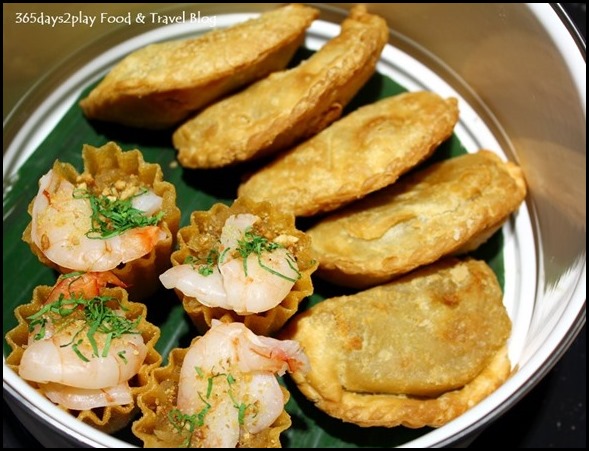 The Kueh Pie Tee was also one of my favourites during the afternoon tea. What's not to love about Kueh Pie Tee, with deliciously sweet and crisp turnip, wrapped around in a crispy shell? The only thing is I can never seem to eat it daintily. It's too big to stuff into my mouth whole, yet nibbling half off would result in the juicy insides dripping out. Let me know if you have a solution for this!
Curry puffs were pretty nice too, but I think too many were provided. Don't think I want to be downing more than 1 curry puff. It would have been better to have more variety. There are 5 curry puffs in the picture, but the actual portioning is 4. See why I say perhaps 3 pax can share this?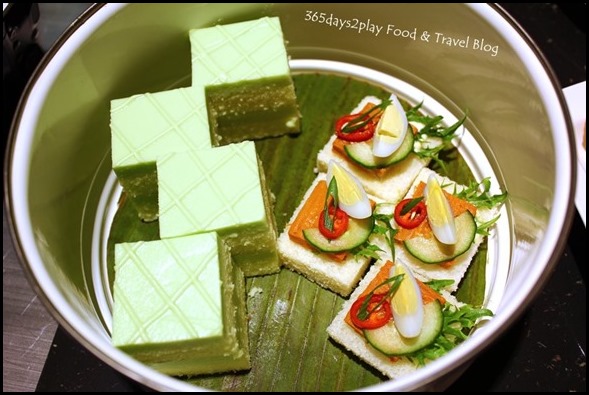 The open faced otah sandwiches with quail's egg and cucumber was gone in a jiffy. It would have been really nice to have more of the open faced sandwiches too, with different varieties of ingredients. I know buah keluak may be an acquired taste to some, which was the reason behind the decision not to feature it for this afternoon tea. But what's a Peranakan meal without one of its famed ingredients?  I would love to see this ingredient being showcased in full glory, perhaps as part of another open-faced sandwich? If you've never tried buah keluak, I recommend you to be brave, you won't look back!
Pandan cake on the left really transports you back to your childhood days. It was as pillowy soft as can be, with an almost melt in the mouth texture. Not a very strong pandan flavour, for those who like things mild.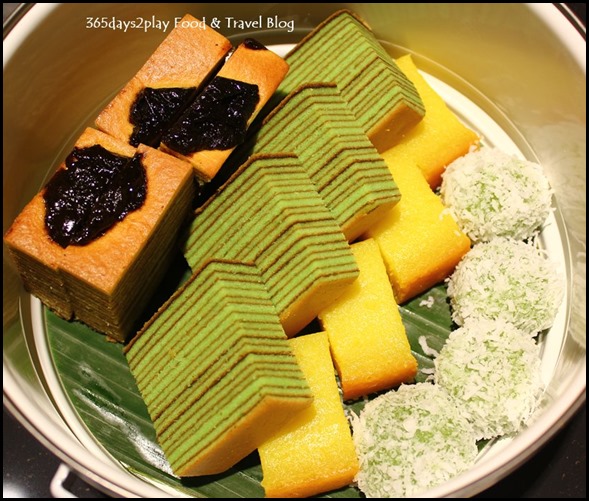 And last but not least, the Peranakan / Malay kueh desserts! From left : Prune Kueh Lapis, Pandan Kueh Lapis, Tapioca Cake and Onde Onde.
My favourite was the Prune Kueh Lapis, followed by the tapioca cake. I usually like onde onde too, but this version had a somewhat tougher and thicker exterior.
So, if you're looking for afternoon tea in Singapore with a slight twist, you might just want to try Pan Pacific's Peranakan Afternoon Tea Set. It is pretty suitable even as a late lunch, as you have the heavy nyonya curry chicken dish to act as a mains.
Thank you Pan Pacific Hotel for the kind invitation.
---
Add me on Facebook, Instagram and Twitter if you want to be kept up to date with the latest happenings in the food and lifestyle scene in Singapore! 
Read about my staycation at Pan Pacific Singapore last year
---
Date: 16 June to 9 August 2014
Time: 3pm to 5pm
Price: $58++ for two adults with tea and coffee
Venue: Pacific Marketplace (Ground Level), 7 Raffles Boulevard, Singapore 039595
Website: pacificmarketplace.sg