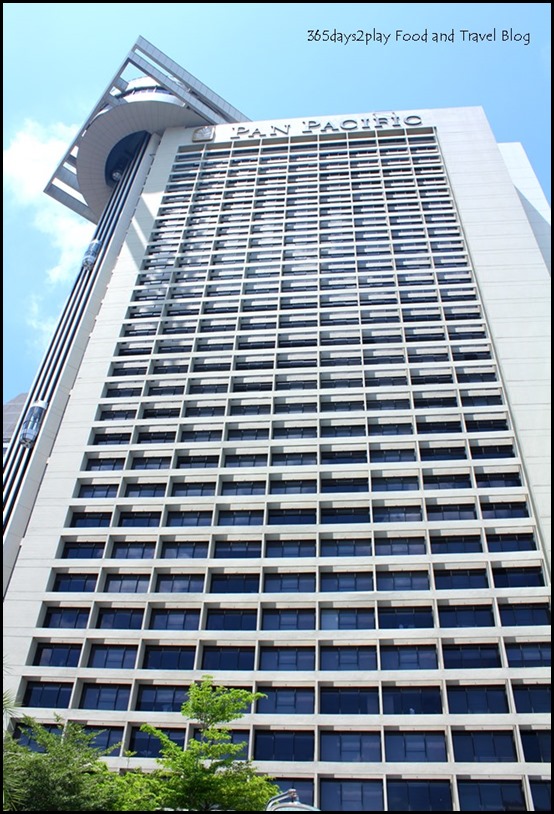 Stayed at the Pan Pacific Singapore 2 weeks ago. It was an absolutely relaxing and recharging experience. Before we booked the room, I mulled briefly over whether it would be worth the money just for a 1 day affair. However, there were no doubts that this was the right decision once we had checked into the hotel.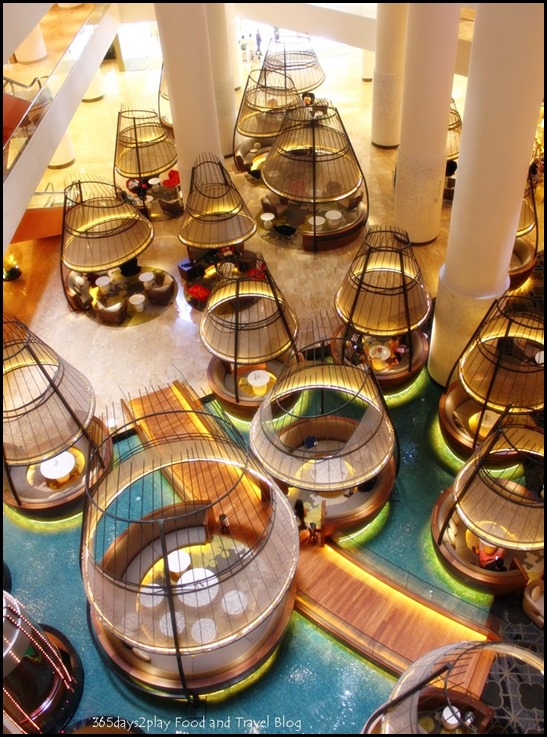 The Pan Pacific lobby bar Atrium
Staycations (ie "holidaying" without leaving Singapore) are a common thing in Singapore now, but perhaps not so common is a staycation coupled with club room access. Having club room access means that you can access the exclusive club lounge, and this is great for those who don't plan to leave the hotel at all. There's only so much sleeping and tv watching you can do in the hotel room, and you can't swim all day either. Club lounge access allows you to have your breakfast in the exclusive club lounge rather than rough it out with the rest of the guests in the Hotel restaurant. Also, afternoon tea and evening cocktails are provided, which means that you don't even have to worry about your meals!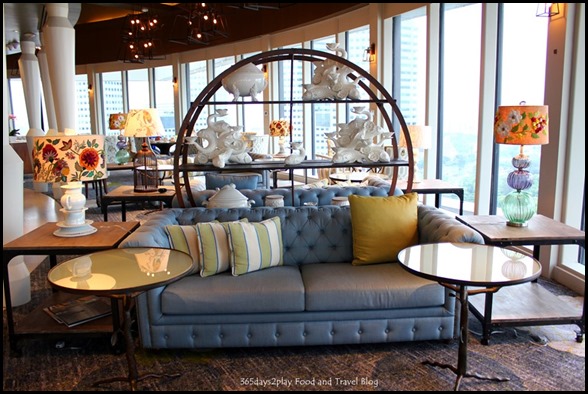 The Pacific Club
We spent a good part of our staycation holed up at the Pacific Club sipping tea and eating nibbles while reading newspapers or just enjoying the view. More about the Pacific Club in my next post, but first up, pictures of our Pacific Harbour King room.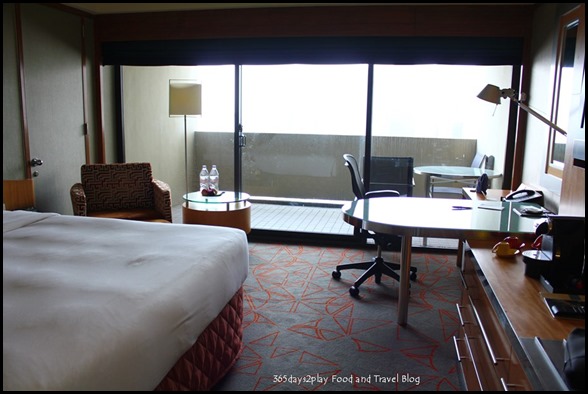 We were originally given this room, room 3320 I believe. But the minute we stepped into the room, we could detect a faint whiff of cigarette smoke. If there's one thing that's really detestable about staying in a hotel room, it's having to endure a bad smell for many hours. I later discovered that ashtrays are provided in the balcony area so it was little wonder that an errant guest decided to be inconsiderate enough to smoke in the room as well. Thankfully, we managed to secure another room of the same size and the same facing even though it was a Saturday.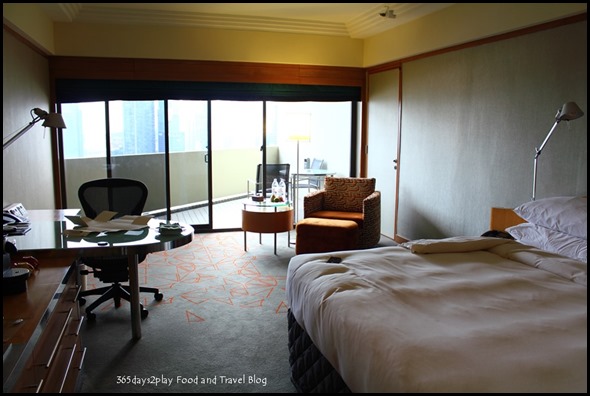 This is Pacific Harbour King room 3310. This is the left-most room for all the harbour facing rooms while the 1st room we got was the right-most harbour facing room. Our second room was much better because we had an even better view of the Marina Bay area! The 1st room was next to the staircase block, which meant that our view would have been partially blocked. I was so thankful to be able to secure tis room and not have to fret over the cigarette smoke! Also, the 1st room seemed to be a tad smaller, if you compare the pictures. I love it that the room came with a balcony. Being on such a high floor (33rd floor), it's so restrictive if you can only peer through the glass window. Standing on the balcony makes you feel so free, as if everything is within your command!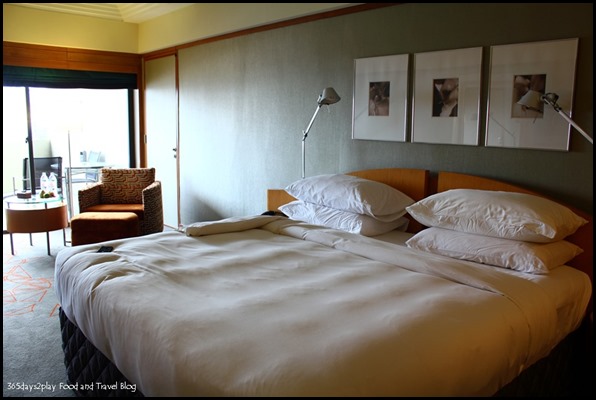 Picture of our luxurious king size bed. Don't forget to ask for special pillows such as buckwheat pillows or firm support pillows etc. Nowadays most 5-star hotels offer this pillow service so don't forget to utilise it! I always like to ask for the U-shaped pillow to act as a bolster, but Pan Pacific not have this one alas.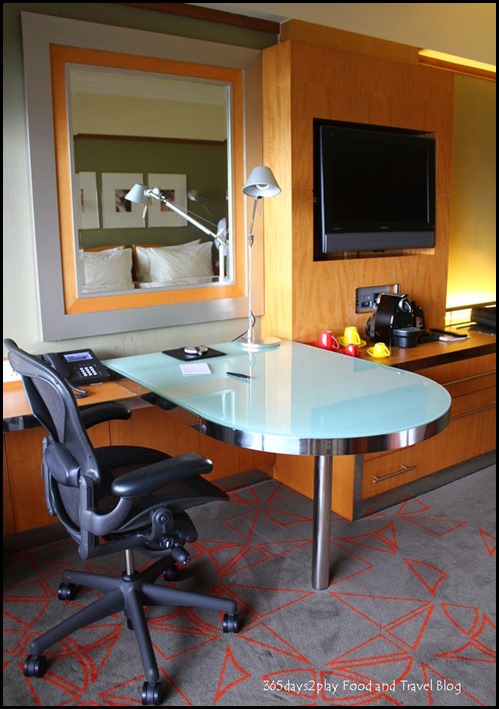 I love it when a proper area is catered to the business traveller who may need to tap out documents while on the go. I like to think of myself as a business traveller of sorts too. Ever since I started blogging, I've never gone on a holiday without my laptop. During my trip to Norway, I managed to squeeze out several posts "on the go"! Even if I don't have time to write a full fledged post, I still like to have my laptop with me to view all the photos I've taken and do some editing where possible. And oh, not to forget, backing up all those tons of pain-stakingly taken holiday photos!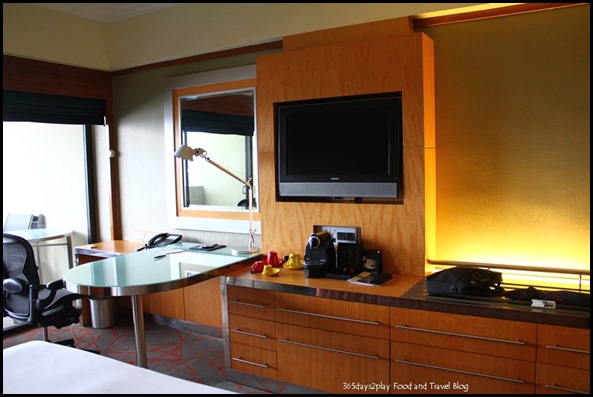 Nice to have a raised long flat surface to put your suitcase. Hate having to rummage through my clothes while squatting down.
Complimentary tea and coffee making facilities. N'espresso machine is becoming very much a norm. But with club lounge access, we didn't have to make our own tea and coffee. We just popped upstairs to have one freshly brewed for us!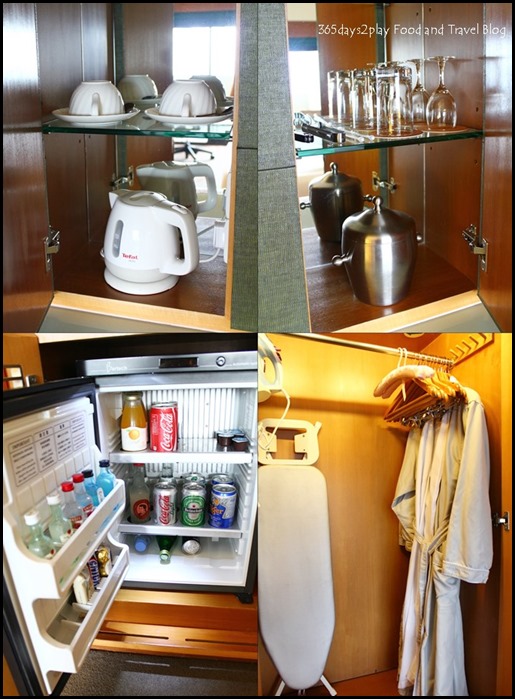 Can you believe it? All the non-alcoholic items in the mini-bar are free? I guess the reason is because if it weren't free, you would just pop into the club lounge to have the same, so why not just provide the luxury of free minibar service? Note the high tech fridge now. If you move the items and they are not put back in the same spot within 30 seconds, you will be charged for it. It's automatic, so watch the kids! I know this happened to a colleague of mine several years ago and she had quite some explaining to do when checking-out.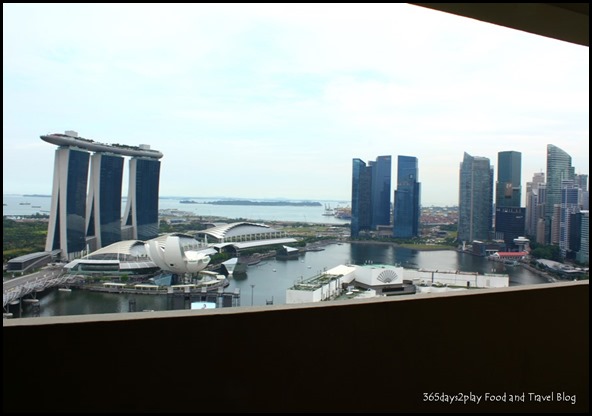 View from the Pacific Harbour King room, just in case you don't believe how good it is! See more pictures of the view from our Pacific Habour King room and the fireworks we enjoyed!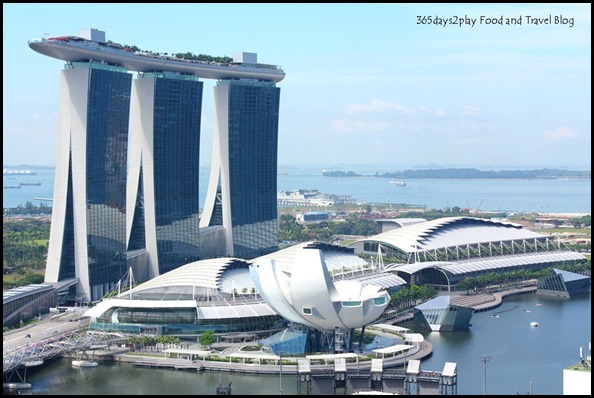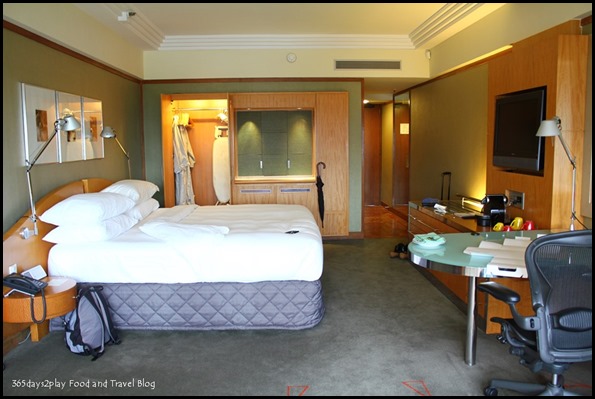 The toilet is nothing much to shout about, to be frank, and I don't really like the colours of the tiles. Some of the furnishings look a bit worn out despite the Pan Pacific's $80m 5 month renovation back in 2012. The shower is however quite state of the art, it has body level nozzles as well to give you a shower massage! I tried it out and it was enjoyable! Sorry no picture of that.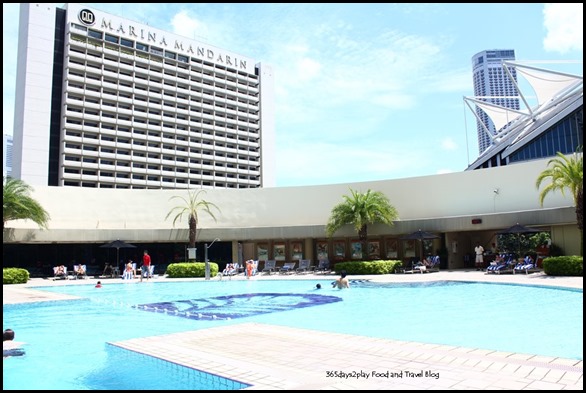 Picture of the pool with Marina Mandarin Hotel and Suntec City in the background.
Took a quick dip on the second day of our staycation. The pool is located on the 4th floor of the Pan Pacific hotel. I always find it a bit weird to be stepping into the lifts wearing a bathrobe, but I can't be bothered to go to the pool fully clothed. Do you do the same thing as well? The pool is quite a good size and it wasn't overly crowded even though the hotel was fully booked. I absolutely loved the adult pool section which was 2.5 metres deep! I love it that there's so much space to dive down like a dolphin! But whatever the case, I will not enter a pool from the deep end. I need a bit of time to stabilise myself, wear my goggles and get used to the cold water. The last thing I want is to find emptiness beneath my feet!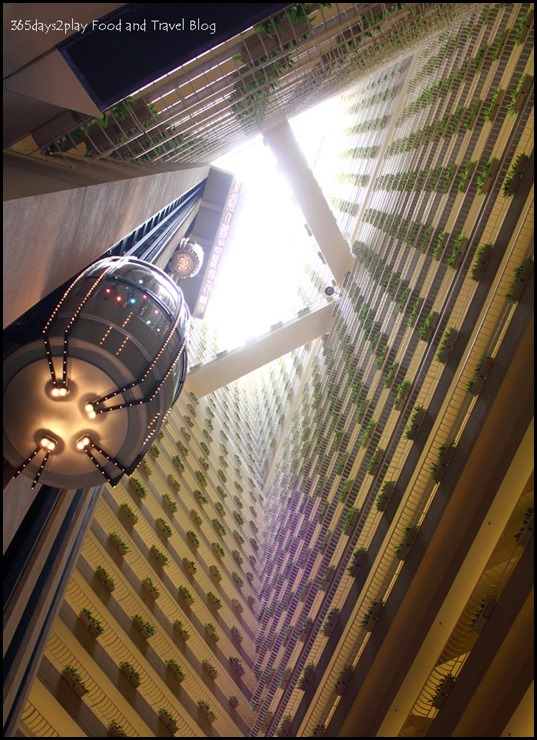 Bubble lifts! Some people love them, I don't. Mind you, these are the inner bubble lifts serving the lower floors. The outer bubble lifts serve the higher floor. I was nearly pissing my pants by the time I got to the 33rd floor.
Thanks hunny for booking the Pan Pacific hotel stay. It was a great staycation!!
~~~~~~~~~
Review of the Pan Pacific Singapore — Pacific Club Executive Lounge
See view of the fireworks from my Pan Pacific hotel room.
Add me on Facebook, Instagram and Twitter if you want to be kept up to date with the latest happenings in the food and lifestyle scene in Singapore!
~~~~~~~~~
Pan Pacific Singapore
7 Raffles Boulevard, Marina Square, Singapore 039595
Toll Free Reservation Within Singapore : 1800 7224 342
International Toll Free Numbers here
Tel: +65 6336 8111
Fax: +65 6339 1861